The Future of the New York Yankees Middle Infield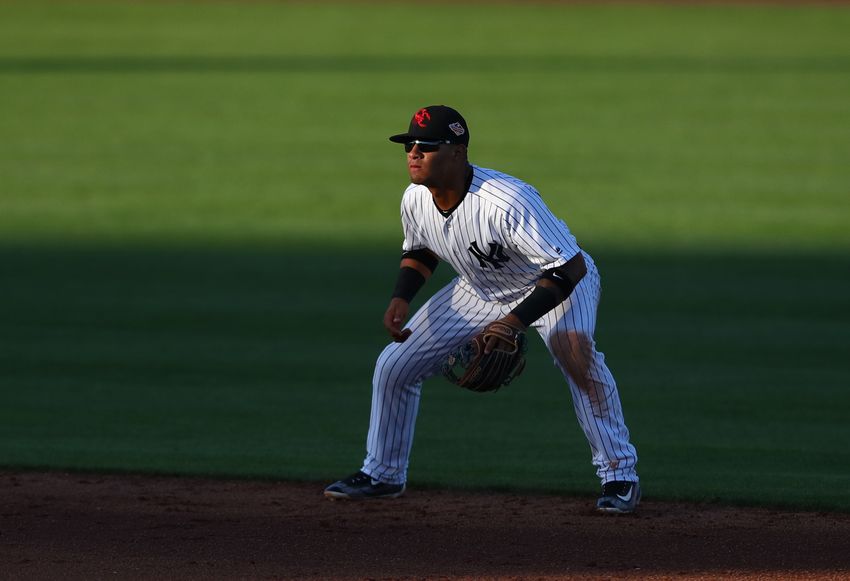 With a number of talented young options on their way up to MLB, the New York Yankees have important decisions to make about the future of their middle infield.
The New York Yankees already have one of the better young middle infield combinations in baseball under team control for at least three more seasons, but given the number of talented shortstops and second baseman the organization has climbing the ladder in the minor leagues, it isn't unreasonable to think the club could consider making a change at one or both of those positions over the next few years.
Let's go season by season starting with 2017 and look at who the club could potentially have as options for their double play combo.
2017
Last year's starters Didi Gregorius and Starlin Castro don't need to worry about their jobs just yet. Gregorius has seen his offensive numbers get better each of the last three seasons and could progress even more from last year's .276/.304/.447 (97 OPS+) with 20 home runs and 70 RBI in 597 plate appearances. It also doesn't hurt that he's a tremendous athlete who is one of the club's best defenders.
Castro struggled early in his first season in pinstripes but rebounded down the stretch to put up a respectable .270/.300/.433 (93 OPS+) with 21 home runs and 70 RBI. His awful plate discipline and longer track record make me skeptical that more improvement is coming, but it certainly is possible. Things should get better defensively as well in his second full-time season at the keystone.
Want your voice heard? Join the Yanks Go Yard team!
2018
The system's most advanced middle infield prospect is Tyler Wade, who will begin next season in Triple-A and could play his way into a bench role in the second half. With his lack of standout tools and versatility, many have pegged him for a utility player, but there is a slight chance he challenges Castro for second base duties as the Yankees continue to try and cut salary.
A much bigger threat to Didi and Starlin's job security is the team's top prospect Gleyber Torres, who will start 2017 in Double-A despite not yet turning 20 years old. After his eye-opening performance in the Arizona Fall League, a late 2017 MLB debut is not completely out of the question if he continues to rake, and it seems like a foregone conclusion he will oust either Didi or Castro from the middle infield by 2018.
As the best defender of this group, I'm willing to bet that Gregorius sticks at short for the moment, Torres takes over at second, and Castro either gets dealt or moves over to third, forcing out Chase Headley.
2019
Forecasting this far into the future is a fool's errand, but here we are. 2019 is Didi's last season of arbitration and is the last guaranteed year of Starlin's contract as well. Interesting guys from the lower level like Jorge Mateo, Wilkerman Garcia, Hoy Jun Park, Thairo Estrada, Abiatal Avelino, and Kyle Holder could have flamed out as prospects, been used as trade chips, or become top prospects ready to break into the big leagues at this point.
So much can change in that amount of time, but if I had to predict, I would say that Mateo ends up in center field as a Billy Hamilton clone, Park, Holder and Avelino don't make the cut, Garcia is tearing it up in Triple-A, and Estrada ends up as utilityman.
The question is, do the Yankees retain Gregorius and/or Castro after 2019? Obviously a lot depends on how everyone is progressing, but given the sheer amount of talent New York has at the position, it seems unlikely that they will shell out big money to keep either guy, if they've even made it this far without being dealt.
This article originally appeared on