The Atlanta Braves Pitching Staff won't be All Right for Long
Scott Ferris/FanSided via Tomahawk Take

Fansided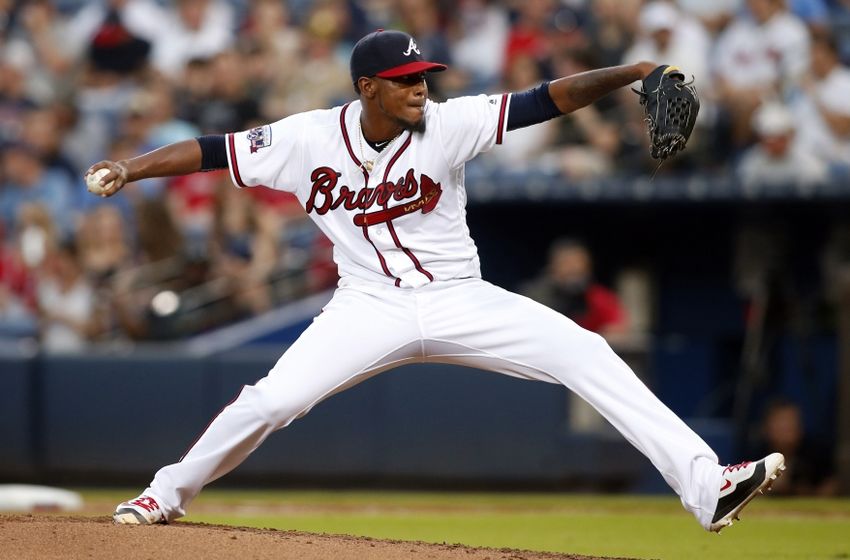 After pulling off one of the oddest feats in baseball last year, the Braves – specifically their starting rotation – could experience a substantial shift over the next couple seasons.
In 2016, a combination of injury, trades, and poor-performance led to the Atlanta Braves using an MLB-high 16 different starting pitchers (bonus points to anyone who can name them all without looking).
The only pitcher to hold down his rotation spot from Opening Day through the end of the season was Julio Teheran and even he missed time with an injury and, at one point, looked like a potential trade candidate.
While using that many different starters is noteworthy, that's not the feat Atlanta pulled. It isn't in itself all too strange, especially for a team of veteran reclamation projects and unproven youngsters.
The…Feat?
What is all too strange – every pitcher, all 16 of them, threw right-handed.
16 pitchers, 161 games (one cancelled), a righty on the bump every single time.
They were the only club to lack variety in the handedness of their starting pitches (though the Indians came close with 160 right-handed starts).
With six of those 16 right-handed starters returning in 2017 and Atlanta's first two off-season additions (R.A. Dickey and Bartolo Colon) also throwing from the right side, it looked for a while as though the team had a shot at repeating their bizarre accomplishment this upcoming season until Jaime Garcia was acquired.
However, looking ahead, the forecast for the rotation becomes decidedly less uniform.

Apr 14, 2016; St. Louis, MO, USA; St. Louis Cardinals starting pitcher Jaime Garcia (54) throws to a Milwaukee Brewers batter at Busch Stadium. The Cardinals won the game 7-0. Mandatory Credit: Billy Hurst-USA TODAY Sports
Lefties on the Horizon
Over the past two years, Atlanta has amassed a truly absurd collection of left-handed pitching prospects.
According to the rankings over at MLB.com, there are 33 LHP prospects with a future value (FV) of 50 or higher. Of that group, six (6!) of them play in the Braves farm system.
In a 30 team league, Atlanta currently employs just shy of one-fifth (18.2%) of the top-flight left-handed pitching prospects in the game. The next highest total is three (Rangers and Padres).
Atlanta's embarrassment of prospect riches is spread out, too. They range from 23 to 19 years old and from from knocking on the door of a big league promotion to cutting their teeth in the Gulf Coast League.
All are immensely talented and spaced out in such a way that the team could potentially have a steady stream of lefties for years to come.
A full rundown of the LHPs in the organizational top 30 list is included below.*
*A.J. Minter, another lefty on the top 30 list has been omitted. He could appear in Atlanta as early as next year but is a relief-only prospect.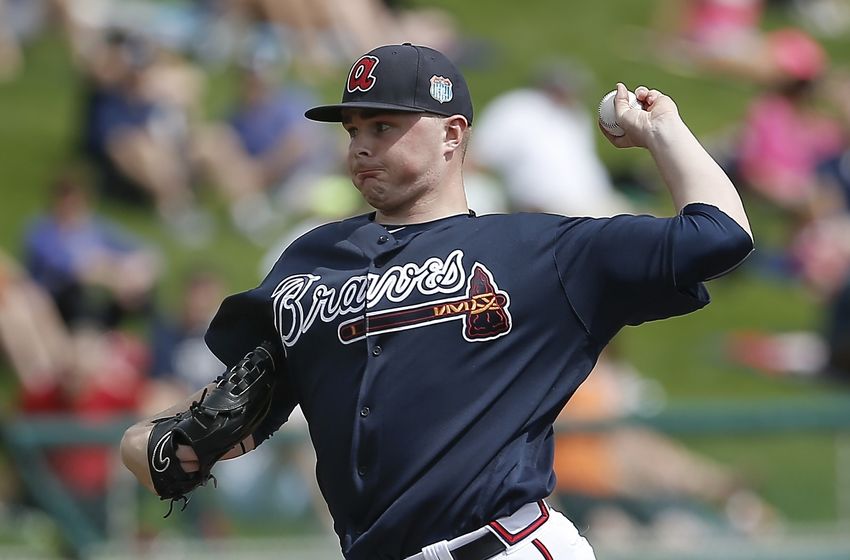 Newcomb (ETA 2017)
Coming in at 6-foot-5, 255 pounds, Newcomb's best asset is an explosive fastball that can touch triple-digits. He has combined that with a knockout curve and a decent change-up to produce elite strikeout numbers at every stop in his minor league career (9.8 K/9 in 34 Double-A starts, 10.5 K/9 overall).
Unfortunately, his heater has proven difficult to tame. Thus far in his professional career, big lefty has issued a whopping 4.7 BB/9.
While that's an alarming figure, there's plenty of reason for optimism. In addition to his impressive repertoire, Newcomb has the classic late-bloomer background. He pitched for a small college (Hartford) and grew up in the northeast (Massachusetts).
Between not facing elite competition at the collegiate level and not being able to play year-round at the high-school level, it makes sense that Newcomb would be less refined than your run-of-the-mill 23-year-old.
He will almost certainly break into the majors next season (even if it doesn't happen until September call-ups).
Fried/Gohara/Sanchez (ETA 2018)
A first-round draft pick by the Padres back in 2012 (no. 7 overall), Fried once looked like a surefire top of the rotation arm. In both 2013 and 2014 he was a consensus top-100 prospect but his development hit a major speed bump when he went under the knife for Tommy John surgery.
While recovering, he was traded to Atlanta (in the Justin Upton trade) and missed the entire 2015 campaign. When he finally made his Braves system debut last season, he performed admirably. After kicking off some rust in the first half, he again looked like a top prospect during the second half of the year. Gohara, the newest addition on the list, made headlines by receiving the largest bonus ever for a Brazilian prospect. Originally signed by the Mariners, he took a while to find his footing in professional ball. Despite some early-career struggles, he looked tremendous across two levels in 2016.
There are some concerns about his conditioning (his 6-foot-3, 210 pound listing has been called about 40 pounds short by some). However, recent reports say that he's trending in the right direction and more athletic than his build would suggest.
Sanchez, a young hurler out of Venezuela, joined Atlanta in a rare prospect-for-prospect trade. Given his age and his brief, less-than-dominant professional career, the projected 2018 ETA seems a bit aggressive.
Still, he's always played against competition roughly three years older and talent evaluators see him as a future big-leaguer (and apparently pretty soon).
Allard/Wentz/Muller (ETA 2019 and beyond)
Prior to the 2015 draft, Allard saw his stock derailed by a back injury (stress reaction). When he fell to Atlanta with the 14th pick, they took a chance on his medicals and have been rewarded greatly.
The back issues have (for the most part) not followed him to the pros and he just completed an excellent first full season. He carved up batters at Danville before receiving a promotion to Rome. While he wasn't as dominant there, he still flashed the potential that made him so sought after in his prep days.
Wentz and Muller were taken just four picks apart in the 2016 draft. Both were considered top 25 prospects but dropped a bit due to signability concerns. Atlanta used their sizeable draft bonus pool (and their savings from Ian Anderson's below-slot deal) to lure both away from high-profile college commitments (Virginia for Wentz, Texas for Muller).
Both obliterated GCL opponents in their professional debuts. Muller remained there until the end of the season while Wentz received an aggressive promotion to Danville. Both are young and raw with huge potential but they are years away from the bigs.
The TINSTAAPP Caveat
Of course, there is no such thing as a pitching prospect. As Rob Neyer once said "pitching prospects are only about as predictable as the weather six months from now." With a lot these guys, especially the ones who are far away from the majors, there's a substantial chance that they just don't pan out.
Pitchers who plow through the competition in the lower minors can struggle once they reach Double-A and above. Secondary offerings may never develop, command may never be honed, who knows?
It would just be reckless to assume Atlanta's army of southpaws is going to occupy the same rotation one day.
There's also the looming possibility of trades. Even if, by some miracle, every one of those pitchers pans out, there are only so many innings to go around. A few will likely be traded to obtained more established talent in areas of greater need.
There will also be competition in the form of Atlanta's other high-end pitching prospects (seriously, the farm is loaded). In addition to the lefties mentioned above, the Braves also have five right-handed starting pitching prospects in their top-30 (three with FVs of 50 or greater).
The Future is Bright
Still, even with all of those caveats, the Atlanta Braves have a very bright future. The rebuilding process has been long and painful but has begun to wind down.
The next contending Braves squad isn't too far off in the distance and it seems likely that the organization's stockpile of talented left-handers will play a part in team's return to prominence.
Even before the onslaught of southpaw pitching prospects, Atlanta will break its lengthy right-handed streak early on next season. Winter trade acquisition Jaime Garcia throws from the left side and, barring injury, will be handed a spot in the rotation to start the year.
Soon, though, he will almost certainly be joined by steady influx of fellow lefties.
This article originally appeared on