The Atlanta Braves' Conundrum With Nick Markakis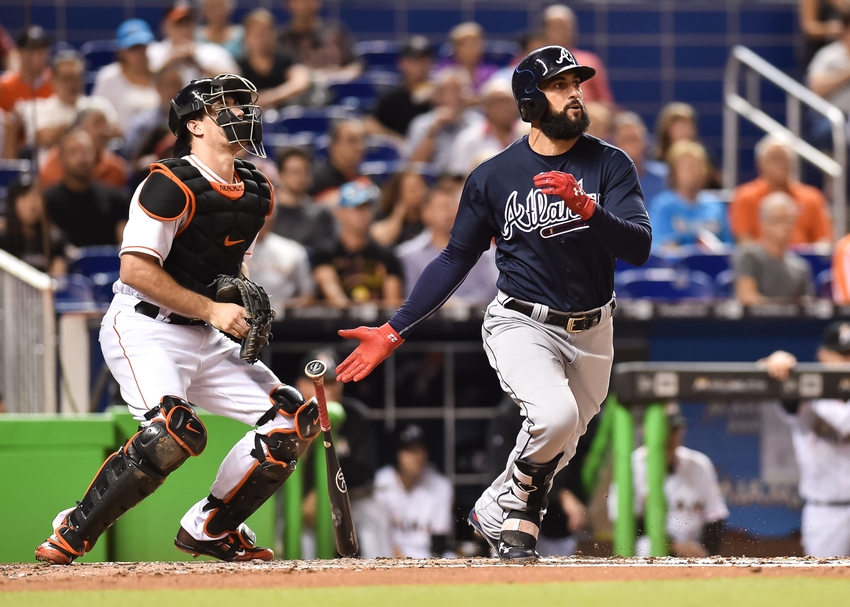 There are two possible scenarios with Nick Markakis going forward. The good news for the Atlanta Braves is – either scenario is a good scenario.
I probably write about Nick Markakis too much. I cannot help that I have a propensity to write about really good baseball players. So stop judging me. But while I am an unapologetic Markakis fan, I am also a realist. Allow me to explain.
Let me begin by saying this – Nick Markakis is worth what the Atlanta Braves are paying him. This is a common argument among fans: "Nick Markakis is not worth $11 million." This is simply not true.
To clarify, no baseball player is worth millions of dollars in my opinion, but relative what baseball players are already being paid, Nick Markakis is worth $11 million per year.
Nick Markakis just had a "down year" by many accounts. In 2016 he slashed .269/.346/.397. He posted the lowest batting average of his career. (I still like to use batting average because  [A] hits are still important in baseball, and [B] I enjoy watching saber nerds get bent out of shape over silly things.)
But really, when you look at his 2016 campaign, Nick Markakis just had a bad first half. Which leads me to believe that Nick Markakis might have just been in a slump and could continue to be his normal .300ish hitting self for at least the next couple of years.
While Markakis hit for just .269 in 2016 (still 7 points higher than Jason Heyward's career BA, mind you) he might have had his most clutch season of his career as he hit .303 w/RISP.
With all of this said, if the Atlanta Braves end up keeping Markakis in right field in 2016, they'll still win baseball games and get plenty of production from him in their lineup. He's also good a catching baseballs.
Now let's go to the second scenario. If the Atlanta Braves trade Nick Markakis, this would open up a door to allow Mallex Smith to enter their outfield. As I explained in a previous column, should this happen, I foresee Mallex going to center field, transitioning Ender Inciarte to right field.
Inciarte is a spectacular center fielder. If he were on any other team, he's an elite starting center fielder all day long. But, if the Atlanta Braves decide to give Mallex Smith a full-time spot, it makes the most sense to put Ender Inciarte in right field.
Keep in mind, Ender Inciarte won a Fielding Bible Award while he was an Arizona Diamondback in 2015 where he spent most of his time in right field.
He's an elite defender WITH a cannon, therefore Ender Inciarte has potential to be a better right fielder than Jason Heyward ever dreamed of being.
Based on Nick Markakis' age, and based on Mallex Smiths' age and potential, this scenario might make the most sense. I believe Mallex Smith is better than his numbers were in 2016 and his future is more important to Atlanta's than Nick Markakis'.
Should this scenario happen, Nick Markakis should warrant a strong return for the Atlanta Braves. He's no washed up old guy who can't play anymore. He's far from that. He's going to get on base, he knocks in runs and he's a threat in late innings.
Whether it's with the Atlanta Braves or with someone else, Nick Markakis is still valuable and is a strong piece to any lineup. Sure, he doesn't have much of an arm. But he's better at the plate that most team's right fielders. And don't forget kids, hitting is important. 
So really, it's no conundrum at all for the Atlanta Braves. Nick Markakis will either be valuable in their lineup or he'll be valuable as a trade piece that will garner something significant.
This article originally appeared on