That Ain't Right: Stop talking about Steve Bartman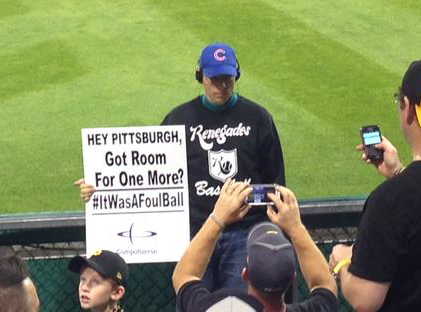 Chicago Cubs owner Tom Ricketts is the owner of the 2016 World Series Champion Chicago Cubs. Most Cubs fans are still having a hard team believing that it "actually happened", 108 years and no more. The Cubs can now work on a back-to-back rather than erasing curses or Steve Bartman memories along with a shortstop named Alex Gonzalez. Except, Ricketts is still being asked about Bartman. Will you reach out to Bartman? Ricketts has indicated he plans to.
Why? Please stop it. Steve Bartman went into Cubs hiding after game 6 of the 2003 NLCS. He has been offered, money, donations to charity, fame, etc. He said no. The Cubs winning the World Series is not going to change his thinking.
Bartman could probably cash in more now than ever. Perhaps seven figures to talk, at least six. He apparently doesn't need the money and certainly doesn't want the attention. So lets do ourselves a favor. Stop wanting him to show up and tell you it was Ok that you had terrible thoughts about him that brutal October night if you were a Cub fan.
If you were like me and were in the park, you most likely booed him. You may have even yelled a****ole at him or worse. And you feel bad about it. You should. Bartman showing up on opening day and telling you it is all ok is not going to make you feel any better. Or, at least it shouldn't.  We all owe him an apology.
Here it goes: From the bottom of my Cub fan heart, I apologize for not punching everyone in the face that night that wanted to punch you. It was not your fault. Please leave Bartman alone. It is all he wants.
Sincerely,
Mark Carman
This article originally appeared on