Texas Rangers: Possible Landing Spots for Ian Desmond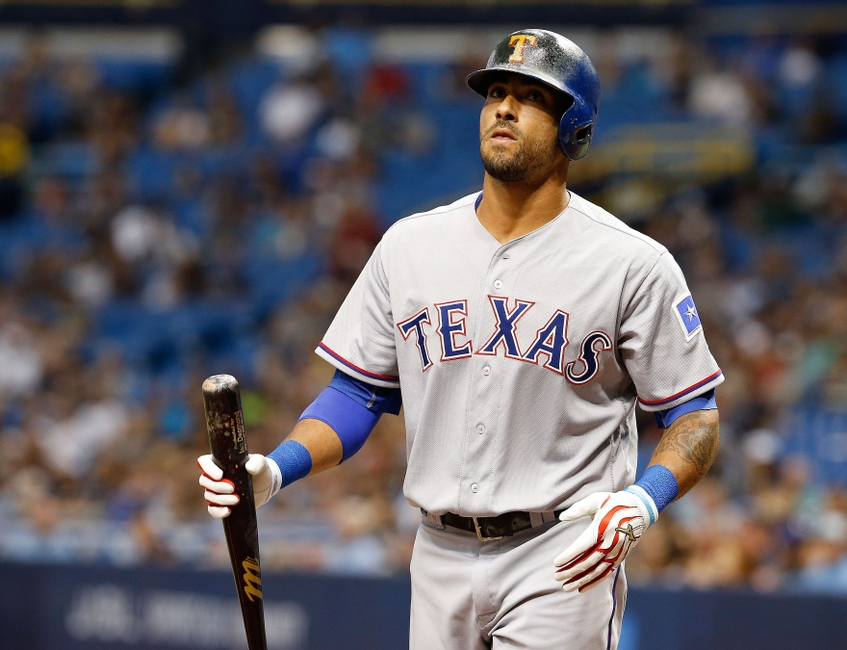 After arguably his best season in the majors, Ian Desmond's value is at an all time high. After taking a one year deal with the Texas Rangers last year, Desmond should cash in this time through free agency.
The former shortstop Ian Desmond crafted a masterful season playing outfield for the Texas Rangers. Desmond slashed .285/.335/.446 with 22 homers, 86 runs batted in, and 21 stolen bases. Last season Desmond proved his worth as an all-around contributor at the big league level. Last off-season Texas offered Desmond a one year, eight million dollar contract. Now, after a career year, Desmond may see himself making twice that amount.
Desmond's flexibility to play all three outfield positions along with his middle-infield history makes him a very valuable asset. Although his fielding numbers aren't the best in the outfield, his fielding is good enough to get him by. At shortstop or perhaps second base he is amazing, so teams can keep that in mind as well.
Regardless, his bat is his biggest asset to any team, and whoever signs him likely is signing him for his offensive production. Desmond provides above average power, good contact, and great speed. Although he did benefit from hitting in the Rangers line-up, it shouldn't be overlooked the turnaround he had and the contributions he can make to a team in need.
Desmond will certainly have a plethora of teams offering him a contract. The reason for this is he can fit almost any need a team may have. If they have a hole in the outfield he can play outfield, if they need a middle infielder he can be a middle infielder. Heck, I wouldn't be surprised to see Desmond potentially play games at the corner infield spots next season if need be. Therefore, Desmond may be on the radar for the majority of MLB ball clubs. The big question is – where exactly will Ian Desmond find himself in 2017?
Seattle Mariners
The Seattle Mariners have already made moves this off-season, acquiring Jean Segura from the Arizona Diamondbacks. So with that being said, Seattle's middle infield is now locked in with Robinson Cano at second and Segura back at his natural shortstop. However, the Seattle Mariners outfield isn't the best, and they could benefit from taking Desmond from a division rival. Nelson Cruz is a primary DH, and while Leonys Martin and Seth Smith are okay they didn't have a single outfielder bat over .250. Desmond would provide a great spark alongside Cruz, Cano, Kyle Seager, and Jean Segura.
Desmond would slot perfectly in the number two spot in Seattle. Segura leading off, followed by Desmond, Cano, Cruz, and Seager is a deadly lineup. Obviously Seattle could tweak this in any way they like, but that is a solid core of hitters to build around. With Seattle being so close to making the playoffs for the first time since 2001 they need to make moves. Desmond would not only bolster their current line-up but would deplete the line-up of Texas, being a win-win.
He would likely play left field for Seattle, replacing Ben Gamel. Martin is the better outfielder by a good amount, so keeping him in center should be a priority. With Desmond slotted in left, we may see his defensive numbers increase as it is arguably an easier position to field. Then, on days they need to rest Segura, Cano or Seager, Desmond can fill into the infield.
Desmond would find himself in a very similar situation as Howie Kendrick was with the Dodgers in 2016.
Cleveland Indians
With the potential depature of Rajai Davis and Coco Crisp, the Cleveland Indians are a little thin in the outfield. The Indians have Brandon Guyer and Lonnie Chisenhall at the corners and the young gun Tyler Naquin in center. While Naquin has loads of potential and Michael Brantley is returning, Cleveland still lacks good depth in the outfield. Brantley is too injury prone to rely on solely, and Guyer and Chisenhall aren't exactly key contributors. That is where Ian Desmond comes into the fold.
While the outfield is the primary need for the Cleveland Indians, we could even see Desmond become a rotational third baseman. Young third baseman Jose Ramirez is very good, but at the moment Cleveland only has one third baseman on their depth chart. So, in days that Ramirez needs a day off, Desmond can fill in. The Indians are a great team, but outside of their stellar starters they don't seem to have very much depth. Adding Ian Desmond adds depth to multiple positions.
Desmond would be a direct upgrade to Cleveland's outfield. Of the three current starters, none of them batted over .266 and all have less than half of Desmond's Wins Above Replacement (3.3). While Brantley is a former MVP, his injury history leaves a big question mark on his production. Even with Brantley, Desmond could still fill one of the corner outfield positions, leading to a whole well-rounded outfield.
Philadelphia Phillies
On a young team that hasn't made the playoffs in five years, they need some veteran leadership. With Chase Utley, Jimmy Rollins, Ryan Howard, and Carlos Ruiz out, it is a new age for the Phillies. Led by young guys like Maikel Franco, the Phillies are undergoing a youth movement. What the Phillies lack is some quality veteran leadership. Desmond can provide that to Philadelphia, he isn't too old and could lead the new age in Philly.
Desmond would join fellow veteran utility player Howie Kendrick in Philadelphia. Three weeks ago, this deal would make no sense as it seemed as Philly was going in a different direction. However, with the acquisition of Kendrick it seems to make more sense. Kendrick would likely return home to second base, and Kinsler can replace right fielder Aaron Altherr. Having Desmond be the every day starter instead of a struggling 25-year-old will not only boost the Phillies' production, but can allow the young Altherr to ease into an everyday role.
With both Kendrick and Desmond in Philly, the Phillies can concentrate on developing their players now and doing so while winning. Having a team get beat up year in and year out does nothing to their confidence and can only hinder their ability. Adding Kendrick, Desmond, and a few other veteran key pieces can make the Phillies credible again.
While they most likely won't do a complete turnaround considering they're in a division with the Mets and Nationals, they could start the road to success by bringing in guys who understand how to win.
Toronto Blue Jays
Coming off the heels of potentially losing Jose Bautista and Edwin Encarnacion, Toronto may need a third outfielder. While I've stated before that losing the duo wouldn't be too detrimental, it still takes a hit to the power of the club.
More from Call to the Pen
Desmond can fill into right or left field, replacing Ezequiel Carrera as the stater. Carrera didn't put up bad numbers, but Desmond would be an instant replacement for losing Jose Bautista. He may not put up the same power numbers as Bautista, but considering that Desmond is five years younger he may be the better long-term option.
Not only could Desmond fill into the third outfield position, he could potentially make another transition to a new spot – first base. It wouldn't be too far-fetched, Desmond is relatively tall at six-foot two inches and would be a considerable offensive upgrade to Justin Smoak. This then could allow Toronto to go out and sign a big name outfielder and replace both Encarnacion and Bautista in just two moves.
This, to me, seems as the most logical destination for Desmond. The Blue Jays are already playoff contenders, and would jump at any opportunity to bolster their ball club. With insane young pitching and one of the best in the league, Josh Donaldson, the Blue Jays may as well be one or two pieces away from contending for the AL Pennant.
Desmond has revatilized his career with an impressive 2016 campaign. Teams may worry that Desmond is a risk, that he is a one year wonder, but I don't think he will be. If he is put into the right line-up he will thrive. Whether he is one of many pieces to make a playoff run, or a leader in the club house Desmond may very well prove the naysayers wrong and put up another all-star year.
This article originally appeared on