Texas Rangers: Five landing spots for Derek Holland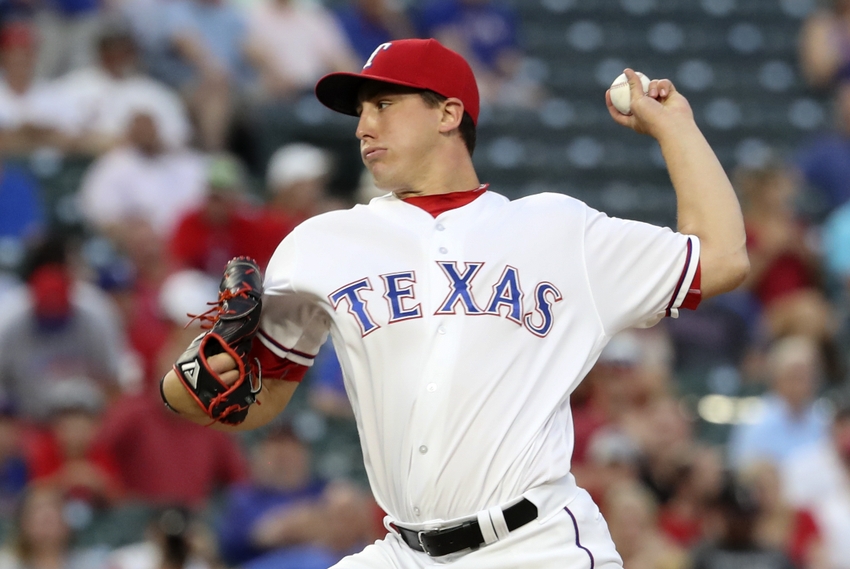 Where could the Texas Rangers send pitcher Derek Holland?
Sure, we have a game six tonight for the World Series, but the hot coals are beginning to be put on the flames of the hot stove. The Texas Rangers may be the first one to make a move this off-season by shipping left-handed starter Derek Holland elsewhere.
According to Jon Heyman of Today's Knuckleball, the Rangers are willing to move out the left-hander. Holland has an $11 million club option for 2017 and $11.5 million club option for 2018.  According to T.R. Sullivan of MLB.com, the Rangers won't pick up the option for him. They have five days from the conclusion of the World Series in order to do so. The Rangers can fill out their rotation with Martin Perez, Yu Darvish, Cole Hamels and A.J. Griffin. Colby Lewis will be a free agent this off-season.
More from Call to the Pen
Holland has dealt with a ton of injuries over the last few seasons. After throwing 213 innings in 2013, he's thrown a combined 203 innings since then. He's seen a drop in K rate since to just over 5 per nine innings.  Per Fangraphs, his fastball velocity has dropped from 93.6 to 91.7. He's gone away from his slider in recent years. The usage has been cut in half from 26.3% to 13.9% over the last two seasons.
So, who's going to give up something for Holland along with paying him the money? What team is going to roll the dice on the 30 year old lefty? Here are five landing spots for Holland this off-season.
New York Yankees
At the trade deadline, the New York Yankees sent Carlos Beltran to Texas for prospects. They could get together again and this time the prospects could go the other way to Texas. The Yankees would be able to take on the $11 million salary pretty easily. If they take on the entire salary, it should take away from the cost prospect wise.
They could use the rotation depth as well. Nathan Eovaldi is out for 2017. Michael Pineda and CC Sabathia will be free agents after next season. Masahiro Tanaka can opt out after next year. Their young arms like Chad Green, Luis Severino and Luis Cessa have yet to establish themselves. Holland can give them a starter that they can move forward with for the next couple years. Why not take a risk on Holland?
If he struggles, they can get let him go after the season or even use him as trade bait at the deadline next season if the team struggles but Holland gets back to his former self.
The Yankees need to have more than one lefty in the rotation. The question is how much better do they think Holland is than some of the young arms.
Los Angeles Angels
The division rival Angels could use some rotation help. Garrett Richards is a huge question mark after missing most of 2016 and with a possible Tommy John surgery lurking if the PRP injections don't work.
Tyler Skaggs has had injury problems in the past. The team also has Matt Shoemaker and Ricky Nolasco but not much else.
C.J. Wilson and Jered Weaver are hitting free agency and the Angels payroll right now sits at around $100 million. Holland having a history in the AL West could be a point of interest for the club and the two teams have made deals before (Josh Hamilton).
With the lack of a quality farm system, the team has already been very active on the waiver wire this off-season to get some depth and this could be another way for the Angels to continue to add to their squad.
Billy Eppler and staff are going to have to get creative and taking a shot on Holland is a risk they may take. Like the Yankees, if they revive Holland and the team struggles next season, he could be used as a trade chip at the deadline.
Philadelphia Phillies
The Phillies could make some sense as well for the services of the 30 year old. Like the Angels and Yankees, the teams have a trade history in recent years with the blockbuster Cole Hamels trade.
Holland, could represent a veteran presence in a young rotation. Jeremy Hellickson was that last season, but is entering free agency. You can make the argument that because of a weak free agent class of starting pitchers, Hellickson could find himself right near the top of the rankings. Because of this, maybe the Phillies don't feel comfortable giving Hellickson a bigger deal.
With guys like Vince Velasquez, Aaron Nola, Jake Thompson and Jerad Eickhoff, the Phillies are building a nice young rotation. Only Eickhoff threw over 135 innings out of the group, so the Phillies may need some extra depth next year. Holland could represent what Hellickson was in 2016. They could then also use Holland as a trade asset if he gets back to what he was.
Going to the National League may help Holland's stats which could give him more of an appeal to an NL team. If Holland can increase his groundball rate, he could have success pitching at Citizens Bank Park.
Atlanta Braves
The Braves are going into a new stadium and a new era in the franchise's history. They could use a new pitcher or two to join their starting rotation. Julio Teheran led the rotation in wins last year with seven. While part of that was not a lot of run support, the starting pitching was an issue for the club outside of him.
Guys like Matt Wisler and Mike Foltynewicz failed to take the next step while prospects like Aaron Blair struggled in their debuts.
The Braves want to be more competitive next year and if they are going to be they are going to need to get some more pitching.
Like in Philly, Holland could benefit from going to the National League. Like the other teams, the Braves and Rangers have some trade history and Holland can also turn into an asset for the Braves as well.
I can't see Atlanta going out and spending big money or prospects on a starting pitcher or two. Getting someone like Holland could prove more appealing to them as they take the remaining cash and try and fill the other holes on the roster with multiple moves.
Los Angeles Dodgers
The Dodgers have a ton of money. A ton of minor leaguers. They also used a ton of starting pitchers in 2016. You can't count them out on anyone or anything.
Brett Anderson and Rich Hill are free agents. Scott Kazmir, Brandon McCarthy and Hyun Jin Ryu have huge injury histories. Kenta Maeda struggled down the stretch. Julio Urias will be on some sort of innings limit you would think. Why not the Dodgers?
The strength of the club all year long was their depth and while they already have a payroll over $180 million for next year, they are again going to have to go over the luxury tax and they certainly have the money to do it. The more salary they take on, the less costly it will be for them prospect wise. For a team that is looking to keep as many prospects as they can, it's a win win.
Holland represents and interesting case. Any of the five above teams could land him in a deal. I can't see the Rangers just letting him go and not dealing him, so I would have to think we see a deal get done, maybe even before the weekend.
This is just surface of what could be a fun off-season.
This article originally appeared on