Texas Rangers: Can Will Middlebrooks Contribute?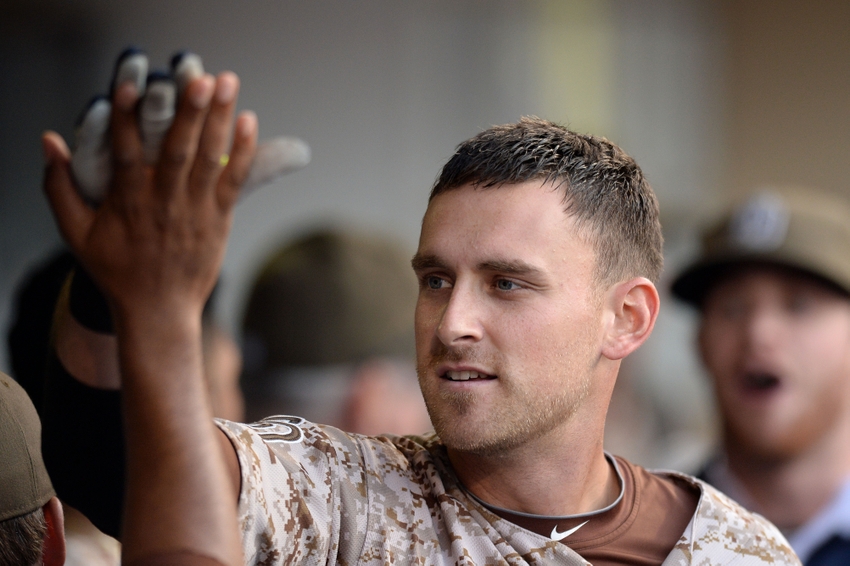 Four years ago, Will Middlebrooks looked to be the future of the Boston Red Sox.  Long before the days of Mookie Betts and Xander Bogaerts, Middlebrooks tore up opposing pitchers in an 88 game stint in 2012, before ultimately seeing his season cut short due to a broken wrist.
Upon his return in 2013, Middlebrooks wasn't the same.  His .288 average and .835 OPS in 2012 fell to .227 and .696 in 2013, before slipping even further in 2014.  Things didn't get better for Middlebrooks when he was demoted to Triple-A, and he was ultimately traded to the San Diego Padres following the 2014 season.
His arrival in San Diego signaled a newfound sense of hope.  Playing in the less-intense market of San Diego was surely going to help Middlebrooks find his swing again.  But instead, his numbers remained largely the same.  While he still displayed the power potential that made him a lauded player in Boston, his inability to consistently make contact led to his short tenure with the team.
More from Call to the Pen
Following the 2015 season, the Milwaukee Brewers, a team looking to cash in on his potential while still rebuilding, signed Middlebrooks to a minor league contract.  At this point, Middlebrooks had experience playing around the diamond at third, shortstop and first base – so his potential as a utility man was intriguing to Milwaukee.
But in limited playing time in the majors, Middlebrooks was once again a shell of his former self.  In 10 games, he hit .111/.226/.111 while striking out in nearly half of his at-bats.  His struggles there could've been due to a lack of consistency in playing time, however, as the 28-year-old shined in Triple-A.
In 264 Triple-A plate appearances, Middlebrooks hit .282/.308/.508 with 10 homers, 47 RBI and 37 runs scored.  While his OBP leaves a lot to be desired, those numbers are a clear indication of the type of player Middlebrooks can be when in the right environment.
After signing a minor league contract with the Texas Rangers, Middlebrooks has the chance to shine.  A native of Texarkana, Texas, Middlebrooks is home – with the bright lights of Boston and unfamiliar territories of San Diego and Milwaukee in the past.
With Adrian Beltre entrenched at third base for the Rangers, Middlebrooks doesn't have a clear path to playing time in the majors – but his ability to play multiple positions may give him a chance with Texas.  If Middlebrooks can flash his power and get on base consistently at Triple-A Round Rock, his path to the majors will be very clear.
Grant notes that Middlebrooks could be insurance for Texas if they wind up trading Jurickson Profar or missing out on the Edwin Encarnacion sweepstakes.  And if Mitch Moreland opts to sign elsewhere this offseason, Middlebrooks' presence will become much more vital.
Will Middlebrooks is a flawed player who hasn't shown much improvement in four years since his fateful debut.  But his rookie season in Boston was enough to show teams he has the talent to compete at the major league level.  The Texas Rangers will just have to hope that his return home will be enough to recapture his potential.
This article originally appeared on