Texas Rangers: 5 Non-Roster Invitees That Could Make The Team
Andrew Webb/FanSided via Nolan Writin'

Fansided
Spring Training baseball is approaching quickly, and the Rangers could have some sleeper non-roster invitees heading into camp this spring.
The Rangers have invited plenty of veteran players and prospects to Spring Training this March. While most are just depth signings in case of injuries or problems. The Rangers do have some sleeper non-roster invitees to watch this spring.
Prospects such as catcher Jose Trevino did not make this list. While these players are exciting to watch, they really have no shot at making the Opening Day roster. This list is for the players with opportunities to earn a spot in camp.
Many of these players are trying to keep their MLB dream alive and this could be their last shot. It is difficult to win a job especially out of Spring Training. The Rangers already have a strong squad and have only a few spots available.
This is not only an opportunity to get ready for the regular season. It's a chance for some veteran players to earn a role on a Major League club. The competition will be strong in camp this spring for the Rangers.
Dillon Gee
Veteran pitcher Dillon Gee has struggled the last few seasons, but still has something to offer the Texas Rangers. Gee pitched during most of the 2016 season, but was forced to miss the end of the year with an injury stint.
In 2016 Gee went 8-9 4.68 ERA in 33 games (14 starts) with the Kansas City Royals. The 30-year-old pitcher as been mostly a starter in his career, but has pitched out of the bullpen in recent years. Gee has seen 20 bullpen appearances since the 2015 season.
A Texas native, Gee could be a fit in the Rangers bullpen as long relief. Gee has pitched over 100 innings in five of the last six seasons. You can never have enough pitching depth, and Gee is a good player to have on your squad.
Gee is a player that can jump into the rotation and make an emergency start with ease. During his seven-year career Gee is 48-46 4.13 ERA in 147 games (124 starts) with over 800 innings pitched. A durable pitcher that can do anything he's asked to do, whether it's in the pen or the rotation.
It's unlikely Gee makes the starting rotation on the Opening Day roster. That is already crowded with fierce competition, but a long relief role is not out of the question for Gee. A strong Spring Training could earn him a bullpen role in Texas.
Will Middlebrooks
Struggling to find a role in the Major Leagues, could Will Middlebrooks find a home in Texas? Drafted in the 5th round of the 2007 amateur draft. Middlebrooks is former top prospect that just never found his groove in the MLB.
In parts of five Major League seasons Middlebrooks is hitting .228/.273/.329 with 43 home runs and 152 RBI. He has not played in over 100 games in a single season at the MLB level. Could the lack of experience be part of the reason he's struggled?
Middlebrooks is a 28-year-old Texas native just looking to keep his Major League dream alive. He had a stint with the Milwaukee Brewers last season, but performed much better in the minor leagues. Only played ten games at the MLB level with the Brewers in 2016.
He could grab a utility bench role with the Rangers in camp. Middlebrooks has legitimate Major League power and has two seasons with over 15 homers. The problem is he's been unable to find consistent playing time, and lacks plate discipline.
Middlebrooks has struck out 311 times and walked just 63 times at the MLB level. He likely won't ever be an everyday player, but could find a role off the Rangers bench. He has the ability to play every infield position and has tremendous power.
He'll have to fight for the role in camp, but his potential power is what could get him a role with the Rangers. Having a power bat off the bench with an ability to play every infield position is a good addition.
James Loney
The Los Angeles Dodgers selected first baseman James Loney in the 1st round of the 2002 amateur draft. A solid Major League hitter, but has failed to find a consistent home. He could have already lost his role in Spring Training before it starts.
The Rangers reportedly signed first baseman Mike Napoli which could hurt Loney's chance of making the team. The only position Loney can play is first base, and Napoli will likely be the Opening Day first baseman.
Through 11 Major League seasons Loney is hitting .284/.336/.410 with 108 home runs and 669 RBI. The 32-year-old has put together a good career, but his lack of power has haunted him. Loney has not hit more than 10 home runs in a single season since 2013.
Power is just not a big part of Loney's game and the Rangers need to accept that. He's still an above average first baseman with five years of postseason experience. Loney has played 23 playoff games and brings experience to the Rangers.
A strong performance in Spring Training could earn Loney a spot on the 25-man roster. He could force Napoli to the DH role and move to full-time first base. It will not be easy though with five or six players all attempting to grab a role at first base this spring.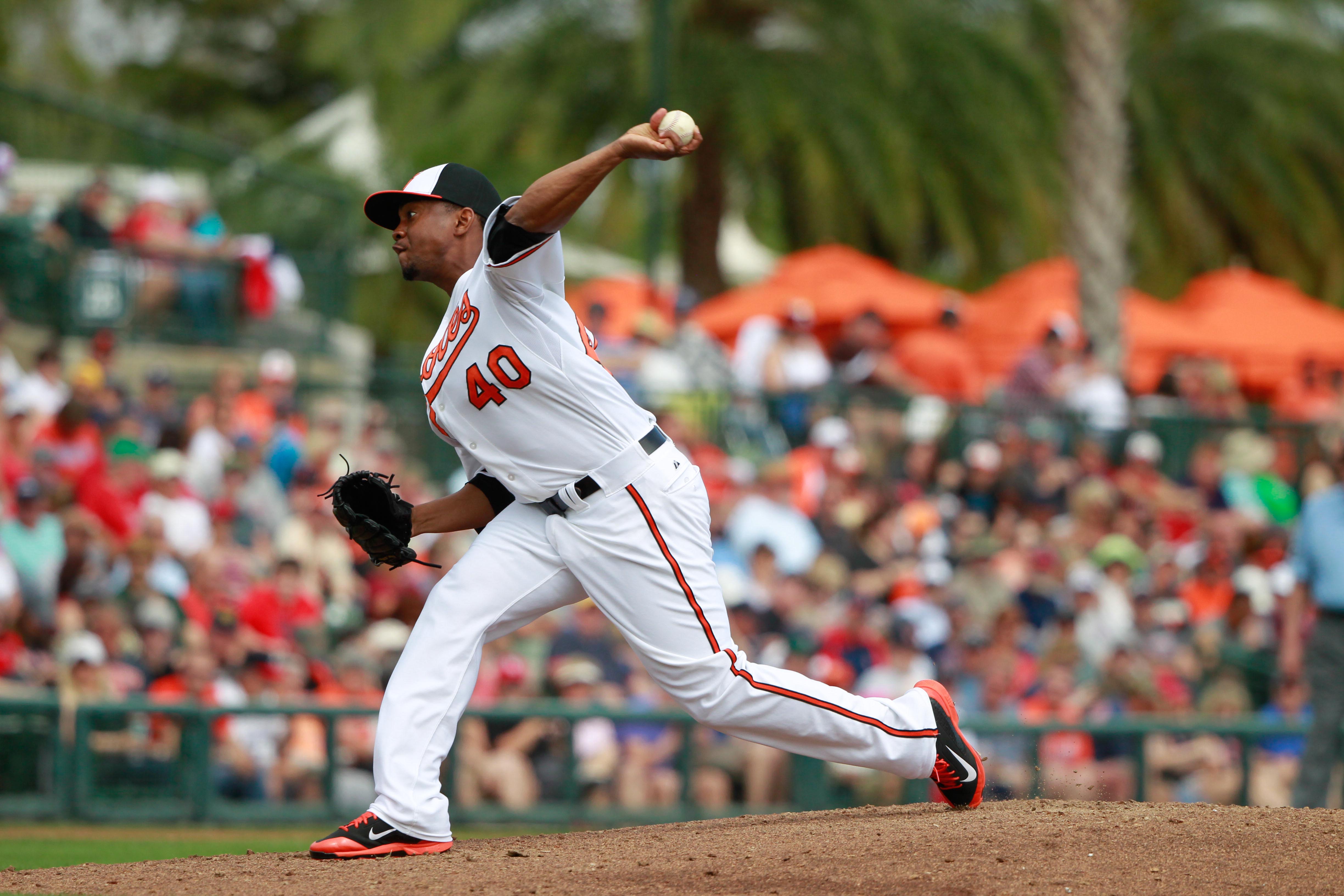 Wesley Wright
32-year-old left-handed relief pitcher Wesley Wright could have the best shot at making the Opening Day roster. An injury to lefty Jake Diekman has opened up a role for someone to jump in at least until mid-season.
Wright has eight years of Major League experience going 10-18 4.16 ERA in 371 games with two saves. His first three years in the MLB were horrendous, posting an ERA above 5 every season. In 2011 something changed with Wright.
Since 2011 he's put together five consecutive solid Major League seasons. He did not pitch in the MLB in 2016. He pitched in the minors with the Boston Red Sox, going 0-2 4.31 ERA in 19 games with three saves.
Wright isn't going to turn into an All-Star pitcher. We've seen what he can do, but he's good enough to make the Rangers roster. The Rangers desperately need a left-handed arm with experience.
Wright not only has the ability to get left-handed hitters out, but right-handed batters too. Wright is much better against lefty batters, but can get both out. Another great quality is his ability to keep the ball in the ballpark.
Wright does not allow many home runs, and his experience could be useful in the Rangers bullpen. As long as Wright can stay healthy throughout Spring Training, expect him to be in the Rangers pen Opening Day.

Josh Hamilton
Arguably most anticipated non-roster invitee is five-time All-Star Josh Hamilton. After missing all of the 2016 season Hamilton is back and ready to play in 2017. This time though it will be a first base.
Hamilton has not played a single game at first base during his entire career. The 35-year-old has injuries problems and is already a below average outfielder. Moving Hamilton to first base or DH is the best solution.
During his nine Major League seasons Hamilton is hitting .290/.349/.516 with 200 home runs and 701 RBI. Hamilton is a legitimate power threat and could be a steal for the Rangers. If he makes the roster he'll earn the MLB minimum salary.
Getting a former MVP for league minimum is huge, especially if Hamilton can still perform offensively. Hamilton has not played in over 100 games since 2013, but could be one of the biggest players to watch this spring.
Hamilton has the potential to be a huge steal for the Rangers. Most likely he'll play DH with the Rangers offering James Loney a spring invite and signing first baseman Mike Napoli. Hamilton at first base just doesn't seem like a good idea, especially when the team has better options.
Joey Gallo will be Hamilton's main competition this spring. This could be Hamilton's last shot at playing in the MLB. We'll see what Hamilton can do this March.
This article originally appeared on