Baseball diplomacy needed for Premier 12 to succeed
Did you hear about the new international baseball tournament announced in Tokyo last week?
No?
Well, it's conceptualized as a "best-vs.-best" competition — or something close to it — held on the off cycle between World Baseball Classics. Since the last WBC was in 2013, and the next one isn't expected until 2017, the inaugural Premier 12 will take place in 2015 — as in, this November, with preliminary games in Taiwan and medal round in Japan.
The World Baseball Softball Confederation and Nippon Professional Baseball (Japan's top league) are organizing the tournament. That means Major League Baseball and the Major League Baseball Players Association are not, casting serious doubt on what type of players the Premier 12 will draw from the United States … and Dominican Republic … and Venezuela … and other national teams among the 12 invited.
In fact, Royals right-hander Jeremy Guthrie — one of the highest-ranking players in the MLBPA leadership — hadn't heard about the Premier 12 until I contacted him about it last week.
Yet, here was his reaction: "I'll be the first to show."
There you have a perfect synopsis of international baseball competition, as it stands today: The games are great … when they happen. The players love the experience … but participation rates and overall awareness aren't what they should be. And fans haven't seen enough big tournaments to know instinctively when the next one is coming, or how important all of this actually is.
But if you're asking whether any MLB players want to play in the Premier 12, the answer is yes. I talked with one of them.
"I'll be there if they want me," said Guthrie, who played for Team USA at the '09 World Baseball Classic and on MLB All-Star teams that traveled to Taiwan in 2011 and Japan in 2014. "I'm the Fresno State of international baseball — 'anybody, anytime, anywhere.'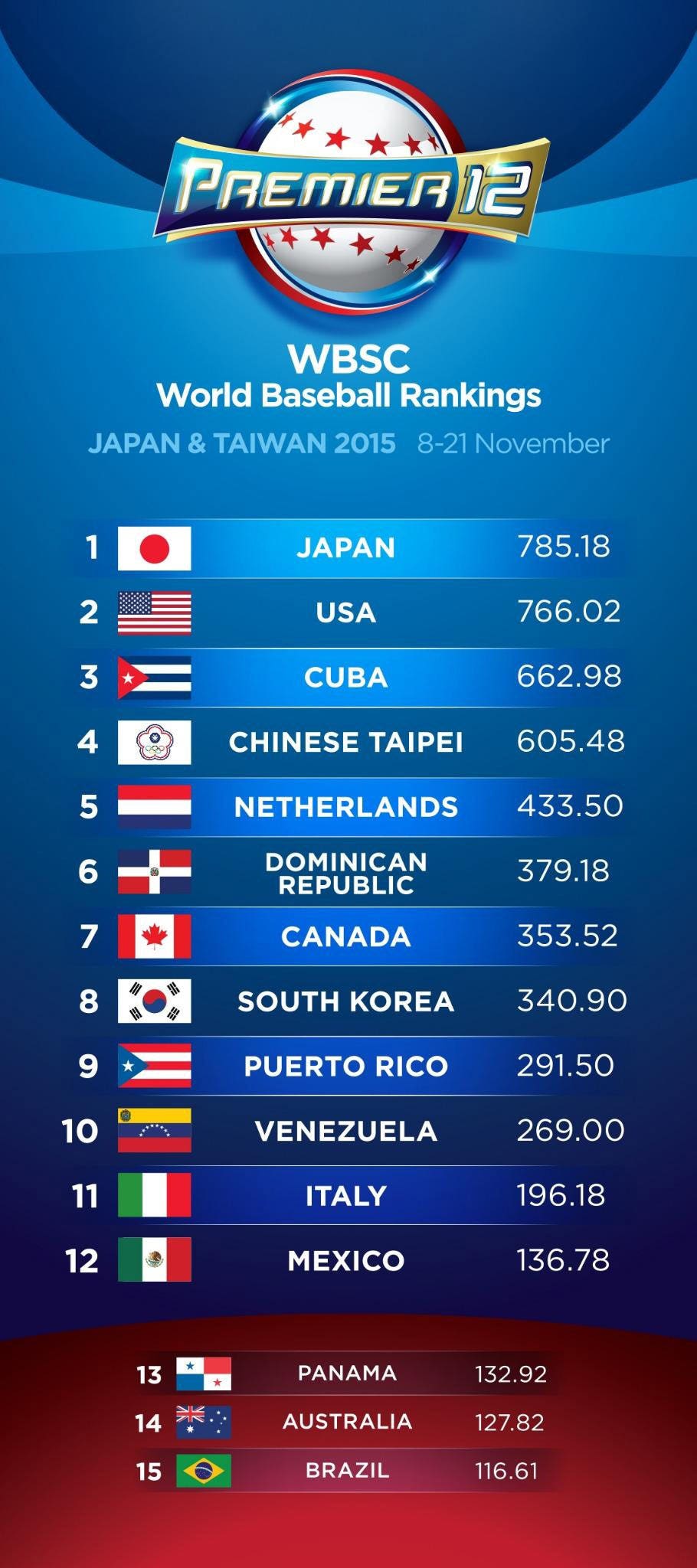 "Sal Perez is the same for Venezuelan baseball. You can put Salvy on that list right now. He'd play a thousand games a year if he could. Pablo Sandoval will be there. Robbie Cano will be there. Erick Aybar, I bet he'd be there. Chris Capuano will be there. There's probably 20 recognizable, established big leaguers who would love to play in all of these events and are always open to it. And then there's everybody else, for whom it's an absolute struggle."
For now, it's unclear whether any of the players Guthrie mentioned — or Guthrie himself — will be allowed to play in the Premier 12. Neither MLB nor the MLBPA has publicly authorized big leaguers to participate. In fact, the current stance of MLB officials is that they need a lot more information from the WBSC before clearing any player under contract — major league or minor league.
With tens of millions of dollars in player contracts potentially at stake, MLB is right to ask detailed questions of the Premier 12 organizers and demand a constant flow of communication from the WBSC and NPB.
Yet, MLB and the MLBPA should make a good-faith effort to allow at least some big leaguers and high-profile young players to participate. Consider:
• It would reflect poorly on MLB and the MLBPA if they ask the world's best players to participate in the WBC — the tournament they organize and from which they derive profits — and then block them from representing their countries in an offseason event arranged by other baseball entities.
• If MLB teams permit players to participate in the Arizona Fall League and Caribbean winter leagues, why not an organized international competition culminating in the MLB-caliber Tokyo Dome? (The Seattle Mariners recently granted Cano permission to participate in the Dominican Winter League — despite his $240 million contract — after he was injured during the MLB All-Star tour of Japan.)
• Without any professionals under contract, USA Baseball would run the risk of embarrassment against teams like Japan, which plans to send the best players from its domestic league. Lopsided losses by Team USA would undermine the tournament — and possibly hurt the brand of international baseball, which needs to remain strong if MLB and the MLBPA are to continue growing the WBC.
• To its credit, MLB is one of the key investors behind the WBSC's effort to restore baseball as an Olympic sport. With the Premier 12 finals at the Tokyo Dome — which would host baseball at the 2020 Games — it's reasonable to expect a meaningful MLB presence at the event.
Team USA wouldn't need to send baseball's answer to the Dream Team in order to show respect to the event. Premier 12 organizers may not even want that, given that they'd have to pay insurance premiums on multiyear contracts — which cost MLB and the MLBPA between $10 million and $20 million at the most recent WBC.
A sensible compromise would be a US roster consisting largely of players with less than two or three years of big-league service — and/or prospects from the Arizona Fall League, which will be in the second half of its schedule when the Premier 12 begins in November. That would serve the added purpose of promoting the game's up-and-coming stars on an international stage. (Dodgers infielder Corey Seager — who played in the 2014 AFL — would have been an ideal candidate if the tournament had been held this offseason.)
"To make it exciting, they should be major-league players," Guthrie said, when asked about roster composition at the Premier 12. "To make it realistic … I don't know. I know how much work and effort and struggle the WBC is every four years — and that's on domestic soil, for the most part. With this, you'd start sending all kinds of major-league players, from four or five countries, to Japan and Taiwan. That raises a lot of concerns that would be hard to overcome.
"I played in the WBC in 2009, and I can honestly say that — prior to this season [when Guthrie started Game 7 of the World Series] — that was the most exciting atmosphere I'd ever played in. When we had our walk-off win against Puerto Rico, it was a sense of, 'We did this for the country.' I don't know if any of us believed the country cared. But we cared."