Team-Player Reunions to Keep an Eye on in 2017
Keaton Moore/FanSided via Call to the Pen

Fansided
After a busy winter, some MLB teams are bringing back familiar faces to their clubhouses. A team-player reunion could be exactly what these ballplayers need to rejuvenate their careers.
Every MLB offseason, teams work to grow stronger through free agent signings and trades. The Cleveland Indians boosted their chances of reclaiming the American League championship with the addition of Edwin Encarnacion. Likewise, the Boston Red Sox seek postseason redemption with their acquisition of Chris Sale.
While Encarnacion, Sale and others find themselves in unfamiliar clubhouses, a number of ballplayers reunite with their former teams in 2017. As we saw in 2015 with A.J. Burnett, who returned to the Pittsburgh Pirates after pitching for them from 2012-2013, a reunion can rejuvenate one's career. Despite a devastating 8-18 season with the Philadelphia Phillies, Burnett's former team signed him for one final season. He rewarded their faith and Burnett went 9-8 with a career-low 3.18 ERA, which earned him an All-Star nomination.
Seeing the good a reunion did for Burnett, a few teams, especially the Oakland Athletics, are placing their faith in former ballplayers. Time will tell if their confidence is properly placed, but here is a slideshow of the team-player reunions set for 2017.
Rajai Davis – Oakland Athletics
Coming off another one-and-done deal with the Cleveland Indians, outfielder Rajai Davis agreed to reunite with the Oakland Athletics. Seven years since leaving the East Bay Area, Davis signed a one-year, $6 million deal to return to Oakland.
Before his first stretch as an Athletic, Davis spent 2007-2008 across the Bay Bridge with the San Francisco Giants. In the midst of 2008, the Athletics selected Davis off waivers from their Bay Area neighbor. He played for Oakland through 2010, during which time he shone brightest thus far in his career.
Overall, Davis batted .287 with 72 extra-base hits and 119 RBIs in 369 games in the green and gold. Moreover, he ranks ninth on the Athletics all-time steals list with 116. In his first full season with Oakland, Davis batted a career-high .305 while stealing 41 bases. The following season, he stole an additional nine bags to put up a career-high 50 stolen bases in 2010, the most since Rickey Henderson stole 66 in 1998.
His phenomenal success made him the centerpiece of Oakland's three-man trade with the Toronto Blue Jays in 2011. He went on to play for the Detroit Tigers before his impactful one-year stint with the Cleveland Indians.
He led the American League with 43 stolen bases and became the fourth oldest ballplayer to lead the league in steals since Henderson in 1998 (66) and Eddie Collins in 1923 (48) and 1924 (42). Furthermore, he drastically improved his power numbers by hitting a career-high 12 home runs, including his loudest during Game 7.
Although he ended up on the losing side of the World Series, he satisfies Oakland's need for an outfielder. His unique personality encapsulates the Athletics revolving-door strategy and both sides are excited for their reunion.
Santiago Casilla – Oakland Athletics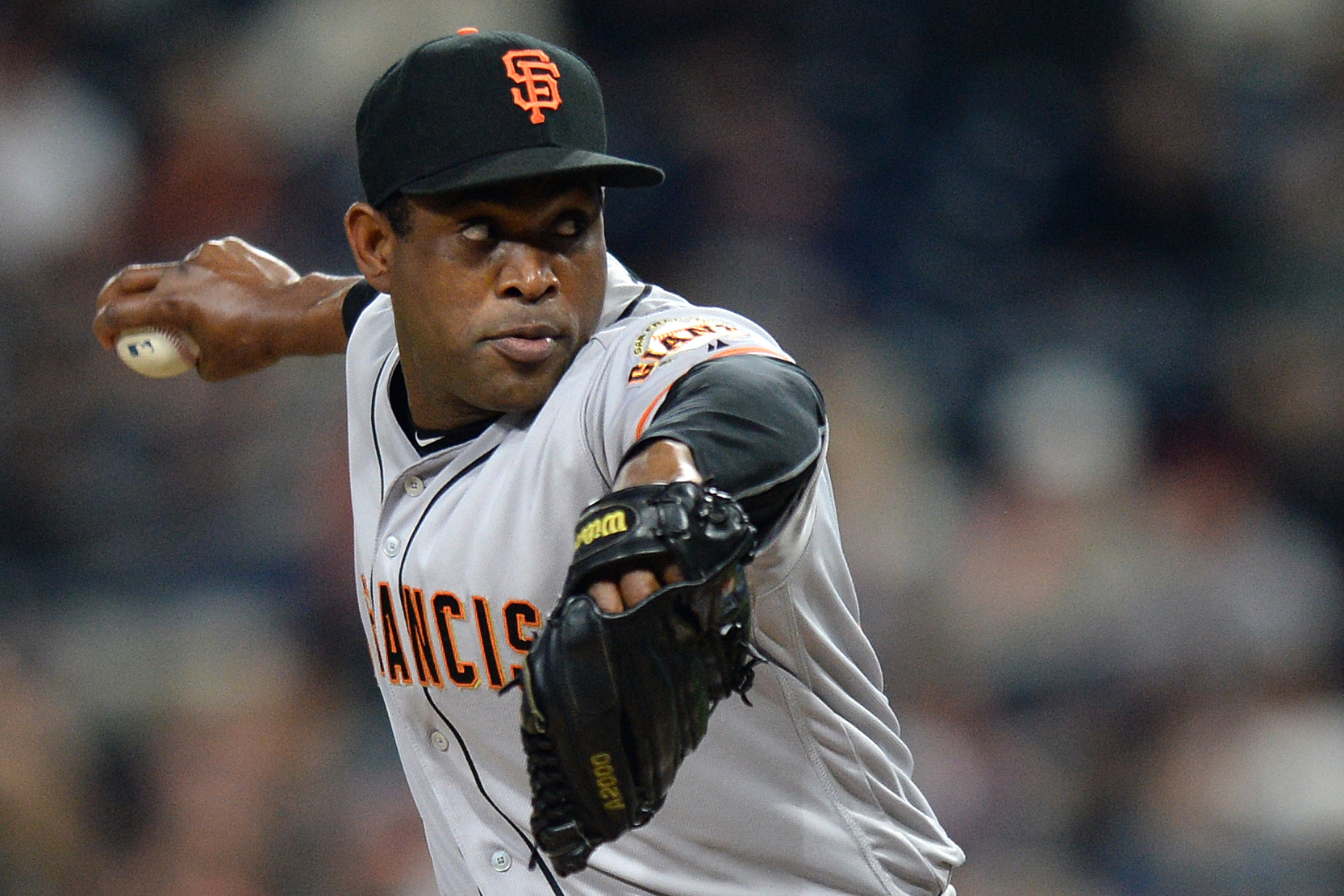 Another former Oakland Athletic is making his way back to the East Bay this upcoming season. In similar fashion as his former teammate Rajai Davis, Santiago Casilla signed for two-years and $11 million to return to where his career began.
"It's an old saying that it's always good to return home," Casilla said (per sacbee.com). "And I'm very happy to get this new opportunity with the Athletics."
Casilla spent the first six MLB seasons in an Athletics uniform. However, following his debut late in 2004, he pitched just 11 innings over his first three seasons. He allowed 12 runs that resulted in a 9.82 ERA.
Eventually, as his workload began to increase in 2007, so did his success. Casilla went 6-4 with a 4.76 ERA and four saves through 149 innings pitched during his last three seasons in Oakland.
Early in 2010, Casilla signed with the San Francisco Giants just in time to help them win three World Series championships from 2010-2014. Along with a career-high 38 saves, Casilla posted a career-best 86.4 save percentage in 2015. Unfortunately, his save percentage drastically dropped to 77.5 the following year, marking the end of his time with the Giants.
Yet, the Athletics looked past Casilla's nine blown saves that cost him the closing role late last season. The frustration of those blown saves overshadowed his career-best 10.1 strikeouts-per-nine-innings.
Returning to his roots across the Bay might be exactly what Casilla needs to shake off the woes of 2016. Confident in the potential of the newest addition to their pitching staff, the Athletics welcomed Casilla with open arms and high hopes.
Adam Rosales – Oakland Athletics
Keeping in tune with their trend of signing former talent, the Oakland Athletics signed Adam Rosales to a one-year, $1.25 million deal. Not to mention, his reunion with Oakland brings Rosales back to the same clubhouse as his 2010 teammate Rajai Davis.
"When my agent told me the A's were a possibility, it was great," Rosales said (per mercurynews.com). "To be back with Bob [Melvin] and Chip Hale, I feel like I'm coming home, that I'm part of the family again."
Two years after his major league debut, the Cincinnati Reds sent Rosales to Oakland through a three-man trade in 2010. Over the course of his four-year stint in the green and gold, he batted .223 with 15 homers and 55 RBIs in only 195 games.
Although his inaugural time in Oakland ended towards the end of 2013, the Athletics were reluctant to give him up. During August, the Athletics faced off against the Texas Rangers in a claims war for Rosales. After swapping hands between both teams three times, Rosales ended up with the Rangers.
Following three years in Texas, Rosales enjoyed the best season of his career with the San Diego Padres. Despite a slumped batting average, he put up career highs in runs, doubles, triples, homers, RBIs and walks while receiving the most playing time since his debut.
His ability to play nearly anywhere on the field bods well for the 39-year-old. Rosales has played at least 60 games at each position on the infield and 11 games in the outfield. Furthermore, his passion and enthusiasm for baseball perfectly combines with his flexible versatility.
Michael Morse – San Francisco Giants
Fans of the San Francisco Giants fondly remember the short stint of Michael Morse and their team's most recent championship run. Two years removed from leaving his mark in 2014, Morse returns to the Giants on a $5 million, one-year minor league deal with hopes to resurrect his career.
Morse began his career in 2005 with a pair of four-year stints with the Seattle Mariners and Washington Nationals. In 2011, Morse batted .303 for the Nationals with 31 home runs and finished 19th for the NL MVP. For a brief time, he reunited with the Mariners in 2013 before signing with the Giants.
During 2014, his quirky personality and success at the plate quickly won over the hearts of every Giants fan. Morse managed to play 131 games and post a .279 batting average before finishing the season on the disabled list.
A strained oblique kept Morse from contributing until the NLCS against the St. Louis Cardinals. Despite his late entrance, Morse delivered in a number of clutch postseason situations.
The two years following his World Series championship in San Francisco, Morse swapped hands between three different teams. He played 45 games with the Pittsburgh Pirates in 2015 only to play six games last season before being released. Without any suitors, Morse resorted to taking the year off.
With potentially the end of his career in sight, the Giants gave their former superstar a chance at revival. Although his recent struggles deem him worthy of only a minor-league contract, the Giants invited Morse to Spring Training to compete for a spot on their regular-season roster.
Carlos Beltran – Houston Astros
Ever since his short stretch with the Houston Astros in 2004, Carlos Beltran longed to return to H-Town. Just shy of a month into the postseason, the Astros opened the door to reunite with Beltran on a one-year, $16 million contract.
.@carlosbeltran15 is back in Houston. pic.twitter.com/E62IYgb7Nm
— Houston Astros (@astros) December 5, 2016
On the cusp of his 20th season in the major leagues, Beltran has spent a majority of his career with the Kansas City Royals, where he received the 1998 Rookie of the Year award, and the New York Mets. His seven-season stints with both clubs sandwiched his 90-game span with the Astros in 2004.
He batted .258 with 23 homers and 28 stolen bases in Houston and continued to put up impressive numbers during the postseason. Although the Astros fell one win short of the World Series, Beltran smashed eight homers and 20 hits.
Once the season ended, he signed with the Mets over resigning with the Astros because the former offered him a no-trade clause. After his contract expired, Beltran played on three different teams in both leagues.
More than likely, he will share the role of designated hitter with Evan Gattis as he transitions into left field. He provides Houston with a veteran bat and major league experience to guide their youthful roster.
"I know it took 12 years to get back to Houston, but at the end of the day, I'm happy when I look around the roster we have, the management and manager and coaches," said Beltran, who penned a letter to Houston with the promise of an epic season (per MLB.com). "It looks like a great group of guys, and we just have to make it work."
Aroldis Chapman – New York Yankees
It seems like only yesterday that Aroldis Chapman donned a New York Yankee uniform. It might not have been yesterday, but he is returning to New York on a five-year, $86 million mega-deal after beginning last season with the Yankees.
"I love the organization, they welcomed me with open arms, and that's why I decided to go back," Chapman said (per espn.com) "I was hoping I had a chance to go back, and it happened…Every player dreams of being a Yankee, and if they don't, it's because they never got the chance."
Chapman broke into baseball in 2010 with the reputation of nearly-unhittable velocity as a member of the Cincinnati Reds. In fact, he set a major-league record by throwing 105 mph as a rookie. Incredibly, Chapman managed to maintain his historically-high velocity and tied his record six seasons later.
Shortly after they acquired him from the Reds, the Yankees added several valuable pieces to their farm system by trading Chapman to the Chicago Cubs. In exchange for Chapman, the Yankees received four top prospects from Chicago, including Gleyber Torres. Although the Cubs went on to win the World Series, the Yankees had the last laugh by resigning Chapman during the offseason.
Just as Chapman looked to extend his career on a long-term deal, the Yankees are laying the groundwork for a dominant future. Not only does he love the Yankees, but Chapman sees the potential dominance in their future. With a loaded farm system and the chance to acquire well-established talent in the 2018-19 free agent market, Chapman only brightens the Yankees' outlook.
Alex Avila – Detroit Tigers
Home is where the heart is and although Alex Avila is native to Southwest Ranches, Florida, the Detroit Tigers are in many ways his baseball home. With a Christmas-Eve signing to a one-year deal, Avila is set to reunite with Detroit and Al Avila, his father and Tigers general manager.
"I'll be backing up James [McCann] and doing whatever I can to help the team win," Avila said (per espn.com). "…I love Detroit and I'm really excited to be in that clubhouse and playing with those guys again."
Avila made his major league debut in 2009, just a year after the Tigers selected him in the 2008 draft. Following his late-season debut, he batted .279 with 14 RBIs through 29 games. From there, he averaged over 100 games through the next six seasons.
Unfortunately, Avila's success gradually decreased until his father granted him free agency in 2015. Plagued by a knee injury, his offseason value plummeted with his .191 batting average and four home runs.
Regardless, the Chicago White Sox signed Avila out of free agency to serve as their back-up catcher. While battling a hamstring injury, he managed to raise his batting average to .213. He also hit three more homers than he did in 2015 and kept his on-base percentage at .359.
For the Tigers, this signing is a low-risk deal. Well aware of his recent struggles, Detroit is comfortable with Avila taking on the role of back-up catcher for James McCann. That way, they add depth behind the plate and allow Avila a chance to potentially bounce back over time.
Mike Napoli – Texas Rangers
A hope for Mike Napoli became reality as the first baseman officially announced his return to the Texas Rangers on Feb. 16. Aside from a brief stint with the Rangers in 2015, Napoli returns to Texas on a one-year, $8.5 million deal after four seasons of being apart.

Napoli spent the first five seasons of his career with the Los Angeles Angels of Anaheim, the same team who selected him in the 17th round in 2000. Following 2010, he swapped hands between the Angels and Toronto Blue Jays before being traded to the Rangers. Over the next two seasons, Napoli played with immense success in the cowboy state.
"Obviously, I wanted to be here." Napoli said (per star-telegram.com). "From the beginning, just going through the process, them showing interest in me, I knew it was a great opportunity to come back here."
Through 113 games in 2011, Napoli put up a career-high .320 batting average and 75 RBIs. His 30 home runs finished 10th among his fellow American League sluggers and remained his career high until 2016. Before signing with the Boston Red Sox, Napoli earned his first All-Star nomination as the American League's starting catcher in 2012.
From 2013-2015, Napoli played for the Red Sox, where he won his first World Series championship in 2013. Yet, his struggles in 2015 did not go unnoticed by the Red Sox and Napoli found himself back with the Rangers in exchange for cash.
Last season, Napoli showed a rebound in the power with the World Series-bound Cleveland Indians. His signing helps the Rangers regain the power they lost when Carlos Beltran, Mitch Moreland and Ian Desmond signed with their respective teams. On the field, Napoli gives the Rangers another option at first base after losing Prince Fielder to a career-ending surgery. Even if James Loney earns first base with a stellar spring, Napoli's bat could be used as a designated hitter.
More from Call to the Pen
This article originally appeared on