Tampa Bay Rays Should Consider Every Option This Offseason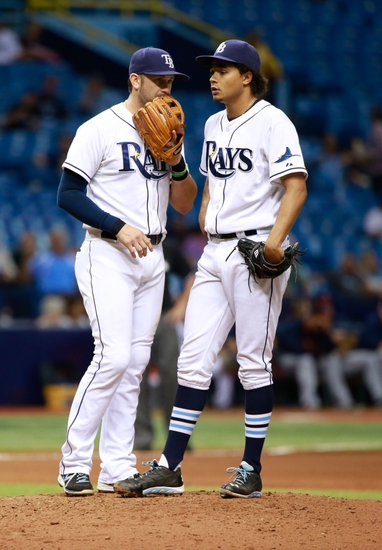 The Tampa Bay Rays need to take serious steps to rebuild this winter, and that could mean saying goodbye to a couple faces of the franchise.
The Tampa Bay Rays are willing to put anything on the table this offseason, according to Marc Topkin of the Tampa Bay Times. He quotes team president Matt Silverman as saying, "When you only win 68 games, you're open to everything."
A rather blunt comment, but a true one. The Rays finished below 70 wins for the first time since 2007. They have experienced a significant downslide in recent years; after winning 92 games in 2013, they have posted win totals of 77, 80 and 68 the past three seasons.
There are a variety of factors that have played a role in Tampa Bay's deteriorating performance. Chief among them are some unproductive recent drafts and trades that did not turn out so well. You could even chalk up the departure of manager Joe Maddon as a sign that things were about to take a negative turn. In any case, the franchise's sole World Series appearance in 2008 seems very far away indeed.
In a highly competitive division with several stacked teams, the onus is on the small-market Rays to get creative to keep up. With the exception of 23-year-old lefty Blake Snell, the minor league pitching pipeline that was traditionally such a wellspring of talent for the club has looked a bit dry lately. If the Rays want to set themselves up for better days ahead, they will need to think about making some tough decisions.
A couple of those could involve determining what to do with franchise figureheads Evan Longoria and Chris Archer. Both were discussed in trade rumors this past season, Archer especially, and they should find their way back into speculation this winter.
On the subject of Longoria, Topkin had this to say: "The third baseman may never have higher value coming off a revived season and with a six-year, $99 million contract palatable to many teams. But indications are the team remains uninterested in dealing him."
The 31-year-old is undoubtedly the face of the Tampa Bay Rays, but when an organization is in a rough place, sometimes painful separations need to happen. Not long ago, Longoria looked like a former star headed for an expedited decline, posting consecutive sub-.800 OPS seasons in 2014 and 2015.
More from Call to the Pen
He rebounded noticeably this year, slashing .273/.318/.521 with 36 home runs and 98 RBI. Though his walk rate continues to slide (6.1 percent), leading to a decrease in OBP, his power numbers were way up. His ISO (isolated power), for instance, shot up from .166 to .248 between the last two seasons. That's a trade-off many teams would probably be comfortable making.
A California native, Longoria has been linked to the Dodgers in the past. If they let Justin Turner go as a free agent, Longoria could be a prime replacement candidate. As Topkin pointed out, the six years and $99 million remaining on Longoria's deal is downright affordable in the current climate. And at newly 31, he likely still has a few prime seasons left.
The Dodgers will be extra-motivated once again to get over the postseason hump and finally return to the World Series, so this could be a move they explore. The Rays would do well to listen if they or any other team comes knocking.
As for Archer, he uncharacteristically struggled in the first half (4.66 ERA) but settled down after the break (3.25 ERA). Despite the up-and-down year, he won't lack for suitors given his age, track record and contract status. The 28-year-old makes under $8 million each of the next year seasons and also has modest team options for 2020 and 2021. Unsurprisingly, Topkin says the club is holding out for a big package of top prospects and/or major league-ready players when it comes to their ace. It wouldn't be surprising to see them focus on moving Jake Odorizzi or Drew Smyly first.
Tampa Bay shouldn't make any of its assets off-limits while engaging in trade talks this offseason. Even under the most optimistic projections, this is a team that is likely at least several years away from seriously contending. Cornerstones like Longoria and Archer may be under contract long-term, but it makes more sense to use them to help replenish the minor league coffers than continue to languish on a bad team.
This article originally appeared on