Tampa Bay Rays: Matt Duffy Out for the Remainder of the Season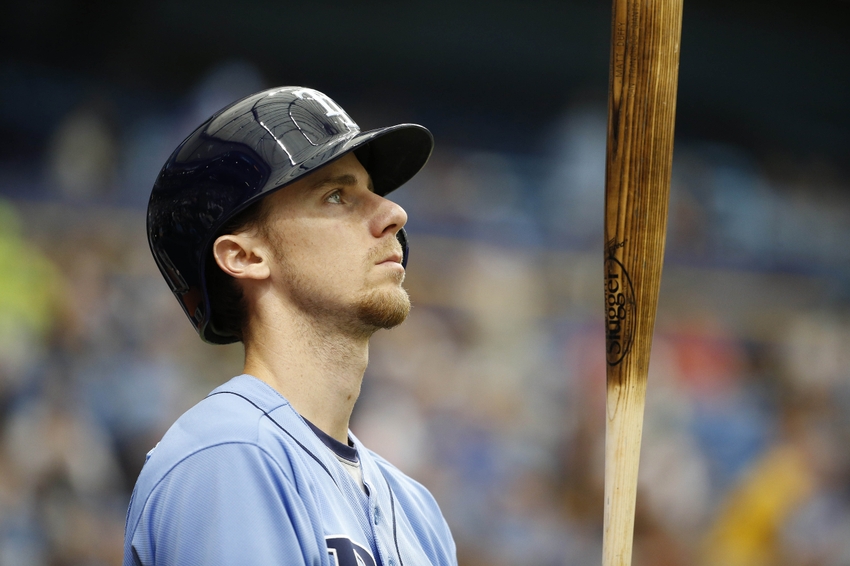 Matt Duffy was injured when he was acquired by the Tampa Bay Rays right before the trade deadline. Now, after playing just a few weeks with the team, the infielder's season is over.
When the Tampa Bay Rays traded Matt Moore to the Giants for infielder Matt Duffy, the club thought they were subtracting a strength to add to a weakness. Stocked with talented young  pitchers like Chris Archer, Blake Snell and Jake Odorizzi among others, the Rays knew that they needed to get some help for their meager offense, which is something we all know they've struggled with the past few seasons. However, the 25 year-old would not provide them with an immediate impact.
At the time of the deal, Duffy had already been out for over a month with an achilles injury. In fact, he's only played a total of 21 game since he switched uniforms. An injured player usually isn't the centerpiece in a trade that involves a starting pitcher as talented as Matt Moore, but the former 18th round pick was an interesting case.
Tampa Bay Rays: Wounded Slowly Return to Action
With just over one full season of service time when the Rays acquired the third baseman, Duffy was a unique player involved in a midseason trade, and with the current injury, he won't reach arbitration until after next season. This amount of team control was enough to keep his value high.
Nevertheless, the injury seems to have stayed with the infielder as there have still been some complications with the left achilles he injured back in June. According to Marc Topkin of the Tampa Bay Times, "Matt Duffy is expected to be shut down this week to have season-ending surgery to address the lingering soreness stemming from his earlier left Achilles injury, with the idea he will be ready by spring."
Duffy himself was portraying the injury as more of a precautionary measure with the team all but eliminated from playoff contention.
"We want to be 100 percent sure that we're ready to go by next season," Duffy said. "I guess that's one of the concerns."
After being somewhat of an unknown coming up through the San Francisco Giants farm system, Duffy quickly made a name for himself in his first season of professional ball. In 2015, Duffy burst onto the scene hitting for an impressive .295 average over149 games. Not only did he flash his quality hitting approach, but he also displayed some power and speed, collecting 12 long balls and stolen bases apiece. This made him a middle of the order hitter in a lineup that has some very productive hitters. However, the 2016 version of Matt Duffy has been a different player than the one we saw last season.
More from Call to the Pen
With the Rays and the Giants, Duffy is hitting a combined .258, with his on-base percentage dropping over 20 points to .310. He also has regressed back to his power numbers in the minors as he only has a total of five homers in 2016. His career-high when looking at both the major and minor leagues was 12. This is not to say that this should be considered a major cause of concern as he was probably playing through that achilles injury for most of this season. He also played slightly better in his short time with the Rays as he hit .276 in Tampa Bay, compared to his .253 clip in San Francisco. This is impressive as he has also made a position switch to shortstop because of the obvious presence of Evan Longoria at the hot corner.
This isn't encouraging news by any means because of how big of a piece he will be for 2017 Tamps Bay Rays. But, the good news is that with the team now fully out of contention, this move looks to be the right one, as there is no reason to push the envelope and cause something even more serious to arise.
Are you legitimately concerned for the Rays shortstop or is this just more of a precaution? Let us know in the comment section below.
This article originally appeared on