Tampa Bay Rays Eyeing a Steve Pearce Return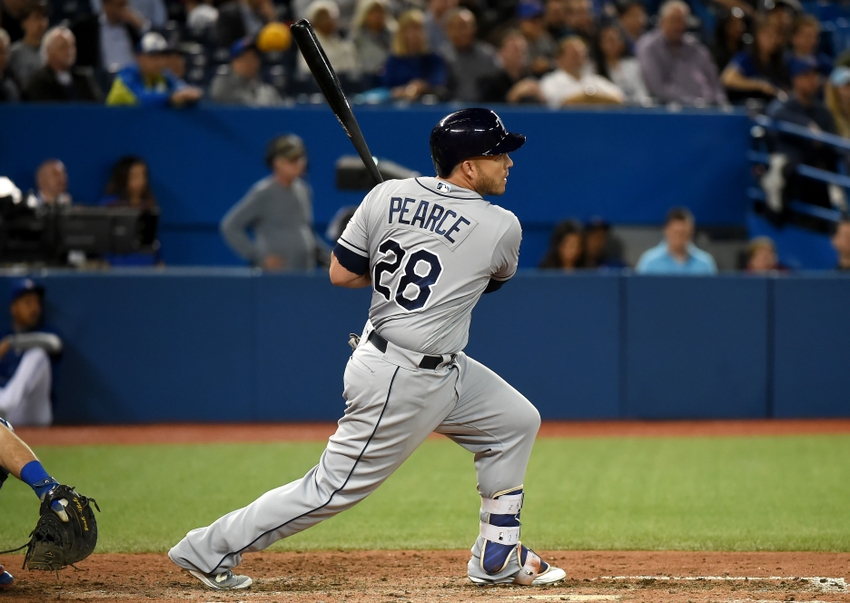 Steve Pearce is drawing interest from the Tampa Bay Rays. A partial member of the Rays in 2016, Pearce would be a nice addition to the Tampa Bay lineup in 2017.
The Tampa Bay Rays are actively pursuing current free agent utility player, Steve Pearce. Pearce spent time with Tampa Bay last season and had good success, hitting at a clip of .309/.388/.520 with 10 home runs in only 232 plate appearances. He was then traded to Baltimore as part of a deadline deal where he had significantlly less success. In only 25 games with the Orioles, Pearce hit .217/.329/.400 with three homers.
Pearce will take part in his 11th MLB season come April. He's posted inconsistent numbers over the last few years; however, when at his best, he's proved to be a popular commodity. Tampa Bay sees Pearce as an additonal right-handed bat with power potential. He's a specific weapon against left-handed pitching. In 2016, Pearce hit .309/.411/.616 against lefties, amounting to a very impressive 1.028 OPS. His statistics against left-handers were comparable to those posted by Nelson Cruz, Ryan Braun, and Adrian Beltre.
The 33-year-old Pearce adds value given his versatility as a defensive player. He can play any infield position aside from shortstop, and can also play either outfield corner. Although a position any hitter can fill, Pearce could also see significant time as a designated hitter.
The Rays are pretty well set in the infield. The outside chance Tampa Bay ships Evan Longoria to another team could open up third base to Pearce, however it is much more likely he sees the majority of his time in the outfield or as a DH.
More from Call to the Pen
His versatility will certainly help his playing time, but his lopsided righty/lefty split could be a major limitation on the number of plate appearances he accrues.
There is a lot yet to be determined for the Rays' outfield. Their current depth chart displays 2016 Gold Glove winner Kevin Kiermaier in centerfield.  Chris Dickerson and Mikie Mahtook are the projected starters as of now in left field and right field. Kiermaier will play as long as he hits. Dickerson and Mahtook, however, have no guaranteed playing time. If signing Pearce, the Rays' ideal outfield would be Pearce in left field, Kiermaier in center, and a healthy Steven Souza Jr. in right field. Dickerson and Pearce may interchange depending on the opposing pitcher.
Tampa's proposed offer is reported to be for 2 years/$10 million. A reasonable contract for a reasonable addition. Tampa Bay is far from contention in the intimidating American League East, however a couple of productive acquisitions could at least ignite a conversation. The Rays' lineup certainly lacks big names, but it does possess some promising  young talent.
Tampa Bay thinks highly of the offensive potential of Souza and Kiermaier. Evan Longoria, Brad Miller, and Logan Forsythe are coming off of great seasons. Steve Pearce would be an improvement to the depth of the lineup. If Pearce is signed, Tampa Bay is hoping he will perform like he did the last time he wore a Rays' uniform.
This article originally appeared on