Tampa Bay Rays Being Left Behind in AL East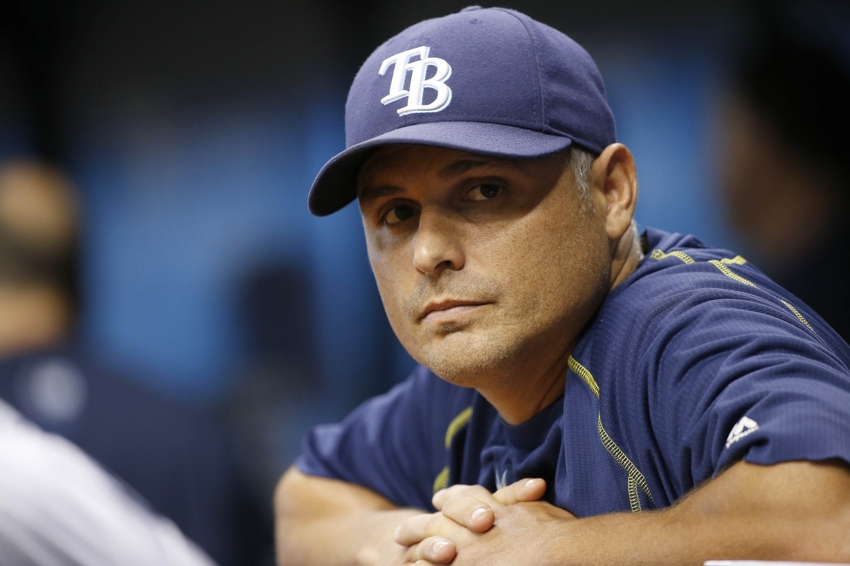 After serving as a model of success for low-payroll teams, the Tampa Bay Rays have taken a step back the last few years. What has caused their slide?
You could make a compelling argument that the American League East is the best division in baseball. It currently houses four teams with records over .500, the only MLB division to hold that distinction. With less than three weeks to go in the regular season, each of those four clubs has a legitimate shot at making the playoffs. The only squad not getting in on the action? The Tampa Bay Rays.
The Rays' disappointing year isn't all that surprising. The franchise has experienced a notable downward trend the past few years. After winning 90 or more games in all but one season from 2008 to 2013, Tampa Bay finished the last two campaigns with 77 and 80, respectively. With 18 contests to go in 2016, they own a 61-83 record, meaning there's a good chance they won't break 70 victories.
That magical 2008 run that saw the Rays reach the World Series seems very far away, indeed. So what happened to Major League Baseball's ultimate underdog, the small-market, tight-budget little engine that could, which more than held its own against some of the league's biggest powerhouses throughout the last decade? You could point your finger in at least a few directions.
CBSSports.com's Mike Axisa took an in-depth look at that question and came away with two answers: poor recent drafts, and some regrettable trades. The key to the Rays' prior success was the quality of its drafting and player development systems, which makes sense considering they are an organization that simply can't compete on the free agent market. For a while, they worked the formula to perfection, deploying a steady stream of talented young arms from their minor league pipeline while putting together a lineup of consistent if unspectacular performers.
The chain of top draft picks the Rays accumulated during their time as one of MLB's worst clubs helped keep that farm system well-stocked. They selected third baseman Evan Longoria third overall in 2006 and pitcher David Price first overall the following year, setting themselves up with two cornerstones for what would be their unlikely climb toward the top of the league. As Axisa points out, the old Type-A/Type-B compensation system for departing free agents also worked to Tampa Bay's advantage. As they let many of their own free agents go, they collected more draft picks to replenish the shelves.
More from Call to the Pen
Unfortunately, the Rays' draft choices since Price have been far less impactful at the major league level. A look at their first-rounders after 2007 doesn't paint the prettiest picture. Shortstop Tim Beckham, taken first overall in 2008, has been especially disappointing, managing a meager .238/.288/.431 in 151 total games in the big leagues. The Rays will hope their recent luck changes with lefty Blake Snell, who was selected with a supplemental pick (52nd overall) in the first round in 2011. The 23-year-old had a very impressive minor league career and has put up solid numbers through his first 16 major league starts this season.
The Tampa Bay front office has also been less effective of late at getting good value in trades for their young stars nearing free agency, as Axisa illustrates. They did very well in 2011 when they dealt Matt Garza to the Cubs for a package including Chris Archer. Since then, they haven't really cashed in effectively enough on their biggest assets. They traded David Price to the Tigers for a rather underwhelming return of Drew Smyly, Nick Franklin and Willy Adames (who could still pan out as one of the Rays' top prospects). They shipped Wil Myers to the Padres for Trea Turner and Joe Ross, but proceeded to flip them to the Nationals for Steven Souza Jr.
What we're left with is a minor league system that's not quite as reliable and comforting as it used to be. The Rays' farm was ranked 13th overall prior to the season by MiLB.com. In Baseball America's midseason top 100 prospects rankings, they had three representatives: Adames (#23), Brent Honeywell (#28) and Jake Bauers (#54).
With the Red Sox's thriving young core and the way the Yankees have set themselves up for the future while remaining competitive now, the Rays could continue to struggle in the AL East in the years ahead. Even if the Orioles lose Mark Trumbo, they will still boast a powerful lineup at least until Manny Machado hits free agency. If they ever get some starting pitching, they could become even more formidable. Some are declaring that the Blue Jays' window will close after this year in light of their impending free agents, but it's probably a bit too early to say that for sure.
Tampa Bay was a doormat in its early days, but through effective minor league development and shrewd trades, it unexpectedly transformed into one of baseball's more exemplary franchises. The last few years make you wonder if history is cycling back around. The club will hope to rediscover that recipe for low-budget success, because right now they're looking less like Joe Maddon's Rays and more like the Devil Rays.
This article originally appeared on