Starling Marte is the Pittsburgh Pirates' Best Player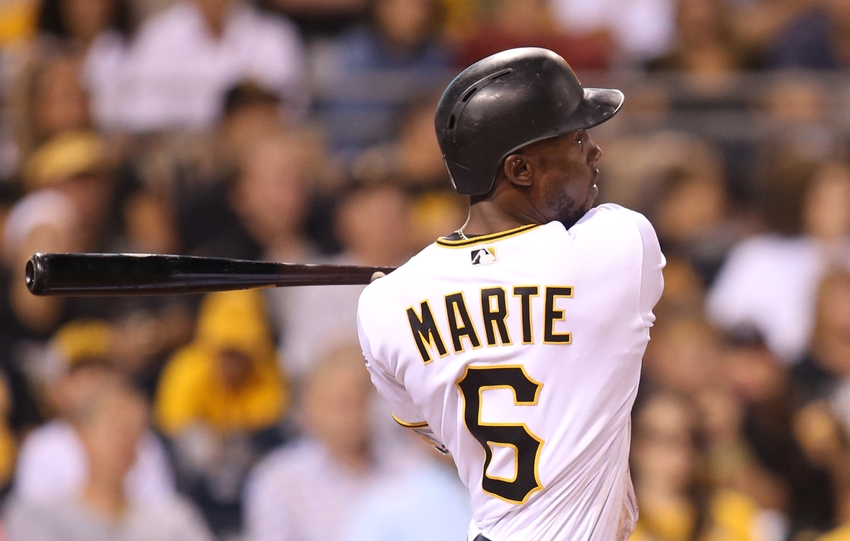 In previous seasons, the answer to this question was a resounding "Andrew McCutchen," but the mighty has fallen. Now, the torch must passed on to someone else. So who is going to assume Cutch's mantle as the Pirates' best player?
It still hurts to say that Andrew McCutchen is no longer the Pittsburgh Pirates' best player, but facts are facts, and it is pretty clear to see that he is not. But someone has to be, and one player seems to be gunning for that crown: Starling Marte.
Starling Marte seems like the most obvious choice right now. Marte was definitely the Pirates' most productive player this past season. Starling finished the season with a .311 batting average, a .362 on-base percentage, an .818 OPS, 47 steals, a .456 slugging percentage, a career-low 104 strikeouts, and 47 steals, which was third in the National League.
Those numbers were good enough to land Marte in the All-Star Game for the first time in his career, hopefully the first of many. Personally, Starling would be my choice for the Pirates best player.
His approach at the plate was much improved this season. Anyone watching could tell what one of his major focal points was this year: have better plate discipline and let the game come to him. Marte was far less swing-happy and took his time at the plate, swinging at hittable pitches and having a great eye on near-strikes that were basically unhittable otherwise. He struck out 104 times, which is the lowest total of his career. That is not to say he completely lost his boneheadedness, but it's obviously gotten better since previous years, so I'll take it.
Perhaps Marte's best and most undervalued quality is his defense. Starling only committed four errors in the outfield this season, and he is always reliable for some spectacular throws to the plate to create a defensive spark for the Bucs. His 17 outfield assists were most in the National League, and second only to the Chicago White Sox's Adam Eaton for best in the bigs.
In my opinion, Starling Marte is now pretty plainly the Pittsburgh Pirates' best player. But how will he respond to that? A great amount of added pressure comes from the status of a true superstar. It will be interesting to see how Marte handles his new status of the Pirates' main man. Will he take that title and run with it? Or will he crumble under the pressure and have a season just as bad as Cutch's last? Only time will tell, but I think the Pirates have found a gem in Starling Marte, one of the most purely talented players we've ever seen.
Go Bucs.
This article originally appeared on