St. Louis Cardinals: Yadier Molina Defies Father Time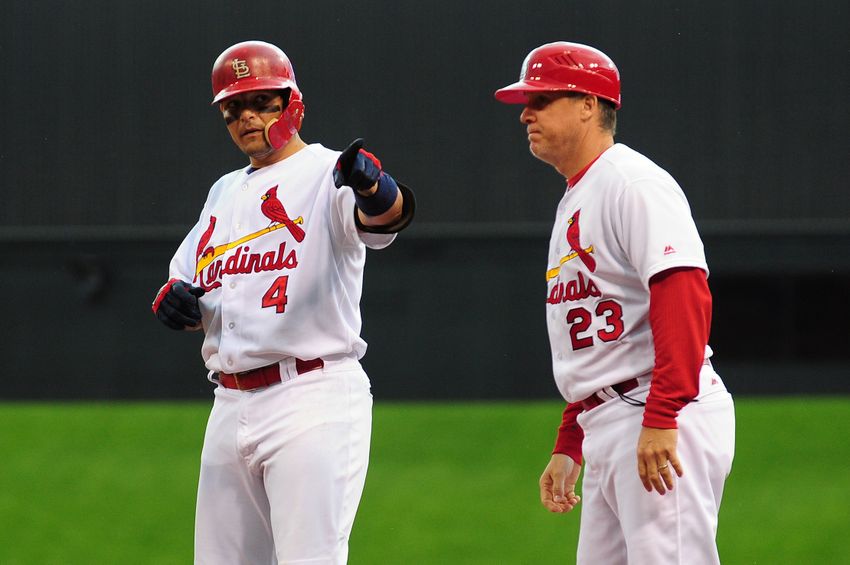 Yadier Molina continued to defy Father Time for the St. Louis Cardinals in 2016. What can we expect from him in 2017?
Entering 2016, the St. Louis Cardinals and fans were unsure what to expect from Yadier Molina. He would begin the season at 33 years old, having caught 1,438 games as a St. Louis Cardinal. He had logged 12,026.2 innings in his MLB regular season career, not to mention the eighty-nine playoff games he has been a part of.
To add on to the uncertainty, Yadier Molina underwent two surgeries on his left thumb. There was significant risk that the backstop would not be 100 percent in 2016, or that re-injury could occur.
Molina's value had declined every year since accumulating 6.1 fWAR in 2012. In 2015, Yadier Molina was worth only 1.3 WAR, his worst season since 2006. Molina's career innings were taking their toll, and the St. Louis Cardinals were seeing an inevitable decline from him.
Except that in 2016, Molina showed that he wasn't done just yet. In fact, Molina accumulated 2.4 WAR while playing in 147 games and catching in 146, both career highs. He hit for a .307 average,  the highest among all Cardinals with at least 100 plate appearances. After three straight years of declining offensive value, Molina's .307/.360/.427 line in 2016 was his best offensive season since 2013.
Molina brings an unquantifiable value to the team as well. In the clubhouse, he is arguably one of the most respected leaders in the MLB. At the end of Spring Training this year, Molina met with manager Mike Matheny along with Matt Holliday, Adam Wainwright, and Matt Carpenter to address concerns about the clubhouse climate.
Further, his effort to pour over scouting reports on opposing hitters to develop a game plan tailored to each pitcher has a tremendous impact on the staff's effectiveness.
In 2016, Yadier Molina bounced back to become one of the St. Louis Cardinals' best players for another season. While it remains to be seen if he can sustain this higher level of production, his impact on the Cardinals both on and off the field continued to impress.
Grade: A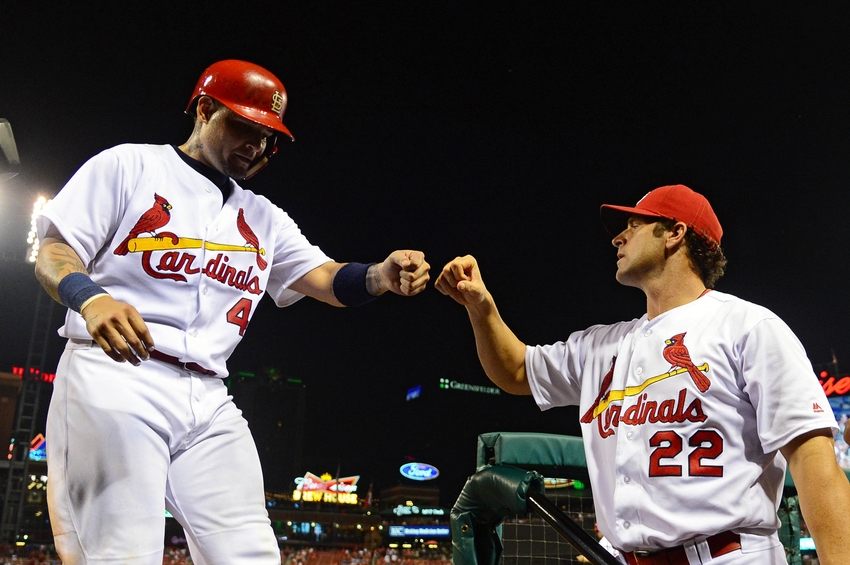 Jeff Curry-USA TODAY Sports
How will Yadi peform with the bat in 2017?
Perhaps the most impressive part about Yadier Molina's 2016 St. Louis Cardinals campaign was his success at the plate. Prior to this season, Molina's batting average had declined two straight seasons. His OBP and SLG each declined three consecutive years.
It was generally accepted that Molina was past his prime at the plate, and any offensive value would just supplement the defensive and intangible value he brings to the St. Louis Cardinals. Instead, Yadier Molina was able to reverse the course. His average, OBP, and SLG were each his best since 2013. He posted a 113 wRC+, also his highest since 2013 and good for the fourth best offensive season of his career.
it is unsurprising that a catcher with Molina's career workload would see his defense decline, especially at his age…
This sharp rebound to resist decline and post an offensive season worthy of his prime led me to think that Molina might have altered his offensive approach. Maybe he found something in his swing that allowed him to square the ball up more, maybe he was more patient, or maybe he sprayed the ball to all parts of the field more effectively.
It is unclear what Molina did differently at the plate in 2016, if anything. His 6.7% BB% and 10.8% K% were in line with his career percentages.
He saw 3.57 pitches per plate appearance compared to 3.50 for his career. Additionally, his 2016 spray percentages were all within 1.0% of his career spray percentages. Given how closely 2016 numbers were to his career patterns, it is clear that a changing offensive approach was not the key to Molina's 2016 success.
One thing that sticks out from Molina's 2016 season at the plate is his .335 BABIP. This was the second highest rate of his career, trailing only his .338 BABIP from 2013. This success on balls in play was supported by a 31.1 Hard%. This was the third-highest of Molina's career and topped his career average of 26.7% by nearly five percent.
It is encouraging for Molina's success going forward that his Hard% has cracked 30.0% four times in the past five years, with a 25.3% in 2015 being the exception. Therefore, while it is unlikely that Molina will sustain a .335 BABIP going forward, a .310 BABIP is not out of the question (his career mark is .300). In fact, Steamer projects Molina's 2017 BABIP to come in right at .310.
How will Yadi look behind the plate next season?
Defensively, it starts to get more troubling. Molina's Fangraphs Defense rating of 4.4 in 2016 was the lowest of his career with the St. Louis Cardinals. Furthermore, Molina's defense behind the plate has been on a clear downward trend since 2012.
As mentioned previously, it is unsurprising that a catcher with Molina's career workload would see his defense decline, especially at his age. After handling the largest workload of his career, I would expect Molina's defense to continue to fall in 2017.
However, there are a few metrics which suggest Molina might be able to keep steady defensive value next season. First off, Molina's ability to frame pitches as measured by Stat Corner remained consistent in 2016. Molina's zBall% (pitches in the strike zone which are called balls) and oStr% (pitches outside the strike zone which are called strikes) were approximately the same as Molina's career levels. This suggests Molina has not gotten worse receiving pitches, and likely will not regress here in 2017.
Additionally, Molina's defense as measured by Stat Corner's RAA (runs above average) indicates that he actually has improved defensively over the past two seasons. While he isn't the elite defensive player he used to be, his 9.3 RAA in 2016 ranked 8th among all MLB catchers. Molina is still a very good catcher according to this metric, and his improvement over the last two years indicates he is unlikely to decline much in 2017.
Ultimately, Steamer Projections see Molina continuing to be a consistent offensive presence, predicting him to slash .284/.333/.403 in 2017. This includes some regression in his BABIP from 2016, but is a fair expectation for Molina.
The projections see Molina rebounding defensively, improving from a 4.7 Defense Rating in 2016 to 14.5 in 2017. Coupled with his offensive projections, Steamer sees Molina being worth 2.6 WAR over 109 games in 2017.
Given the consistent decline we have seen defensively from Molina (as measured by Fangraphs Defense Rating), I find it unlikely that he suddenly returns to being an elite defensive catcher. However, given Molina's recent RAA and framing statistics, I do think that he can maintain or even slightly improve his Defense Rating in 2017.
Want your voice heard? Join the Redbird Rants team!
Molina will have another consistent season at the plate, but the St. Louis Cardinals desperately need a serviceable backup catcher to help spell Molina throughout this season. I see Yadier Molina hitting about as well as the projections indicate to post a .280/.330/.400 line. Coupled with a Defense Rating of approximately 5.0, Molina will accumulate 2.0 to 2.5 WAR as the Cardinals 2017 catcher.
More from Redbird Rants
This article originally appeared on