St. Louis Cardinals: Where should Matt Carpenter Play?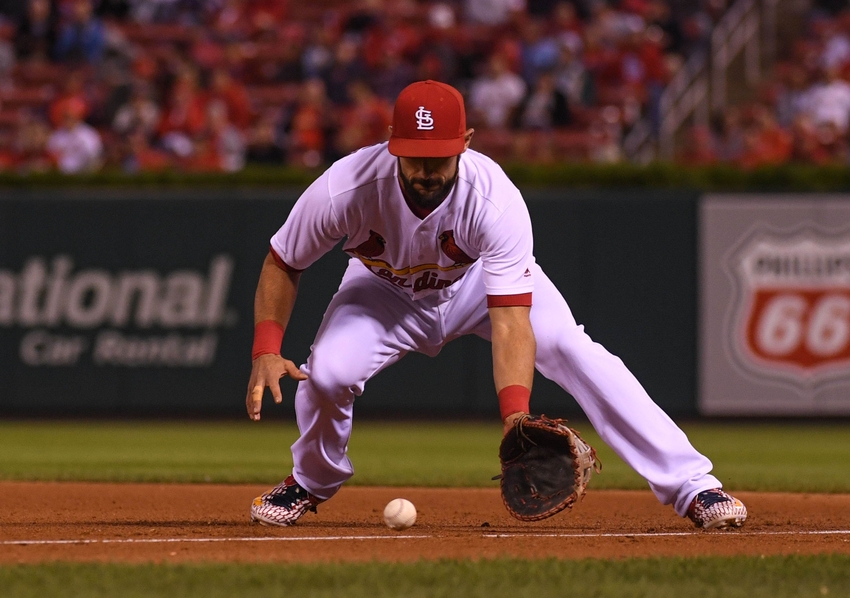 The St. Louis Cardinals have relied on Matt Carpenter a lot in recent years. Despite that, his role on the team in 2017 is still to be determined.
One priority this winter for the St. Louis Cardinals is to improve the defense. Last season the Cardinals were one of the worst defenses in all of baseball. Out of all 30 MLB teams, the Redbirds were 25th in Fielding Percentage (.983) and 25th in Errors (107).
Due to such inconsistent defense, the team suffered as a whole. The Cardinals pitching staff relies heavily on ground balls for their outs. Adam Wainwright, Mike Leake, and Jaime Garcia specifically are all known for pitching to contact but with the defense behind them, they were doomed to fail.
St. Louis infielders were mainly at fault and accounted for 77 of the team's 107 errors. And this is without counting any errors by a pitcher. Furthermore, the following players made up for the bulk of the errors.
With that said, and the assumption that it can't get much worse, what can John Mozeliak and Mike Matheny do to improve the situation? Adding a starting infielder via trade or free agency is unlikely but could happen. The more likely approach, is to reorganize the infield slightly to produce better results.
Aledmys Diaz should be working this offseason and be expected to be better while manning shortstop. Kolten Wong is the best defensive option at 2nd base but his inconsistent bat is hard to keep in an every day lineup. Jhonny Peralta should be more comfortable at 3rd base and his defense should improve compared to his SS days. Jedd Gyorko will likely bounce between those two positions. But what about Matt Carpenter?
Carpenter played 3rd base, 2nd base, and 1st base during the 2016 season for the St. Louis Cardinals. With the way Diaz and Gyorko were swinging, they needed to be in the lineup so "Marp" was forced to move around. Looking towards 2017 however, leaves us with the same question of where should he play?
While playing 3rd base (431.0 innings), Carpenter committed 8 errors and had a .935 fielding percentage. He also had a minus-2.3 Ultimate Zone Rating which places a run value on defense compared to other similarly positioned players. At a negative 2.3, Carpenter was considered a lower than average third baseman defensively in 2016.
During his 318.0 innings at 2nd base, Carpenter committed 4 errors while posting a .976 fielding percentage. He had about 100 less innings played at 2nd base but also half the errors. However, his UZR was a minus-5.9 which is one of the lowest for an MLB second baseman in 2016.
First base is where Matt Carpenter has seen the most success defensively. He played 312.0 innings at first, made 1 error, and produced a .997 fielding percentage. His UZR rating was also a positive 1.0. This suggests that Carpenter would actually be an average defender or better at first base in the major leagues throughout an entire season.
Making Matt Carpenter a full-time first baseman would help the St. Louis Cardinals in more ways than one. If the UZR ratings are any sign of what could be, moving Carpenter to first could immediately improve the team's defense. It could also leave Mike Matheny with a bench bat option in Matt Adams. Adams, who made 7 errors at first base, could either be used when Carpenter provides someone with a day off, or he could be utilized as a threatening pinch hitter late in games.
Carpenter's move to first would also somewhat simplify the log-jam that is St. Louis's infield. Jedd Gyorko, Kolten Wong, and Matt Carpenter were all being tossed around for the second base position. And Gyorko, Carpenter, and Peralta were all juggled in and out of third base. With Marp at first, the second base starting job can be a platoon of the right-handed power bat in Gyorko and the left-handed Wong. Third base could simply be Peralta's job barring any injury or acquisition.
The subtle move of Matt Carpenter to first base full-time would be a smart move by Mike Matheny and John Mozeliak. His defensive numbers are and project to be better at first while he also inadvertently adds depth to the Redbird bench. Cardinals Nation set out this offseason to improve defense, but this subtle change could be a major part of the solution.
This article originally appeared on