St. Louis Cardinals: Trying to Diagnose Kolten Wong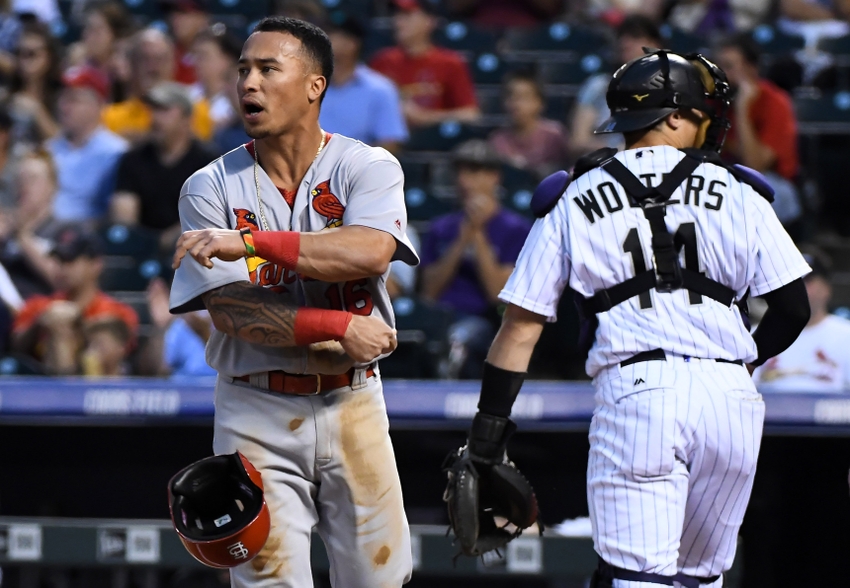 Kolten Wong has struggled with inconsistency since debuting for the St. Louis Cardinals in 2013, and 2016 was no different. Will he right the ship in 2017?
The St. Louis Cardinals GM John Mozeliak has insisted over the years that he believes Kolten Wong will become a cornerstone of contending teams. He signed Wong to a five year, $25.5M extension in March of 2016.
This extension was supposed to signal that primary duties manning second base were his to lose. The move appeared to give Kolten Wong the confidence he needed, and he went on to hit .303 in spring training and earned the opening day start at 2B.
Then the wheels immediately fell off. Wong went 0 for 3 with two strikeouts, and never really recovered. He would hit only .226 in April, .234 in May, and .227 in June. He was demoted on June 6th to AAA Memphis, where the team decided he would begin working as a center fielder, a position where he gained some experience in while in college.
The move seemed to fix something, as Wong would slash .429/.529/.929 in seven games before being called back up to the major league club on June 18. He would go on to hit .257/.350/.257 for the rest of the month.
So what gives? Why haven't Kolten Wong's abilities transferred to the MLB level?
While there was slight improvement in his average and OBP over the last two weeks of June, the power he showed while in Memphis was completely gone: Wong didn't manage one XBH in this period.
July, however, did seem to indicate progress. Wong would hit .288/.373/.441 in this month and looked very much like the hitter the St. Louis Cardinals expect him to be. He earned semi-regular playing time with sixty-seven plate appearances over twenty-four games.
Of course, he immediately fell apart in August to the tune of a .220 average, and would hit only .226/.318/.430 in 110 PAs from August 1st through the end of the year. If there is one positive from this, it would be his slugging percentage remained relatively strong, resulting in a .204 ISO over this time.
Kolten Wong's overall slash line for 2016 was .240/.327/.355, a far cry from the hitter the St. Louis Cardinals were hoping they extended at the beginning of the season.
So what gives with Kolten Wong's fielding and baserunning?

Wong provided solid value defensively at second base, with a 4.5 UZR and 7.1 UZR/150 at the position, while being just below average in limited time in the outfield. His UZR/150 ranked seventh among second baseman with more than 500 innings, so while he was not quite the gold glove caliber Mozeliak thinks he can be, Wong did have his best defensive *full* season.
Yet, Wong's struggles this past season might limit his opportunity in the future. Jedd Gyorko emerged as a weapon for the St. Louis Cardinals, and until he shows otherwise, his bat needs to be in the lineup. Additionally, Gyorko was great at second base defensively, though in limited time, accumulating a 4.9 UZR and 15.4 UZR/150.
Overall, Wong was worth only 1.2 WAR over 121 games, and failed to take a step forward in his age-25 season. Wong is still young, however, so though he has been around a while, it could be that he is simply slow-developing. He still has time to make something click, and his low cost contract will ensure he gets this opportunity without creating a financial logjam.
Most throughout the St. Louis Cardinals organization had high hopes for Kolten Wong. He was a Baseball America Top 100 prospect in 2011, 2012, and 2013. He was supposed to be a "hard-hitting, base-stealing presence atop the order." After being drafted by the Cardinals, he drew comparisons to Chone Figgins, a speedy infielder with good contact ability. Figgins posted four seasons with 3+ fWAR, including a 6.5 fWAR 2009.
In the Minor Leagues, Wong was likely better than the hitter the St. Louis Cardinals expected where he has hit .308/.371/.462; he also stole twenty bases in two seasons. He has shown exceptional contact, on-base ability, and decent power.
Yet, when he reaches the majors he looks like an entirely different hitter, slashing .248/.309/.370. Gone are his contact skills, on-base ability, or gap power. Early in his MLB career, he at least showed promise as a base stealer after swiping twenty bags in 113 games during 2014. However, that number fell to fifteen in 150 games the following year and only seven in 121 games in 2016.
So what gives? Why haven't Wong's abilities transferred to the MLB level?
With regard to stolen bases, the answer is actually easy: Kolten Wong is just trying to run less.
Whether or not this is his decision or team philosophy, there has been a significant decline in Wong's steal attempts each year.
In 2014, he tried to steal twenty-four times and was caught four times. The next season he tried only twenty-three times and was caught eight times; remember, he played thirty-seven more games in 2015 than 2014, but still attempted one fewer steal. The increase in CS is likely due to increased scouting on Wong, so both pitchers and catchers were more aware of him on the bases. In 2016, however, Wong only attempted seven steals and was successful each time. So it looks like Wong hasn't necessarily lost a step, he just doesn't run as often.
So what gives with Kolten Wong's hitting?
Wong's struggles at the plate are a bit more complicated. Looking at his batted ball statistics, the first thing that stands out is that he has been pulling the ball more often and is becoming increasingly more pull-oriented every season.
His Pull% in limited action in 2013 was 31.9% and has increased every year until reaching 45.1%. This makes it easier for defenses to position against Wong, making him susceptible to infield shifts. This Pull%, however, doesn't indicate Wong is too heavy of a pull hitter. Among the thirty-eight second basemen with more than 300 PA in 2016, he ranked only 9th highest.
Another area which might help explain his lack of success is Wong's line drive % (LD%). Line drives are the most likely to go for hits, so hitters with a higher LD% will have a higher batting average and higher BABIP.
Among the same set of second basemen in 2016, Wong ranked 23rd with a LD% of 19.9% but 35th with a BABIP of .268. Across the 268 MLB players with at least 300 PA, Wong ranked 175th in LD% and 229th in BABIP. So, maybe there was a little bad luck involved.
Where it starts to get more compelling is when looking at Wong's Soft%, Med%, and Hard%. This stat judges balls based on exit velocity to categorize them into soft-, medium-, or hard-hit balls. The harder a ball is hit, the more likely it will be a base hit or better.
In 2016 among the sample of 38 second basemen, Wong ranked 33rd with a Hard% of 25.9% but 5th with a Med% of 54.1%. Looking at the entire MLB with more than 300 PA, Wong's Hard% ranked 237th and his Med% ranked 40th.
The Hard% aligns with his ranking with BABIP, and largely explains why Wong had such a weak BABIP in 2016. Additionally, Wong's high ranking in Med% but bottom tier in Hard% indicate that either Wong is just missing a lot, or he doesn't have a fast swing speed. Checking out Wong's average exit velocity via Statcast, it appears to be the latter.
Since Wong has such a high Med%, we would expect that his average exit velocity would be very close to the MLB average exit velocity. Wong's average exit velocity in 2016, however, was nearly two MPH lower than the MLB average, as he registered an average of 87.61 MPH compared to an MLB average of 89.57 MPH.
It appears Wong is hitting so many Med% balls because he simply lacks the swing speed to consistently hit balls with higher exit velocities.
Another troubling sign is Kolten Wong's average launch angle on his batted balls, again via Statcast. Here, Wong averaged a 10.42 degree launch angle compared to an MLB average of 9.97 degrees.
This isn't because Wong hits fewer ground balls than the average MLB player, either. With a GB% of 46.0%, Wong is hitting an average amount of ground balls. Rather, this higher launch angle means that the fly balls and line drives Wong does hit are at higher-than-average launch angles for those type of batted balls.
Balls that are most often hit for home runs are high launch angle line drives or low launch angle fly balls, and these balls need to be hit at high exit velocities to leave the park.
For Wong, this means that while some of his line drives may actually be creeping up into home run launch angles, his average exit velocity suggests he is not generating the power to put them over the fences. Thus, while some fall in for doubles or triples, some also end up in the outfielder's glove.
One more glaring weakness for Kolten is his inability to hit MLB off-speed pitches. Against four-seam and two-seam fastballs, Wong hit .341 and .304 in 2016, respectively; both of these were better than Jason Kipnis of the Cleveland Indians, one of the better-hitting second basemen this past season.
Against off-speed, however, Wong was terrible in 2016. He saw a steady diet of sliders, change-ups, curveballs, and sinkers, and hit .128, .200, .227, and .179 against those pitches. These averages were all significantly worse than how Kipnis fared against similar off-speed. It is especially worrisome that in his third full season in the Majors that he has still failed to adjust to MLB pitching.
Now for some positives. It does appear that Kolten Wong is refining his approach at the plate. His K% has decreased each season, and was down to 14.4% in 2016. Additionally, his BB% has increased each season and nearly doubled last year to 9.4%. These indicate that he is being more patient at the plate and getting the bat to more balls.
This combination should ultimately lead to steadier results. Putting more balls in play means that Wong's batting average is less dependent on having a strong BABIP, while drawing more walks results in a higher OBP even if the average is down. Both of these factors are important in remaining a consistent, everyday starter, and especially so for Wong, whose inconsistencies often lead him to the Matheny doghouse.
So, to sum up, Wong's bat likely has not translated to the MLB level yet because he hits less line drives at higher launch angles and lower speeds, and hits worse than the 2013 version of Pete Kozma against off-speed pitches. However, he does appear to have improved his approach at the plate, which might lead to better results down the line.
Is there a fix for 2017?
If the St. Louis Cardinals are going to be a better team in 2017, they need to improve defensively. Kolten Wong could help the infield defense if he is able to justify staying on the field with his bat.
Currently, Steamer and Fangraphs see Kolten Wong as the St. Louis Cardinals everyday second baseman for 2017. This reflects both what management has said this offseason, and the idea that Gyorko is better used in a utility role where he can serve as an option at each infield position to give guys days off while keeping his bat in the lineup often enough.
Steamer sees Wong hitting .264/.329/.403 in 2017 which would equate to a below-average-but-respectable 96 wRC+. Crucially to Wong's value, however, the projections see him actually falling off defensively from a positive 5.5 rating in 2016 to a negative 1.7 rating in 2017, resulting in a season worth only 1.5 WAR.
As I mentioned previously, I think Wong made improvements as a defender in 2016. He was less error prone than he had been the previous two seasons and maintained above-average range at second base.
I don't anticipate him losing any range in the upcoming season being only 26 years old, so I expect that he will at least match his defensive rating from this past season, which would mean he could easily be a 2 to 3 WAR player this upcoming year given the projected offensive production.
The offensive production expected from Wong for the St. Louis Cardinals in 2017 is where I am most worried. The projections predict almost an identical season to Wong's 2015, when he slashed .262/.321/.386 for a 96 wRC+. That season he had a defensive rating of 2.6 and was worth 2.3 WAR. His season was bolstered, however, by a first half in which he hit .280 with nine home runs before hitting only .238 with two home runs the rest of the way.
Asking Kolten to hit for an entire season like he has for only one half of a season in the MLB seems like a long-shot. He could make adjustments to the diet of off-speed he will face again, but unless he adds bat speed this offseason, that will likely have a negligible effect.
Given Wong's increasing propensity to take walks, it is likely that he can maintain a .320 to .340 OBP even while hitting only around .250.
His lower K% means he will continue to put more balls in play, but often these balls are not hit hard enough to do any damage, so the decrease in his strikeouts leads to only a marginal increase in his batting average.
His lack of swing speed means his ISO will remain around .120 (his career mark is .122). This might suggest a slash line of .250/.325/.370.
Want your voice heard? Join the Redbird Rants team!
Prediction: On the back of steady defense and a little improvement at the plate, I expect Kolten Wong to be worth about 2.5 to 3.0 WAR for the 2017 St. Louis Cardinals, as he finally gains consistent playing time as the everyday second baseman.
This article originally appeared on