St. Louis Cardinals to Get Creative with Trevor Rosenthal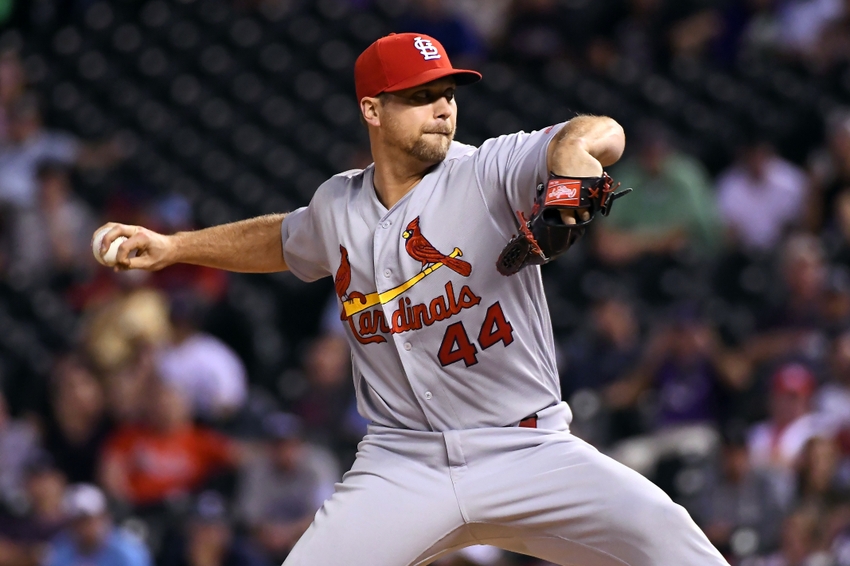 After an injury- and struggle-filled season, the St. Louis Cardinals will try to convert former closer Trevor Rosenthal into a starter, or something more multi-purpose.
In 2014 and 2015, the St. Louis Cardinals' Trevor Rosenthal was one of the most effective closers in baseball. He notched a combined 93 saves during those two seasons while blowing just nine opportunities. The right-hander also managed a 2.65 ERA, 1.34 WHIP and 2.54 K/BB ratio over that span.
This year was a very different story, however. Rosenthal struggled noticeably, putting up an inflated 4.46 ERA and 1.91 ERA over 45 appearances. Although he generated a 12.5 K/9, his highest rate since 2013, his BB/9 spiked to 6.5. Rosenthal has traditionally issued his fair share of walks (career 4.0 BB/9), but this season's BB/9 was nearly double last year's (3.3) and significantly greater than his previous high-water mark of 5.4 BB/9 in 2014.
He also blew four save opportunities by mid-July. To add injury to insult, Rosenthal was placed on the disabled list with rotator cuff inflammation and missed most of the second half. In the meantime, surprising newcomer Seung-hwan Oh took over the closer's role and did an admirable job, leaving Rosenthal's future status in the lurch.
Now, it appears that Cardinals management is eyeing a new function for the hard-thrower in the 2017 season. According to Derrick Goold of the St. Louis Post-Dispatch, Cards manager Mike Matheny has informed Rosenthal that he will be "stretched out" next spring for a potential starting role.
As Goold explains, seeing the unconventional ways teams used pitchers during the postseason this year has inspired other clubs to start thinking outside the box more when it comes to their own arms. Indians setup man Andrew Miller making numerous multi-inning appearances is the most commonly cited example, but Cubs starter Jon Lester turning in a crucial relief outing in Game 7 also comes to mind.
More from Call to the Pen
Having an effective, reliable pitcher – a "HELP" (high-level performance) pitcher, as agent Scott Boras describes it – to deploy in a game's most pivotal moment for as long or as little as they're needed is something more teams might think about. And for St. Louis, Rosenthal could develop into that kind of flexible, multi-purpose tool.
Like most relievers, Rosenthal didn't begin that way. He started 48 games during his four-year minor league career before making his debut out of the Cardinals bullpen in 2012. Given the rough year he just had and the uncertainty around him moving forward, now is as good a time as any to try his hand at it once again.
The plan also makes sense given some of the other things going on with the Cards pitching staff. The previously mentioned Oh exceeded even the most optimistic expectations in his first MLB season, earning 19 saves with a 1.92 ERA, 0.92 WHIP and 5.72 K/BB. The $2.75 million vesting option the team has him on next season is an absolute bargain, and they shouldn't be in any rush to take him out of the closer's chair when he did so well there.
Converting Rosenthal into a starter could also provide some depth to a rotation that was largely a weak point for St. Louis in 2016. Cardinals starters posted a 4.33 ERA as a unit, ranking an unremarkable 13th in the league. The club has plenty of options already, especially after picking up Jaime Garcia's option, but it never hurts to have one more.
And if Rosenthal's foray into starting pitching doesn't really work out, there are many other ways he could provide value to the team next year. In any case, it sounds like they aren't too eager to let him try closing again, which is probably the right course of action for a Cardinals organization set on returning to the playoffs.
This article originally appeared on