St. Louis Cardinals: The Five Players Most Likely to be Traded This Season
Brendan Dlubala/FanSided via Redbird Rants

Fansided
The St. Louis Cardinals have multiple players on their roster that seem highly likely to be traded and a few of them could be dealt very soon.
While the St. Louis Cardinals inch closer towards the start of spring training, there are a number of questions related to their roster that must be answered. Questions regarding outfield depth, the pitching rotation, and how the infield defense will hold up are just a few many fans and reporters are asking. The answers to these questions could change the entire outlook of the team.
Often times during spring training the answers could lead teams to make trades or roster cuts. The Cardinals are in a familiar fortunate position of having pretty good depth in valuable positions. Their starting rotation has too many arms for a 5-man rotation, the infield has a number of guys that could be moved, and the bullpen contains proven, effective pitchers.
Now, the Cardinals by no means will sell off players in a rash attempt to catch the Chicago Cubs. This offseason proved that John Mozeliak has remained calm after our NL Central rivals won the 2016 World Series and that will continue. The starting pitching is expected to rebound, the defense is going to be better, and the offense will hopefully be more consistent and methodical so right now, there is no reason to shake the team up or panic.
However, if in June or July it looks as though the St. Louis Cardinals are falling out of the playoff hunt, John Mozeliak is in a position where he could sell off multiple major league players and receive valuable assets in return. With that said, the following five players are not necessarily the ones I hope are traded. Rather, they are the major league players that just seem MOST LIKELY to be dealt.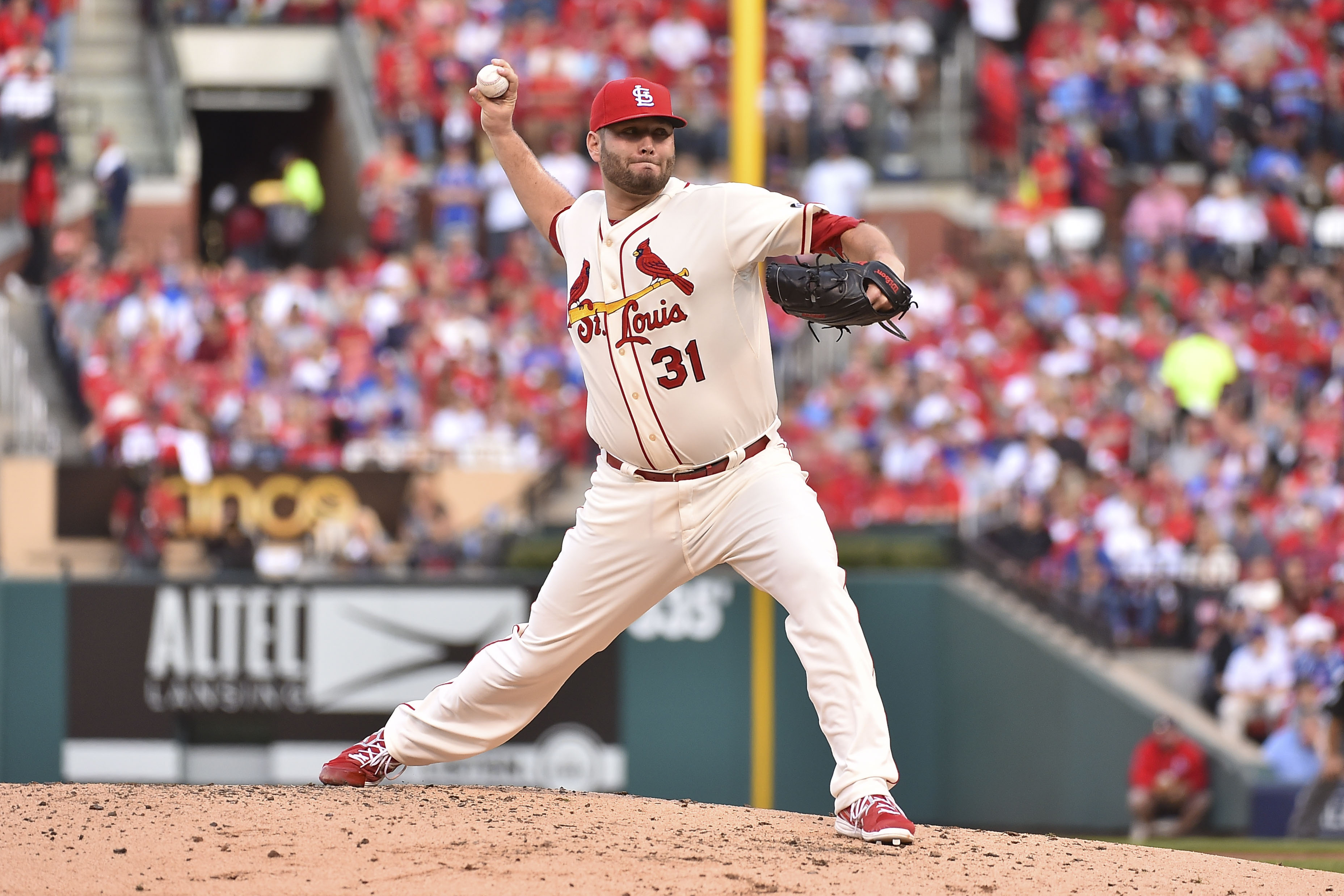 #5: Lance Lynn (Starting Pitcher)
Now, many St. Louis Cardinals fans would probably not like the idea of losing Lance Lynn but he should be made available in trade talks if the season isn't going so well. He should be made available because Lynn is going to be a free agent at the end of the year and barring any extension, it is unknown if he will return.
Lynn is also quite valuable because he's been a great pitcher and is still relatively young. Over his 5-year career Lynn has recorded 61 wins and 39 losses while posting a 3.37 ERA. He has also had 4 straight seasons of at least 175 innings before missing 2016 due to Tommy John surgery. Lynn has also proven to be very effective over his career by never having an ERA over 4.00. He even had an ERA of 2.74 in 2014 while making a career high number of starts (33) and innings pitched (203.2).
The issue with Lynn's value is the fact that he is coming off of Tommy John Surgery. Currently, it is believed that Lynn has fully recovered and is healthy but with that type of elbow surgery there is always a risk. For that reason, Lynn won't be worth much in a trade until he makes a handful of starts which could lead to him being a target at the trade deadline
Lynn is a quality, young starter that could have a decent return if the Cardinals do decide to part ways. Again, Lynn will likely become a trade candidate only under extreme circumstances where the Redbirds aren't in the playoff hunt and feel that Lynn would be worth more in a trade than if he stayed. And again, he is a free agent after this season. Teams that will be going to the playoffs often look to improve pitching before anything else and Lynn could be a big improvement.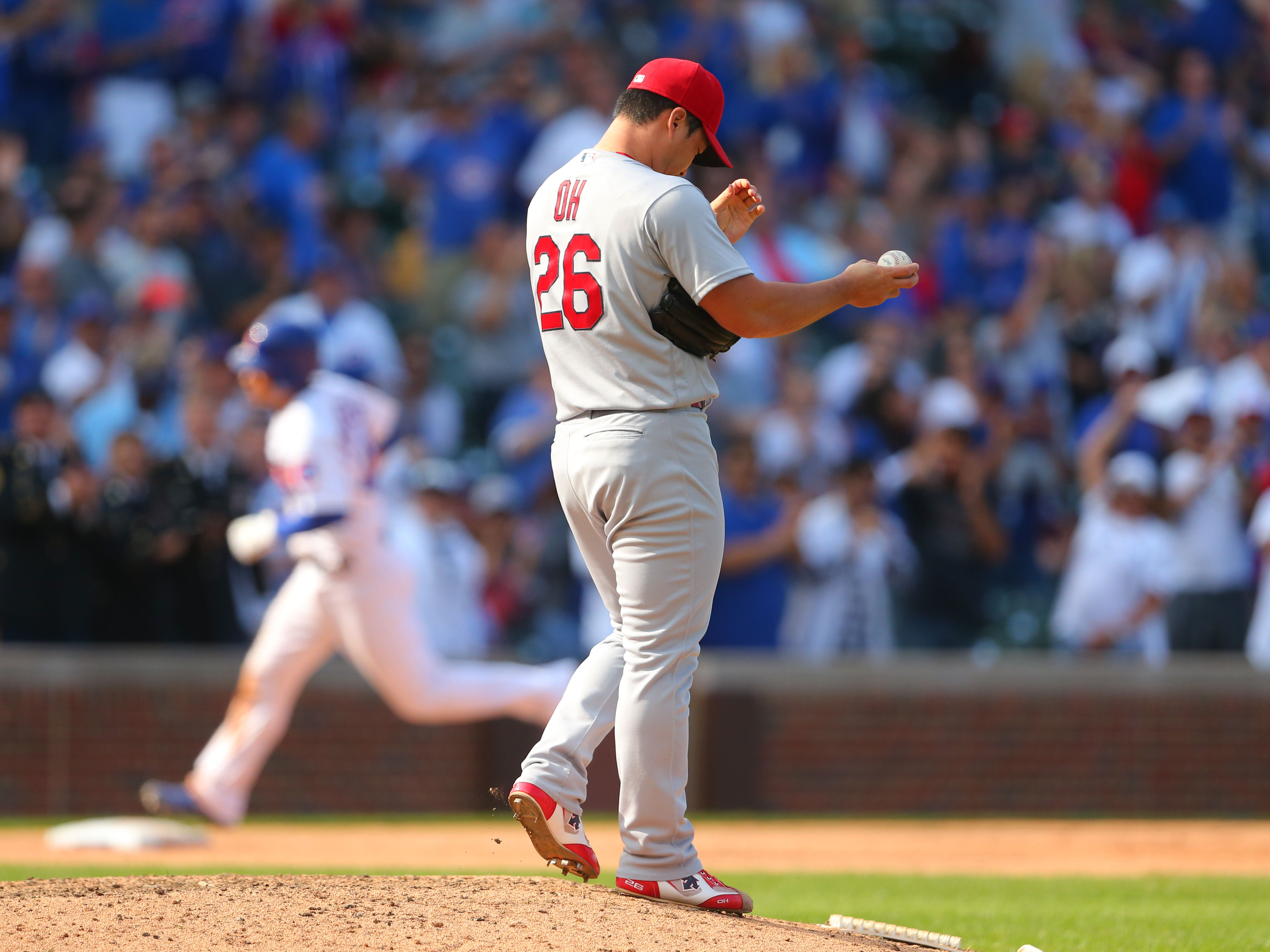 #4: Seung-hwan Oh (Relief Pitcher)
The St. Louis Cardinals found a real bargain when signing Seung-hwan Oh before the 2016 season. Oh came to the MLB after pitching 11 seasons in foreign leagues and he showed everyone in the States that he is the real deal. "The Final Boss" ended up being the Cardinals full-time closer after Trevor Rosenthal battled injuries and became incredibly inconsistent.
In his first MLB season, Oh pitched in 76 games/79.2 innings and recorded a 1.92 ERA while also having 19 saves out of a total 23 opportunities. Oh found a lot of success due to his incredible control which was highlighted by a 5.72 strikeouts-to-walks ratio and a WHIP of .916.
While many Cardinals fans think Rosenthal should be on this list before Oh, they need to realize that Oh is going to be a free agent after this season and is 34-years old while Rosenthal is under team control for 2 more years and will be 28. The pain of losing a valuable player in free agency could be mitigated by trading them and at least getting something in return.
Like Lynn, Oh's value will be strictly to playoff teams and he will only be shopped if the Cardinals feel that they are completely out of the race. Successful playoff teams often build up their bullpen before the postseason begins and Oh would be one of the most sought after guys near the deadline and could be a game changer.
If the Cardinals are struggling in the race for a playoff spot, they could use Oh as a way to begin their offseason early while also not risking any of their talent that is under team control. Oh was great for the Cardinals in 2016 and looks to have the closer role locked down for 2017. If he continues to succeed while the team continues to falter, look for his name to be heavily rumored this summer.
#3: Michael Wacha (Starting Pitcher)
The St. Louis Cardinals were rumored to have been shopping Michael Wacha over the winter so it should come as no shock to see his name listed here. The 25-year old right hander also seems to be the most likely starting pitcher to be left out of the mix. Right now, Adam Wainwright, Carlos Martinez, Lance Lynn, and Mike Leake are locked into the starting rotation but the 5th spot looks like it may come down to a battle between Wacha and Alex Reyes.
If Wacha does become the odd man out, it makes him very expendable and he becomes even more so when we consider the depth the Cardinals have at the position. Guys like Luke Weaver, Austin Gomber, and John Gant can be called upon in the future if the Cardinals find themselves in a situation where they need a spot starter.
Wacha likely wasn't traded this offseason because his value wasn't as high as the Cardinals wished which is due to the injury issues Wacha has faced as of late. He suffers from a shoulder issue that results in repetitive stress fractions. While most arm injuries in baseball can be fixed, Wacha's injury has stuck around. Los Angeles Dodgers pitcher Brandon McCarthy suffers from the same condition and he hasn't pitched more than 40 innings since 2014.
Like Lynn, Wacha's 2017 season will be huge for his value going forward. Wacha is expected to be healthy entering spring training but the strength of his shoulder won't be tested until the actual season. His health will be important because before his 2016, Wacha was a fantastic pitcher.
In 2016, Wacha pitched in 27 games making 24 starts and had an ERA of 5.09. Before that, his highest ERA was 3.38 back in his All-Star 2015 season. Wacha only managed 138 innings in 2016 and was part of a dreadful starting rotation. All of his struggles are hopefully tied to his health but if that is the case then Wacha's durability needs to be put on display for other teams to be interested.
Question marks surround Wacha and his shoulder and the St. Louis Cardinals are in a tough spot. The club needs strong starting pitching to compete in the NL Central and if Wacha doesn't give them his best, it may be time for him to be traded or relegated to a bullpen role. However, even if Wacha does get back on track and helps the Cardinals, he could be worth quite a bit in the right trade.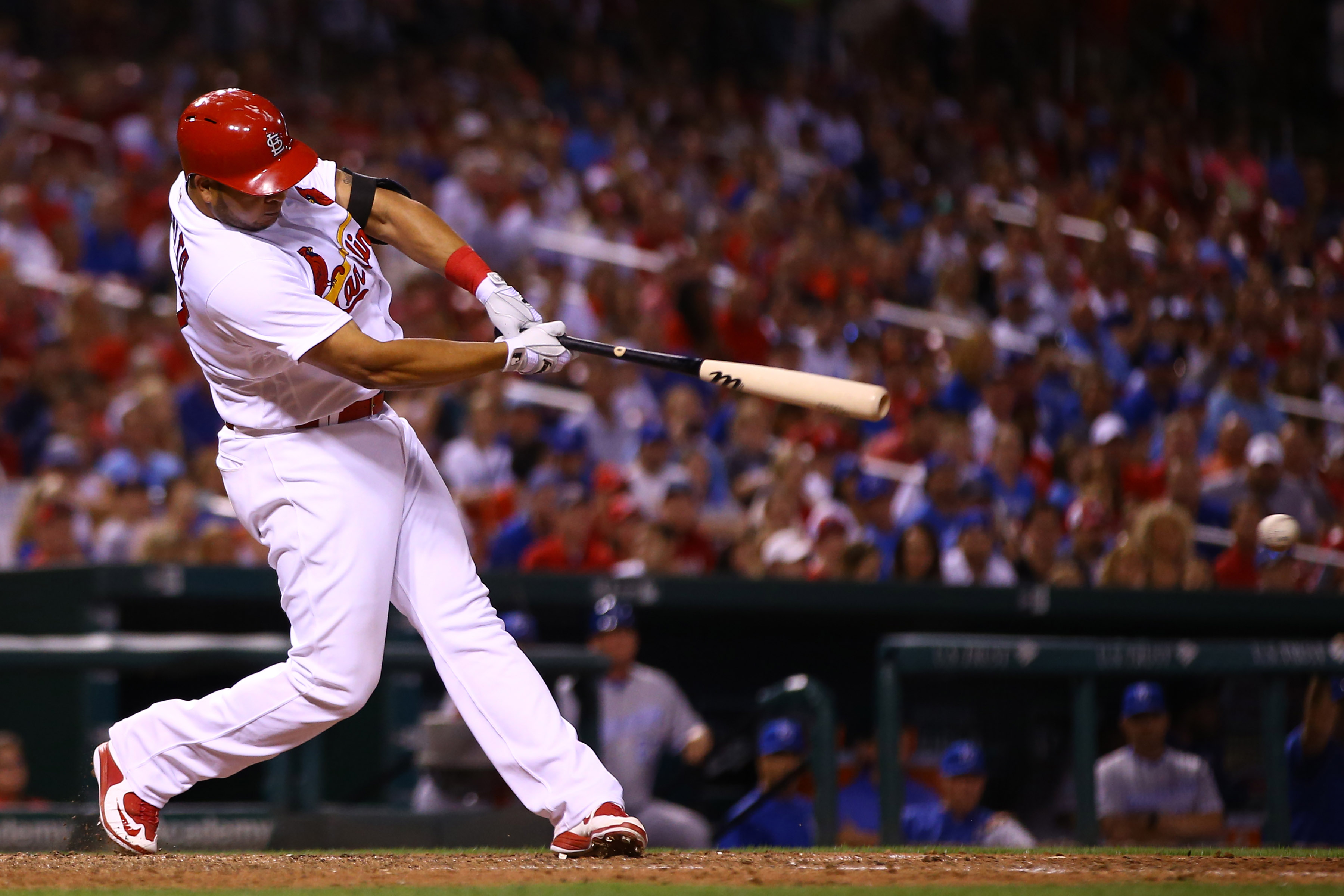 #2: Jhonny Peralta (Third Baseman/Shortstop)
The St. Louis Cardinals shifted around their infield for the 2017 season in order to keep rookie sensation Aledmys Diaz in the lineup without sacrificing playing time for Matt Carpenter or Jhonny Peralta. This resulted in Peralta being moved to third base and Carpenter to first full-time.
Moving Peralta to third base for 2017 is the right move because 1) they are hoping his bat returns to form and 2) there is no everyday alternative with Carpenter at first. Peralta had a bit of a down 2016 season but suffered a thumb injury that directly effected his performance at the plate. Yadier Molina suffered the same injury the year before and rebounded to have his best offensive season since 2013. The Cardinals are hoping that Peralta can rebound in a similar way.
With Carp at first base, the only other players on the roster able to play third base are Jedd Gyorko and Greg Garcia. Both players have proven to be great utility infielders and bats off the bench but neither are everyday players for a team looking to win their division. However, Peralta may still be considered a likely trade candidate because of his contract and age.
Peralta will be a free agent at the end of this season and will also be 35-years old. Cardinals Nation just said goodbye to aging veteran Matt Holliday so to think Peralta will be brought back is foolish. He is almost guaranteed to be a player the St. Louis Cardinals move on from so the question becomes: "When?"
If this season doesn't go according to plan but Peralta's bat is back up to speed, he will be an easy asset to move. Similarly to Carlos Beltran last year, the Cardinals could move Peralta to a playoff contender that is looking for an effective bat that is great in the clubhouse and that has playoff experience. Throw in the fact that Peralta isn't a black hole on the infield and you have a guy that a number of teams would be interested in.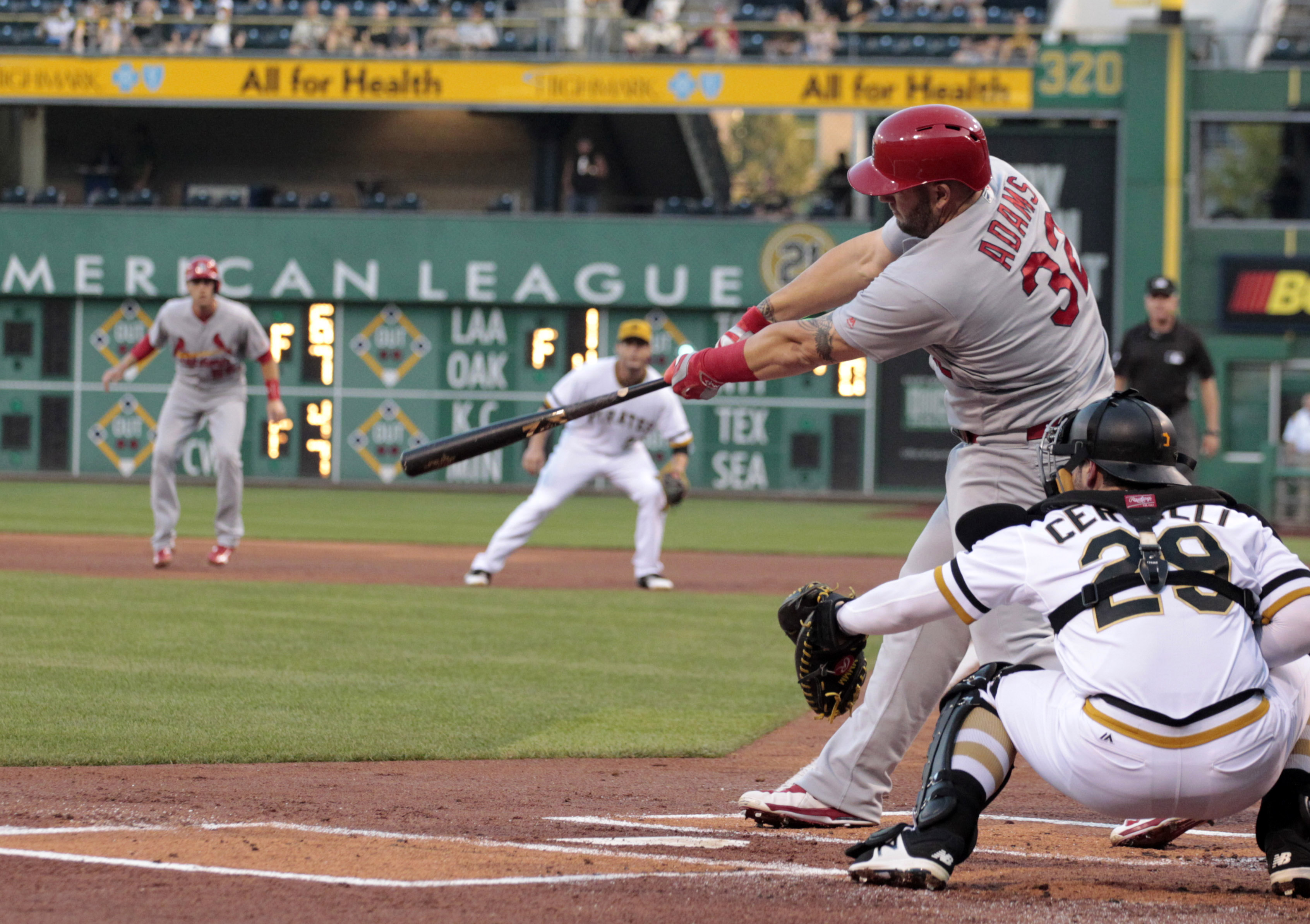 #1: Matt Adams (First Base)
The St. Louis Cardinals basically put Matt Adams on the trade block once they announced Matt Carpenter was going to be the full-time first baseman. Adams doesn't play any other position and he lacks the versatility the Cardinals like to remain on their bench for very long. Last week I covered why Matt Adams currently has no value, but that could change if he makes the most out of his limited at-bats.
Adams is easily the most likely major league player on the Cardinals roster to be traded because he just doesn't fit the club's scheme anymore. This team is attempting to move towards a heavy-OBP offense with a versatile, athletic defense and unfortunately, Matt Adams is neither one of those. His highest OBP came back in 2013 at .335 but his career OBP rests at .314.
Regarding his defense, Adams isn't terrible but he's limited to first base only. Meanwhile, almost every other player on the team is able to at least play another position. And even if an injury or trade occurs and the Cardinals are in need of a first baseman, Adams still isn't necessary. Yadier Molina, Jedd Gyorko, Greg Garcia, or even Stephen Piscotty could find time there while Carpenter is unavailable or moved elsewhere.
Adams isn't a free agent until 2019 and that could help his value going forward. He's still relatively young and has flashed the ability to be a strong gap hitter. Unfortunately, it will all come down to whether Adams makes the most of his limited opportunities and if the Cardinals can find a partner. Part of the problem with trading Matt Adams right now is there are still cheap free agent alternatives like Adam Lind and Pedro Alvarez out there.
Want your voice heard? Join the Redbird Rants team!
Adams is rumored to be coming into spring training in the best shape of his life but it may end up benefitting a different team. While he has potential to be a strong first baseman, the St. Louis Cardinals don't really have the room or need for him. The only way for him to find himself in the starting lineup would be to give someone rest or if there are a number of injuries to the starting lineup. However, it just seems like a matter of time before he is traded to another team.
This article originally appeared on