St. Louis Cardinals: Should the St. Louis Cardinals consider Yasiel Puig?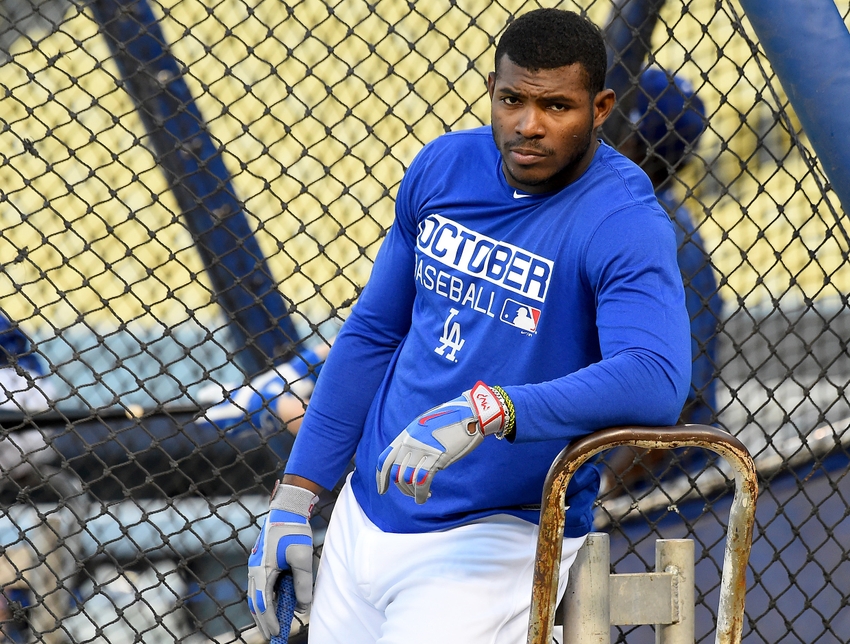 The St. Louis Cardinals are in search of an outfielder and they could trade for one that is in need of a change of scenery. Yasiel Puig of the Los Angeles Dodgers is headlining trade rumors and may need a new team to call home.
The St. Louis Cardinals have expressly stated that an outfielder is a priority for this winter. John Mozeliak has stated that a center fielder would be pursued this offseason but that they will look into corner outfielders as options as well.
With how the current free agent market looks, a center fielder may not be the best option. Signing Dexter Fowler would be regrettable and Carlos Gomez may be too much of a risk. Corner outfielders like Ian Desmond don't possess the defense Mozeliak is looking for while Yoenis Cespedes may be a perfect fit or too costly.
The Los Angeles Dodgers may have a low-cost option for the St. Louis Cardinals to consider. Dodgers outfielder Yasiel Puig has been the focus of countless trade rumors dating back to August. The Cuban born player has shown flashes of brilliance and has incredible athleticism but he also seems to be in an endless slump.
Puig was once the face of the Dodgers' franchise after a great debut in 2013. The right handed slugger batted .319/.391/.534 with 19 home runs and 42 RBI in 104 games during his rookie season. He followed it up with an All-Star 2014 season slashing .296/.382/.480 with 16 home runs and 69 RBI while playing in 148 games. However, after the 2014 season, Yasiel Puig seemed undisciplined and overwhelmed at the major league level.
In 2015, Puig played in 79 games and posted a .255/.322/.436 slash-line and only managed to hit 11 home runs and 38 RBI. His 2015 season was plagued by hamstring injuries but also personality issues. The first issue that came up was the frenzy that surrounded Andy Van Slyke's comments on a St. Louis radio show about how Clayton Kershaw wanted Puig traded. Follow that up with Puig's bar fight in November of 2015 that led to an MLB investigation and the Dodgers now have big issues.
Unfortunately, Puig's 2016 season didn't go much better. He bounced back and forth between the major league ball club and the minor league affiliates. Puig finished the 2016 season with a .263/.323/.416 slash-line while playing 104 games. He also had 11 home runs and 45 RBI but again, there were personality issues.
Yasiel Puig and the Los Angeles Dodgers disputed with one another during the 2016 season about Puig playing in the minor leagues. The Dodgers believed he needed to work on some things while in the minor leagues while Puig told the team that he would not report to the affiliate team. The Dodgers also happened to acquire right-fielder Josh Reddick to replace him.
Ultimately, this led to the Dodgers heavily shopping Yasiel Puig in trade talks. They even went so far as to place him on revocable waivers. The Dodgers pulled him back off waivers but this winter he could be the center piece for their negotiations yet again. Puig was not a part of the 2nd half Dodgers team that overtook first place in the NL West and he was barely a part of their 2016 playoff run so he isn't irreplaceable or untouchable.
So, could the St. Louis Cardinals be interested in Yasiel Puig? Acquiring him should come relatively cheaply given his recent issues on and off the field and it sounds like a change of scenery could really do him some good. The St. Louis Cardinals pride themselves on their ability to manage players and Puig needs good management.
With Randal Grichuk and Stephen Piscotty currently starting in the 2017 Cardinals outfield, Puig could slot in as a corner outfielder while Grichuk remains in center field. The 25-year old Cuban has an unbelievable arm and good speed which would give the outfield a great defensive look which John Mozeliak is after. Puig's bat was All-Star quality not so long ago and he served in the Dodgers' heart of the order so he could return there as a St. Louis Cardinal with hopes that he finds his .300 batting average self.
So, why not look into him Cardinal Nation? He has his issues but John Mozeliak hasn't shied away from players like Jhonny Peralta or Delvin Perez who have had off-field issues. And Mozeliak took a chance on a struggling Oakland outfielder, Matt Holliday, who turned it around and was a St. Louis Cardinal for eight years.
Want your voice heard? Join the Redbird Rants team!
Yasiel Puig was once a .300 hitter and an All-Star. Two seasons later, he is a .260 hitter that seems to be stuck in mediocrity. This reclamation project sounds perfect for John Mozeliak and "Cardinal Magic" to do its trick. It would definitely be a risk by the Cardinals but it could be one that pays off ten fold.
More from Redbird Rants
This article originally appeared on