St. Louis Cardinals: Seven Possible Center Fielders to Trade for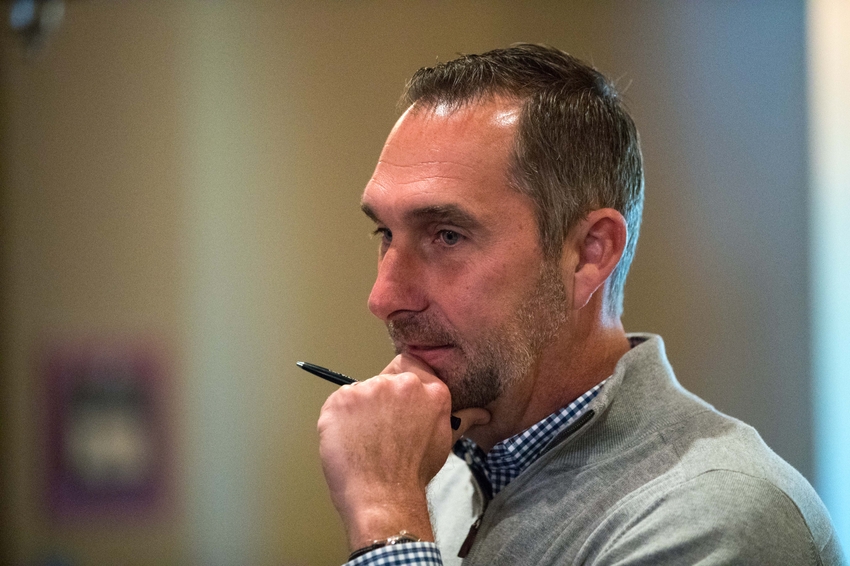 The St. Louis Cardinals have made it their mission this winter to improve their defense. One of the priorities is to upgrade the defense in center field as Cardinal center fielder Randal Grichuk is likely moved to left field.
The St. Louis Cardinals were one of the worst defensive major league teams in 2016. General Manager John Mozeliak recognized that and has since made it his goal to fix the issue during the offseason. One move that he has suggested numerous times, is to acquire a center fielder.
Doing so would shift Randal Grichuk over to left field which is open due to Matt Holliday and Brandon Moss's departure. Grichuk had a volatile season offensively and defensively but Mozeliak and the Cardinals still believe he has a bright future ahead of him.
The 2017 free agent market is incredibly weak and the outfield market is incredibly shallow. Dexter Fowler, Yoenis Cespedes, Carlos Gomez, and Ian Desmond headline the free agent market. Three of the four of those players all have a qualifying offer attached to them and will likely cash-in higher than they would in a more competitive market.
Because of the loss of a draft pick in addition to overpaying for a player, the St. Louis Cardinals could choose to execute a trade instead of signing a free agent. There are endless possibilities for trades that the Cardinals could explore and there are a number of quality center fielders that are all within reach.
The Cardinals currently are overstocked at the pitching position and could even market major league level talent such as Kolten Wong or Matt Adams. Both players are under team control for a number of years but don't necessarily have a prominent role on the 2017 team. However, Kolten Wong still has the confidence of John Mozeliak and Mike Matheny and may not be a part of trade talks. Since the Cardinals have organizational depth at positions of value, a trade could end up being much cheaper and more valuable than free agency.
So if John Mozeliak and the St. Louis Cardinals do commit to executing a trade, who would be targeted? The following seven center fielders would not only be possible options for the Redbirds, but are also the likely targets for John Mozeliak. 
Lorenzo Cain – Kansas City Royals
The St. Louis Cardinals could work out a deal with the Kansas City Royals for an incredibly strong center fielder. Lorenzo Cain is a free agent after 2017 and the Royals may not be able to retain him financially if he hits free agency. Instead of using and losing him, they could deal him and get value in return.
Cain is an absolute stud defensively which is what John Mozeliak is after. He finished top-10 for MLB center fielders in runs saved every season since 2013. He has speed and runs some of the best routes in the league. The defensive knock on him, however, is his arm. It grades as average, or slightly below average, but it is very accurate.
Lorenzo Cain would also be a huge benefit offensively. The 2015 All-Star has batted third in the Royals lineup but has also spent some time at clean-up and No. 2. Despite battling constant hamstring injuries in 2016, he still batted .287/.339/.408 and over the past three seasons, he's averaged .300 with a .347 on-base percentage and .436 slugging percentage. Given Cain's tendency to grind out at-bats, he could slide in at lead-off or anywhere from No.2 to No. 5 in the batting order.
The concern surrounding Lorenzo Cain is the health of his legs. During the 2016 season, the Royals played him in right field for some time due to nagging hamstring injuries. He also ended the year on the disabled list with a wrist injury.
In May of 2014, Cain was also subject to a groin injury and his injury history combined with his age (30) is worrisome for the Royals and any interested parties since Cain relies on his legs for his defense and while on base. He stole 28 bases in both 2014 and 2015 and added 14 more in a shortened 2016 season. Since 2013, Cain has stolen 84 bases while posting a 77.7 stolen-base percentage.
The St. Louis Cardinals could easily benefit from acquiring Lorenzo Cain, given that he remains healthy. The Kansas City Royals need pitching and the Cards happen to have plenty of it which could lead to some in-state negotiations taking off.
2. A.J. Pollock – Arizona Diamondbacks
The St. Louis Cardinals could be calling the Arizona Diamondbacks right now about A.J. Pollock. The Diamondbacks went all in for the 2016 season by signing Zack Greinke and trading Dansby Swanson for Shelby Miller. It resulted in a disappointing season with the Dbacks finishing in 4th place in the National League West.
The Diamondbacks reacted by cleaning house and replacing almost everyone in their front office and in their coaching staff. With that said, the goals of the organization may have changed. They may be looking to re-tool their current team and trading A.J. Pollock could quicken the timeline.
Pollock had an outstanding 2015 season winning a Gold Glove award and making his first All-Star team. He batted .315/.367/.498 with 20 home runs and 76 RBI, all of which were career-highs.
However, Pollock's 2016 season didn't go as smoothly. Pollock fractured his elbow in April during a spring training game and managed to return for only 12 games. His injury and his inexperience leave teams questioning his future ability. 2015 could have been an anomaly of a season or it could be a sign of what's to come for the 28-year old.
Regardless, the St. Louis Cardinals are likely interested in the Diamondbacks' center fielder. He's shown the ability to be a top-tier defender while also being a threatening bat in the heart of the order. The question is, how much is he worth?
The Arizona Diamondbacks are currently relying on a lot of their youth at the MLB-level. They also have emptied a large portion of their quality prospects in landing players like Shelby Miller. Their new front office could decide to move players like A.J. Pollock to either restock the farm in hopes that their current youth will become strong veterans and make them competitive. Or they could make moves to retool their current major league team to try and push up in the NL West.
Either way, the St. Louis Cardinals could provide them with value. A number of young prospects like Austin Gomber don't have a clear path to the major leagues in the Cardinals organization while major league players like Matt Adams can't find a consistent starting roster spot.
3. Adam Eaton – Chicago White Sox
The St. Louis Cardinals and the Chicago White Sox could easily be trade partners. In the American League Central division, the White Sox found themselves in the shadows of the Cleveland Indians, Detroit Tigers and the Kansas City Royals. This could be enough motivation for the White Sox to finally roll over and consider rebuilding.
The White Sox, like the Diamondbacks made some big moves in the 2016 off season in hopes that they would finish the season in playoff contention. Yet it resulted with them finishing in 4th place like Arizona. Unlike Arizona, however, there have been numerous trade rumors surrounding some of their top players like Chris Sale and Adam Eaton.
Adam Eaton was traditionally a center fielder but played right field after Chicago acquired Austin Jackson. Eaton is extremely similar to Lorenzo Cain defensively and would immediately provide the Cardinals with more security in their outfield.
In 2016, as a right fielder, Eaton posted a 22 Defensive Runs Saved while also posting a 23.1 Ultimate Zone Rating making him one of the best defensive right fielders in baseball. However his center field defensive metrics don't measure up. In 2015 as a full-time center fielder, Eaton recorded a minus-14 DRS and a minus-10.2 UZR. For this reason, the Cardinals may not be so high on the soon to be 28-year old outfielder.
Despite that, Eaton's bat would be a welcomed addition to the St. Louis Cardinals batting order. He  has mainly served as a lead-off hitter throughout his career and could provide the Cardinals with enough motive to move Matt Carpenter down to No. 2 or No. 3 in the lineup. Eaton in 2016 posted an average of .284 with an on base percentage of .362 while slugging at a .428 percentage. He also recorded 14 home runs and 59 RBI.
Adam Eaton would be an interesting addition to the St. Louis Cardinals. He has typically been a center fielder throughout his career up until 2016 and his defensive metrics increased exponentially while playing in right field. With Stephen Piscotty being a great right fielder, Eaton would likely fill the left field hole while Randal Grichuk remains in center. But his center field defense may be enough for John Mozeliak to pass on him.
4. Charlie Blackmon – Colorado Rockies
St. Louis Cardinals fans are probably used to hearing about Charlie Blackmon and the Colorado Rockies. Blackmon has been a trade target for Cardinal Nation fans for almost two years but this winter may be the best time to finally pull the trigger.
The Colorado Rockies have a youth movement going on with players like Trevor Story, Jon Gray, and David Dahl making an impact at the major league level. With that said, the Rockies should be looking towards the future. Moving the 30-year old outfielder could put Colorado and their plans on a fast-track while players like Story and Dahl continue to mature.
Blackmon is coming off of an incredible 2016 season where he batted .324/.381/.552 with 29 home runs and 82 RBI. He also added 17 stolen bases. Blackmon's power is interesting though because he's never recorded more than 19 home runs prior to the 2016 season. The concern with any great hitter on the Rockies is whether they are a product of Coor's Field and the elevation.
Well, the Cardinals could breathe easy regarding that concern considering he was just as good of a hitter away than he was at home. Blackmon slashed .313/.363/.563 with 17 home runs while the Rockies were away. At home, he batted .335/.399/.540 with 12 home runs. His home and away splits should give John Mozeliak reason to believe that if Blackmon left Colorado's altitude, he could still produce at the top of the lineup.
As great as Charlie Blackmon's bat is, his defense doesn't measure up to what Randal Grichuk provides in center field. Blackmon posted a minus-2 DRS and a minus-10.4 UZR in center field for the 2016 season. Compare that to Grichuk's 7 DRS and minus-0.9 UZR in 2016 and we see that Blackmon wouldn't quite provide that defensive upgrade the Cardinals are looking for.
Charlie Blackmon looks like an extremely strong candidate for the St. Louis Cardinals to pursue. He's coming off of an incredible offensive performance during the 2016 season and is under team control until 2019. However, if the John Mozeliak and the Redbirds are focused on defense first, he doesn't quite fit the description.
5. Ender Inciarte – Atlanta Braves
With the St. Louis Cardinals being interested in defense and speed, Ender Inciarte of the Atlanta Braves may be the perfect fit. The 26-year old center fielder only played one season with the Braves but has been the subject of a number of trade rumors. It's no surprise though, considering the Braves are deep in a rebuild and continue to look for the right pieces to their puzzle.
The Cardinals are looking to start the 2017 season with a credible center fielder and Inciarte has proven to be one by winning a Gold Glove award for his defensive efforts in 2016. In order to win the National League Gold Glove award for center fielders, Inciarte had to beat out Billy Hamilton of the Cincinnati Reds and Odubel Herrera of the Philadelphia Phillies. He did so by posting an impressive 13 DRS and a 11.6 UZR.
Inciarte would also give the Cardinals some much needed speed. In his 3 seasons, Inciarte has stolen 19, 21, and 16 bases respectively. He won't lead the league in steals, but he still gives the lineup a running threat.
Like many of the other candidates, Inciarte could serve as a lead-off hitter like he has throughout his career. In 2016, he batted .291/.351/.381 while setting the table for the Braves lineup. Through his three year career, he's averaged .292 with a .337 on-base percentage and .385 slugging percentage. Inciarte could be relied upon as a table-setter for Matt Carpenter, Stephen Piscotty, and the rest of the Cardinals hitters while also being a constant threat to steal a base.
The St. Louis Cardinals would likely need to give up a number of prospects in order to land Ender Inciarte from the Atlanta Braves. And given Inciarte's skill set, age, and the fact he's under team control, he could cost quite a bit. Furthermore, the Braves don't necessarily need to move on from him and won't unless it is for the right price. Inciarte would be an amazing addition to the St. Louis Cardinals organization but it would likely cost a good amount of prospects.
6. Andrew McCutchen – Pittsburgh Pirates
Trade Andrew McCutchen? That idea seemed insane in March 2012, when the Pittsburgh Pirates signed him to a six-year, $51.5 million extension. However, following a poor 2016 campaign, McCutchen may be on the block.
Currently, there is a growing sense among industry insiders that the team will try to deal McCutchen before he reaches free agency in either one or two years. Andrew McCutchen's contract ends after 2017 but there is a $14.75 million club option for 2018. McCutchen has always stated he wants to retire a Pirate, but there is no indication the club feels the same way.
Pirates General manager Neal Huntington is believed to be quietly shopping the five-time All-Star this offseason. He has quite the history of dealing productive players like Mark Melancon, Jason Bay, Nate McLouth, Freddy Sanchez and Joel Hanrahan while they are still under team control.
"There are people I've talked to who are convinced the Pirates are going to trade McCutchen this winter," MLB Network Radio analyst Jim Duquette said.
McCutchen has previously won an MVP award (2013), a Gold Glove award (2012), four Silver Slugger awards (2012-2015), and been a five-time All-Star. But in 2016, he struggled and batted .256/.336/.430 with 24 home runs and 79 RBI.
He also was one of the worst defensive outfielders in all of baseball. He posted a minus-28 Defensive Runs Saved along with a minus-18.7 Ultimate Zone Rating. Some of his defensive woes can be credited to the Pirates positioning "Cutch" deeper than he was used to playing. However, he was still shockingly poor. He hasn't been an above average defender since 2013, but he was never as bad as he was in 2016.
This is where the St. Louis Cardinals can step in. Andrew McCutchen is coming off of his worst year and his trade value surely dropped. The Cardinals organization happens to be overflowing with young pitching talent and the Pirates happen to value young pitching extremely high.
The Pirates will likely get rid of Andrew McCutchen at some point soon considering highly touted prospect Austin Meadows is near MLB-ready and the St. Louis Cardinals would be foolish to not take a chance on the MVP caliber center fielder after one down year.
7. Kevin Kiermaier – Tampa Bay Rays
The St. Louis Cardinals could shock everyone and make a deal with the Tampa Bay Rays for Kevin Kiermaier. Kiermaier just won the 2016 Gold Glove award for American League center fielders and was also named the center field defensive player of the year.
Kevin Kiermaier was injured in 2016 but still managed to record 25 defensive runs saved which was second in all of baseball behind Mookie Betts who had 32. Betts also recorded about 500 more innings played than Kiermaier which speaks volumes to the young outfielder's defense. Furthermore, in his last full season (2015), Kiermaier recorded 42 DRS which led the league. Andrelton Simmons was second and trailed by 17.
Unfortunately, Kiermaier is nothing spectacular offensively. In 2016, he batted .246/.331/.410 and has mainly served as a bottom of the order batter. If he would've remained healthy, Kiermaier may have been able to reach 20 home runs considering he had 12 in 105 games. He may also have reached 30 stolen bases since he had 21. This could give the Cardinals an interesting combination of power and speed while he also plays incredible defense.
The big question about Kevin Kiermaier is what it would cost to acquire him. Considering his defensive ability, his youth, and the fact that he is under control until 2021, the Tampa Bay Rays could drive a hard bargain. However, the Rays could use a first baseman, designated hitter, and a middle infielder. If Matt Adams, Kolten Wong, or any infield prospects intrigue the Rays, it could be enough to start the negotiations.
Want your voice heard? Join the Redbird Rants team!
Kevin Kiermaier is exactly the type of center fielder that fits John Mozeliak's requirements. He's as close to a perfect defender as a player can get and he is under team control until 2021. However, the Rays covet young controllable players and he may be too far out of reach for the St. Louis Cardinals.
This article originally appeared on