St. Louis Cardinals: League Precedents for a Chris Sale Trade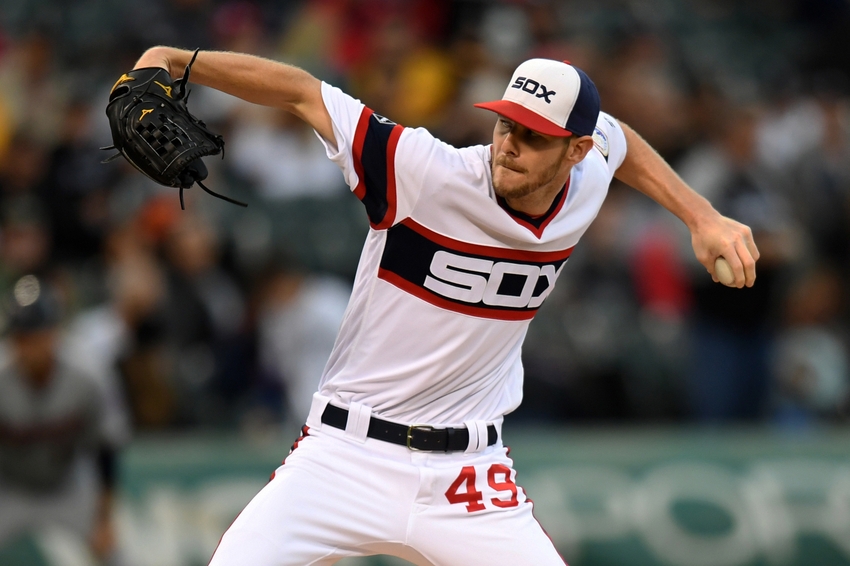 There is speculation that the Chicago White Sox are considering trading starting pitcher Chris Sale. The St. Louis Cardinals would be wise to investigate the price to acquire the White Sox ace.
Sale was more valuable each year than any St. Louis Cardinals pitcher since Adam Wainwright earned 6.6 fWAR in 2013. Over the past three seasons, Chris Sale has averaged a 2.97 ERA and 2.92 FIP, while accumulating 16.6 fWAR. As a sign of his durability, he has surpassed 200 innings in three of the last four years. Early Steamer projections see him continuing this level of success, valuing Sale at 4.9 fWAR for 2017.
Despite his accomplishments, it is rumored that the White Sox are, at the very least, considering trading their ace starting pitcher. Given the state of the St. Louis Cardinals rotation following the 2016 season, Chris Sale would be an obvious but significant upgrade as the head of the St. Louis staff. 
The free agent market for impact starting pitching this offseason is severely lacking, with 36 year old Rich Hill headlining the available starters. This will push teams to the trade market to acquire an impact arm. Chris Sale's ability makes him an obvious target, but his team friendly contract makes him even more so: Sale is owed only $38 million over the next three years.
Due to Sale's skillset and cheap contract, he would be an ideal piece for the White Sox to trade in an effort to jumpstart their rebuild. To get an idea of what the St. Louis Cardinals would likely have to give up to acquire the White Sox ace, I've looked at 6 blockbuster deals for starting pitchers with more than one year of team control remaining to see where the market has been historically for a Chris Sale-like target.
The St. Louis Cardinals currently lack organizational depth when it comes to prospects, both from a star-potential or depth perspective. Baseball America's Midseason Top 100 Prospects ranking features only 3 Redbirds: Alex Reyes at 2, Luke Weaver at 75, and Jack Flaherty at 88. The Baseball Prospectus 2016 Organizational Ratings placed the Cardinals at 19th, an indication of the system's lack of depth.
Spoiler Alert: if the St. Louis Cardinals do decide to pursue Chris Sale and are able to acquire him from the White Sox, the cost in terms of prospects is going to hurt (and it should).
*Note that transaction and contract information was obtained  through Baseball-Reference, and that amounts owed were approximated for players traded mid-season. Prospect rankings noted were Baseball America's pre- or post-season rankings for that player.
6. July 29, 2009: Cliff Lee is traded from the Cleveland Indians to the Philadelphia Phillies
The Indians-Phillies blockbuster on July 29, 2009 set the standard the St. Louis Cardinals must follow if they are to pursue Chris Sale. During the trading deadline frenzy of 2009, the Indians held one of the most valuable assets on the market. Cliff Lee broke out in a huge way in the 2008 season when he won the Cy Young Award after posting a 2.54 ERA and 2.83 FIP while accruing 6.7 fWAR in 223.1 innings.
Before being moved in his age 30 season, Lee was dominating once again. Over 22 starts with the Indians, he sported a 3.14 ERA. However, the Indians' struggles took a toll on his record, as he was only 7-9 to that point in the season. Lee was in the middle of a campaign in which he would only make $6 million and had a no-brainer club option for $9 million the following year.
The trade in 2009 would net the Indians 4 prospects, each ranked in the Baseball America's Top 100. Headlined by Carlos Carrasco, ranked 52nd, the Indians would also receive Jason Knapp (64th), Lou Marson (66th), and Jason Donald (69th). This deal accelerated the Indians' rebuild, and provided their farm system both with star power and depth.
Carrasco would debut for the Indians later that season before becoming a key piece in the Cleveland rotation. Donald would play three seasons with the Indians, primarily as a backup utility infielder, while Marson would serve as the Indians' backup catcher from 2010 through 2012. Knapp ultimately busted due to injuries after the 2010 season before being released by Cleveland in 2012.
5. July 29, 2010: The Astros trade Roy Oswalt to the Phillies
The St. Louis Cardinals' search for a pitching upgrade has similarities with Philadelphia's effort to add to an already strong starting rotation. Exactly one year after trading four top prospects to acquire Cliff Lee, the Phillies were again a buyer for a top starting pitcher at the trade deadline. This time they matched with Roy Oswalt of the Houston Astros.
In the two and a half seasons prior to the trade, Roy Oswalt had averaged a 3.69 ERA. He gained a reputation for great durability after eclipsing the 200 inning mark every season from 2004 to 2008, making him a high value piece even without elite numbers. Oswalt's season leading up to the July 29, 2010 trade saw him suffer a 6-12 record despite a solid 3.42 ERA. This placed him in a similar situation to Cliff Lee the year before, and he became a prime trade target.
To acquire Oswalt, the Phillies traded away J.A. Happ, Anthony Gose, and Jonathan Villar. Anthony Gose was immediately flipped for another prospect, Brett Wallace (ranked 27th). Jonathan Villar would serve as a utility infielder for the Astros after reaching the majors in 2013.
J.A. Happ was the most intriguing piece in the deal for the Astros. Happ was a highly regarded young starting pitcher, and was coming off a 2009 season in which he turned in a 2.93 ERA; he had only made 3 starts to date in the 2010 MLB season with a 1.76 ERA. He would struggle in his two seasons with Houston, but has remained a journeyman-type starting pitcher to date.
Additionally in this deal, the Astros agreed to pay $11 million of the approximately $37 million owed to Oswalt over the next three years of his contract.
4. December 19, 2010: Zack Greinke is dealt from the Royals to the Brewers
The first trade discussed which occurred in the offseason: the Kansas City Royals decision to move Zack Greinke to the Milwaukee Brewers might be the closest match to a potential St. Louis Cardinals and Chicago White Sox trade. The Royals were coming off another season where they struggled to compete in the AL Central, while the Brewers were stocking up for NL Central contention.
The move was made on December 19, 2010 following a season in which Zack Greinke struggled to a 4.17 ERA in Kansas City. However, despite his recent struggles, Greinke had enormous success as the leader of the Royals' staff. He won the AL Cy Young in 2009 after posting a 2.16 ERA, and he had averaged a 3.27 ERA and 3.08 FIP over the three seasons leading up to the trade.
Greinke had two years remaining on his contract for $27 million total, a fairly cheap contract that fit well with the relatively small Milwaukee market. Furthermore, this team friendly contract helped to mitigate any risk the Brewers were taking on in acquiring Greinke following a disappointing season.
In return for trading their ace, the Royals would receive Jake Odorizzi (the 69th ranked prospect), Jeremy Jeffress, Alcides Escobar, and Lorenzo Cain. Both Escobar and Jeffress had recently debuted in the MLB, while Odorizzi was a highly regarded starting pitching prospect. Cain to this point was unranked, but also extremely young and undeniably talented.
Jeffress would struggle in his two seasons with the Royals, while Odorizzi would later become a key piece in the trade that brought James Shields and Wade Davis to Kansas City. As is well known, Cain went on to develop into a star center fielder and Escobar into a steady shortstop, each playing a key role in the Royals' 2015 World Series win.
3. December 22, 2011: Gio Gonzalez is moved from the Oakland A's to Washington
Another offseason move that might resemble the St. Louis Cardinals' pursuit of Chris Sale: Gio Gonzalez was traded from the Oakland Athletics to the Washington Nationals in the 2011-2012 offseason. The trade was a shrewd move made by the Oakland front office which continually must balance maintaining competitiveness while stockpiling talented young prospects.
After breaking out in the 2010 season to the tune of a 3.23 ERA, Gio Gonzalez became one of the premier pitchers in the trade market. He was moved following another successful campaign in 2011 after putting up a 3.12 ERA and 3.64 FIP and earning his first All Star selection.
Just a few weeks after the trade, Gonzalez and the Nationals would agree to a 5 year, $42 million extension (with club options for 2017 and 2018 worth an additional $23 million). This extension took Gonzalez through his remaining years of team control and arbitration eligibility, locking in a high-end starting pitcher at a fairly low cost.
In return for Gonzalez, the Athletics received four prospects, with three inside the top 100: A.J. Cole (57), Derek Norris (72), and Brad Peacock (36); Tommy Milone was also included in the deal.
Ironically, A.J. Cole would spend one season in the Athletics' organization before being traded back to the Nationals in a deal which brought John Jaso to Oakland. Brad Peacock struggled with Oakland's AAA affiliate before being moved to Houston, while Milone would serve as a serviceable MLB starter for two and a half seasons before being traded to Minnesota.
Derek Norris would develop into an All Star catcher for Oakland in 2014, his third season, before being moved to the San Diego Padres.
2. July 31, 2014: David Price joins the Detroit Tigers
David Price is arguably the closest comparison to Chris Sale which can be used to determine a possible implied trade price for the St. Louis Cardinals. In his sixth full season following his debut with Tamba Bay in 2008, David Price was traded on deadline day in 2014. The lefty was in his age 28 season and had a long track record of success, very similarly to Sale.
In the two and a half seasons leading up to the trade, David Price had averaged a 3.23 ERA and 2.91 FIP and lowered his ERA slightly in each campaign. Further, Price had strung together four straight seasons in which he exceeded 4.0 fWAR. He was under contract through the 2015 season with approximately $27 million remaining on his contract.
In a three team deal also involving the Mariners (who would receive Austin Jackson), the Rays would receive prospects Willy Adames (ranked 84th in Baseball America's Top 100) and Drew Smyly from the Rays, and Nick Franklin from the Mariners.
Franklin was a young utility player who had hit well in his minor league career but struggled in his first couple of MLB stints. Smyly was in the middle of his first full season as an MLB starter, posting a 3.93 ERA to date and showing promise as a young rookie starter.
Willy Adames, perhaps the most intriguing prospect in the deal, was only 18 years old at the time of the trade. While he has yet to debut in the majors, Adames is still in the Rays' minor league system. Adames has shown both contact ability and discipline at the plate throughout his Minor League career, slashing .265/.366/.409 in his career to date.
1. July 29, 2015: The Rangers acquire Cole Hamels from the Philadelphia Phillies
If the most recent blockbuster is the best indication of the price the St. Louis Cardinals must pay for Chris Sale, the potential trade would likely be huge. Perhaps the biggest blockbuster discussed, the Cole Hamels trade changed the landscape of the AL West when he was acquired by the Texas Rangers. The trade indicated that the Phillies were going all in to rebuild.
Cole Hamels was in the midst of another strong season in which he had a 3.64 ERA and 3.27 FIP, following what was possibly his strongest season in 2014 which saw Hamels post a 2.46 ERA and 3.07 FIP. Cole Hamels had a reputation for durability and excellence, as he made more than 30 starts in every season since 2008 and was a three time All Star selection.
One of the most valuable aspects in acquiring Cole Hamels was the control gained due to his contract. Hamels' contract ran through the 2018 season with a club option for 2019, and approximately $102 million remaining on the life of his contract. Trading for Hamels was a huge investment for the Texas Rangers, but one that would provide them an ace for possibly the next four and a half seasons.
In return for their ace, the Phillies received 6 players, including prospects Nick Williams (ranked 27th in the Top 100), Jake Thompson (43rd), Jorge Alfaro (67th), Alec Asher, and Jerad Eickhoff, as well as MLB starter Matt Harrison. Harrison, however, had been struggling with injuries and ineffectiveness over the past three seasons with the Rangers.
While it remains to be seen how these prospects will develop, Thompson, Alfaro, and Asher have all made their Phillies debuts already. Additionally, Eickhoff followed a strong initial MLB stint in 2015 with a successful season as a full time pitcher in 2016, making 33 starts and posting a 3.65 ERA. Williams has yet to break into the MLB but remains a high-ceiling outfield prospect at 22 years old.
So who would the St. Louis Cardinals have to part with to acquire Chris Sale?
In this evaluation of how the St. Louis Cardinals could trade for Chris Sale, one of the first observations from these example trades is the sheer number of players and prospects involved. Assuming the number of pieces acquired by the "selling" team is related to the contract years remaining on the starting pitcher's salary (i.e., at the time of the trade Greinke was under contract for two more years), the prospect price per contract year remaining is approximately 1.5.
This price per contract year would indicate a 4 or 5 prospect requirement to acquire Chris Sale, who has 3 years remaining on his deal. Further, three of the six trades included three or more Top 100 prospects, with others including MLB level players.
Therefore, the price to acquire Chris Sale will be between 4 and 5 prospects, with the majority being young, controlled MLB talent or prospects ranked in the top 100. What does this mean for the St. Louis Cardinals?
First off, the Cardinals will have to include Alex Reyes, ranked 2nd in Baseball America's 2016 Midseason Top 100. Reyes showed he is MLB ready after making his debut in August and could be the future ace the White Sox would be looking to acquire in any trade involving Sale.
Next, the St. Louis Cardinals would likely have to include Luke Weaver, ranked 75th in the 2016 midseason rankings, as well as Jack Flaherty, a starting pitching prospect ranked 88th. Weaver flashed his potential during his stint in the MLB this summer and could likely end up as a No. 2 or 3 starter. He and Flaherty would fulfill the criteria requiring three top 100 prospects, although all three are pitching prospects.
Additionally, the White Sox would probably request a positional prospect, so the Cardinals would likely need to offer Harrison Bader (ranked 15th internally, but rising) or Magneuris Sierra (6th internally). Given that these prospects are not exactly high ceiling hitters, the St. Louis Cardinals may also need to include Kolten Wong or Matt Adams. The end result might look like this:
Of course, the St. Louis Cardinals would likely try various iterations of this deal while offering 4 or 5 prospects in attempts to retain certain players. However, convincing the White Sox to agree to a deal would require both potential star power and prospect depth. Further, competition from other contending teams, like the Dodgers or Nationals, would likely push the price upward.
This trade would hurt the Cardinals farm system, resulting in the loss of 3 of the Cardinals top 10 prospects, one who might crack that top 10 shortly in Bader, and an average MLB second basemen with 4 more years under contract at a cheap price. It would give the Cardinals an elite 1-2 punch with Sale and Martinez, followed by some combination of Wainwright, Lynn, Wacha, Leake, or Garcia to fill out what would be one of the best rotations in the MLB.
Want your voice heard? Join the Redbird Rants team!
The St. Louis Cardinals would be closer to the standard set by the Cubs, and would remain playoff and World Series contenders. But the Cardinals would be sacrificing a huge amount of young talent that would require a restoration project for the farm system, which would be undertaken through trading surplus pitching, drafts, and international signings.
If you were the Cards' GM, would you pull the trigger?
This article originally appeared on