Jeremy Hazelbaker making most of long-shot opportunity with Cardinals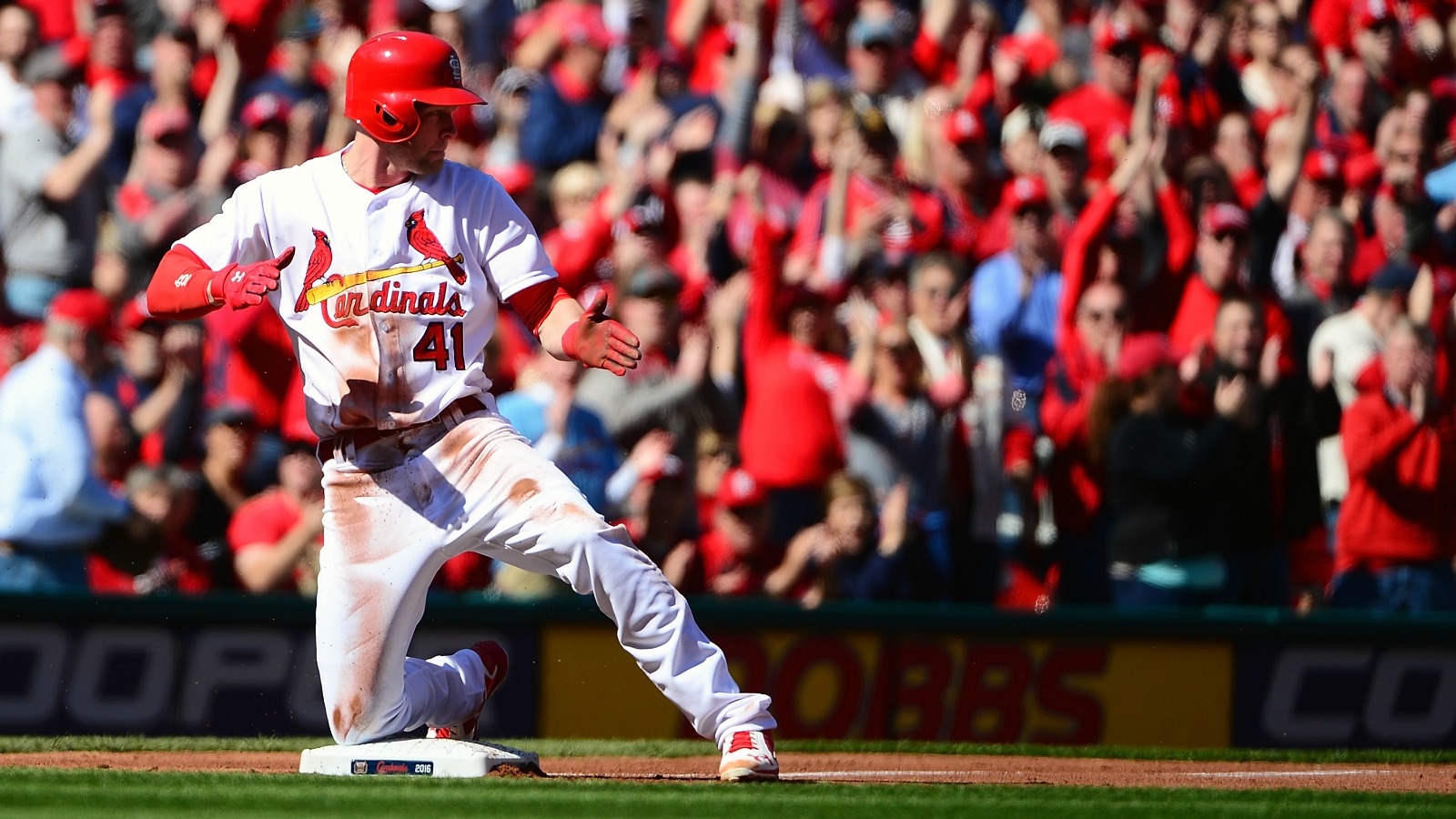 He was unemployed. He thought his career might be over. He figured it would take a couple of days for him to land another job, but it was taking longer.
The Dodgers released outfielder Jeremy Hazelbaker on May 1, released him at 27, released him due to his measly .644 OPS in 58 plate appearances at Double-A.
"It was a stressful time, without a doubt," Hazelbaker says. "This is what I had been doing for years and years. I wasn't sure what to do next. I didn't have a backup plan."
Less than a year later, Hazelbaker is the Cardinals' biggest surprise, and one of the biggest surprises in baseball, non-Trevor Story division.
His major-league sample size — 23 plate appearances — is exceedingly small. But Hazelbaker is 10 for 19 with two homers, two walks and two stolen bases in two attempts.
To hear him tell it, his entire mindset changed after the Cardinals gave him a second chance, signing him to a minor-league deal 12 days after the Dodgers released him.
He had been a fourth-round pick by the Red Sox out of Ball State in 2009. But he never fully appreciated what it meant to play professional baseball.
"I didn't treat every game like it was my last game. I took it for granted," Hazelbaker says. "That was a terrible thing for me to do for all those years. I regret that.
I treat every game like it's my last. The last diving catch I'm going to have, the last flyball, the last stolen base or at-bat …
Jeremy Hazelbaker
"But at the same time, that's what I've learned. It's not given to you. Nothing is given to you. As soon as I found that out and worked through all that, that helped me out.
"I treat every game like it's my last. The last diving catch I'm going to have, the last flyball, the last stolen base or at-bat … that's kind of how I go about it now.
"I don't know if I'm ever going to be putting on a jersey again. Tomorrow might be my last game. Whatever happens is going to happen. I'm just going to enjoy tomorrow as much as I can."
The question of how many tomorrows Hazelbaker will experience is an open question. He made the Cardinals only after shortstop Ruben Tejada suffered a sprained left quad late in spring training. He began playing only after Tommy Pham suffered a strained left oblique on Opening Day and Randal Grichuk struggled in the first two games.
Regression is coming. Regression is inevitable, considering Hazelbaker's .571 batting average on balls in play. And, in at least one other respect, his sudden breakthrough makes little statistical sense.
Hazelbaker had a strikeout rate of 27 percent in 837 plate appearances at Triple-A. Such players, one rival executive says, generally strike out 30 percent of the time in the majors and flame out.
Maybe Hazelbaker will fall into the same category. Or maybe not. He had stared his baseball death in the face. And in the words of his agent, Joe Bick, "he came back a different guy."
The Dodgers released Hazelbaker because he wasn't performing and because the team needed a roster spot at Double-A — "simple as that," one team official says.
Bick sent emails to clubs seeking another job for his client, followed up with phone calls. Teams routinely scan the list of released players, and use their scouting reports and statistical analysis to determine whether any are worthy of their interest.
Cardinals general manager John Mozeliak says that John Vuch, the team's director of baseball administration, identified Hazelbaker as a potential target, acting in part on the recommendation of two scouts, Jeff Ishii and Kerry Robinson.
The Cardinals did not expect much out of Hazelbaker — they signed him only because they needed help at Double-A. Their reports on him, Mozeliak says, were, "fair" –€" fair as in just OK — "but positive."
Quickly, those perceptions changed.
The previous offseason, Hazelbaker had made some adjustments with his hitting coach, Mike Shirley, repositioning his barrel and his hands. Once he began playing regularly with the Cardinals, he started to see results.
Hazelbaker delivered an .897 OPS at Double-A Springfield, making the Texas League All-Star team a little more than a month after joining the Cardinals' organization.
He performed even better after the Cardinals promoted him to Triple-A Memphis, producing a .998 OPS, then continued hitting in the Venezuelan winter league, knocking out an .888 OPS.
"There are a lot of guys who don't get second chances," Hazelbaker says. "They're walking down the path that they think they're going to be walking down for a very long time.
"When that abruptly ends, you just wonder what's next, what's going to happen. You're just kind of lost. For me to be given that second chance, this opportunity, that's not something I was going to take for granted."
Still, he was not sure what would come next.
Hazelbaker became a minor-league free agent after the season ended. He wanted to stay with the Cardinals. The Cardinals wanted him back. But Mozeliak declined to give Hazelbaker a major-league deal and 40-man roster spot.
"The biggest question for us was, 'Do we put him on the roster?' Given all of our moving parts, we were trying not to do that," Mozeliak says. "We played a game of chicken. But we would have been disappointed if we hadn't gotten him."
We played a game of chicken. But we would have been disappointed if we hadn't gotten him.
John Mozeliak
Hazelbaker was something of a hot commodity on the minor-league free-agent market, drawing a "ton of interest, a ton of minor-league offers," Bick says. The Cardinals offered him opportunity, telling him they were short on left-handed hitting outfielders. They also offered him far more money than he had ever earned as a minor leaguer.
Hazelbaker's top salary in the minors had been $2,500 per month, Bick says. Players with major-league service time who sign minor-league deals frequently get between $16,000 and $20,000 per month. Bick told Hazelbacker that for a player like him, a salary between $12,000 and $15,000 per month was not uncommon.
The Cardinals signed Hazelbacker for $18,000 per month, a significant investment in a player who had appeared in 751 minor-league games but none in the majors.
Hazelbaker will earn $507,500, the major-league annual minimum, if he remains with the Cardinals all season. Not bad, considering how far away he was from the majors when spring training began.
"There were still a lot of eyes to open," Hazelbaker says. "The big-league coaching staff hadn't seen me. There were a lot of front-office guys who hadn't seen me. Frankly, I'm not sure they even knew my name."
He changed that by generating a .916 OPS in Grapefruit League play, impressing with his speed and defense. The injuries to Tejada and Pham, combined with Grichuk's early slump, created an opening.
Hazelbaker burst through, playing for today, not worrying about tomorrow.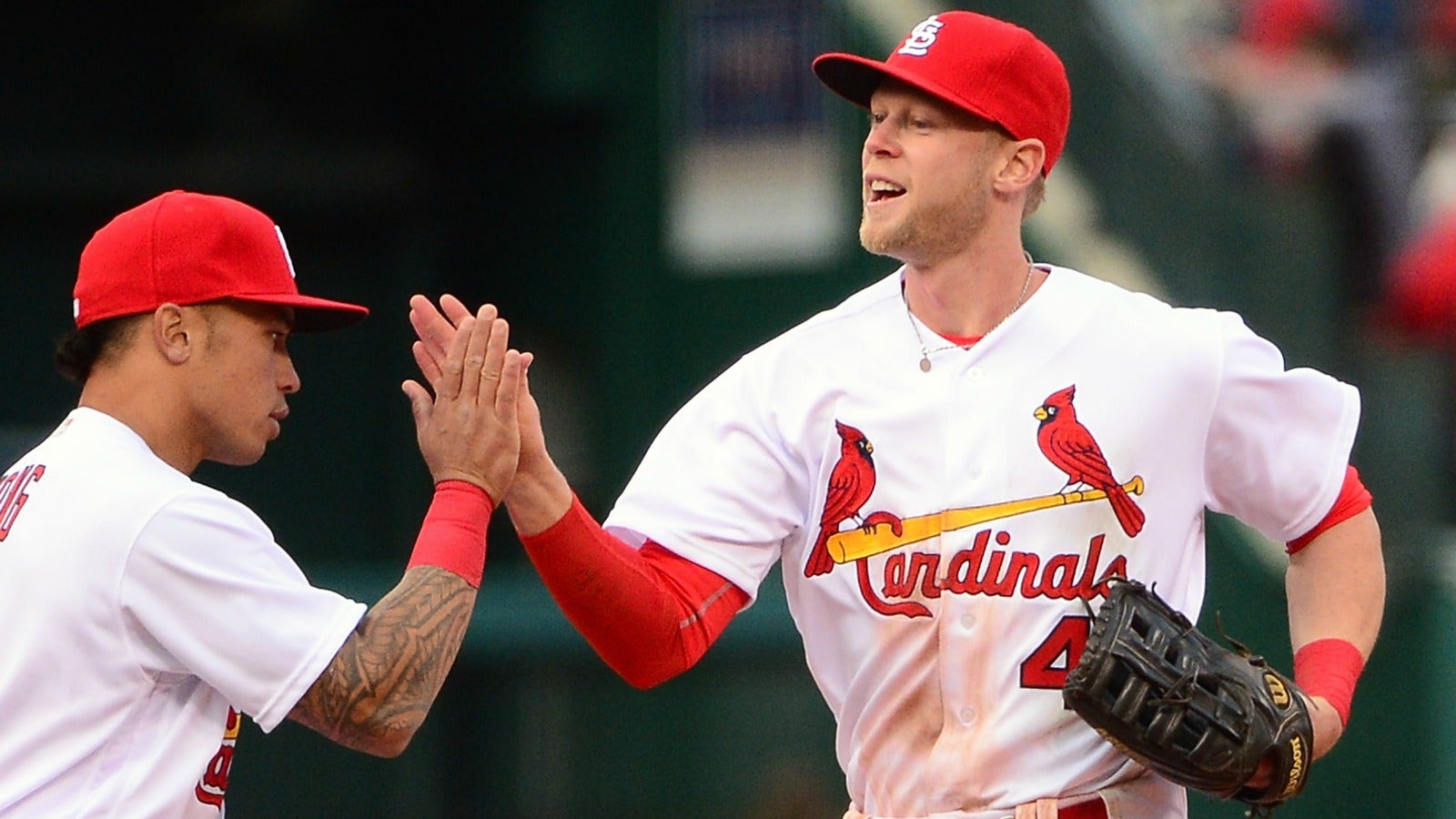 "It's been an unreal experience, kind of a blur, to be honest," Hazelbaker says. "It has gone fast. But at the same time, there definitely have been times when I stepped back, looked around and thought about how unbelievably amazing this is.
"It's something you work toward for so, so long, a dream many of us had as kids growing up. To think you're finally here, finally living your dream –€" it might have been a little tougher getting here, a little longer getting here for me than it was for most guys –€" but the fact of the matter is, I'm here, I'm playing with an amazing group of guys and for an amazing coaching staff."
The future?
"As long as I'm wearing a jersey, I'm going to be a happy man," Hazelbaker says. "Whether that's up here in St. Louis or in Memphis, I'm going to be a happy man just to be having a uniform on my back."