St. Louis Cardinals: Four St. Louis Cardinals prospects named in MLB Pipeline's Top 100
Drew Clark/FanSided via Redbird Rants

Fansided
MLB Pipeline released their top 100 prospects and the same St. Louis Cardinals that made the list last season appear on it once again. Two of the St. Louis prospects rank first at their position, another has seen MLB experience already, and one was drafted just last season.
The St. Louis Cardinals received their punishment for the Astros hacking scandal after a long investigation. The Cardinals forfeit their top two draft picks in the upcoming amateur draft to the Astros and were fined $2 million that will go to the Houston organization also.
The Cardinals also forfeit their 2017 first round pick in exchange for signing outfield Dexter Fowler, due to competitive balance reasons. John Mozeliak prepared for this by trading long-time starting pitcher, Jaime Garcia, to the Atlanta Braves for three prospects. St. Louis acquired two pitchers, John Gant and Chris Ellis, along with infielder Luke Dykstra.
With all the negative news, it is vital to look for the cloud in the silver lining. With four top prospects named to the list, three of which could see time at the major league level this season, there is plenty to be excited about for St. Louis Cardinals fans.
The future is certainly still bright despite having a declining farm system, as some would say. The four prospects that appear on the list are 22-years-old and younger, one of which being a player from last year's draft class at 18-years-old.
Two of the players that appear on this year's Pipeline list appeared last year, while the other two are newcomers. Outfielder Harrison Bader was on the 2016 list, but failed to make an appearance this year. What's even better about these four prospects is that three of them have had a taste for major league action already, which bodes well for the future getting them experience so early in their careers.
No. 91 Delvin Perez, SS out of Puerto Rico
Remember this guy? The guy that everyone complained about the St. Louis Cardinals taking in the first round of last year's draft, due to testing positive for PEDs before the draft. I'm still convinced that the uproar was only because the Cardinals were able to get a top five talent at selection slot-23.
Anyways, Perez is highly touted out of Puerto Rico and provides St. Louis the young talent it needs, thanks to the hacking punishment. He excelled in rookie ball last season showing off his ability to hit the ball and get on base with an average near .300, and when he arrived on base, he was not afraid to show off his wheels stealing 12 bags in the short season.
At only 18-years old, just turned in November, there is no rush in promoting Perez through the ranks of the minor leagues. There may not be much talent ahead of him at shortstop, but the Cardinals should hold back and stunting his development by promoting him too quickly.
Many believe this kid can be a star, but we need to have patience in his development and emergence. In the meantime, St. Louis Cardinals fans can enjoy Aledmys Diaz holding down the fort at shortstop while Perez destroys minor league pitching. Drawing comparisons to Astros SS, Carlos Correa, he should be worth the wait.
He stands at 6'3″, 185 lbs. so he has the build to be excellent defensively, but that has been noted as an area he could improve on while developing in the lower leagues. At that height, he should have a wide range at the shortstop position, which is what current shortstop Aledmys Diaz has shown troubles with at certain times.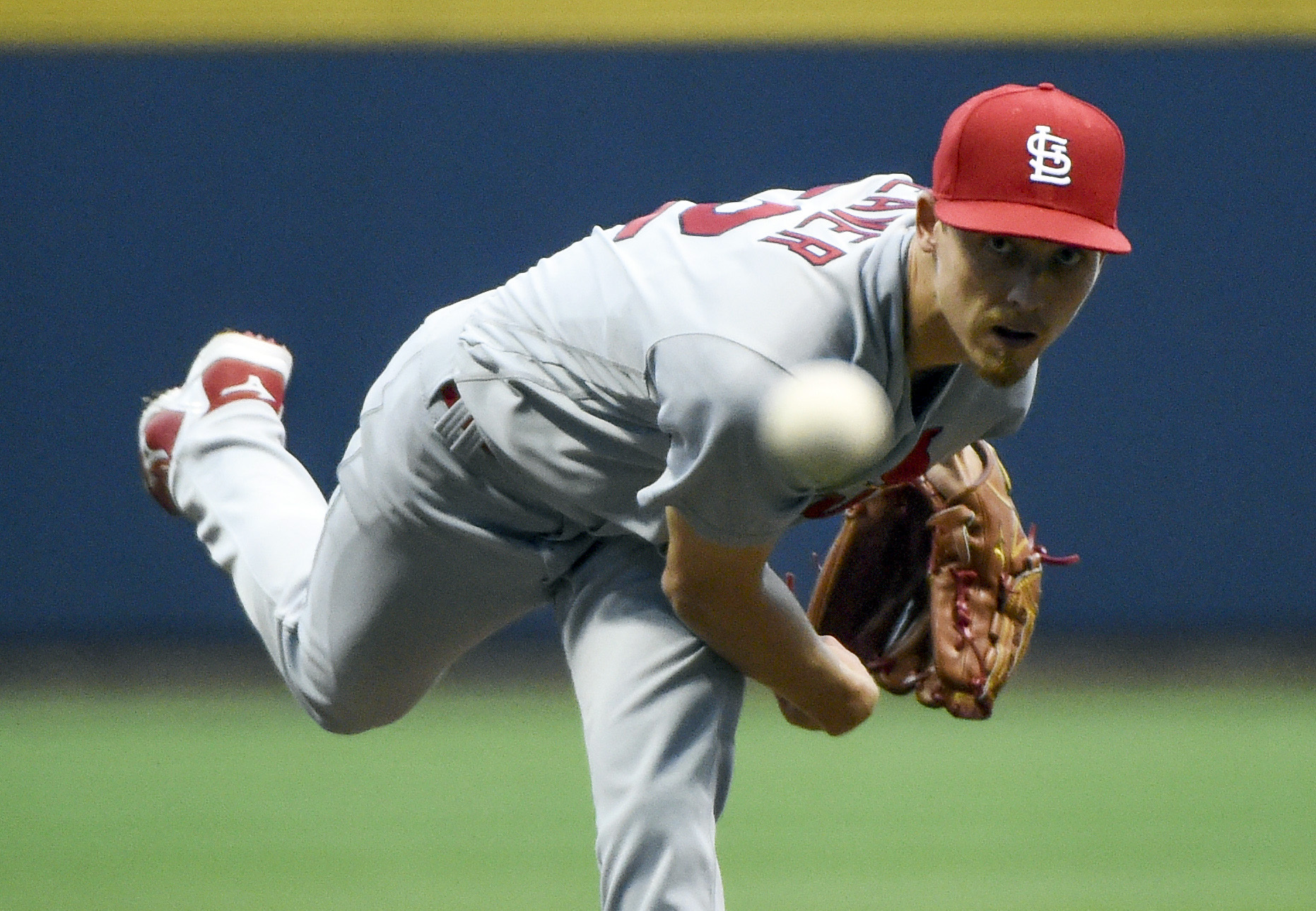 No. 68: Luke Weaver, RHP out of Florida State University
Luke Weaver comes in at number 68 on MLB Pipeline's Top 100 rankings this seasons, up 13 spots from the previous season. He is the 26th ranked starting pitcher, 18th among righties.
The right-handed starter from FSU is a guy that I'm particularly high on, due to watching him tear up AA for the 12 games he pitched for Springfield. In those 12 games, he posted a 1.40 ERA, 0.948 WHIP and struck out 88 batters. His numbers were good enough to gain an all-star spot for the Texas League North team, but he was replaced due to promotion to AAA.
Weaver started one game in AAA before getting called up to the majors to be thrown to the fire against the Chicago Cubs in his first career start at "The Show." In one game at Memphis, he went six innings, allowed only two hits and struck out four opponents.
A fast rise to the majors for Weaver brought more struggles than he was accustomed to since being drafted in the first round of the 2014 draft. He pitched 36.1 innings in nine games, eight started, but struggled to keep batters from reaching base. He allowed 46 hits and walked 12, resulting in a high ERA of 5.70.
It is clear to see Weaver was not ready for what was waiting for him in St. Louis so starting the season back at AAA Memphis is what is right for him. There's no harm in more innings at this level as he is only 22-years-old, and there is a surplus of starters with more experience in St. Louis. If he excels in the minors, expect a Tyler Lyons type of role in the bullpen late in the season in effort to provide relief and avoid overusing the bullpen arms.
No. 39: Carson Kelly, C out of Westview HS (Portland, OR)
Ah, the St. Louis Cardinals heir apparent to Yadier Molina behind the plate. Kelly did not appear on the 2016 version of the list, but makes the jump to 39 this year as the number one ranked catcher.
Kelly got his first taste of major league action thanks to a September call-up. There is plenty to be excited about this kid, despite his little contribution in St. Louis last year. The 22-year-old played in ten games, appearing at the plate 14 times, hitting for an average of .154 with a .231 SLG percentage.
The young catcher has spent four seasons in the minor leagues, starting out at 17-years-old and was considered to be a candidate to replace Molina from the start. Praised for his defensive excellence, Kelly knows he has to improve his game at the plate to be promoted to the next level. It wasn't until last season that his bat flourished.
He started out the season in AA Springfield, playing 64 games for the baby Cardinals. Kelly's slash line of .287/.338/.403 was good enough for an all-star nod, proving capable to ignite an offense. He also hit six home runs during his 2016 campaign in Springfield and had 18 RBI.
Normally, a young prospect like Kelly would regress in promotion, but he improved his hitting while in Memphis. His average, on-base percentage, and doubles were all significantly higher in his 32 games in Memphis than his numbers in Springfield.
A full-year in Memphis is most likely the route that the St. Louis Cardinals will take for Kelly as he needs consistent at-bats and work behind the plate to continue developing. He's only 22-years old so there is no rush in promoting him to St. Louis, just to have him sit behind future Hall of Famer, Yadier Molina.
No. 6: Alex Reyes, RHP out of Elizabeth, NJ
The 21-year-old starting pitcher made his long awaited debut last season, proving why he deserves this illustrious top ten ranking. This is up from his seventh spot on the 2016 list. He now ranks first among starting pitchers.
Last year, Reyes found himself behind now-Chicago White Sox prospect, Lucas Giolito. This year Giolito ranks as the third starting pitcher, behind both Reyes and Pittsburgh Pirates, Tyler Glasnow.
St. Louis Cardinals fans received a treat to watch when Alex Reyes finally received his call-up. Reyes pitched 46 innings in the regular season, with five games started and appearing in seven out of the bullpen. In the five starts, he surpassed six innings three times which calmed some worried about his command and stamina.
Reyes ooh'd-and-awed each stadium he pitched in with his innate ability to strikeout opposing batters, including NL MVP Kris Bryant. If you combined his put-away curveball with break-neck changing speeds between his fastball and change-up, you see why Reyes received this ranking.
The average velocity of his fastball was 96.8 mph, reaching speeds up to 101 mph, according to Fangraphs PitchFx. His change-up drops six mph to an average of 88 mph, while the devastating curveball averages 79.5 mph. The astonishing number is his 46.2K% for his curveball with opponents batting .231 against it.
Want your voice heard? Join the Redbird Rants team!
The St. Louis Cardinals' future starting rotation is expected to feature Reyes, but for 2017 his role is unknown at the moment. He may be a starter or a reliever or he may in fact be both. In an attempt to keep pitchers healthy and fresh throughout the season, John Mozeliak and Mike Matheny may come up with a situation where Reyes serves as a 6th starter type.
This article originally appeared on