St. Louis Cardinals: Four Minor League Prospects Bound to be Stars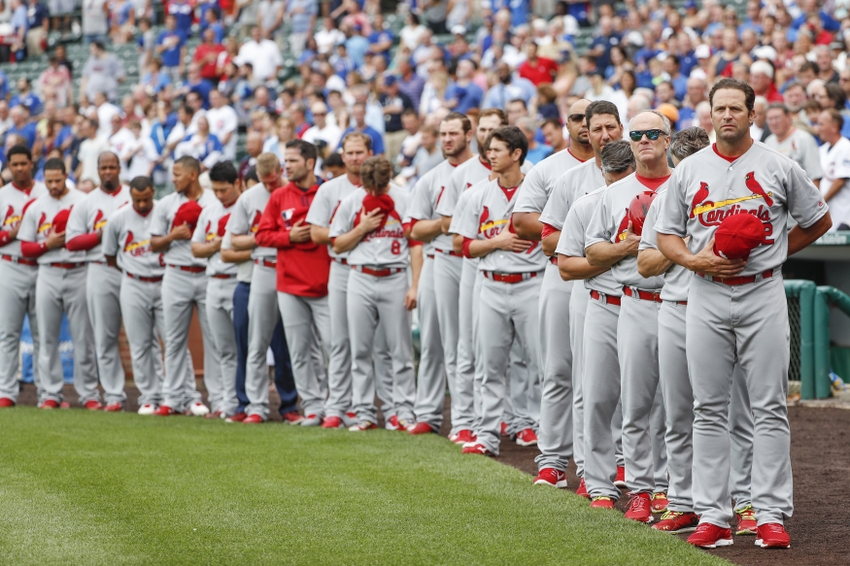 The St. Louis Cardinals have always relied on their home-grown talent and have been very proud of their farm system. That tradition can continue as there are a number of stars-in-waiting playing in the minor leagues that are close to producing at the major league level.
The St. Louis Cardinals have virtually been THE model for developing and scouting young talent. Their farm system has been the backbone of the franchise and has led the organization to 15 winning seasons over the past 16 years.
Now, the Redbirds are in the offseason trying to figure out who to sign and who to trade for in order to catch up to the 2016 World Series winners, the Chicago Cubs. Many fans and writers have speculated about big name signings and trades but those aren't always the best moves for the organization.
With any free agent signing or any trade, an organization has to consider all of the possible consequences. Before a team signs a free agent, especially long-term, organizations have to evaluate their depth at the specific position and see if they are potentially blocking someone that has the skill set to contribute at the big-league level. For example, it would be foolish for a team to sign a center fielder if they have Mike Trout waiting in Triple-A.
When discussing possible trades, general managers and their associates must determine what all they can give up and what is the value given and received. This part is especially tricky because trading away a future star could cripple your own farm system and organization for years to come. But, sometimes trading away a player with a boat load of potential works out like trading Brett Wallace for Matt Holliday.
However, the risk is there and with an organization like the St. Louis Cardinals who always seem to develop, sign, and draft young talent well, the risk seems a bit higher. Right now, Alex Reyes and Luke Weaver headline the Cardinals top prospect list but there are a number of other names fans should be aware of. These guys may not be "untouchable" but trading them would surely bring in a big return.
The following four players should be on Cardinal Nation's radar since they are on their way to becoming the next stars that sport the birds on the bat.
Carson Kelly – Catcher, Age 22
Over more than a decade, one constant has been with the St. Louis Cardinals: Yadier Molina. However, Molina is 34 and isn't getting younger, despite setting a number of career highs in 2016. His departure looms on every Cardinals fans' mind and it surely haunts John Mozeliak when he thinks about the future of the organization. However, there looks to be an in-house solution when considering Carson Kelly.
Carson Kelly, 22-years old, was a highly touted prospect from Portland, Oregon for the 2012 MLB Draft. His hitting potential projected enough power to be a third baseman at the major league level but his bat didn't quite develop as planned. He also was pitching at the time and was reaching the lower 90's from the mound.
However, the Cardinals decided to draft him in the second round (86th overall). He was 18 at the time and started the 2013 season with the Low-A Peoria Chiefs as a third baseman. He was 3.3 years below the league's average age and it showed at the plate. He batted .219/.288/.301 over 168 plate appearances and was demoted. Kelly bounced back in the New York-Penn League hitting .277/.340/.387 over 299 PAs and showed the Cardinals his potential.
Even though his bat showed signs of life, his defense at third base flatlined. He committed 27 errors over 144 games at the hot corner but the Cardinals did not want to give up on him. At the time, the farm system was overloaded with pitching depth so John Mozeliak and the front office decided to try Kelly, at 19-years old, as a catcher for the 2014 season.
This turned out to be a great decision as Kelly won the Rawlings Minor League Gold Glove award for his defensive prowess behind the plate in only his second year at the position (2015). He carried that success into 2016 and capped off a successful stint in the Arizona Fall League.
Kelly slashed .286/.387/.455 in 21 games and 77 at-bats. Of his 22 total hits, he managed four doubles, three home runs, and knocked in 18 RBIs which was second among all AFL batters. He also showed patience at the plate and recorded 13 walks.
Now, Carson Kelly has successfully emerged as the heir to Yadier Molina. Molina's shoes will be impossible to fill, but Kelly has overcome a number of obstacles to make it this far. Keep in mind that Kelly is still only 22-years old and made his first major league appearance this September.
Evidenced by the decision to DFA back-up catcher Brayan Pena, the St. Louis Cardinals are committing to Carson Kelly as their future catcher. He will likely serve as Yadier Molina's backup in the 2017 season and will learn directly from Molina on a daily basis. That step in Kelly's development can do wonders and work similarly to Molina learning from former catcher and now manager Mike Matheny.
Harrison Bader – Outfielder, Age 22
The St. Louis Cardinals have themselves a gem in No.3 ranked prospect Harrison Bader. He patrols center field similarly to his AFL manager, Aaron Rowand. Bader plays tough, all-out type defense that puts the team before himself and it is quite admirable.
Harrison Bader looks to be a strong possibility when picking the Cardinals center fielder of the future. He's not quite ready to enter the major league level, but he could make his big-league debut later in the 2017 season. Because of that, the Cardinals are in the current predicament of looking for a major league outfielder for this upcoming season.
Bader surely has a ton of trade value but dealing him would be a mistake. He is only 22-years old and has already reached Triple-A ball. The Cardinals have numerous years of control of Bader which is something Mozeliak values highly and Bader provides the organization with flexibility about who they pursue this offseason and what type of outfielder they are.
Regardless, Bader is a stud. During the 2015 season, he played in the College World Series and was late joining his first professional team. By the summer of 2016, he was dominating Double-A and was headed to Triple-A Memphis.
In 82 games for Springfield, Bader batted .283/.351/.497 with 16 home runs. Bader isn't typically a slugger, rather he is more of a gap-to-gap type hitter.
"My game is revolved around shooting from alleys to alleys, working the entire field, doing what I can to manipulate the barrel in a given situation," Bader said.
Bader best profiles as a center fielder but has played both corners in his career and in the Arizona Fall League. While playing in the AFL, Bader was a "Fall-Star" and has received a lot of help from former Gold Glove outfielder, Aaron Rowand.
"The one thing we've worked on is first-step jump — first-step quickness and first-step direction," said Rowand, who won a Gold Glove in 2007. "Obviously, the quickness is a big thing, but the first-step direction (is important), so they're running direct routes to where the ball is coming down. I talk to the outfielders a lot about it, about putting their head down and running to a spot."
"Not so much having to run back while looking at the baseball the whole time. You can run faster when your head is down. Not that they're bad at it, but as an outfielder, that's what we're constantly trying to do to get better. They've bought into it."
Bader showed everyone what he is capable of while in the AFL. He batted .304/.349/.430 with two doubles, one triple, two home runs and 16 RBIs. Rowand batted Bader all throughout the top four spots of the batting order and even stated Bader had the speed to lead off at a major league level.
"I think the thing that stands out the most is how quickly he's been able to do it. His adjustment to pro ball has seemed absolutely seamless. To be a year removed and competing at a high level of Triple-A and doing it so effortlessly, I think says it all. The good news for us is he continues to meet each hurdle and do it with success."
No matter what happens this winter and the MLB team's outfield, Harrison Bader should be a part of the future. The outfielder has worked hard and made his progress through professional baseball look easy. His next step will be his biggest but he has overcome every challenge thus far.
Austin Gomber – Left-handed Pitcher, Age 22
Austin Gomber is the St. Louis Cardinals' No. 19 prospect and has absolutely dominated as of late. He was clearly the best pitcher in the Arizona Fall League and quite possibly has cemented himself as part of the St. Louis Cardinals' future.
While pitching in the AFL, Gomber posted five wins with one loss in seven starts while maintaining a 2.14 ERA. He also recorded 33 strikeouts which lead the entire league. Out of all 127 AFL pitchers, Gomber clearly had the best fall. He may not have been the number one prospect pitcher there, but it is very encouraging to see the lefty rising up.
"Gomby has been phenomenal — he has been as consistent as consistent can be," Aaron Rowand (the former MLB All-Star who managed Gomber and the Glendale Desert Dogs) stated to the St. Louis Post-Dispatch. "He really knows how to pull the string and have confidence in his change-up, which is devastating against the right-handed guys."
Last season, Gomber primarily played for the Cardinals affiliate team in Peoria but finished the season in Double-A Springfield. He will likely be a part of that club's rotation this spring but could be considered for a spot in Triple-A Memphis.
Gomber entered the AFL after a very strong regular season. He made 21 starts between Class-A Advanced Palm Beach and Double-A Springfield and posted a 7-8 record with a 2.69 ERA and a 1.06 WHIP.
Despite being No. 19 on the St. Louis prospect list, in 2015, Gomber shared the prestige of being named the organization's top pitching prospect with No.1 prospect, Alex Reyes. Reyes, as many Redbird fans know, made his major league debut late in the 2016 season and didn't disappoint.
A lot of Gomber's success can be traced back to his fantastic curveball. He's worked on it endlessly and it has helped him become effective against left handed and right handed hitters.
The Cardinals' pitching coordinator last spring, Tim Leveque, told the Post-Dispatch: "I showed him the grip that we used with a lot of guys. He's able to be aggressive with it and not try and manipulate it to make it move. Guys want to see the movement and make it have that shape. Doesn't always work like that. This grip locks it in deep in the hand and then just throw it with conviction."
Austin Gomber, like Harrison Bader and Carson Kelly, has been progressing through the minors at a quick rate. He's shown a lot of potential and even put on a pitching clinic during the AFL. With a bit more time, maturity, and experience, he will certainly become a contributor at the big-league level.
Delvin Perez – Shortstop, Age 17
Delvin Perez is the most raw prospect on this list. He's only 17 and was selected 23rd overall by the St. Louis Cardinals in the most recent MLB draft. His selection caused a bit of controversy considering Perez had previously tested positive for performance enhancing drugs but Perez was expected to go much higher in the draft before his mistake was made public.
However, Perez is an exceptional talent and has the potential to be a star at the major league level.  Think about the shortstops on today's teams. Who comes to mind?
Guys like Addison Russell (22) and Javy Baez (23) of the World Series winning Chicago Cubs. Or Cleveland's Francisco Lindor (22) who just won a Gold Glove award days after losing the World Series. And how about the Dodgers' Corey Seager (22) who won the National League rookie of the year one season after the Astro's Carlos Correa won the American League rookie of the year award.
Today's game is changed by young, dynamic players, especially shortstops. Even the St. Louis Cardinals saw their game changed when Aledmys Diaz (25) exploded onto the scene. And now, the Cardinals have yet another young, dynamic athlete playing shortstop in the minor leagues. But, potential isn't always fulfilled, and Perez (17) is still EXTREMELY young and raw.
"If you look at what's happening with this young group of shortstops, it's an awful lot of pressure to put on any young man and say, 'Hopefully you're that next group,'" Cardinals general manager John Mozeliak said before watching some other Cards prospects in an AFL game.
"What you got to see out of Lindor, what you've seen out of Correa — and even Baez — they're electric-type players. And definitely game-changing types. It's hard to sit here today and say, 'Well, that's going to be Delvin Perez.' But he has a lot of tools to work with, has the passion for the game…After seeing him for three months, he's on the right track — but the track is long."
Delvin Perez is from Puerto Rico, just like Correa, Lindor, and Baez. He's also a first round talent, like the aforementioned three along with Seager and Russell. Perez has already been given praise and cheers for his defensive ability. The slim and slick shortstop has great hands and is starting to bring the bat up to speed.
After a few months playing with the birds on the bat on his chest, Perez has already become a champion. He helped the team become the 2016 Gulf Coast League champions after batting .294/.352/.393 over 43 games.
The problem with Perez though, is his development going forward. Grooming a top prospect is incredibly difficult, just ask Cleveland General Manager Mike Chernoff who spoke to the St. Louis Post-Dispatch about this very issue.
"One of the challenges you always face with an exceptionally talented player is: How do you create situations in the minor leagues where they have to deal with adversity?" Cleveland general manager Mike Chernoff stated while at the annual GM meetings in nearby Scottsdale.
"Because those guys can fly through the system. And then they hit the big leagues, and something is going to happen at some point. Francisco's first 100 at-bats in the big leagues, he hit .200. It wasn't like he was an immediate (impact). He obviously had the skills and the tools, but it didn't show up immediate.
"You try to create as many of the situations as you can in the minor leagues, to allow them to figure out how to handle them."
Want your voice heard? Join the Redbird Rants team!
The St. Louis Cardinals have the advantage of seeing how teams like the Cubs, Indians, and Dodgers developed their star shortstops and learn from their mistakes. However, it is too soon to tell if Perez will turn out to be the super-star Cardinal Nation craves. It does look bright for the young Puerto Rican ball-player though, and if things go according to plan, he may be a major-league contributor before he can even legally drink.
This article originally appeared on