St. Louis Cardinals: Five Potential Backup Catchers for Yadier Molina in 2017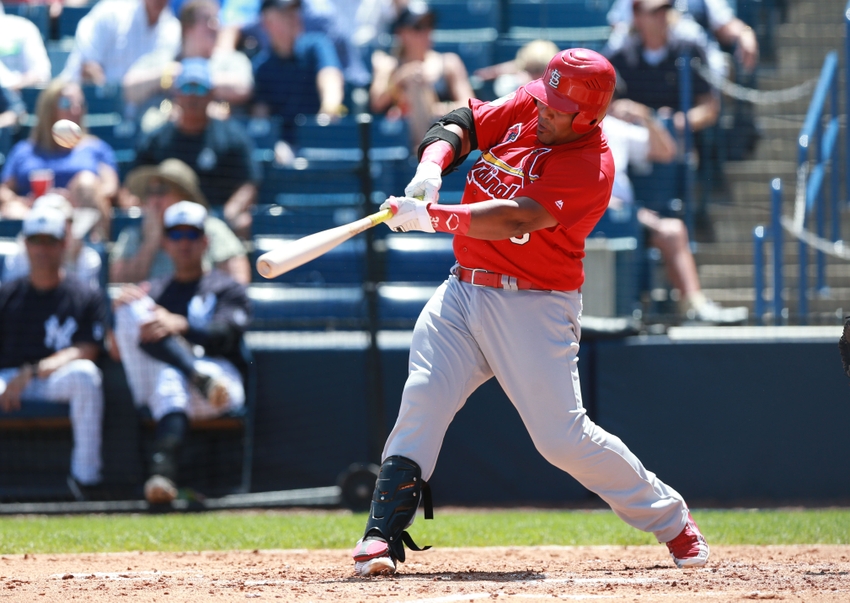 With the St. Louis Cardinals releasing Brayan Peña, who could the club consider for Molina's backup in 2017?
The St. Louis Cardinals announced on Monday that they had released backup catcher Brayan Pena. If you don't follow baseball very closely, you may have not even known who he was.
Here's a quick re-run. Back in November of 2015, the Cardinals had announced that they had signed Peña to a 2 year deal that guarantees him 2.5 million at the end of each year. After this deal was announced, the Cardinals traded Tony Cruz, who had been Yadier Molina's backup since 2011, to the Royals in exchange for rookie-ball infielder/outfielder Jose Martinez.
At the time, this seemed like a smart move. The St. Louis Cardinals had talked at nauseum how they needed to give Molina more rest and less playing time, but it never happen. However, with this deal, it seemed like they were finally going to follow through with their promise. But right before opening day, in a sort of "that might as well just happen" situation, Brayan Peña slipped on the dugout stairs, due to somebody "watering" the dugout.
This incident resulted in surgery to remove a loose body from his left knee. What was thought to be a 2-week injury ended up costing him the first few months of the season. He did make a return for a couple of games in July, but he was placed back on the disabled list with knee soreness only a few games later.
It's hard to call Peña a failed experiment, because if it wasn't for the ridiculous injury, he may have been a serviceable backup. But, the Cardinals seem to have run out of patience, especially after Molina played in more games during the 2016 season than he has in any years prior.
This leads us to present day. With Peña gone, the Cardinals have several options to consider for next season. Some from within, and some from the free agent market.  The following catchers are players John Mozeliak might consider to replace Peña.
5. Alex Avila – 29 Years Old
Lastly, the St. Louis Cardinals could take a shot at Alex Avila. Avila was an all-star in 2011 but has failed to reach that mark again. In 2011 Avila had a WAR of 5.1, but in the 5 years since then, he has a combined WAR of only 6.2. Following his 2011 Campaign, Avila had a season marked with inconsistency and nagging injuries. But he did still manage to catch the fourth most games in the American League.
2014 was a solid year for him behind the plate, but not in the batters box. Avila's struggles offensively continued, but he was a success with his defense, finishing as a finalist for the 2014 Gold Glove. During this season, Avila allowed only 3 passed balls in 122 games, and threw out 34% of base runners, the highest rate of his career.
2015 was the worst season of his career. Avila struggled heavily with the bat, slashing a mere .191/.339/.287 and he didn't find any success behind the plate either. On an almost sad note, Avila's father was hired to be the teams GM that following off season, and chose not to pursue his son in free agency. Which, I mean, if that doesn't sum up sport management in one sentence, I don't know what does. Baseball is a business, nothing is personal.
However, the Chicago White Sox took a chance on him in 2016. Fortunately, Avila rebounded slightly at the plate, hitting .213/.359/.373, and blasting 7 home runs in only 209 PA's.
With Avila, you know what you're gonna get. You're getting an average hitter, with occasional pop, and an almost depleted arm. He could prove useful not only as a backup, but as a batter off the bench.
4. Chris Gimenez – 33 Years Old
The St. Louis Cardinals might want to take a look at former Indians catcher Chris Gimenez. Unlike many on this list, he has actually had a solid amount of success at the plate. While he has never been an all star hitter, Gimenez has put up solid numbers while getting very limited at bats. Gimenez's best season at the plate came in 2015 during his time with the Texas Rangers. In 113 PA's, he batted .255/.330/.490 while hitting 5 home runs and driving in 14 RBI.
Gimenez was drafted in the 19th round of the 2004 amateur draft by the Cleveland Indians, and debuted for them in 2009. Over his career in the Minors, Gimenez has put a line of .266/.369/.439 in 3660 PA's. Though Gimenez has never played for one team for more than 2 consecutive years, Gimenez always seems to find his way back to the Indians. Almost in an obsessive way.
He played for them in 2009-2010, then went to Seattle, and Tampa Bay for 3 years. After that he was traded from the Rangers to the Indians in 2014, but then was signed back by the Rangers that following off-season. But, in the following May, Cleveland re-purchased him from the Rangers.
Gimenez has had mixed reviews when it came to pitch framing in 2016, but has gotten nothing but great comments from Indians RHP Trevor Bauer. Bauer thanks Gimenez for giving the pitcher control of every at bat because although Gimenez gives suggestions, he lets the pitcher make the final decisions.
Over his career, Gimenez has thrown out 28% of baserunners. Defensively however, he isn't gonna make any highlight reels. Over the course of his career, Gimenez has a -10 Defensive Runs Saved, and a career Defensive WAR of 0.3.
3. Erik Kratz – 36 Years Old
The St. Louis Cardinals could take a look across their division for their new backup. Erik Kratz, who debuted in 2010 with the Pirates, has bounced around for majority of his career. But he found his way back home in 2016, signing a minor league contract with Pittsburgh.
Some Cardinal fans might remember Kratz play at the plate on June 13th of this year when he tagged out Stephen Piscotty without ever giving Stephen any room to slide. This caused a bitter argument between Matheny and the umpiring crew, even after the replay confirmed the call on the field. Matheny kept the argument going after the game, calling the tag a "blatant disregard of the new rule."
While Kratz has never really gotten enough at bats to put up a consistent performance, he owns a career slash line of .200/.248/.362. However, Kratz has flashed a great deal of promise with his defense.
Through his six year career that has spanned between six different teams, Kratz has been a very reliable backstop, throwing out 34% of would be base stealers. Though it has been with limited time (1387 innings), Kratz has only made 4 errors in his career, to give him a .997 career fielding percentage.
Kratz is a serviceable defender with a below average bat but has an above average arm. He would be very cheap, costing barely above league minimum for nothing more than a 1 year deal. And on an unrelated note, on June 21, 2016, Kratz struck out Brandon Belt for his first career K. Hilarious.
2. Alberto Rosario – 29 Years Old
The St. Louis Cardinals could stick with their fallback from last year and go with Alberto Rosario as their backup. Rosario was originally signed by the LA Angels in 2005, and played 11 seasons in the minors before making his MLB debut.
Rosario, 29, debuted with the Cardinals last year during a road trip in Milwaukee. I was actually at this game, and remember him getting his first base hit. Pretty cool moment for a guy who had been in the minors since he was 19.
Rosario was called up after Pena hit the DL for the second time. He had spent all of 2016 with the Triple-A Redbirds and put up solid numbers there. His slash-line was .281/.323./325 through 124 plate appearances. However, he showed little to no pop whatsoever.
Rosario's bat never quite developed like his arm did. Throughout his career in the minors, Rosario threw out 42% of base runners which is pretty impressive. But his bat, not so much. His career line in the minors is .238/.290/.308. But 2336 plate appearances since he was signed, he finally got to the big leagues.
He finished the 2016 season with a major league stat line of .184/.225/.237 through 20 games which isn't very far off from his career minors line. But he did show the Cardinals that he could be a decent backup if need be.
Rosario is not going to help his team with his bat, but he can be a very good defender. He has a good body for catching, good framing abilities, and a cannon of an arm. He has the ability to stop the running game on a dime so when Yadi isn't playing, it's good to have someone who can throw out runners at almost the same pace.
Carson Kelly – 22 Years Old
The St. Louis Cardinals already have a future backstop in the making, but the Cardinals may not want him in St. Louis quite yet. While he could easily be the best backup catcher on this list, the Cardinals have higher expectations for Carson Kelly. He is their catcher of the future, and he might benefit from playing everyday in Memphis, rather than part time in St. Louis.
Kelly has been widely regarded as a glove first catcher, but his bat is starting to come around. As many know, Kelly was originally drafted as a power hitting third baseman, but converged to a catcher early on. Due to learning the position, Kelly's bat may have lagged behind the rest of his development. But that no longer seems to be the case.
In the Arizona Fall League this year, Kelly slashed .286/.387/.455 with 3 home runs, 4 doubles, and drove in 18 batters. Here's the best part though. Kelly only struck out 4 times. This was a delightful surprise for the Cardinal organization, and Kelly solidified himself as their top catching prospect, who has the ability to be a power hitting regular.
Even though Kelly is a bit big for a catcher (6'4″, 220 lbs), he is regarded as a natural leader, who works well with pitchers. His arm is no weak spot either considering that through his first three seasons, he threw out 32% of what would be base stealers.
Since Kelly is only 22-years old, the Cardinals might be better off keeping him in Memphis at least for the early parts of this coming year. I could definitely see them bringing him up towards the second half, especially if Molina starts to wear down.
Want your voice heard? Join the Redbird Rants team!
This article was made to show possible options the St. Louis Cardinals might consider for their backup catching next season. The most realistic possibility is probably Carson Kelly. Any other catcher they get is nothing more than a stop-gate until he is ready to take the reins.
This article originally appeared on