St. Louis Cardinals: Alex Reyes Enters the Rotation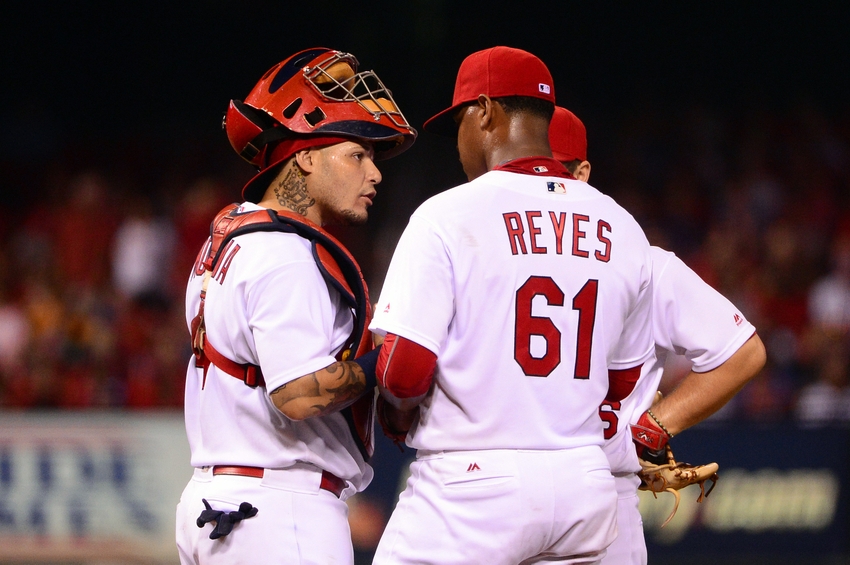 St. Louis Cardinals rookie Alex Reyes will now be a part of the starting rotation. After a poor outing by Jaime Garcia against the Chicago Cubs, the Cards feel that Reyes gives them a better chance to win.
Jaime Garcia started on September 13th against the Chicago Cubs but only last 1.2 innings before being relieved by Alex Reyes. Garcia allowed three hits, two runs and two walks. The Cubs led the St. Louis Cardinals 2-0 in the second inning and had the bases loaded with two outs before Reyes entered the game. Not to mention National League MVP award candidate Kris Bryant was up to bat. Reyes blew a 97 mph fastball by him for strike three to keep the game from getting out of hand.
Alex Reyes ended up pitching 4.1 innings, allowing only one hit and striking out four. He did, however, walk six batters. Due to his stellar relief performance, Reyes earned his second big league win and is now looking for more.
Alex Reyes will now be in the starting rotation in place of Jaime Garcia. The announcement was made Thursday that the 22-year-old flamethrower will make his third start of the season. Reyes joins Luke Weaver as the only other rookie in the rotation. Garcia will be available out of the bullpen along with Michael Wacha and Trevor Rosenthal as the Cardinals continue to get healthy.
Alex Reyes has had spectacular success since his promotion to the big leagues. The former top prospect earned a promotion on August 9th to provide their bullpen with some help. But due to his consistent success in tough spots, the Cardinals feel comfortable with him taking over a veteran's spot in the rotation down the stretch in September.
Jaime Garcia has faced a number of obstacles since joining the St. Louis Cardinals. He has had shoulder and elbow troubles in the past that have severely limited his playing time. Through 29 starts this season, Garcia is 10-12 with a 4.65 ERA, and his 164.2 innings pitched this season are the second-most of his career. He has stated that fatigue is not the issue and that he is healthy.
The Cardinals are hoping to rebuild his confidence as he becomes part of the bullpen. Garcia has not pitched in relief since his rookie season in 2008. His previous 145 appearances in the majors all have been starts. According to STL Today, manager Mike Matheny stated, "It will be a tough adjustment for him."
More from Call to the Pen
In Garcia's last six starts, he has four consecutive losses and an ERA that jumped from 3.93 to 4.65. Furthermore, Garcia may be a free agent at the end of this year. The Cardinals have a club option costing $12 million to keep Garcia. With his performance this season, they may explore other alternatives for 2017. However, the starting pitching market this offseason is underwhelming.
Alex Reyes in nine games (28 innings) has allowed only four runs with 34 strikeouts while surrendering just 16 hits. Within those nine games, Reyes has started twice. The cause for concern with Reyes is his control. In those 28 innings, he has also handed out 16 walks and thrown three wild pitches. But, as the Cubs learned on Tuesday, he can pitch himself out of jams against elite bats.
Matheny, in an interview with STL Today, stated, "After going into the game, pitching the way that he did, seemed like a pretty easy transition to give him that opportunity. He's continuing to impress us no matter what situation we do put him into. And, we feel he's going to give us the best shot right now."
Reyes has relied on his incredible pitching repertoire. He throws a fastball that averages 97 mph, along with a slider (85 mph), curveball (77 mph) and change up (88 mph). As batters try to figure out Reyes, the Cardinals will look to exploit Reyes' talent to help them in September.
St. Louis' top pitching prospect is getting a true taste of the big leagues. After defeating the Cubs on Tuesday he will face the San Francisco Giants on Sunday. The Giants currently hold the first Wild Card spot.  The New York Mets hold the second. The Cardinals are one game behind the Mets and two back from the Giants. They also dropped the first of a four-game series against the Giants and Johnny Cueto on Thursday.
Tonight, the Cardinals send fellow rookie pitcher Luke Weaver out to face off against the Giants' newest arm, Matt Moore. St. Louis is hoping to ride their rookies' success as they search for a way into the postseason.
This article originally appeared on