St. Louis Cardinals: Addressing the loss of Zach Duke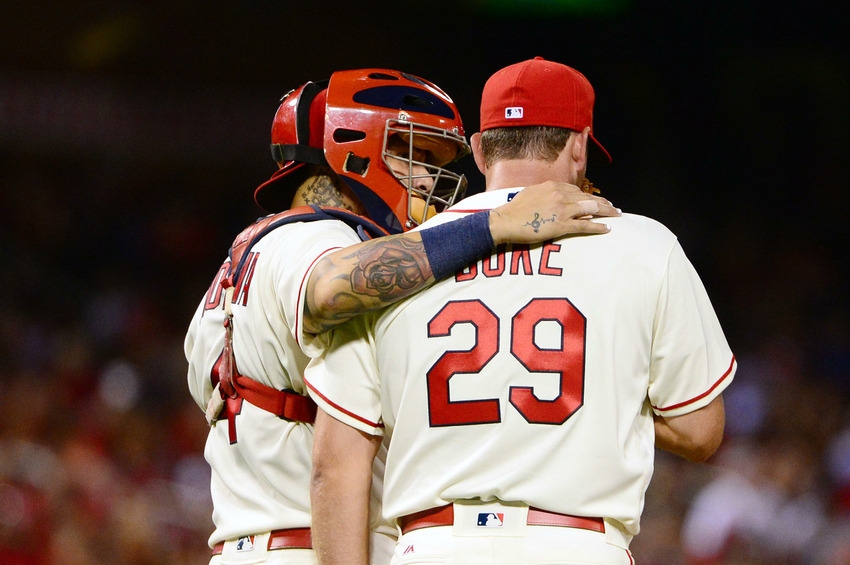 What might have once appeared as a regular off-season for the St. Louis Cardinals- one of aiming for a few targets and going after them- has changed dramatically with the news of surgery.
The St. Louis Cardinals announced this past week that reliever Zach Duke will undergo Tommy John surgery and will be out for the 2017 season.  This Mozeliak trade made during the 2016 season at the trade deadline shored-up the back end of the pen in a strong way.  Duke was expected to be a reliable arm in the pen in 2017 but that is out now.
One of the downsides of this loss is the loss of finances as well.  Duke is owed $5.5M in 2017, the final year of his team-control contract.  2016 was a strong year for Duke and the St. Louis Cardinals had hoped he would continue this in 2017.  Again, this performance and this money are out now.
Before moving on, let's look at the pain to be experienced in the loss.  In 2016, Duke appeared in twenty-eight games for the Cardinals covering 23.1 innings.  In these innings, he allowed only seventeen hits and five earned runs for an impressive 1.93 ERA.  In 23.1 innings, Duke struck out twenty-six batters and recorded a 1.29 WHIP.  Ouch to the loss, right?
Want your voice heard? Join the Redbird Rants team!
What to do now?  Will the Cardinals panic?  Should the Cardinals shop the reliever market?  Can they simply solve from within?  With so many things on the line, look for Mozliak to make a smart decision but don't expect him to show his hand any time soon.
Let's take a look at the options before the team and see if we can glean the best solution at this time.
Shop the Reliever Market
One thought is that the St. Louis Cardinals should now shop the reliever market to replace Duke.  Any of these lefty relievers from the free agent market excite you?
Brett Cecil is 30, completed 2016 with a 3.93 ERA, and was paid $3.8M in 2016.  He played for Toronto in 2016 so the St. Louis Cardinals are getting an opportunity to see him perform now in the post season play.
Aroldis Chapman is likely the most exciting name on the lefty free agent market list and he will likely have many suitors.  The Cardinals surely considered him, as many writers did, when he was moved from New York this season to the Cubs.  Many have issues with his attitude and behaviors but he does win.
Chapman is 29, has a 2016 ERA of 1.01 as a closer, and was paid $11.3M in 2016.  Let's be honest, Chapman will be very expensive to land not to say the Cardinals shouldn't kick the tires and/or make a try on him.
Felix Doubront is 29, completed 2016 with a 5.50 ERA (limited appearances), and was paid $2M in 2016. 2016 was not his season as he had to exit the year early for Tommy John surgery.  2017 could be his triumphant return should the Cardinals wish to risk the reclamation chance.
Mike Dunn is 32, completed 2016 with an ERA of 3.40, and was paid $3.45M in 2016 by the Marlins.  The question the Cardinals would need to address if interested in Dunn would be whether he could fill in as the lefty setup man if they are trying to replace Duke.
Dana Eveland is 33, completed 2016 with a 9.00 ERA, and was paid $895,000 in 2016 by the Rays.  Eveland's horrific ERA lead the Rays to outright him last week yet he is expected to remain with the Rays.  The Cardinals should NOT have interest in him.
Boone Logan is 32, completed 2016 with a 3.69 ERA, and was paid $6.25M by the Rockies in 2016.  Logan is an attractive situational reliever and this drew a good deal of interest by teams in 2016 but can he help replace the setup situation?
Javier Lopez is 39, completed 2016 with a 4.05 ERA, and was paid $5M in 2016 by the Giants.  His age worries me and I hope the Cardinals avoid this name if they are considering free agent pitchers as he seemed destined for retirement all season.
Eric O'Flaherty is 32, completed 2016 with a 6.91 ERA, and was paid $1,75M in 2016 by the Braves.  O'Flaherty cleared waivers in 2016 showing that no team wanted him.  The St. Louis Cardinals should take heed and avoid him again.
One-time Cardinal, Marc Rzepczynski is 31, completed 2016 with a 2.64 ERA between the As and Nationals, and was paid $2.95M in 2016.  Having appeared in the postseason will be of interest as will his abilities.  Will the Cardinals welcome him back?
Matt Thornton is 40, finished 2016 with a 5.82 ERA, and was paid $1.6M by the Padres.  If the Cardinals avoided Lopez above based on age and ability, they should avoid Thornton as well.
Travis Wood is 30, finished the 2016 regular season with a 2.95 ERA, and was paid $6.175M by the Cubs in 2016.  Wood is a natural setup man at this point in his career but his efforts this season and his postseason work will make him very attractive to (1) the Cubs and (2) everyone else.  The bidding wars will be very interesting.  I would like to see the Cardinals kick these tires though.
Of all of these names, I hope the Cardinals attempt to make something happen with Rzepczynski, Wood, and/or Chapman– if only to raise the costs for another squad.  Of these three names, I would not be surprised at all to see a 1-2 year deal offered or made to "Scrabble."  It might be nice to see him back wearing the birds.
Solve From Within
What if the St. Louis Cardinals decided that the lefty free agent market is either too expensive or doesn't offer a suitable solution?  Does the organization have names and arms that would solve the absence of Duke without tying up additional money that could be used for another impact player (say a CF or power bat)?
Dean Kiekhefer is the first natural name that bubbles to the top of possible internal replacements.  Kiekhefer was impressive in AAA Memphis this season and even made twenty-six game appearances for the Cardinals in 2016.  In these appearances he recorded a 5.32 ERA.  He is thought of as the incumbent LOOGY but could he be "converted" to a setup man?
Marco Gonzales was once thought of as a starter and that might well be his role moving forward.  His playing time was nonexistent in 2016 thanks to injury and surgery so he is looking to return in 2017.
Marco has impressive stuff and it might be an interesting experiment to see him work from the pen.  Pen work might be a good ease-back from injury and could allow him to return to a rotation in future years or add value for him in a trade.
Another interesting experiment name would be Tim Cooney.  Cooney's 2016 was also nonexistent thanks to injury.  While Marco has better stuff which might keep him in consideration for a rotation spot, perhaps the pen and a setup spot would be an easier fit for Cooney.  Again, like Marco above, perhaps limiting his innings in 2017 would help him ease back from his injury but also allow him to add value.
Trevor Rosenthal should have a very interesting 2017.  I mention him here as it has been no secret that the St. Louis Cardinals had hoped to work him into a rotation spot but, now that Duke is out, should the Cardinals swap their thoughts and move Rosy into the setup spot?  Rosy would be an incredible setup man leading into Oh.
Another potential setup option would be Kevin Siegrist.  Siegrist is a lefty and is clearly loved by Mike Matheny.  Siegrist pitched a great deal in 2016 and finished well with a 2.77 ERA.  He is arbitration-eligible so the Duke absence helps Kevin grab a little more money through the arbitration process but look for the Cardinals to lock him up without going to arbitration.
I wish I could predict the best internal option but I'm at a loss.  I don't think that Kiekhefer will be the option sought by the Cardinals, at least not out of the gate.  If I were a betting man, I would guess the Cardinals keep Rosy in the pen and let him fill the Duke vacancy with help from Siegrist.
Bottom Line
There are many solutions that would work here, right?  This doesn't make them all correct options however.  That said, I think the Cardinals should shoot for the moon knowing that there are internal options that would suffice.
If I had my way, I would love to see the Cardinals join the bidding war for Chapman.  I hope that Mozeliak learned a thing or two this season when the Cleveland Indians went and grabbed one-time closer Andrew Miller from the Yankees to solve their pen needs.  Miller is being used now as a setup man but has the ability to serve as closer too.
In this thinking then, the Cardinals could well use Chapman as both closer and/or setup man.  Following this same thinking then, the Cardinals could and probably should use Rosenthal in the same manner.  But wait, there's more!
The Cardinals could and probably should kick the tires on Wood for the same reasons.  Wood was a one-time starter who is now serving incredibly well from the pen.  Could he be a setup man?  Perhaps a closer?  Or perhaps he could even find his way back into a rotation?  Maybe the Cardinals should offer something to Wood in the multiple year variety…
How about "Scrabble?"  I think that he would be a really nice add back to the Cardinals pen.  My only concern with him is that I believe he might need a few years to entice him in a deal this season.  Where I would like to see Wood in a longer deal, I'm not so crazy about 2-3 years of 'Zep because we have seen him struggle wearing the birds before.
All of that said, I think the Cardinals are not in such a dire need due to the exit of Duke as might have been foretold.  I feel that the team should pump the brakes and focus on more important issues such as the need for a true center fielder and a bat of consequence if they have truly decided to let Matt Holliday move on.
It will be fun to see which way the organization goes in this regard.  Stay tuned with us at Redbird Rants for more information as we learn more.  Go Cards!
This article originally appeared on