St. Louis Cardinals 9, Pittsburgh Pirates 7: Stars And Stiffs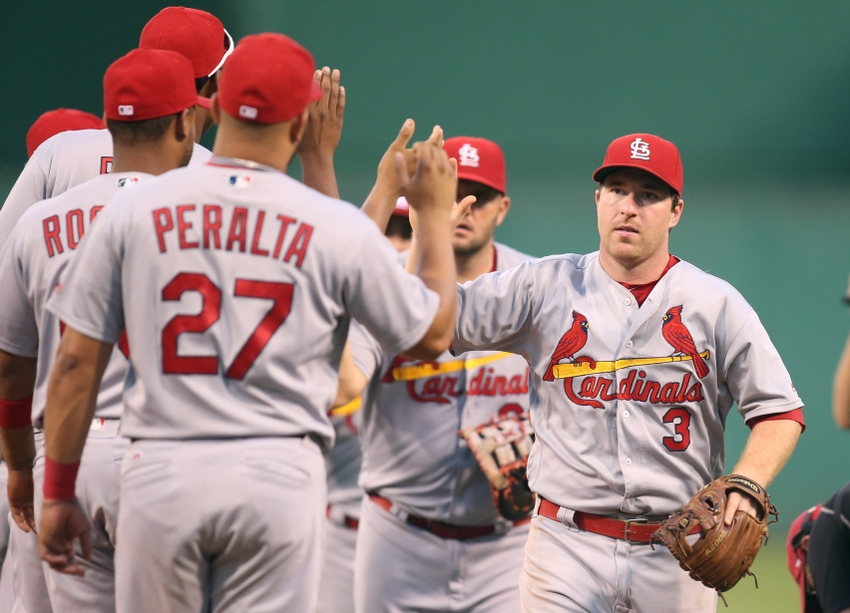 On Tuesday night the Pittsburgh Pirates' losing streak reached eight games. In a game the Pirates appeared to have won, they lost to the St. Louis Cardinals 9-7.
If the Pittsburgh Pirates ever played a must win game it was Tuesday night. It appeared the Pirates were going to get said win on Tuesday night. However, in the ninth inning the wheels came off.
Despite leading 6-5 with two outs and no one on base in the top of the ninth inning, the Pirates were unable to finish off Tuesday night's game with a victory. With the lose their losing streak hit eight consecutive games, and, right now, the Pittsburgh Pirates appear to be at rock bottom. Anyway, here are the three stars and stiffs from tonight.
STARS 
Shortstop Jordy Mercer – The Pirate shortstop collected a pair of hits on Tuesday night. These two hits included what was at the time the biggest hit in Tuesday night's game. Once again, Jordy Mercer flashed the ability to come through in the clutch.
In the bottom of the fifth inning Jordy Mercer stepped to the plate with the bases loaded and just one out. While the Cardinals held a 5-4 lead at the time, that would quickly change. Jordy Mercer hit a two-run double that gave the Pirates a 6-5 lead that they would hold until the ninth inning. 
Third baseman Jung Ho Kang – On Tuesday night Jung Ho Kang made his first start since returning from the disabled list. Prior to going on the disabled list Jung Ho Kang was one of the Pirates' hottest hitters. And on Tuesday night he picked up right where he left off prior to getting hurt.
In five trips to the plate on Tuesday night Kang recorded a trio of hits, including a pair of solo home runs. Overall, Kang finished the night 3-for-5 with two home runs, three runs scored, and three runs knocked in.
Despite struggling at times this season and spending time on the disabled list, Kang has quietly put together another strong season in 2016. So far this season Kang has 15 home runs, a .506 slugging percentage, a .355 wOBA, and a wRC+ of 124 in just 272 plate appearances.
Relief pitcher Felipe Rivero – In the top of the seventh inning Felipe Rivero took over on the mound. Rivero inherited a 6-5 Pirates' lead. And, he was asked to give manager Clint Hurdle two innings.
Rivero was able to come out and give Hurdle and the Pirates exactly what he was asked to give. Rivero pitched two scoreless innings, and he allowed just one hit while striking out two batters. This was an awesome bounce back outing from Rivero who struggled his last time out against Milwaukee over the weekend.
STIFFS
Starting pitcher Ryan Vogelsong – Due to some poor defense it was not all his fault. However, Ryan Vogelsong struggled mightily on Tuesday night. In fact, Tuesday night was the worst start that Vogelsong has made this season.
The Pirates' right-handed pitcher lasted just four innings on Tuesday night. In these four innings pitched Vogelsong allowed five runs on six hits, one walk, he allowed a pair of home runs, and he only struck out two batters.
Ryan Vogelsong put the Pittsburgh Pirates in a big early hole. The Pirates trailed 4-0 after half an inning, and 5-1 after four and a half innings. However, the Pirates' offense and bullpen were able to rally and pick Vogelsong up.
First baseman John Jaso – John Jaso made his third consecutive start at first base on Tuesday night. Even though Jaso was 1-for-3 with a RBI at the plate, he still finds himself on the stiffs list. This is due to his defense.
In the top of the first inning with two men on base and one out John Jaso fielded a ground ball hit by Brandon Moss. Jaso was unable to record an out on the play, due to attempting to look Kolten Wong back to third base, and this would load the bases with just one out. On the very next pitch Yadier Molina hit a grand slam to give the Cardinals a 4-0 first inning lead.
Relief pitcher Tony Watson – Tony Watson inherited a 6-5 lead in the top of the ninth inning on Tuesday night. And unfortunately for the Pirates, Watson blew his second consecutive save opportunity.
Watson was able to retire the first two batters he faced. Then he got ahead of pinch hitter Matt Carpenter 0-2. However, Watson would allow a two strike bomb to Carpenter to tie the game at six.
Unfortunately for Watson, the Carpenter home run was just the start of his problems. Yadier Molina would double, Randal Grichuk hit a home run, and then Jhonny Peralta also hit a home run. And before anyone could blink it was 9-6 Cardinals.
Tuesday night's loss was one of the worst for the Pittsburgh Pirates in a long, long time. It was a game the Pirates had to have, it was a game they appeared to have, and then when they were one strike away from victory the wheels came off.
There really is not a whole lot left to say at this point. The Pittsburgh Pirates are playing the worst baseball they have played since 2012, and it flat out sucks as a fan. However, the sun will still come up tomorrow.
Tomorrow night the Pirates will try to avoid being swept for a third consecutive series. First pitch is scheduled for 7:05 PM when the Bucs will send Jameson Taillon to the mound.
This article originally appeared on