Signing Luis Valbuena Would Shore Up Yankees Corner Infield Depth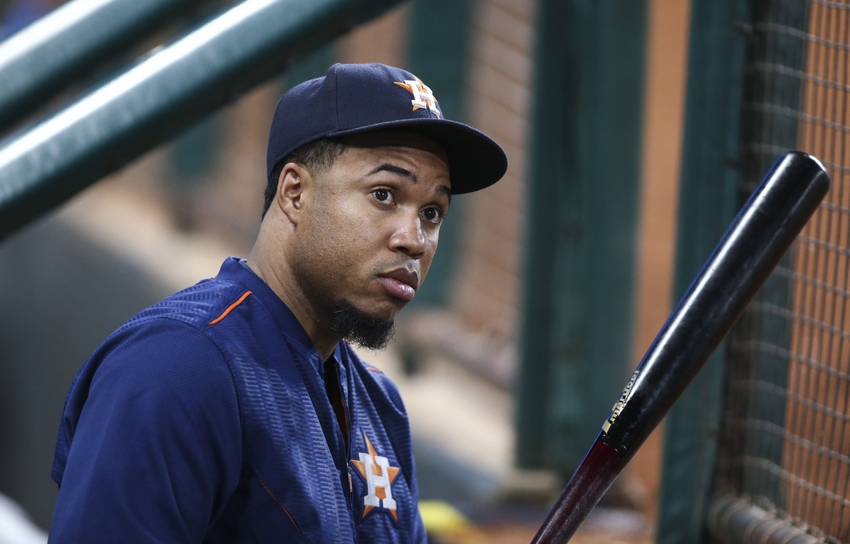 Impending free agent utilityman Luis Valbuena could help solidify the New York Yankees thin corner infield picture for next season.
After missing a large chunk of the season with a hamstring injury, 30-year-old infielder Luis Valbuena of the Houston Astros is largely flying under the radar as a free agent target despite his fourth straight solid season. With the New York Yankees short on veteran power bats and infield depth, Valbuena could be a fit for the club this winter.
In 342 plate appearances this year, Valbuena hit .260/.357/.459 (124 OPS+) with 13 homers while seeing time at first, second, and third. Amazingly, he set a career high in rWAR with 2.6 despite playing in just 90 games. He seemed to be well on his way to a career year if it wasn't for the injury.
There are a few reasons why the Yankees could be interested in Valbuena this winter. First, it could allow them to trade Chase Headley and the $26 million remaining to him if they receive a strong offer. Valbuena is admittedly a poor fielder at the hot corner, but his bat more than makes up for it. New York has too many defense-first players at the moment, and third base seems like a clear place to make a change.
Even if they hang onto Headley, Valbuena would be a useful piece for the Yankees. He would give them a safety net for the youngsters expected to compete for the first base job (Greg Bird and Tyler Austin) getting hurt and/or struggling. He would also provide the team with the flexibility to move Brian McCann if the right trade came along.
Probably the best use of Valbuena would be to use him as an overqualified bench/depth piece, maybe pushing Ronald Torreyes or Rob Refsnyder back to Triple-A to wait for an injury. The only problem with that is Valbuena might end up being too expensive to be a backup because of the weak crop of free agent third basemen this year.
What would it cost to sign him? He made $6.13 million this season through arbitration. Maybe something like two years $24 million or three and $30 million? He only has three career seasons with more than 100 games, so he's hardly a proven commodity. He's a hard one to peg, but he should be well within the Yankees modest price range if they're interested.
This article originally appeared on