Should the St. Louis Cardinals Pursue Marcell Ozuna?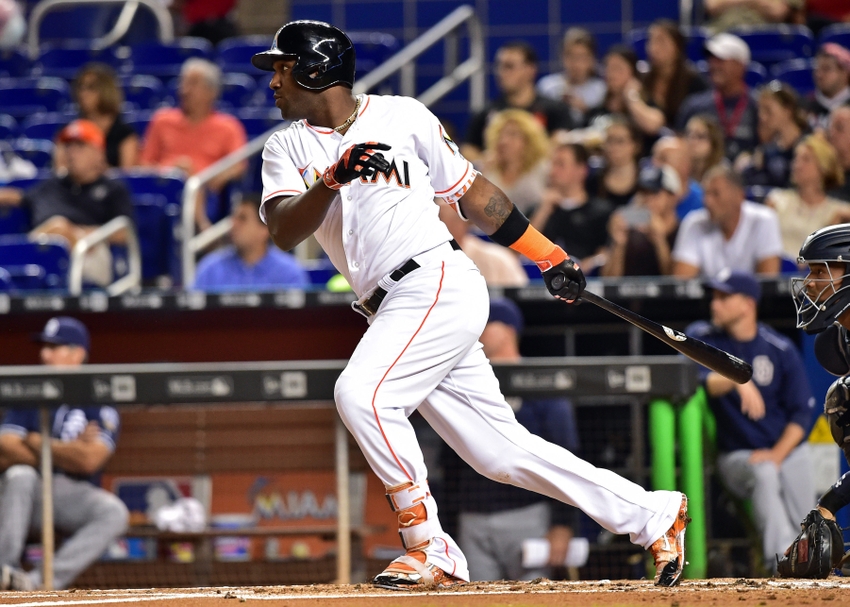 The St. Louis Cardinals are interested in making upgrades to the outfield this offseason. Could Marcell Ozuna be a potential fit?
The St. Louis Cardinals have made it clear that they're looking to upgrade their roster heading into next season. In particular, GM John Mozeliak has suggested that looking for potential upgrades in center field and left field are on his to-do list. In separate reports, Rick Hummel and Ben Frederickson of the St. Louis Post-Dispatch highlighted these priorities. Hummel also noted that Mozeliak is mindful of not upgrading the defense at too great a detriment to the lineup. Are there any players the Cardinals could look at that would help meet both needs?
On Monday, Mark Saxon of ESPN suggested that Marcell Ozuna could be a player to "keep an eye on" as a trade target for St. Louis this offseason. However, the 26-year-old could require a steep price. He isn't scheduled to become a free agent until 2020, and Jeff Todd of MLB Trade Rumors notes Ozuna is only projected to earn around $4.5 million in arbitration. A two-to-three win player at that price is a valuable commodity.
Financial issues aside, the bigger question is whether or not Ozuna is a good fit in St. Louis.
More from Call to the Pen
If Mozeliak's priority is upgrading the defense in center field, then this move is probably a stretch. Randal Grichuk spent the bulk of 2016 in center for St. Louis, and according to advanced defensive metrics he did a respectable job. Admittedly, it's tough to form strong conclusions about a player based on one year of data. However, he did have a positive DRS (7) to go with a slightly negative UZR (-0.9). That DRS total was good enough for sixth in the majors among center fielders.
On that basis, Ozuna isn't a likely candidate to supplant Grichuk. Ozuna has spent at least three seasons as the Marlins' primary center fielder, and over that time he's accumulated a -7 DRS and -2 UZR. If Ozuna is a player that the Cardinals target, it might make more sense to leave Grichuk in center field and use Ozuna to replace Tommy Pham, who is currently projected to start in left. A shift from center to left could also help raise Ozuna's defensive effectiveness.
A trade for Ozuna makes more sense in light of his value at the plate. The Cardinals offense lost two 20+ home run hitters from last season to free agency (Matt Holliday and Brandon Moss). Last year Ozuna was up and down on offense, but he did manage to hit 23 homers. While this wouldn't be a clear upgrade on offense over Grichuk, it once again makes sense as an upgrade in left. If finding a decent outfield glove with power at the plate is a priority, Marcell Ozuna might just be their man.
Last season snapped a string of five straight playoff appearances for the Cardinals. This is a team hungry to return to the postseason, and a few moves this offseason could help make that desire a reality. Whether or not Ozuna is the player that St. Louis pursues, it's likely their outfield will have a different look at the start of next season than it has now.
This article originally appeared on