Should the Cleveland Indians Sign Edwin Encarnacion?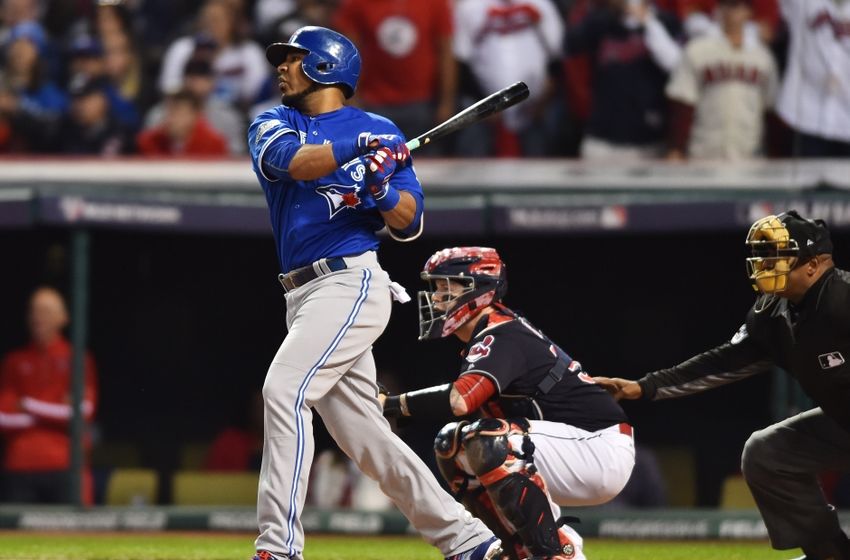 The Cleveland Indians continue to be linked to free agent Edwin Encarnacion. Here are some reasons why team should and should not sign the slugger.
Following a somewhat unexpected World Series run, the Cleveland Indians went into the offseason with a roster lacking any major holes in it. The Indians will retain everyone from the 2016 roster except veterans Coco Crisp, Rajai Davis, Chris Gimenez, Mike Napoli, and Jeff Manship.
Mike Napoli is arguably the most notable departure of this group. He provided veteran leadership while slashing .239/.335/465 with 34 HRs and a 104 OPS+. The Indians need to find a way to replace that production at the 1B/DH spot. Fortunately for the Indians, a lot of 1B/DH type of players are available on what is looking like a rather thin overall free agent market this offseason. Napoli is even an option to return to the team.
While players like Carlos Beltran, Mitch Moreland, Steve Pearce, and Matt Holliday have already signed with teams, one notable slugger still remains available – Edwin Encarnacion. The Indians have been strongly linked to Encarnacion since Monday night. Paul Hoynes of cleveland.com reported,
"The Indians are negotiating with free agent slugger Edwin Encarnacion about a multiyear deal. The deal might not happen. It might fall apart in the days to come, but right now the talks have traction."
Let's examine some reasons why signing Edwin Encarnacion would be a good idea for the Tribe, as well as some reasons why signing Encarnacion would be a bad idea for the Tribe.
Reasons Why the Indians Should Sign Encarnacion
1. Production and Fit
A contending team like the Indians should always be looking to add productive players. Edwin Encarnacion has been nothing short of productive in his career and owns a career slash line of .266/.352/.498.
He has been exceptionally productive over the past five years, posting an OPS+ of 130 or greater in each of those seasons. He's been elected to the All-Star Game in three out of the past four seasons as well. In addition to that, he has received MVP votes in four of his last five seasons. Needless to say, a player like this is an asset to virtually any team.
Despite Edwin Encarnacion's exceptional production, there are not many teams open for business on the 1B/DH market. The Indians, however, are one of the few teams in the 1B/DH market. With the club failing to resign Mike Napoli as of this moment, they could use a 1B/DH to pair with Carlos Santana.
Edwin Encarnacion and Carlos Santana would form an excellent tandem at the 1B and DH positions, and both players would get playing time at both spots. Encarnacion's offense would also lengthen the Indians lineup and provide protection for Francisco Lindor and Michael Brantley.
2. Durability
A key component to any successful season in baseball is health. Exceptionally deep teams can overcome key injuries, but, for the most part, staying healthy is a major component to success in baseball.
The Indians have been the victim of key players getting injured over the past decade. Indians fans have watched talents such as Grady Sizemore, Travis Hafner, and Vinnie Pestano get their careers derailed by injuries. This is probably why many Indians fans are nervous about how Michael Brantley is going to perform coming off of injuries that kept him out of most of the 2016 campaign.
It's never fun to watch as a fan, let alone as a general manager. You can bet that Chris Antonetti and Mike Chernoff will be considering health when looking at the free agent market. This is another area in which Edwin Encarnacion cleans up. He has played in over 125 games in every season since 2011. He only has two full seasons in the MLB where he has played in less than 100 games.
In 2015 and 2016, he played in 146 and 160 games, respectively. This definitely makes him a more attractive option, since you can be fairly confident that he will be on the field and out of the trainer's room.
3. Improve Ticket Sales
Most casual Cleveland Indians fans have now become aware that they have a really good team to root for. An unexpected World Series run stirred up fan interest in a way that the team hasn't seen in years. With that being said, the Indians were still in the bottom five in attendance in the MLB last season.
The Indians have been struggling with attendance ever since the trade of C.C. Sabathia during the 2008 season. Despite successful results with Terry Francona at the helm, attendance has not seen a significant increase. One of the fan base's gripes with the Indians' front office over the past several years has been that they are unwilling to spend money on major free agents. Signing Michael Bourn and Nick Swisher before the 2013 season still did not help attendance.
Edwin Encarnacion is in a different tier, however, than Swisher and Bourn. Encarnacion is the top 1B and offensive player on the open market right now. Signing a big name like Encarnacion would signal to the fan base that the Indians are serious about contending and will spend a bit of money to do so.
Signing Edwin Encarnacion would effectively silence the crowd that believes the Dolans are cheap, likely generating additional ticket sales.
Reasons Why the Indians Should Not Sign Encarnacion
1. Price
Edwin Encarnacion's price has dropped below what most experts and Encarnacion himself thought he would make. After rejecting a four-year, $80 million contract from Toronto, Edwin Encarnacion is believed to be seeking a three-year, $60 million contract. While this is a clear indication that Encarnacion overplayed his hand, his price point still appears to be a bit out of reach for the Cleveland Indians.
The Indians do not usually build their teams via free agency. Most of the Tribe's free agent acquisitions of late have been veterans or utility players. Adding an annual salary of $20 million would bring their payroll to roughly $125 million, which is much higher than it has been over the past decade.
In fact, a payroll of $125 million would be the largest payroll in team history. A three-year, $60 million contract would also be the most expensive contract in Cleveland Indians history, both in terms of overall value and annual salary. The Indians do not like giving out big contracts like that, and Chris Antonetti has a history of being disciplined with the free agent market.
2. Age
Edwin Encarnacion will turn 34 before the 2017 season. Although still productive, Encarnacion is past his prime. Many consider a player's prime years to be his age 27 to 30 seasons. Not every player puts up their best numbers during this time period, but many do. After age 30, most players start to experience a decline in their production and overall athletic ability.
Edwin Encarnacion is at the age where he could start to decline fast. Although there is no indication yet that this would be the case, it certainly can happen. Indians fans have watched it happen firsthand. I don't think anyone thought Michael Bourn and Nick Swisher would decline as fast as they did. I don't think many fans thought Bourn would be a 40 stolen bases type of player or that Swisher would hit 30 HRs, but nobody expected them to pan out as poorly as they did.
Both Michael Bourn and Nick Swisher were younger than Encarnacion when they signed their deals with Cleveland, so Encarnacion's age is something that has to be considered. It is likely why no one other than Toronto seems to want to offer him a four-year deal.
3) Loss of 1st Round Draft Pick
Since Chris Antonetti took over as general manager in 2011, the Indians have had an excellent track record in the amateur baseball draft. In the first round of the amateur draft from 2011 to 2014, the Indians have drafted Francisco Lindor, Tyler Naquin, Clint Frazier, and Bradley Zimmer, respectively.
Francisco Lindor is already a star in the MLB and a cornerstone of the Indians franchise. Tyler Naquin had an excellent rookie campaign and looks to have a promising future if he can work out the holes in his swing. Clint Frazier was the main piece that lured Andrew Miller from the Yankees. Bradley Zimmer is currently the top prospect in the organization.
Since the Toronto Blue Jays made Edwin Encarnacion the qualifying offer, any team who signs him will lose their first-round pick in the upcoming 2017 amateur draft, unless that team has a top 10 pick. The Indians currently hold the 27th overall pick in the draft. They would forfeit that pick to Toronto if they signed Encarnacion.
The Indians have produced quality prospects and players from the first round during Antonetti's tenure with the Indians, so the loss of this pick shouldn't be taken lightly.
More from Wahoo's on First
This article originally appeared on