Seattle Mariners: What's the Outlook for Jean Segura?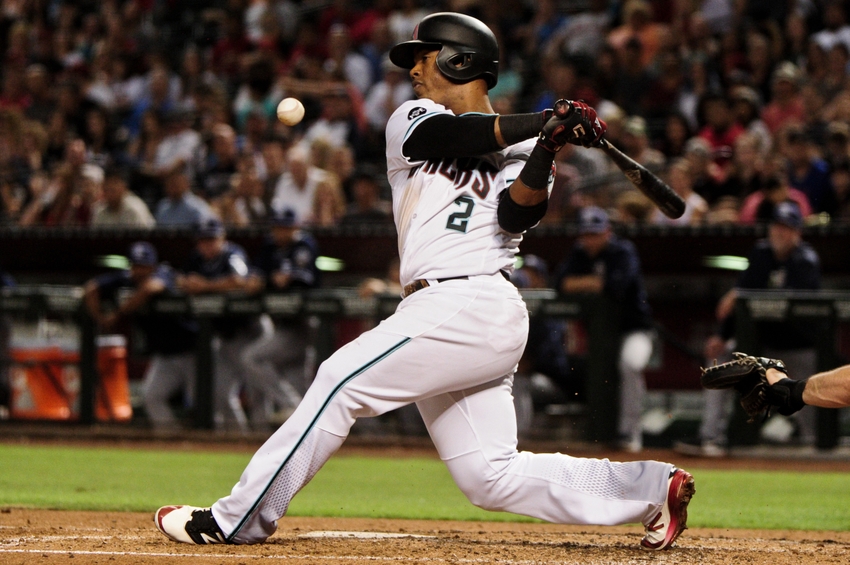 The Seattle Mariners acquired Jean Segura to help solidify the shortstop position. Will that trade work out in their favor?
On Wednesday night, the Seattle Mariners and Arizona Diamondbacks pulled off the biggest trade of the offseason to date. Seattle sent Taijuan Walker and Ketel Marte to Arizona in exchange for Jean Segura, Mitch Haniger, and Zac Curtis. From the Mariners perspective, this trade was a move to upgrade at shortstop. A few months ago, Mariners GM Jerry Dipoto made it clear that Seattle is in win-now mode.
Given the Mariners intention of winning as quickly as possible, does this move make sense? What's the outlook for Jean Segura heading in to 2017? Are there reasons to believe he can build on his breakout 2016 campaign?
Did the Mariners need an upgrade?
The short answer to this question is yes, but that assumes you weren't a believer in Ketel Marte's development. His potential at the plate was limited, but there's still reasons to believe he'll improve as a hitter in the coming years. Chris Mitchell of FanGraphs assessed Marte's performance in light of comparable players, and he was able to find several MLB regulars who have succeeded with a similar profile.
More from Call to the Pen
Still, if the Mariners are focused on winning now they might not have had time to wait for Marte to develop. In 119 games last season he hit .259/.287/.323 with 1 HR and 11 SB. He finished the season with a wRC+ of 66 which left him ranked 28 out of 31 shortstops (min. 400 PA). Not only did Marte struggle at the plate, but his defense was below average by DRS (-2) and UZR (-10.3). These factors helped contribute to Marte's -0.7 fWAR in 2016.
Few doubt that Segura is an upgrade over Marte at short. In 2016 Segura hit .319/.368/.499 with 20 HR, 64 RBI, and 33 SB. His 203 hits led the National League, and his production was one of the biggest surprises of the baseball season. Rather, the major question is if the Mariners should expect to see the Segura of last season, or if he will regress closer to the level of player we saw in previous years.
Reasons to be optimistic about Segura
There are a few reasons to believe that Segura made changes last season that have changed his long-term outlook. Two of those changes were at the plate. In his first year with the Diamondbacks Segura became a more patient hitter. His 32.1 O-Swing% and 64.0 Z-Swing% were both career lows. This patience helped bump his BB% back up to 5.6% after it hit a career low in 2015 (2.2%).
Not only was Segura a more patient hitter, but he also made changes to his batting stance prior to the season. Ken Rosenthal reported in April that Segura had lowered his hands, and it had dramatically changed his batted ball results. This change was the result of conversations that Segura had with Luis Mercedes in the offseason.
There are also a few reasons to be optimistic about Segura's trajectory in light of off the field issues. Ken Rosenthal also reported that Segura was frustrated by contract talks early in 2014. However, the biggest off the field struggle for Segura was easily the loss of his nine-month old son in 2014. It's difficult to know how much of an impact such a devastating tragedy had on his performance.
All of these factors taken together paint a picture of a player who might have turned a corner from his disastrous 2014 and 2015.
Reasons to be concerned about Segura
That's not to say there aren't reasons to be concerned about Segura's prospects in Seattle. In particular, his uncharacteristically high BABIP in 2016 could hint at some regression in 2017. Last year he ran a .353 BABIP as opposed to .298 and .275 the previous two seasons. A step back in this area would obviously lead to some diminished production.
A change in ballpark could also be reason for concern. Last year Segura played his home games at Chase Field which was the third best environment for hits according to ESPN's Park Factors. Segura's new home park, Safeco Field, ranked 21st by that measure.
It's also fair to be skeptical of Segura's output because it is an outlier when compared to his three other full time MLB seasons. In 2013 he was above average at the plate, but 2014 and 2015 were filled with struggles. Even though his defense was above average in those seasons he finished with 0 and 0.3 fWAR because of his offensive decencies. It's understandable that some analysts want to see more than one year of this production from Segura before they're sold on it.
What's the outlook?
It's pretty safe to say that in the short term Seattle is better at short now than when the offseason began. The assessment of Luis Torres of Beyond the Box Score is probably right when projecting Segura's future performance. He has clearly made some changes that have improved his outlook as a hitter. However, it's also likely that he's probably not quite as good of a hitter as he showed last season. Regardless, the Mariners have made it clear that they're willing to do what is necessary to try and improve their roster in the immediate future.
This article originally appeared on