Seattle Mariners Should Just Say No to Mark Trumbo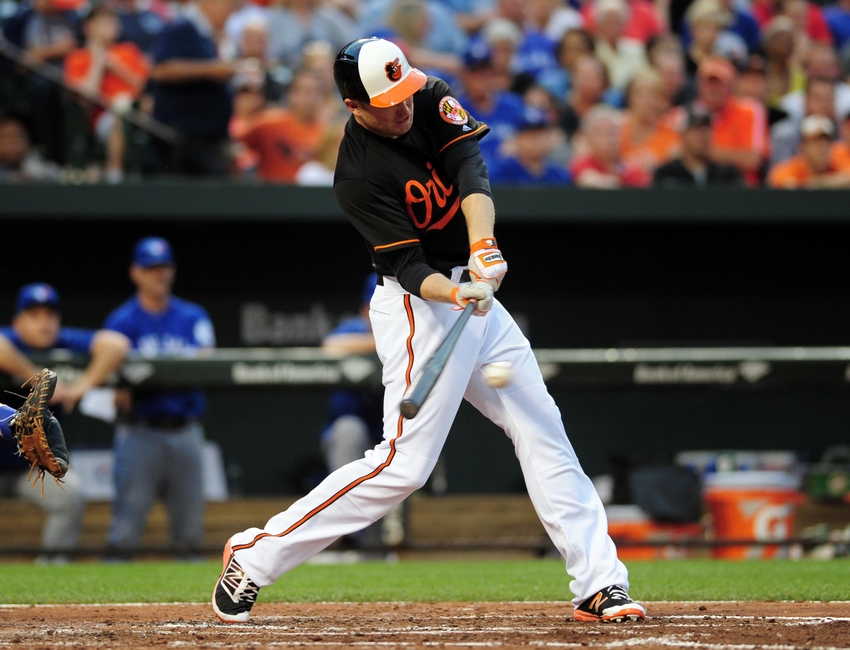 Rumors are flying at baseball's winter meetings and ESPN's Jim Bowden tweeted that the Seattle Mariners are in serious talks with Mark Trumbo.
Free agent first baseman/outfielder/DH Mark Trumbo is one source of right-handed power on the market at the moment, but there are a few players in the same mold. He's not close to the stratosphere of Edwin Encarnacion. He's more on the tier of Mike Napoli and Chris Carter, which is a cut above a guy like Mark Reynolds.
ESPN's Jim Bowden tweeted that the Seattle Mariners are in serious talks with Trumbo, but just how serious those talks are is unknown. While Bowden described the talks as serious, Greg Johns suggested that "serious" would be overstating the case at this point. Ken Rosenthal tweeted that the Colorado Rockies are "considered strong suitors" for Trumbo, and the Orioles might want to bring Trumbo back to Baltimore.
More from Call to the Pen
Of course, the Mariners are no strangers to Trumbo. He was on the team for the second half of the 2015 season after being acquired in a deal with the Arizona Diamondbacks that June. Trumbo hit 13 home runs in 96 games with the Mariners in 2015, for a wRC+ of 105, meaning he was 5% better than average after ballpark and league adjustments are taken into effect. His defense cut into his value, though, which has been true throughout his career. Trumbo has always graded out very poorly on defense when he plays the outfield. His numbers at first base haven't been nearly as bad.
Last off-season, the Mariners traded Trumbo along with relief pitcher C.J. Riefenhauser to the Baltimore Orioles for catcher Steve Clevenger. This proved to be an ugly trade. Clevenger played in just 22 games for the Mariners and hit .221/.303/.309. He spent most of the year on the disabled list. He capped off his season with a couple of racist tweets that drew a suspension from the Mariners in September. Meanwhile, Trumbo led all of baseball with 47 home runs. It was by far a career high in homers. Trumbo also set career highs in runs scored, RBI, and slugging percentage. As good as he was at the plate, Trumbo gave back some of that value on defense and baserunning. FanGraphs had him worth 2.2 WAR and Baseball-Reference had him at 1.6.
When the Mariners traded Trumbo last off-season it cleared the first base spot. To fill it, they acquired Adam Lind in a trade with the Brewers a week later. Unfortunately, Lind had a brutal season, hitting .239/.286/.431 (92 wRC+, 8% worse than league average). All in all, it was a bad pair of moves.
Now, a year later, the Seattle Mariners are reportedly interested in Trumbo again. Should they make a push for him? I say no. They have in-house options who could be just as productive as Trumbo, for a much better price. Last July, the Mariners acquired young first baseman Dan Vogelbach from the Chicago Cubs for Mike Montgomery. Vogelbach will be 24 years old later this month and hit .292/.417/.505 in Triple-A last year. He deserves a shot at first base in 2017. He's a left-handed hitter and the Mariners have a right-hander who can spell Vogelbach at first if they want to form a platoon at the position—Danny Valencia.
In 845 career plate appearances against left-handed pitchers, Valencia has hit .321/.373/.500 (139 wRC+, 39% better than average). He needs to be in the lineup against every left-handed pitcher the Mariners face. Vogelbach is a young player who could get time off against lefties. The Vogelbach and Valencia combination could outhit Trumbo at a fraction of the cost.
The FanGraphs Depth Charts have Trumbo projected to be worth 1.2 WAR in 595 plate appearances in 2017. Vogelbach is projected to be worth 0.5 WAR in 238 plate appearances. Valencia is projected to be worth 1.0 WAR in 560 plate appearances. There just doesn't look like much of a difference there and there's a chance the Mariners pair could be more productive than Trumbo.
Mark Trumbo just had the best year he'll ever have and is expecting a big raise from the $9 million he made last year. The reality is, he'll almost surely regress back much closer to the player he was before 2016 and won't be worth his contract. The Seattle Mariners should turn their interests elsewhere.
This article originally appeared on