Seattle Mariners: One of MLB's elite at 3B is Kyle Seager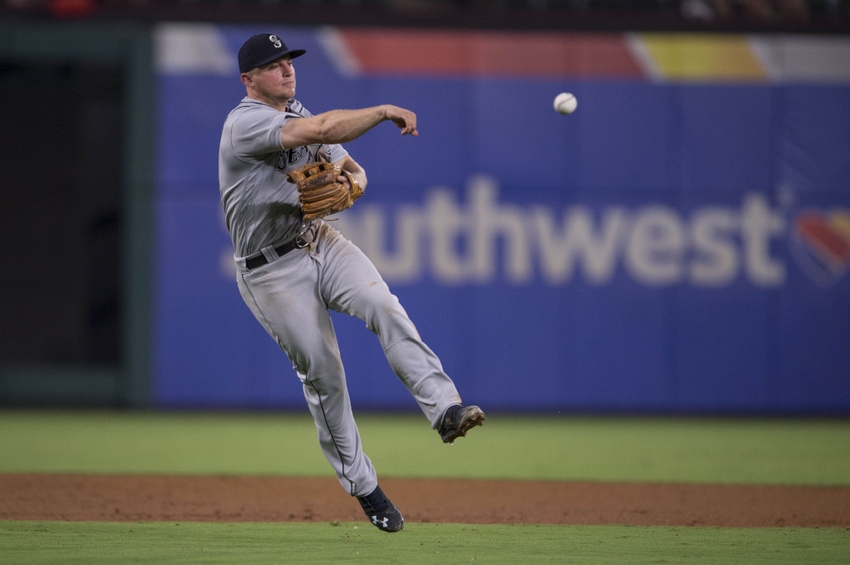 2016's version of the Seattle Mariners did more of the same in recent seasons. They played well enough at times to tease fans with aspirations of October baseball in the Pacific Northwest, but not enough to seriously contend.
Much of their 86-76 season mirrored 2014, when then went 87-75. Scott Servais did an admirable job in his first season managing the M's. Along the way, no two players provided him with more assistance than did Robinson Cano and Kyle Seager.
Cano had by far his biggest season in Seattle as a Mariner since coming over in 2014. He finished 8th in AL MVP voting, set a personal best for home runs in a season with 39 and trailed only Jose Altuve at his position for overall WAR with a mark of 7.3, sixth best in MLB. For what it's worth, he seemingly and finally lived up to his $240 million price tag.
Over at Seattle's third base spot, Seager had himself one hell of a year also. Just in case you might have been thinking he was overshadowed by a number of things this season.
More from Call to the Pen
Third base has been stacked with talent in recent years across MLB rosters. Case in point, last year's AL MVP and NL ROY play the position, with Kris Bryant following up his 2015 ROY run by taking home an NL MVP this time around in 2016.
It wasn't Manny Machado, Nolan Arenado or even the resurgent Evan Longoria who finished behind only Josh Donaldson and Bryant at their position in overall WAR. It was Seattle's Seager.
Even for all the hype, press coverage and accolades younger brother Corey Seager has received over the course of his condensed playing career in which he delivered a tremendous 2016, big bro still outdid little bro.
Corey became the NL ROY. Though it might not have went that way if Trevor Story didn't get injured. Despite playing the entire year and slashing an impressive .308/.365/.512, Seager still finished with one fewer home run (26) than did Story and tied him in RBI with 72. Seager played in 157 games, while Story played in only 97.
Deviation aside, older brother Kyle had his best pro season to date. Among position players, only 2016 AL MVP Mike Trout (10.6), Mookie Betts (9.6), Bryant  and Altuve (7.7), Donaldson (7.4) and Cano (7.3) finished with more wins above replacement than the man who held down the hot corner for the Seattle Mariners all year.
Seager's 6.9 mark was a full 1.1 points above his previous best mark of 5.8 in 2014. Across the statistics board, he set new highs all over. 30 home runs, 99 RBI, 89 runs scored and 298 total bases ascended him into the upper tier of MLB third basemen. His .278 average was his best yet and his 166 hits tied a career high. His .859 OPS was 71 points higher than his previous best from 2014.
He and Cano had comparable seasons on offense this year. The biggest difference being, Cano made three times the 2016 salary that Seager made ($8 million). And that's after signing a shiny new seven-year $100 million deal with the Mariners following the 2014 season. At the height of the contract, in base salary, Seager will make $19.5 million in 2019 and 2020.
Seattle Mariners Edgar Martinez Belongs in Hall of Fame
It's by no means chump change. However, if Seager continues to be one of the most productive players in the league — never mind solely at his position –Mariners front office executives should be grateful to one-time GM Jack Zduriencik for locking him up at what appears to be below market value for an All-Star caliber player with over five years of MLB service time.
By measure of dWAR, Seager also had his best defensive season to date with a 2.0 contribution. He was responsible for turning 46 double plays in 2016, the most involvement by any third baseman.
Range Factor [(PO+A)/INN], a stat developed by the renowned Bill James, is believed to be a much better measure of determining a players contributions on defense than the more traditional fielding percentage statistic. Seager placed 14th at his position in FPCT, posting a .959 mark, but led all third baseman across MLB with a 3.10 RF.
To put that a little more in perspective, Arenado finished second in MLB with an RF of 2.98, along the way to winning his fourth consecutive Gold Glove in the NL at third base.
Perhaps Kyle's raw talent has always been overshadowed by Corey's since they both embarked on minor league careers. Perhaps it's a looming grey cloud that Safeco Field is no safe haven for hitters. Or, perhaps it's time more people just start believing in the work ethic of a player only 29-years-old. One who has a ceiling a lot higher than his 3rd round draft status would suggest.
There are a number of special third basemen playing in today's big league ball parks. I'm not saying Seager is the best, but his worth can easily be stacked up alongside the better ones after this past year. If or when the Mariners finally qualify for postseason play again, you can bet Seager will be a steadfast reason for getting Seattle there.
This article originally appeared on