Mariners place ace Felix Hernandez on DL with calf strain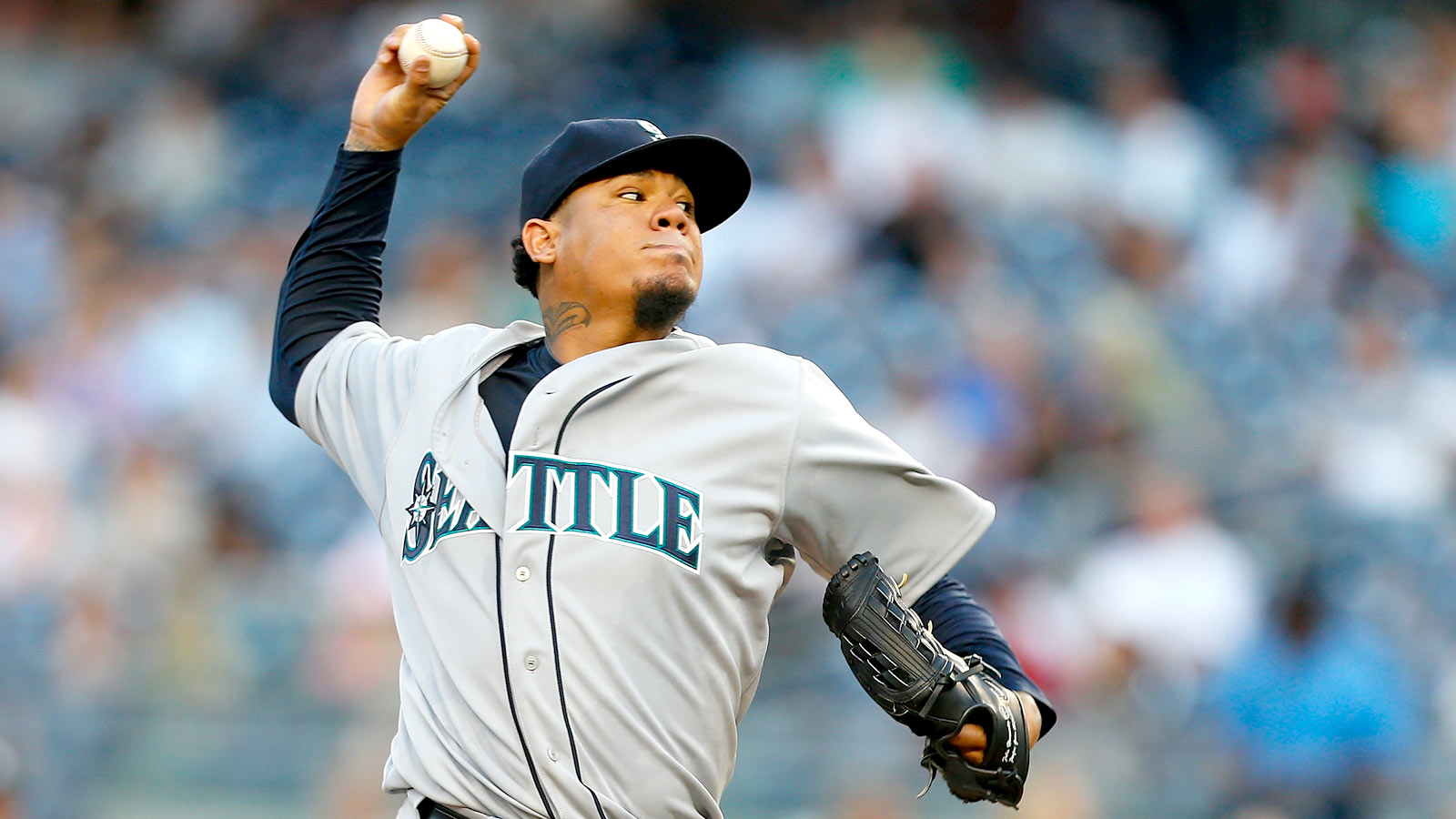 The Seattle Mariners placed Felix Hernandez on the 15-day disabled list Wednesday with a right calf strain, just the third time in his career the veteran right-hander has landed on the DL.
Hernandez had been scheduled to start against the San Diego Padres on Wednesday night. The Mariners recalled left-hander James Paxton from Triple-A Tacoma to make the start.
Manager Scott Servais called it "kind of a freak deal" that happened while Hernandez was stretching before Tuesday's game, a 16-4 Mariners victory.
"This has nothing to do with his arm. It's all related to the calf and the strain he's got there," Servais said. "It's his push-off leg and we all know his delivery and how much torque he puts on that leg, so we've got to be careful that he's 100 percent when he comes back."
Hernandez is 4-4 this season with a 2.86 ERA. The 30-year-old did not travel with the team to San Diego and was examined by Dr. Ed Khalfayan in Seattle on Wednesday morning before the roster move was made.
There's been much attention placed on the decreased velocity of his fastball, but Hernandez has remained a highly effective pitcher, if not a bit inconsistent. Opponents are hitting just .217 against him.
Servais said he hoped King Felix would miss only a few starts. The move was retroactive to Saturday.
Hernandez was last on the disabled list in 2008 and has remained mostly healthy for the majority of his career while remaining the ace of the Mariners staff.
What stood out this season have been moments of inconsistency that were less notable in the past. He has struggled with walks and not keeping his pitch count under control. His 26 walks in 10 starts are nearly halfway to his total of 58 last season in 31 starts.
And he's been bitten by big innings. He lasted just four innings and gave up eight runs (four earned) in a no-decision against Oakland on May 4. He gave up six runs in six innings in his last start against Minnesota.
But despite some of the struggles, Hernandez has remained an elite pitcher. In five of his 10 starts, Hernandez has thrown at least seven innings, and he gave up only five earned runs over his first five starts.
Paxton lost out to Nathan Karns for the final spot in Seattle's rotation in spring training but has excelled with Tacoma. He was 4-3 with a 3.97 ERA and 50 strikeouts in 10 starts for the Rainiers. In seven of his 10 starts, Paxton held opponents to one earned run or fewer.
Paxton has started 30 games with Seattle since the 2013 season, going 12-8 with a 3.16 ERA. Injuries have been the biggest obstacle to him finding sustained success in the majors.