Seattle Mariners: 2016 Season In Review
The Mariners still had a chance at a playoff spot heading into the final weekend of the season, but came up short. This is their season in review.
The last time the Seattle Mariners made the playoffs there was no Facebook, Twitter, Instagram, or Snapchat. The first generation iPhone was still a half-decade off, which meant kids had to play Pokemon with actual cards. We were all still two years away from being friends with Tom on MySpace.
The last Seattle Mariners playoff team was the 2001edition that tied the all-time record with 116 wins. They beat the Cleveland Indians in the American League Division Series, but were knocked out of the postseason in five games by the New York Yankees. They haven't been back to the playoffs since and have had just six winning seasons in the ensuing 15 years.
They came close to making the playoffs in 2014 when they finished a game behind the Oakland A's for the second wild card spot. That raised expectations for the 2015 season. Sports Illustrated and Fangraphs predicted the Mariners would win the AL West and Baseball Prospectus' PECOTA had them second in the division, but making the playoffs as a wild card team. Instead of living up to the hype, the Mariners regressed back from 87 wins to 76. It was a disappointing development.
Heading into the 2016 season, the Mariners were projected for 82-83 wins by Sports Illustrated, Fangraphs, and Baseball Prospectus. This time, they exceeded expectations with an 86-76 season and were within range of a wild card spot right down to the final weekend.
The Mariners got off to a good start to the 2016 season. They were 13-10 in April and 17-11 in May. Their good start put them in first place on June 2. That would be the peak of their season. From June 3 to June 29, the Mariners went 8-17. By the end of the month, they were 10 ½ games out of first in the AL West.
More from Call to the Pen
July and August brought a rebound, as the Mariners were 28-26 across those two months. Then they got hot in September. From September 7 to September 30, the Mariners went 16-6. With two days left in the season, they were one game behind the Toronto Blue Jays in the race for the second wild card. Of course, true to form, the Mariners disappointed their fans. They lost their final two games and ended up three games out of a postseason berth.
Despite the disappointing finish, the Mariners did win 10 more games in 2016 than they won in 2015. The main reason for their improvement was their hitting attack, which went from 17th in wOBA to 9th. They got a little better on defense (moving from 24th to 22nd), and their relief pitching also improved. Below are metrics from Fangraphs that show the Mariners' improvement in the different aspects of baseball.
2015
17th in wOBA (100 wRC+)
24th in defense
17th in starting pitcher fWAR (4.17 ERA, 4.18 FIP)
24th in relief pitcher fWAR (4.15 ERA, 4.06 FIP)
2016
9th in wOBA (107 wRC+)
22nd in defense
19th in starting pitcher fWAR (4.25 era, 4.48 FIP)
15th in relief pitcher fWAR (3.55 ERA, 3.97FIP)
wOBA = A rate stat that credits a hitter for the value of each outcome; scaled to on-base percentage.
wRC+ = Weighted Runs Created Plus—measures offense on a scale of 100 where 100 is average. A wRC+ of 120 means a player or team is 20% better than average on offense. A wRC+ of 99 means a player or team is 1% below average on offense. This metric is adjusted for league and ballpark.
fWAR = Fangraphs Wins Above Replacement—the number of wins a player would produce over a replacement-level player (like a player called up as a replacement from Triple-A).
ERA = Earned Run Average
FIP = Fielding Independent Pitching—estimates a pitcher's run prevention independent of the performance of their defense.
The increase in offense for the Mariners was impressive. They went from a below-average hitting team to an above-average hitting team. Their 112-run increase from 2015 to 2016 was the fourth-highest increase in Major League Baseball. The other area with great improvement was the bullpen, as their relief pitching ERA dropped from 4.15 to 3.55 even though MLB as a whole saw an increase in ERA from 3.96 to 4.19. The team's defense and starting pitching finished close to where they were in 2015.
Let's take a look at the good, the bad, and the ugly for the Seattle Mariners in 2016.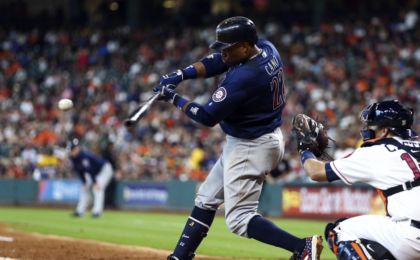 The Good
2B Robinson Cano (6.0 fWAR, 715 PA)—The 2016 season was Cano's third in Seattle after signing a 10-year, $240 million contract that will keep him well-compensated through his 40th birthday in 2023. It was by far his best season with the M's. Cano hit a career high 39 home runs. It was just the second time in his career that he hit more than 30. He also drove in over 100 runs for the fourth time in his career. Cano's 6 WAR season should put him in the mix for some AL MVP votes. I had him fifth on my hypothetical ballot.
3B Kyle Seager (5.5 fWAR, 676 PA)—Seager is a quality ballplayer who doesn't get the attention he deserves. Perhaps it's because he plays in Seattle. Perhaps it's because he doesn't do anything flashy. He's just consistent, very consistent. He can be reliably counted on for a .260-.270 average, .330-ish OBP, and .450 slugging, with good defense at third base. This year, he bumped it up a notch and hit .278/.359/.499. He also had his first 30-homer season and drove in 99 runs. Over the last five years, Seager has been the seventh-most valuable position player in the American League, sandwiched between much more well-known players Manny Machado and Dustin Pedroia.
DH Nelson Cruz (4.2 fWAR, 667 PA)—When Nelson Cruz signed a four-year, $57 million contract prior to the 2015 season, it was not well-received among some knowledgeable baseball writers. Fangraphs' Dave Cameron wrote that the contract "is an early contender for the worst signing of the off-season." He was quite wrong (but the thinking behind it made sense, as Cruz was an aging outfielder with no defensive value). Cruz has had back-to-back seasons with 44 and 43 homers and combined to hit .294/.365/.561 as a Mariner. He's been great and has been well worth the $14.25 million per year he's been paid (in a baseball sense, not a real-world sense). Cruz' defensive issues have not gone away, though, so the Mariners have transitioned Cruz into the DH role. After playing 80 games in the field in 2015, Cruz played just 48 games in the field in 2016. They should continue to limit his exposure to fly balls and make him the full-time DH in 2017.
SP James Paxton (3.5 fWAR, 121 IP)—James Paxton has spent parts of four seasons in the Major Leagues, but has just 286 career innings under his belt. He's been good, with a career 3.43 ERA (3.32 FIP), but just can't seem to stay healthy enough to pitch 175-200 innings. The 2016 season was the best of his career. He set career-bests in starts, innings, strikeout rate, and walk rate.
SP Hisashi Iwakuma (2.4 fWAR, 199 IP)—Iwakuma had a bizarre offseason. The Mariners did not re-sign him after the 2015 season and Iwakuma reportedly signed a 3-year, $45 million deal with the Los Angeles Dodgers. A bad physical caused the Dodgers to back out of the deal and Iwakuma re-signed with the Mariners. He was paid $10 million for the 2016 season and had a $14 million option triggered for 2017 because he pitched more than 162 innings. He ended up leading the team in starts, innings, and wins.
CF Leonys Martin (2.2 fWAR, 576 PA)—The Mariners traded for Leonys Martin prior to the 2016 season and it looks like the best trade they made. Martin was coming off a terrible season with the Rangers in which he hit .219/.264/.313. He rebounded to hit .247/.306/.378. That's still not terrific. You'd like to see more on-base skills out of a speedy player who can steal bases, but it was a definite improvement. Combine Martin's improvement on offense with good defense in centerfield and he was a slightly above average player at a good price ($4.15 million). One thing to be concerned about was Martin's second half. After hitting .243/.313/.404 with 11 home runs in the first half, Martin hit .251/.299/.354 with just 4 home runs in the second half. He went from being slightly below league average as a hitter (97 wRC+) to well-below league average (78 wRC+, 22% below league average).
RP Edwin Diaz (1.9 fWAR, 51.7 IP)—Diaz started the season in Double-A. After striking out 54 batters in 40 2/3 innings, he was called up to the big leagues in early June. The Mariners had signed Steve Cishek to be their closer, but Cishek had a few rough patches during the first half of the season. At the end of July, Cishek blew a three-run lead in the bottom of the ninth against the Cubs, then blew a one-run lead in the ninth the next day against the Red Sox and that was it. Diaz took over the closer role and saved 18 games from August 2 on. He throws pure fire. His fastball averaged 97.3 mph, right there with Craig Kimbrel, and he struck out 40.6% of the batters he faced, fourth-best among relief pitchers with 50 or more innings. One concern was that Diaz ended up pitching 92 1/3 innings combined in the majors and minors. That's a heavy workload for a 22-year-old reliever.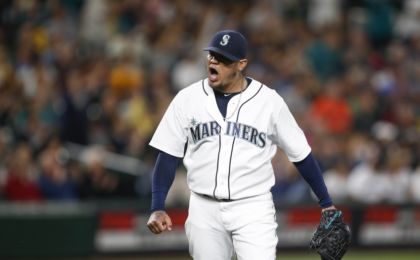 The Bad
SP Felix Hernandez (1.0 fWAR, 153.3 IP)—Mighty King Felix just had the worst season of his career. He had a 3.82 ERA, but his underlying numbers suggest he was lucky to have an ERA that low. His FIP was 4.63. He saw his strikeout rate drop for the second year in a row and his walk rate went up for the second year in a row. The two things a pitcher has the most control over are strikeouts and walks and Felix had been among the elite in both of those areas in the past. Two years ago, King Felix struck out 27.2% of the batters he faced and walked just 5%. That difference in strikeout percentage minus walk percentage was sixth-best in all of baseball for pitchers who qualified for the ERA title. He was among the elite, right there with Max Scherzer and Madison Bumgarner. Last year, he slipped to 23rd in K%-BB% for starting pitchers. This year, he was 71st among the 84 pitchers with more than 150 innings pitched. It's been a mighty fall for the King. His fastball velocity is down two miles per hour from 2014 and batters are making more contact with his pitches than they used to. This could be an aberration. He dealt with a calf injury that had him in a walking boot for part of the season. He may bounce back next year, but he will also be 31 years old and has 2,415 innings on his odometer. This could be the beginning of Hernandez' decline years.
SP Taijuan Walker (0.9 fWAR, 134.3 IP)—Taijuan Walker's year was a disappointment, but there could be a legitimate reason for this. He left his start on June 14 with an injured foot. At the time, he had a 3.69 ERA and had struck out 22.5% of the batters he'd faced. Those numbers look good, but a high rate of home runs allowed contributed to a 4.63 FIP. Walker made three more starts before being placed on the Disabled List with an injured foot. It was reported at the time that Walker had a bone in his foot that was too long and would likely need surgery. He took a month off and came back to pitch in August, but was hit hard in his first five starts. After coming off the DL, Walker had a 5.21 ERA (5.44 FIP) and struck out 18.1% of the hitters he faced. It was a big decline. He recently had surgery, so Mariners fans can hope that he'll return healthy and productive. One of the real problems Walker has had over the last two years has been a propensity for allowing home runs. He's now given up 52 home runs in 304 innings over the last two seasons. Only four starting pitchers have allowed more home runs per nine innings in that time than Walker (minimum of 250 innings pitched). The Mariners have long had high hopes for Walker , but he has yet to put up a consistently good season. He'll be 24 in 2017, so there's still time for him to figure it out, but the Mariners' need it to happen sooner than later.
RP Steve Cishek (0.9 fWAR, 64 IP)—Cishek's overall numbers were not bad, but he had a memorably awful couple games at the end of July and the first of August that cost him the closer's role. He finished the year with 25 saves and a 2.81 ERA (3.57 FIP). He also had the second best strikeout rate of his career (29.5%). There was plenty to like about his season. Unfortunately, he also had seven blown saves and struggled against lefties, which has been an issue for him during his career. He recently had surgery to repair a torn hip labrum and will miss four to six months before he can return to baseball activities, which will likely impact the start of next season.
SP Wade Miley (0.6 fWAR, 112 IP)—The Mariners acquired Wade Miley in an offseason deal with the Boston Red Sox. They hoped he would be a solid starting pitcher for them. He did start 19 games for the M's, but his 4.98 ERA (4.76 FIP) was not what the Mariners were expecting. The Mariners traded him to the Orioles on July 31 for Ariel Miranda.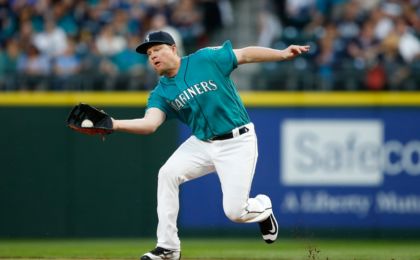 The Ugly
Old Relievers—Joel Peralta, Joaquin Benoit (-0.2 fWAR, 47.7 IP)—Aging veterans Peralta and Benoit were added by the Mariners to help stabilize the bullpen from the right-hand side. It didn't work out. Peralta had a 5.40 ERA (5.55 FIP) in 23 1/3 innings. He was released in June. Benoit had a 5.18 ERA (4.95 FIP) in 24 1/3 innings with the Mariners before being traded to the Blue Jays for Drew Storen and cash.
SP Wade LeBlanc (-0.2 fWAR, 50 IP)—The Mariners acquired LeBlanc from the Toronto Blue Jays in June for a player to be named later or cash and gave him eight starts. He posted a 4.50 ERA (5.69 FIP) in 50 innings before being traded to the Pirates in September for a player to be named later. The most-traded player every year is the mysterious "player to be named later."
1B Adam Lind (-0.6 fWAR, 430 PA)—Lind was acquired by the Mariners in a trade with the Milwaukee Brewers for three minor league players. He came into the season with a career batting line of .274/.332/.466 and had been even better than that over the three previous seasons (.291/.364/.478). The Mariners were hoping for a solid .280/.350/.460 season. The liked Lind enough that they traded away Mark Trumbo, who could have been their regular first baseman. Of course, Trumbo led all of baseball in home runs, with 47. Lind, meanwhile, was the second-worst first baseman in baseball who had at least 400 plate appearances. He hit .239/.286/.431. Only the now-retired Mark Teixeria was worse.
SS Ketel Marte (-0.7 fWAR, 466 PA)—Marte was a very pleasant surprise in 2015, when he came up from the minor leagues and hit .283/.351/.402 in 57 games. He walked 9.7% of the time and was a positive on defense. This year was ugly. He hit .259/.287/.323. His walk rate dropped to 3.9%. He also took a step back on defense. According to this article by Bob Dutton at the Tacoma News Tribune, the Mariners are looking for veteran help at shortstop.
This article originally appeared on