Sanchez and Martin power Blue Jays to victory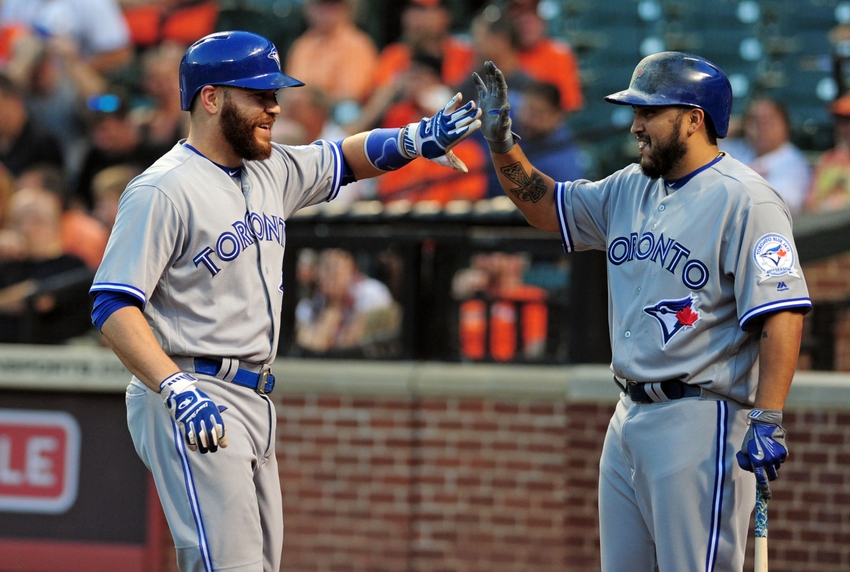 SCORE BOX:

"5"

"3"
Some early power helped kick this one off in the Blue Jays' favour.  Jose Bautista took the first pitch of the game deep to put the Jays up.  The solo home run off of Yovani Gallardo was sent deep over the left-centre field wall for Bautista's 17th of the year.  Russell Martin came up a few batters later after two outs and a walk to Michael Saunders looking to do some damage.  Martin took a full-count pitch with two outs to right field that continued to sail over Mark Trumbo and then the wall.
Aaron Sanchez returned to the Blue Jays rotation and picked up right where he left off.  Sanchez was sitting down Orioles hitters quickly until the 5th inning where he finally ran into some trouble.  The O's got a few runners on and then Josh Donaldson mishandled a ball to allow a runner to score from 3rd.  Sanchez did not allow an earned run during his 6.0 innings of work.  He did allow five hits and three walks while striking out a pair.
In the 7th inning Dioner Navarro collected his 2nd single of the game acting as the team's designated hitter.  After Pillar was retired, Devon Travis screamed a ball down the line past Manny Machado at third base.  This got Navarro running and he was waved home.  Navarro wheeled his way around 3rd and slid hard into home plate to score the 4th Toronto run.  Navarro went 2-for-4 with a run scored in his first start for the Jays.
In the 8th inning Michael Saunders was looking to increase the Jays lead.  On a 1-1 pitch with two out, Saunders torched a belt high pitch over the right field wall.  The ball was hit on a line and bolted over the wall for his 23rd home run this season.
In the 9th inning, Jonathan Schoop came to the plate against Roberto Osuna with two out.  Schoop continued to show why he has been a thorn in the side of the Jays as he raked a ball around the left field foul poll for a two-run homer.  Osuna continues to have issues in non-save opportunities as he looks to feed off the adrenaline.  Osuna bore down and got Manny Machado to line out to Jose Bautista to end the game.
STARTING PITCHER
Starting Pitching
,
Aaron Sanchez
"A+"
Sanchez was spectacular in his return to the rotation.  He pitched 6.0 solid innings and was untouchable for most of it.  He did not allow an earned run and threw over 100 pitches.
RELIEF PITCHERS
Relief Pitching
,
Joaquin Benoit, Brett Cecil, Scott Feldman, Roberto Osuna
"B+"
The bullpen proved to be solid but Osuna struggled in the 9th in a non-save opportunity 
OFFENCE
Three home runs propelled the Blue Jays in this one  Devin Travis had a key double late in the game to score Dioner Navarro.  
More from Jays Journal
This article originally appeared on