San Francisco Giants: You Got a Closer, What Now?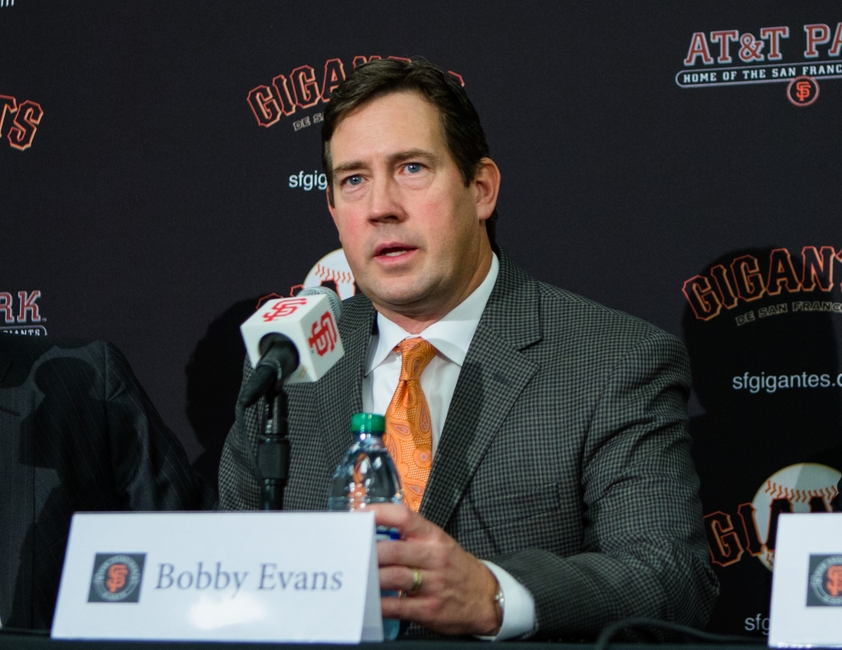 By signing Mark Melancon as their new closing pitcher, the San Francisco Giants satisfied their bullpen needs. Now their attention turns to how to fill their outfield gap.
As one of the first Winter Meeting signings, the San Francisco Giants inked a record-setting contract for established closer Mark Melancon. Addressing their evident bullpen needs, the Giants now look inward to fill up their outfield.
"They're not getting any younger and they deserve an opportunity," said Giants general manager Bobby Evans (per csnbayarea.com). "But we also are not going to give them the jobs. They have to come out there and earn them and there will be competition and other options."
Since his debut, Jarrett Parker consistently showed his worth during his time as a fill-in outfielder. Within his career .267 batting average, Parker finished his rookie season batting .400 with six homers in 45 plate appearances. Not to mention, he shared the spotlight in Tim Hudson's showdown with former teammate Barry Zito. He stole the show with an unforgettable three-homer, seven-RBI performance in Oakland. Despite a quiet sophomore season, Parker hit five homers in 127 at bats, powerfully flashing his full-time potential.
Gorkys Hernandez brings with him speed and defensive ability, similar to the newly departed Gregor Blanco. Through 26 games in his inaugural season with the Giants, Hernandez batted .259 with a pair of homers. The Giants tasted his defensive potential in his first postseason appearance in the NLDS at Wrigley Field.
Splitting time between the major leagues and Triple-A Sacramento, Mac Williamson held a .223/.315/.411 slash line with six homers. During five seasons in the minor leagues, Williams crushed 61 homers while batting .287. Although his overall numbers decreased since his debut, he performed impressively on a full-time schedule in 2013 and 2015.
Why Them? 
More from Call to the Pen
Looking to the minor leagues for an outfielder is quickly becoming the Giants only choice. While at first the free agent market presented a number of worthy candidates, the outfield options are rapidly disappearing.  Cespedes signed for $110 million to stay a Met and after their mega-deal with Melancon, Andrew McCutchen's asking price is out of San Francisco's reach. Dexter Fowler could simultaneously satisfy the Giants' need for an outfield and leadoff man, but signing another free agent makes little financial sense.
Needless to say, Melancon's $62 million, four-year deal stands out from any previous contract for a closing pitcher. With one signature, Malancon broke Jonathan Papelbon's record-setting, $50 million deal he signed with the Philadelphia Phillies in 2011.
As a result, the Giants are in financially hot water due to the changes made in the new collective-bargaining agreement. The urgency to sign young talent is becoming as important as ever, thanks to the increased luxury-tax threshold in the renewed CBA. Calling up any of these promising ballplayers as a full-time outfielder could ease the weight of future overage taxes. As for now, their farm system is fully stocked and the Giants eager to see who steps up during Spring Training
This article originally appeared on