San Francisco Giants: Santiago Casilla's Top 5 Moments as a Giant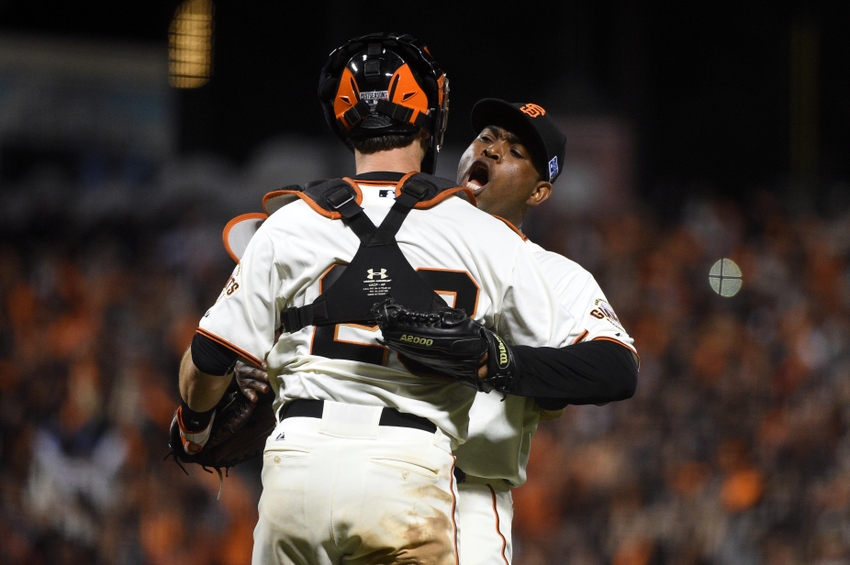 For seven seasons, the San Francisco Giants could count on Santiago Casilla to produce out of the bullpen. The right hander was as versatile as any pitcher the Giants had on any of their World Series Championship teams.
The San Francisco Giants relied heavily on their bullpen in 2010, 2012 and 2014 as they won three World Series and Casilla was as reliable as anyone. Not only was he able to get both right handed and left handed hitters out, he also could pitch multiple innings. Both attributes are rare for a relief pitcher in today's game, but Casilla had the skillset. So much so that when Brian Wilson was not re-signed and Sergio Romo struggled in the ninth, Bruce Bochy continually asked Casilla to close games for the Giants.
Much like when Bochy asked Bengie Molina to be the team's cleanup hitter, asking Santiago Casilla to close games was never an ideal fit. Casilla's skillset was in getting guys out on both sides of the plate and being able to be used for multiple innings if necessary. To ask him to close meant you were taking him away from what he did best. Limiting him to just three outs and just one particular inning put added pressure on every pitch. It was something that Casilla didn't have before.
Many have suggested that the closer role is overrated and that three outs in any inning matter the same. Others mention that you should pitch your best pitchers in the most important situations, regardless of inning. We saw that with Andrew Miller and Aroldis Chapman and Kenley Jansen in the playoffs this season. We saw that with Bochy himself with Jeremy Affeldt and Madison Bumgarner in the playoffs too.
More from Around the Foghorn
However, Casilla and so many others, put extra, unnecessary pressure on themselves once they are given the ninth inning because that is how the game has been structured. It is considered an honor to be given that specific job and a lot of pride comes along with it. As we saw with both Casilla and Romo, they felt their pride was attacked when they were taken out of the role.
All that said, there were still many memorable moments from Casilla during his time in orange and black and his production will be missed by fans, whether they realize it or not.
Honorable Mention
Like all members of the Core Four, Casilla was even better in the post-season. Casilla shut the door on the Detroit Tigers in Game 2 of the 2012 World Series to set up Sergio Romo for the 9th inning. Casilla did his job and did his job well so many times for the Giants. Quiet innings are often taken for granted, but that is what Casilla did many more times than fans would like to remember.
So here are the top five moments of Santiago Casilla's career as a Giant
Nothing is as endearing to a fanbase as beating the bitter rival in their place in a one run game with a runner at third base. That is exactly what Casilla did earlier this season getting Yasiel Puig to fly out to shallow left field to end the game and give the Giants the win 4-3. One run games are always the hardest to save and especially with a runner 90 feet from home plate. To be able to get one of the Dodgers best players to leave that runner stranded at third is always a great way to start off any countdown.
Fans always use the hashtag #PitchersWhoRake when a Giants pitcher gets a hit. But no fan was expecting this. Santiago Casilla with the bases loaded took a 0-1 pitch the other way for a seeing eye single and his first major league hit and RBI. There is nothing quite like pitcher's getting big hits. When it comes from one of the most unlikely pitchers to even get an at bat, it is even better. It's one thing when Madison Bumgarner gets a hit. It is quite another when a relief pitcher does. Not to mention, after Santiago Casilla's first major league at bat (which we will bring to you in all it's glory later on the countdown) the chances of this happening was even more unbelievable.
No pitcher in baseball history can do better than three strikeouts in nine pitches. Santiago Casilla did just that to get a save in a game in Cincinnati in 2015. Casilla could be unhittable at times and he certainly was on this day. So many times, Giants fans would get frustrated with Casilla and previous closers like Romo and Wilson for seeming to put fans through so much torture in the ninth inning. However, Casilla more often than not actually just did his job. On this day, he did it as well as he possibly could.
When Santiago Casilla was good, he was excellent. The Giants took a 3-1 series lead against St. Louis when Casilla threw some absolute backdoor paint to get Matt Holliday looking. The movement on this pitch should remind all Giants fans just how filthy Casilla could be.
Santiago Casilla drew a walk in his first career at bat in a 5-2 game in Florida. He had no intent of ever swinging. He even backed up during one pitch that was nowhere near him. And on top of everything else, the commentary of Duane Kuiper and Mike Krukow on the play by play is priceless. There is no need to say anthing else. Just atch and enjoy.
Don't forget to check out Around the Foghorn each and every day for all the latest hot stove news concerning the San Francisco Giants. The Winter Meetings will continue through Thursday.
This article originally appeared on