San Francisco Giants: Filling The Void in Left Field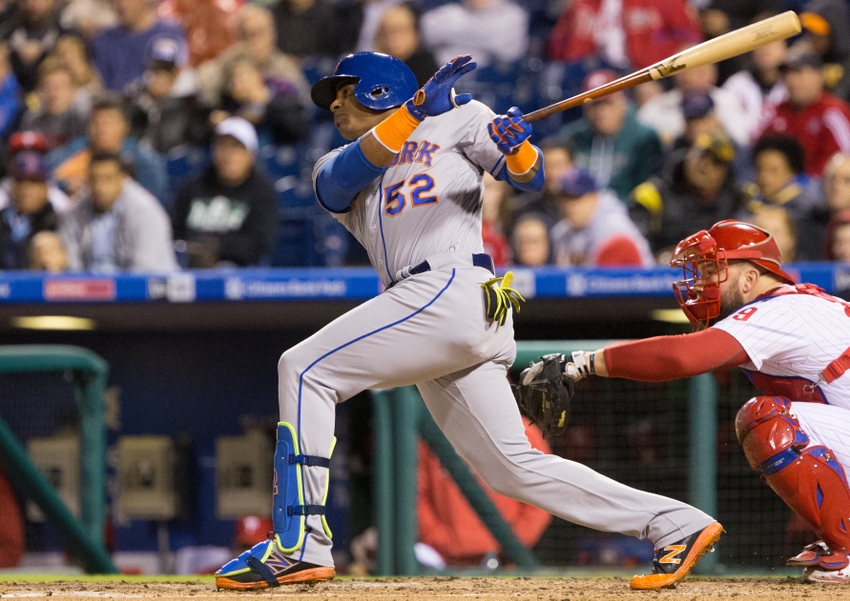 With power outfield options available, and Angel Pagan departing, the San Francisco Giants have an opportunity to fill a hole that's been there since Bonds' departure.
The outfield was a huge problem for the San Francisco Giants during 2016 and upgrades must be made this offseason. Denard Span was signed over last offseason for three-years and posted a .266 average with 11 homeruns and 53 RBIs. San Francisco hopes to fill the left field void with more power this offseason as Angel Pagan departs.
Free agency has left teams with limited options this winter. There are however a few serviceable options on the market for the outfield. No Giants' outfielder hit more than 13 homeruns, or amassed more than 60 RBIs. Clearly, there's been a power outage in the Giants' outfield recent years.
Want your voice heard? Join the Around the Foghorn team!
The Giants are sure to check-in with the likes of Yoenis Cespedes, Ian Desmond, and Jose Bautista to fill the void. All offer big power numbers and hit more than 20 HRs this season. Plenty pop on offer to bolster the San Francisco Giants' lineup.
San Francisco will also be looking to prioritize a bat who can play defense. Of course, if the Giants wish to achieve this significant upgrade, the money must be dished out.
With priority being placed on an elite closer, pulling off a blockbuster deal for one of the power bats may be out of financial reach for the Giants. Bobby Evans has suggested that the team may be out of the Cespedes race if a closer is inked, but that the club would remain flexible in their pursuit.
We're going to take a look at each power bat to see which one may serve as the best fit. First is the big fish himself Yoenis Cespedes.
Cespedes checks all the boxes for the San Francisco Giants for a number of reasons. First, he is an outstanding defender, and his 2015 AL Gold Glove in left field serves as evidence. He's strongly regarded as having one of the top arms in baseball, and would be a significant upgrade over Pagan.
Aside from his defensive prowess, he didn't hit bad either. Cespedes hit .280 mashing 31 homeruns, while driving in 86 RBIs. He carried an OBP of .354, slugged .530, and had an OPS of .884.
Get the FanSided App
This would be just the impact bat the San Francisco Giants are looking for and would be an excellent option in the middle of the order. Rival Dodgers are very left-handed pitcher friendly, and that plays right into Cespedes' strengths. He clubbed left-handed pitching for a .341 average, posting a 1.081 OPS.
He is also great in situational moments, which the Giants struggled in last season. He managed to hit .279 with runners in scoring position and two outs.  Furthermore, Cespedes finds gaps, and scored 15 runs while batting with someone on first base only.
His doubles are down this season only hitting 25, while last year mashing 42.  Expect those numbers to be closer to 40 this season with a healthy shoulder in 2017.
Looking at some options below the price of Cespedes still provides valuable options. One of them lingered around unsigned until spring training, and now will face a number of suitors in free agency. Earlier we took a big look at Cespedes and whether or not he would be the best option for left. 
Ian Desmond is a left field option that would come significantly cheaper for the San Francisco Giants. He may be the move they settle for if indeed they sign one or two of the elite closer options. Desmond stuck around unsigned last offseason due to reasons outside of his production. Losing a draft pick was enough for teams to say no to a player who in 2015 hit 19 HRs.
Now the Giants can say yes while locking him up for multiple years. During 2016's campaign, Desmond hit .285, with 22 homeruns, and 86 RBIs. Desmond offers speed to a lineup lacking it, and he stole 21 bases.
This would give the San Francisco Giants three legit leadoff men with Span, Nunez, and Desmond.  Bruce Bochy could bat Nunez and Desmond at the top, and put Span in the nine spot as he did similarly with Pagan last season.
Additionally, he posted a stellar slash line, posting an OBP of .335, slugged .446, and posted an OPS of .782.
Although Desmond provides a steady bat, his defense may be a concern for the San Francisco Giants as he led all AL outfielders in errors with 12.  Defense is a primary value of the Giants, but this signing could also provide a platoon option should San Francisco wish to give Mac Williamson a shot to prove himself.  Williamson showed he has the arm to make a difference in the outfield, so at minimum if the bat fails to come around, he could be a late-inning defensive replacement Bochy uses.
Fantasy Baseball Crackerjacks 4w
Giants Eduardo Nunez: Believing in the Breakout?
Desmond also provides versatility though, and can play in the infield should any player be injured or require a day off.  He provided far superior defensive numbers there, which gives Bochy the option of late-inning double switches.  This would eliminate losing Desmond's bat if Williamson is put in LF for defense, as Desmond can be used at third, second and shortstop.
Like Cespedes, he too mashes left-handed pitching, posting a .338 average against LHP, and his slugging is almost 100 points higher.
This may be the move San Francisco Giants make if an elite closer requires what is expected. Expect his price range and production to be what the Giants are looking for, especially with promising outfielders Mac Williamson and Jarrett Parker seeking a shot.
Finally, one of the biggest bats of this generation is set to hit the market.
Jose Bautista set the baseball world on fire in 2015 with his legendary bat flip in the ALDS. Before the bat flip, he was more known for what happens before the flip. Monster HRs.
"Joey Bats," as they call him, experienced a bit of a down season. A down season for him though consists of .234 average, 22 HRs, and 69 RBIs. Granted he only played in 116 games due to injury, he was still a threat every plate appearance.
He posted an OBP of .366, slugged .452, and posted an OPS of .817. He takes pitches and has a very good eye at the plate, contributing to 87 walks on the season.
Most impressive for Bautista is his hitting in the clutch. He hit .290 with runners in scoring position. Even more impressive with runners on third and two outs he hit .333 and had an OPS of 1.250.
The San Francisco Giants have truly never been able to fill Barry Bonds' void in left field and this would be the move to end that streak. In 2014 he hit 35 HRs and in 2015 he mashed 40 HRs, showing he's aging very well.
More from Around the Foghorn
San Francisco's questions for this move would be if he is willing to move to left field from his current position at right field, and if he would be affordable should the club ink an elite closer.
Whatever the club does, upgrades need to be made. If the Giants miss out on the elite closer options, expect them to go all-in during pursuits for offensive upgrades in LF.   If that happens, expect a pursuit of Cespedes or Bautista for huge bucks.
Don't get too excited though, Cespedes is purely speculation, and Ian Desmond is the likelier move the San Francisco Giants pursue anyway.
Be sure to stay tuned to Around the Foghorn for all the Hot Stove chatter!
This article originally appeared on