San Francisco Giants' Bullpen Woes Continue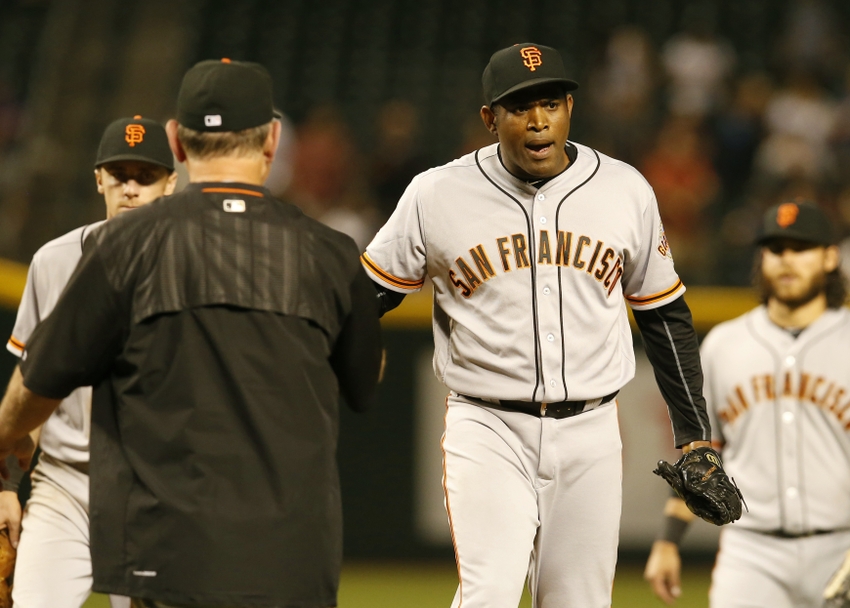 The San Francisco Giants have the worst record in baseball since the All-Star break at 20-34, due in large part to the bullpen's inability to close out games.
The dependable bullpen that has been such a key part of the San Francisco Giants' even-year championship success this decade is showing its flaws.
After blowing his third save in the last four chances last Friday, Santiago Casilla was relieved of his ninth-inning duties. The Giants' search for a closer continued Tuesday night and wound up becoming a roller coaster ride that manager Bruce Bochy and company have grown accustomed to boarding.
Bochy's latest candidate, Hunter Strickland, ran into some trouble attempting to protect a 4-1 lead the Giants carried into the ninth, and after surrendering a pair of runs while getting two outs, Bochy decided to play the matchups and bring in rookie left-hander Steven Okert to face the San Diego Padres' own rookie lefty Ryan Schimpf to get the final one.
It seemed to be the right move considering Schimpf was hitting just .189 against southpaws entering the game and Okert had limited lefties to a .188 average. Unfortunately, the outcome didn't turn out as Bochy had imagined.
More from Call to the Pen
With the Giants a strike away from victory, Schimpf launched a go-ahead three-run home run an estimated 425 feet to right-center on a 1-2 pitch that ultimately proved to be the game-winner for San Diego. The homer was the 68th one the bullpen has given up in the second half of the season, the fourth most in the National League.
With the majority of Giants fans vacating their seats after the club's latest devastating loss, boos began to fill AT&T Park and justifiably so. The Giants had just blown their sixth save in their last 10 opportunities in September and are tied with the Miami Marlins for the most blown saves in the National League this season with 27.
The Giants were on the verge of gaining a game on the Los Angeles Dodgers in the NL West but now remain four games behind. Worse yet, their competition in the Wild Card race, the New York Mets and St. Louis Cardinals, were both victorious and now a mere game separates the three teams for two postseason spots.
If the Giants are unable to work out the kinks in their bullpen, the team with the best record in baseball prior to the All-Star break could very well miss out on the postseason in what would go down as one of the all-time collapses this sport has ever seen.
This article originally appeared on