San Francisco Giants All Time 25 Man Roster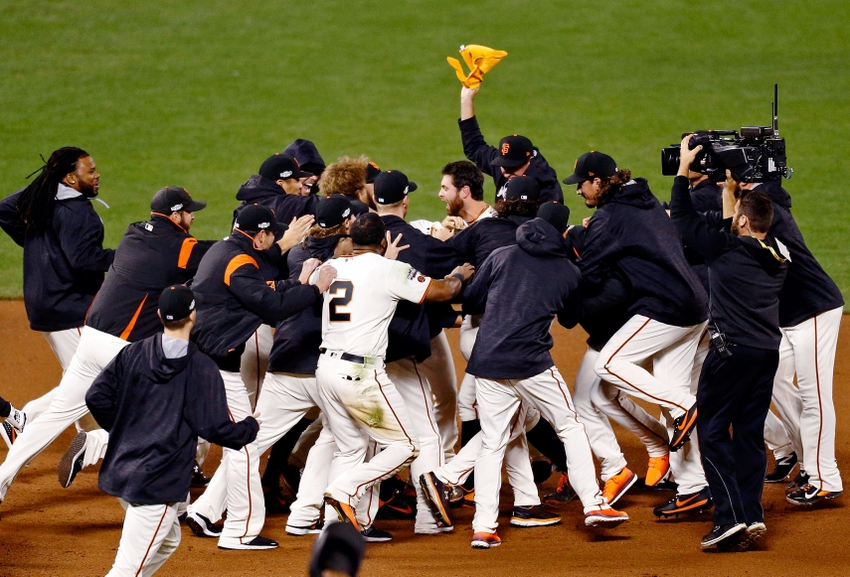 One of the oldest teams in MLB history, the San Francisco Giants can trace their lineage back to 1883. Given the number of stars to pass through their clubhouse, it is no surprise that their all time 25 man roster is as star studded as it is.
Ever since their first season as a Major League franchise, back when the team was known as the New York Gothams, the San Francisco Giants were a star studded team. Four future Hall of Famers suited up for the Gothams, and, over their impressive history, a total of 57 Hall of Fame players, and 11 managers, called the Giants franchise home.
It is understandable that, given that legacy, the Giants would have had quite a bit of success. Indeed, they have captured eight World Series titles, and made the postseason 25 times. Even in their down seasons, where the team struggled, the Giants still had some top level talent.
As such, a look back at the Giants all time 25 man roster is like taking a trip through the history of the game. Some of the truly elite players in MLB history, those unquestioned inner circle Hall of Famers, will be found on this list. Even then, there just is not enough room to bring in each legendary player. A second all time 25 man roster could be just as strong, if not better, than some team's first team 25 man all time roster.
Let us take a trip down memory lane, and open up the tomes of history as we look back at the greats to suit up for the Giants.
Catcher: Buster Posey (2009-present)
Chances are, the San Francisco Giants will move Buster Posey out from behind the plate in the next few years. In the meantime, he has cemented his place in team history.
Posey made his mark felt almost immediately, as he finished 11th in the National League MVP vote while winning the Rookie of the Year award in 2010. That season, he produced a .305/.357/.505 batting line, hitting 18 homers and 23 doubles while hinting at greater things to come. Unfortunately, he was injured the following year when Scott Cousins bowled him over at home plate. That led to the banning of all collisions at home.
Once healthy, Posey again regained his superstar status. A four time All Star and the 2012 MVP, Posey has put together a career .307/.373/.476 batting line, hitting 116 home runs and 190 doubles. He led the NL with a .336 batting average in 2012, and has hit 20 or more homers three times.
The one question with how far Posey will pull ahead in regards to the all time catcher rankings is whether or not the Giants take him out from behind the plate. He has been an above average defensive catcher, leading the National League with 15 runs saved and eight double plays in 2016. Posey has certainly performed well behind the plate, but long term concerns may lead to more time at first or even at DH in interleague games.
Buster Posey has cemented himself as one of the best catchers ever to suit up for the San Francisco Giants. Still in the prime of his career, he has an excellent chance to become the first catcher to crack the top twenty WAR list for the franchise.
First Base: Willie McCovey (1959-1973, 1977-1980)
Willie McCovey did not get a chance to be a full time player until he was 25 years old. However, he certainly made up for lost time.
Despite playing in only 52 games in 1959, McCovey was named the National League Rookie of the Year and finished 22nd in the MVP vote. However, due to Orlando Cepeda, McCovey did not have a full time position until 1963. That year, he made his first All Star Games, and again received MVP votes.
That would only be the beginning. McCovey would go on to make six All Star Games and win the 1969 MVP award. He led the NL in homers and slugging three times, while taking home the RBI crown twice. Overall in his Giants career, McCovey posted a .274/.377/.524 batting line, hitting 469 homers and driving in 1388 runs. His career culminated with a spot in the Hall of Fame in 1986.
Defensively, he began by splitting time between the outfield and first, but ended up becoming the Giants primary first baseman in 1965. Essentially, first base was a spot where McCovey could be in the lineup and do the least damage defensively, as he cost the team 58 runs at first. However, he was even worse in the outfield, and without a designated hitter spot, McCovey's bat was far too valuable to keep out of the lineup.
One of the greatest power hitters in San Francisco Giants history, Willie McCovey will be remembered not only for his prowess with the bat, but for McCovey's Cove, named in his honor. Fourth on the Giants all time home run list, and 20th in MLB history, he was certainly one of the best power hitters the game has seen.
Second Base: Frankie Frisch (1919-1926)
Frankie Frisch may be remembered for his time with the St. Louis Cardinals, but before that, he was a great with the New York Giants.
A favorite of manager John McGraw, Frisch went directly from Fordham University to the Majors, splitting time between second and third before being installed as the Giants primary second baseman. During that time, the Giants made four consecutive World Series, but his relationship with McGraw would change. After missing a sign in a loss, Frisch left the team after the manager berated him, leading to a trade to the Cardinals.
During his time in New York, Frisch cemented his place as one of the great talents in the game. He led the National League with 223 hits in 1923, 121 runs in 1924, and 49 steals in 1921. Frisch had two 200 hit seasons and four years with 100 or more runs. Overall, he hit at an excellent .321/.367/.444 rate, hitting 180 doubles while stealing 224 bases.
Frisch may have also won a couple of Gold Gloves had they been around in his playing days. Whether or not he was at second or third, he was an excellent fielder, ranking amongst the leaders in fielding percentage and range factor.  Overall with the Giants, between those two positions, and even during those few times he filled in at short, Frisch was routinely above the league average.
When Frisch was traded to the Cardinals, St. Louis suddenly became a dynasty, and the Giants did not make the postseason for the rest of his career. It is safe to say that Frankie Frisch meant a lot to the success of the franchise.
Shortstop: George Davis (1893-1901, 1903)
One of the great players of the 1890's, George Davis was a rarity in that he could hit for power as a shortstop. In just eight full seasons with the Giants, he made his mark as one of the best players in team history.
A forgotten player from the 19th century until relatively recently, Davis' numbers with the Giants could have been even better. After spending the 1902 season with the White Sox, he attempted to return to the Giants. However, he only played four games with the team due to a dispute over who owned his rights, with a decision eventually favoring Chicago.
Nonetheless, he made his mark in Giants history. Hitting double digit homers twice, and having three seasons with 100 RBI or more, he was one of the best hitters of his time. He produced a .332/.393/.467 batting like in New York, with 53 home runs and 229 doubles. Davis also had excellent speed, stealing 357 bases and hitting 98 triples.
Although he moved around the infield for the Giants, he settled in at short beginning in the 1897 season. From that time forward, he was one of the best defensive players in the game, finishing in the top ten in defensive WAR in each of those five seasons. He led the league in range factor three times, and in his first full season as a shortstop, led National League shortstops in double plays and putouts.
George Davis may have been forgotten for decades, but he received his due in 1989, when he was inducted into the Hall of Fame by the Veteran's Committee. Even if the world at large did not remember his contributions, Davis was remembered by Giants fans.
Third Base: Matt Williams (1987-1996)
On of the top sluggers during the early part of the 1990's, Matt Williams had a chance to break Roger Maris' single season home run record before the 1994 strike wiped out the season.
While that season solidified Williams' place in the consciousness of the nation, that was not his only strong year. He led the National League with 122 RBI in 1990, and had three seasons with 30 or more homers prior to that breakout season. Williams was certainly a lot more than a one year wonder.
A four time All Star and three time Silver Slugger winner, Williams was one of the great power hitters before the Steroid Era took over in the game. During his ten seasons with the Giants, Williams produced a solid .264/.312/.498 batting line, hitting 247 home runs and 179 doubles. Those numbers are solid as is, but with only four full seasons due to injuries and the disastrous 1994 Player's Strike, his production was all the more impressive.
Williams was more than just an excellent hitter for the San Francisco Giants. A three time Gold Glove winner, he led the league in double plays three times, and in putouts and runs saved twice. Overall, Williams saved 55 runs at the hot corner, providing the Giants a lot more than just a power hitting bat.
Matt Williams' time with the Giants could have been even better had he remained healthy, but as it was, he was able to put together a memorable career.
Right Field: Mel Ott (1926-1947)
A fearsome slugger, Mel Ott was the greatest power hitter in the National League during his career.
Not only was Ott the first player in NL history to hit 300 homers, but he was also the first to reach the 400 and 500 home run plateaus as well. He, Babe Ruth, and Barry Bonds are the only players in MLB history to hit 300 homers in one city, as Ott did so in New York. Ott led the league in home runs six times, hitting 30 or more on eight occasions.
But Ott was more than just a power hitter. With one of the best batting eyes in the game, he led the NL in walks six times. A 12 time All Star, Ott produced a career .304/.414/.533 batting line with 511 homers and 1860 RBI in his 22 year career, all of which was spent with the Giants. Ott also drew 1708 walks, the ninth most in history, while striking out only 896 times.
Although Ott may have shined in the batter's box, his defense cannot be overlooked. He had a terrific arm, ranking fourth all time with 235 assists in right. He also turned 61 double plays, second only to the underrated Harry Hooper. A versatile player, Ott also appeared in over 200 games at third, and had 140 games in center field. In fact, in 1931, Ott was the Giants primary center fielder, playing in 71 games at the position.
While Mel Ott may be overshadowed by those players who came afterwards, he was one of the greats of his generation. One of the best players in MLB history, Ott was also one of the top players ever to suit up for the Giants.
Center Field: Willie Mays (1951-1972)
One of the greatest players in the history of baseball, and one of two former members of the San Francisco Giants who could be considered as the greatest of all time, Willie Mays was truly a complete player.
One of eight players to hit 300 home runs and steal 300 bases in his career, Mays built a resume that would even make other Hall of Famers jealous. The 1951 Rookie of the Year and two time MVP, he made 19 consecutive All Star Games with the Giants. Mays led the National League in home runs four times, took home the 1954 batting title with a .345 batting average, and led the league in steals from 1956 through 1959.
During his time with the Giants, Mays had a tremendous .304/.385/.564 batting line, hitting 646 home runs and stealing 336 bases. One of 30 players with 3000 career hits, 3187 of them came with the Giants. Even though he was not the same player as he got older, he was still feared enough to draw 112 walks in 1971 at age 40, the only year he led the National League in free passes.
It is fitting that Mays is best remembered for his incredible catch during the 1954 World Series, where he performed the seemingly impossible by running down Vic Wertz' long drive to center, making an incredible throw to keep Larry Doby from scoring. Overall, Mays won 12 Gold Glove awards, and ranks first all time with 7029 putouts in center. His 176 runs saved are second all time, trailing only Andruw Jones.
One of the greatest players in baseball history, Willie Mays was without comparison. The best center fielder ever to play the game, Mays was the greatest player ever to put on the uniform of the San Francisco Giants.
Left Field: Barry Bonds (1993-2007)
One of the more controversial players in MLB history, Barry Bonds seemed destined to be a member of the San Francisco Giants. After all, his family was already tied to the franchise.
The son of former Giants outfielder Bobby Bonds, and the godson of legend Willie Mays, it was not a surprise that Bonds signed with the Giants after the 1992 season. He immediately made his presence felt, leading the league with 46 home runs and 123 RBI en route to capturing the 1993 National League MVP title. It was certainly a great start to his time by the Bay.
Bonds kept that performance going. A 12 time All Star and five time MVP with the Giants, he had eight seasons with 40 or more homers and six years with 20 or more steals. He produced a .312/.477/.666 batting line, hitting 586 home runs, including a single season record 73 in 2001. He still had some speed at the start of his time with the Giants, stealing 263 bases. Considering he was walked in 23.3% of his plate appearances, that performance was quite impressive.
He was also a solid left fielder. While the image most people have in mind when they think of Bonds involves a baseball being sent into the night, he was a true five tool player during the early days of his tenure. He won five Gold Glove awards, and finished his career with 5225 putouts, the most for a left fielder in MLB history. His 179 runs saved are also the most in MLB history, as Bonds proved he was far more than a slugger.
Given his PED history, Barry Bonds has become a controversial figure throughout the game. However, no one can dispute that he was one of the greatest players in San Francisco Giants history.
Backup Catcher: Buck Ewing (1883-1889, 1891-1892)
One of the greatest players of the 19th century, Buck Ewing is on the short list of the greatest catchers ever in MLB history.
A star from the moment he signed with the New York Gothams, Ewing led the ten home runs in 1883, and followed that up by hitting a league leading 20 triples in 1884. At a time when the catcher position was not expected to provide offense, Ewing was a perennial .300 hitter, reaching that mark eight times in his nine seasons with the franchise.
While his overall numbers may seem modest, they were accomplished during a time when the schedule was much shorter than it currently is. In his time with the Giants, Ewing hit at a .306/.353/.469 rate, hitting 47 homers and 109 triples. Although the stolen base was not recognized as a statistic in his first three years in New York, Ewing still ended up with 178 swipes.
Although he was primarily a catcher, Ewing's hitting prowess was far to valuable to keep him on the bench. His strong arm allowed him to not only hold down the running game that was prevalent at the time, but helped him play third, short, and the outfield. However, Ewing was also the Giants primary third baseman in 1887 and their primary first baseman in 1892, displaying his all around ability.
In his era, there was no one quite like Buck Ewing. That ability to hit the ball, and take the pounding behind the plate without equipment was a rare combination.
Corner Infield: Roger Connor (1883-1889, 1891, 1893-1894)
Let's start with a bit of trivia: Who was the all time home run leader before Babe Ruth came along? The answer – former Giants first baseman Roger Connor.
Although he led the league in homers one, in the short lived Player's League of 1890, Connor was one of the more consistent hitters in the game. Referred to as a "demon batsman" because of his hitting ability, Connor was also the first player ever to hit a walkoff grand slam, doing so with Troy in 1881. With the Giants, he led the National League in batting average in 1885, hitting .371 with a league leading 169 hits.
In his three different tenures with the Giants, Connor showed why he was considered one of the top hitters in his time. He produced a .319/.402/488 batting line, hitting 76 homers and 131 triples. Much like Buck Ewing, he showed solid speed, with 161 recorded stolen bases. However, it was his ability to hit for power, both in homers and triples, that set him apart.
While Connor played other positions early in his career, notably at second base, he was strictly a first baseman during most of his Giants career. At a time when first base was one of the more important defensive positions on the diamond, Connor was routinely amongst the league leaders in putouts and assists, separating himself as an elite defensive option as well.
These days, Roger Connor is relegated to being a trivia question, as he was the player who Babe Ruth passed to take over as the all time home run leader. He was, perhaps, the greatest hitter of the 19th century.
Middle Infield: Travis Jackson (1922-1936)
Travis Jackson hit for decent power for a shortstop during his era, but he really made his presence felt with the glove.
That is not to say that Jackson was not a solid hitter. Indeed, he had six seasons with double digit home runs, even ranking in the top ten in homers on four occasions. While he struck out at a high rate for the time, Jackson still hit over .300 six times, a solid performance for a position that was valued for defense instead of offensive production.
A player that got by on girt and determination more than natural ability, Jackson performed well despite continual injury problems. He had a .291/.337/.433 batting line, which looks good, but was only worth an OPS+ of 102. Jackson did hit 291 doubles and 135 homers, fair numbers for the position during those times, but he was more of a solid bat than a star.
It was his defense that truly made Jackson valuable for the Giants. He finished in the top two in defensive WAR six times, and led the National League in assists four times. Capable of getting to virtually any ball hit near short, Jackson's career 5.67 range factor at short is still ninth all time in MLB history. If the Gold Glove award had existed back in his time, Jackson would likely have had several on his mantle.
A stellar defensive player, Travis Jackson was the type of player that any manager would love to have on their team. That he was able to provide even competent offensive production was a bonus.
Outfield: Mike Tiernan (1887-1899)
I like to think of myself as fairly knowledgeable about 19th century baseball due to my own researches. However, until a couple of days ago, I had yet to locate mention of Mike Tiernan. Given his nickname of "Silent Mike," that may be expected.
It is unfortunate that Tiernan is virtually forgotten about in these days, as he was one of the great sluggers of the 19th century. A true power threat, he led the National League in home runs twice, and was routinely amongst the league leaders in walks. However, his career ended early, as he retired from the game at age 32, which likely led to his being lost in the annuls of the game.
However, even though his career ended early, he still made quite the impact. His entire career was spent with the Giants, where he produced a .311/.392/.463 batting line. His 106 home runs tied Dan Brouthers for the fourth most during the 1800's, while he added 428 stolen bases and 162 triples. He also had an excellent batting eye, drawing 748 walks against 376 strikeouts in his 5915 career at bats.
Although he was not regarded as a great defensive player, he was generally passable in the outfield. Tiernan led the National League in fielding percentage in 1888, and ranked fifth with five double plays in 1890. His strong arm also led to the occasional appearance on the mound, albeit unsuccessfully. He was 1-2 with an 8.69 ERA and a 2.034 WHiP, but he did record a save.
Mike Tiernan may not be remembered in this day and age, but during his career, he was one of the great hitters of his time. Silent Mike's career deserves to to have some attention.
Outfield: Bobby Bonds (1968-1974)
Given the label of "The Next Willie Mays," Bobby Bonds did his part to attempt to live up to the hype.
While he was not as successful as Mays, the elder Bonds did manage to equal his mentor in at least one aspect. Much like the legendary San Francisco Giants outfielder, and just as his son would do decades later, Bonds reached the 300 home run and 300 stolen base club. His skill was noted during his Giants career with two top five finishes in the MVP vote.
A two time All Star while in San Francisco, he provided an excellent preview of what would come with Barry. In his seven years with the Giants, Bonds produced a .273/.356/.478 batting line, hitting 186 home runs and stealing 263 bases. Bonds was also known for his penchant for striking out, leading the league three times, including the former single season record of 189 strikeouts set in 1970.
Bobby Bonds was also a gifted outfielder. With his excellent speed and strong arm, Bonds won three Gold Glove awards. He led the league in double plays three times, and in putouts twice. During his time with the Giants, he saved the team 35 runs in right, and provided solid defense in center when needed.
One of the premier power and speed threats during his career, Bobby Bonds was an excellent player during his time with the Giants. Although he would come to be overshadowed by his son, the elder Bonds was quite the outfielder in his own right.
And now, the pitching staff.
Starting Pitcher: Christy Mathewson (1900-1916)
Not only is Christy Mathewson the greatest pitcher in Giants history, but he may be the greatest pitcher in the history of Major League Baseball.
Beloved by the fans and his teammates, Mathewson was also a favorite of combative manager John McGraw. In fact, Mathewson was one of only two photographs that hung in the manager's office. Given Mathewson's success, and his quiet nature, it should not be a surprise.
Year after year, Mathewson will fill up the leaderboard. He won the pitching triple crown twice, doing so in 1905 and 1908. A five time strikeout leader, Mathewson also had the best ERA in the National League five times, and led the league in wins on four occasions. Mathewson also had impeccable command with his strong arm, having the fewest walks per nine innings in seven of his 17 year career.
Overall with the Giants, Mathewson produced an incredible 372-188 record with a 2.12 ERA and a 1.057 WHiP. He struck out 2504 batters against 847 walks in 4779.2 innings of work, pitching 434 complete games. Mathewson even notched 30 saves with the Giants, even leading the league in his incredible 1908 season.
Considered to be the most deserving pitcher to be in the Hall of Fame based on Bill James' Hall of Fame Standards Test, there has not been another pitcher like Christy Mathewson in the century since he hung up his cleats. Chances are, in another century, Mathewson will still be in a class by himself.
Starting Pitcher: Juan Marichal (1960-1973)
With his trademark high leg kick, and refusal to back down, Juan Marichal was an intimidating presence on the mound, who career was marred by an unfortunate incident that happened when he was batting.
In one of the more publicized incidents in baseball in the 1960's, Marichal hit Dodgers catcher John Roseboro over the head with his bat. This came after Roseboro allegedly hit Marichal in the ear with a throw back to Sandy Koufax. The incident sparked a benches clearing brawl, and Marichal was suspended for nine games and given a then record $1,750 fine. However, in later years, he and Roseboro became friends.
It is possible that the incident colored the perception of his career. Marichal had to wait for three years after being eligible to be inducted into the Hall of Fame, despite a resume that would indicate otherwise. He won over 20 games six times, leading the league twice. A true workhorse, he led the league in complete games and innings twice.
A nine time All Star, Marichal had an excellent career with the San Francisco Giants. He posted a 238-140 record with a 2.84 ERA and a 1.095 WHiP. In his 3443.2 innings, Marichal struck out 2281 batters while issuing only 690 walks. Although his tendency to be around the plate led to his getting hit hard at times, Marichal had the ability to work out of those jams far more often than not.
One of the best pitchers never to win the Cy Young award, Juan Marichal was one of the best pitchers of the 1960's. If not for the incident with Roseboro, it would be interesting to see how his career would be remembered.
Starting Pitcher: Carl Hubbell (1928-1943)
One of the dominant pitchers of the 1930's, Carl Hubbell will always be remembered for his impressive performance in the 1934 All Star Game.
Featuring his devastating screwball, Hubbell struck out five consecutive Hall of Famers during that contest. Babe Ruth, Lou Gehrig, Jimmie Foxx, Al Simmons, and Joe Cronin all fell victim to his signature pitch, as Hubbell put together one of the most impressive performances seen in the history of the All Star Game.
Hubbell's accolades ran beyond his All Star Game prowess. He won two MVP awards, and finished in the top ten in voting three other times. Hubbell led the National League in ERA and wins three times, while leading the league in WHiP on six occasions. Although he only led the league in strikeouts once, Hubbell finished in the top five seven other times.
Even though he had a late start at the Major League level, not coming up to the Giants until he was 25 years old, Hubbell had an impressive career. In his 16 seasons, all spent in New York, he posted a 253-154 record with a 2.98 ERA and a 1.166 WHiP. Another command artist, Hubbell issued only 725 walks in 3590.1 innings, striking out 1677 batters.
Considered to be the best left handed pitcher during his day, Carl Hubbell's screwball made him virtually unhittable at times. Just ask those five Hall of Fame hitters that he set down in the 1934 All Star Game.
Starting Pitcher: Amos Rusie (1890-1895, 1897-1898)
A forgotten man when it came to the Hall of Fame, Amos Rusie finally got his due in 1977.
He certainly deserved the nod for the Hall. One of the hardest throwing pitchers of the 1800's, he was the 19th century version of Nolan Ryan. He led the league in strikeouts five times, and struck out 300 or more batters three times, but he also led the league in walks on five occasions. In a pitch that completely encapsulated what it was like to face Rusie, Hughie Jennings once struck out on a pitch that hit him in the head, and left him unconscious for four days.
That intimidation factor led to Rusie winning 30 or more games for four consecutive years from 1891-1894. Overall during his time with the Giants, he posted a 234-164 record with a 2.89 ERA and a 1.327 WHiP. Quite a few of those baserunners came from the walk, as he struck out 1835 batters, but issued 1588 free passes.
As impressive as Rusie's numbers were, they could have been even better. He sat out the 1899 and 1900 seasons in a salary dispute, refusing to report back to New York after they attempted to cut his pay following the 1898 season. Eventually, he would be traded to the Reds for Christy Mathewson in one of the worst trades in history. Rusie would pitch three more games in his career, while Mathewson became arguably the greatest pitcher of all time.
Amos Rusie was one of the great strikeout pitchers of the 19th century, capable of throwing the ball by anyone. The only problem was, he was never quite sure where that ball was going once it was released.
Starting Pitcher: Gaylord Perry (1962-1971)
The spitball may have been outlawed after the 1920 season, but there were still a few pitchers who used variations of the pitch over the years. Gaylord Perry was one of them.
In fact, Perry's usage of the spitter was so widely known that he wrote a book covering his use of the pitch. Even then, Perry continued to use the pitch with aplomb, not being caught until later in his career. Along the way, during his time with the San Francisco Giants, he won 20 or more games twice, while pitching in 280 or more innings for five consecutive years.
Even though he was not quite as his peak, Perry still had a solid career with the Giants. He was 134-109 in his decade in San Francisco, with a 2.96 ERA and a 1.152 WHiP. Perry struck out 1606 batters in 2294.1 innings, while issuing only 581 walks. For a pitch as unpredictable as the spitter can be, he had excellent command.
While Perry made two All Star Games and finished second in the Cy Young voting once, his best years did not come with the Giants. Following the 1971 season, he was traded to the Cleveland Indians for Sam McDowell. Perry went on to win the Cy Young in 1972, while McDowell was in the midst of a decline as alcoholism caught up with him.
Gaylord Perry may not have been a conventional pitcher, but he was able to get the opposition out through trickery and his trademark "hard slider." Just don't call it a spitter – that was for him alone to say.
Now on to the bullpen.
Closer: Robb Nen (1998-2002)
Robb Nen had a great career with the San Francisco Giants. It could have been even better had injuries not forced him into an early retirement.
Acquired from the Marlins as part of their first fire sale after the 1997 World Series, Nen was traded to the Giants for a trio of minor leaguers. He followed in the footsteps of the recently departed Rod Beck, who had left in free agency for the Cubs. However, as good as Beck was, Nen was even better.
During his five seasons with the Giants, Nen became a truly elite closer. He made three All Star Games, and finished wit 40 or more saves three times. Overall, he had a 2.43 ERA and a 1.084 WHiP, recording 260 saves while striking out 453 batters in 378.1 innings. Along the way, he became the Giants all time leader in saves, and the first pitcher in team history to record 200 saves with the franchise.
However, that 2002 season would prove to be his last. He tore his rotator cuff midway through the season, and continued to pitch through the pain as the Giants made the World Series. He underwent three surgeries to attempt to repair his shoulder in the next two seasons, although they were unsuccessful. He announced his retirement in 2005, forced out of the game due to injury at 32 years of age.
One of the more dominant closers of the 1990's, Robb Nen was exactly the pitcher that the San Francisco Giants hoped he would be. If he remained healthy, one has to wonder how much more he would have added to his legacy.
Setup Man: Rod Beck (1991-1997)
Rod Beck was on the cusp of being a failed minor league pitcher before the San Francisco Giants acquired him and made him a reliever. That move proved to be utterly brilliant.
After splitting time in the closer role in 1992, Beck seized the position the following year. He made his first All Star Game, and led the league in games finished. Beck finished second in the league with 47 saves, and he established himself as one of the best closers in the game with 2.16 ERA and a 0.882 WHiP.
Beck continued to dominate through the middle of the 1990's. He made a total of three All Star Games, and had 30 or more saves four times. Although he never led the league in saves, Beck finished second three times. In the strike shortened 1994 season, he captured the National League Rolaids Relief Award.
Overall with the Giants, Beck recorded what was then a team record 199 saves. He struck out 393 batters in 463 innings, using his signature pitch, a hard slider he called 'The Terminator,' to generate ground balls and whiffs. With his unusual delivery and nasty repertoire of pitches, he was one of the top closers that the Giants had.
Unfortunately, he was never the same after leaving the Giants. He had one brilliant year with the Cubs, but drugs and injuries limited his effectiveness afterwards. Tragically, Beck was found dead in his home 2007, less than three years after his final appearance.
Relief pitcher: Gary Lavelle (1974-1984)
Lefty closers have become a rarity in this day and age. Former San Francisco Giants reliever Gary Lavelle served in such a role periodically in his eleven years in San Fran.
Lavelle was not always a reliever. In fact, during his minor league career, he was primarily a starter, with 129 career starts in his 199 minor league appearances. Even in 1974, when Lavelle first appeared in the Majors, he started 27 of his 35 games.
That transition to the bullpen worked well. He saved exactly 20 games three times, and made two All Star Games. Lavelle was also far more than a lefty specialist, pitching in over 100 innings five times as he filled every role from closer to middle relief to spot starter.
During his time with the Giants, Lavelle posted a 73-67 record with 127 saves. In his 980.1 innings over 674 games, he had a 2.82 ERA and a 1.318 WHiP. Although Lavelle was not a strikeout pitcher, he still recorded 696 strikeouts. His walk total of 382 free passes was a bit deceptive, as 117 of those were intentional.
Gary Lavelle did everything that the San Francisco Giants asked of him, and pitched well while doing so. The second highest rated reliever in team history in terms of WAR, Lavelle deserves his role in the Giants all time bullpen.
Relief Pitcher: Brian Wilson (2006-2012)
During his prime, few closers were as good as Brian Wilson was for the San Francisco Giants.
Known for his beard later in his time with the team, Wilson spent his first two seasons bouncing between the Majors and the minors. Then, in 2008, he seized the closer role, finishing second in the National League with 41 saves and making the All Star Game, despite a high 4.62 ERA and a 1.444 WHiP.
The following season, Wilson placed himself amongst the best closers in the game. He cut almost two full runs from his ERA and improved his command while finishing third in saves. Wilson would make the All Star Game in each of the following two seasons, leading the league with 48 saves in 2010 while earning Cy Young and MVP votes.
Although injuries ended his Giants career early, Wilson still had an impressive four year run during his peak. The three time All Star recorded 171 saves, striking out 340 batters against 142 walks in 320 innings. That occasional lack of command was really all that held Wilson back from being a good closer to being one of the elite closers in the game.
Remembered for his excellent facial hair and the "Fear the Beard" shirts in San Francisco, Brian Wilson had a three year run where he was one of the better closers in the game. Unfortunately, his recurrent elbow issues kept him from being able to fully capitalize on his ability.
Relief Pitcher: Sergio Romo (2008-2016)
Another pitcher who has appeared in a variety of roles for the San Francisco Giants, Sergio Romo's time with the team may be over as he is a free agent for the second time.
Unlike the last time, where he remained in San Fran, there are questions as to what his fate will be this time through. However, as the Giants are in need of help in the bullpen, losing one of the better setup men in the game, as well as someone that has proven capable of closing if need be, may be a mistake.
One of the Giants co-closers in 2012 after Brian Wilson was injured, he was the team's primary closer for the next two years, making the 2013 All Star Game. After his struggles sent him back to the primary setup role, he continued to flourish, using his ability to analyse his mechanics to correct mistakes that he has felt himself make.
The sixth pitcher in Giants history to appear in 500 games, Romo has notched 84 saves and 142 holds during his nine year career. One of the more difficult relievers in team history to score upon, he has posted a 2.58 ERA and a 0.955 WHiP, striking out 498 batters against 89 walks in 439.2 innings. His struggles this season notwithstanding, Romo has also been solid in the postseason, with a 3.00 ERA and a 0.900 WHiP in 27 career playoff games.
The San Francisco Giants are looking for help in their bullpen for the upcoming season. Retaining Sergio Romo, who has been one of their best relievers in team history, would be a great first step.
Relief Pitcher: Hoyt Wilhelm (1952-1956)
One of the all time great knuckleballers in MLB history, Hoyt Wilhelm did not make his Major League debut until he was 29 years old. That did not stop him from putting together a 21 year career, and from becoming the first reliever to be inducted into the Hall of Fame.
Wilhelm made up for lost time quickly. He homered in his first at bat, hitting the only home run of his career, while becoming one of three players to get a win in the game they homered in that first career at bat. That year, he led the National League with a 2.43 ERA while posting a 15-3 record, finishing second in the Rookie of the Year balloting and fourth in the MVP vote.
That was just the beginning for Wilhelm. At a time when relievers were not as important as they are in this day and age, he made an All Star Game, and twice led the league in winning percentage. With his knuckleball and ability to pitch any time he was needed, Wilhelm also led the National League in appearances in each of his first two seasons.
Even though he only spent five seasons with the Giants before he was traded to the Cardinals, he still made an impact upon the team. Overall, Wilhelm posted a 42-25 record with 41 saves. In his 608 innings, spanning 319 games, Wilhelm had a 2.98 ERA and a 1.317 WHiP, striking out 385 batters.
It may have taken Hoyt Wilhelm a decade in the minors, interrupted by World War Two, to make the Majors, but he made up for lost time quickly. Who knew that a minor league veteran knuckleballer making his debut at 29 years old would go on to the Hall of Fame?
Swingman: Scott Garrelts (1982-1991)
Just two years after leading the National League in ERA, Scott Garrelts blew out his arm, ending his career at 29 years old. However, until that point, he was a valuable member of the San Francisco Giants pitching staff.
Another pitcher who filled virtually every role on the team, Garrelts battled his command at times in the Majors. However, he was able to overcome most of those issues, going from 7.1 walks per nine innings in 1984 to 3.8 walks per nine in 1986. It is not a surprise that in his best season in 1989, those command issues were ironed out, as he walked fewer than three batters per nine for the only time in his career.
An All Star in 1985, Garrelts recorded double digit saves from 1985 through 1988. After that season, he was placed in the rotation, where he led the National League with a 2.28 ERA and a 1.008 WHiP, ending up as the top starter on the eventual NL champions.
Unfortunately, he blew out his arm just a year later. Although he stayed in the minors for a few seasons, Garrelts had just 19.2 Major League innings after his 1990 campaign. Through it all, he was a solid pitcher, posting a 69-53 record and 48 saves with a 3.29 ERA and a 1.280 WHiP, striking out 703 batters in 959.1 innings.
One has to wonder what would have been if Scott Garrelts had remained healthy. He was considered one of the top young arms during the 1989 season, but was never able to reach his full potential.
This article originally appeared on