San Francisco Giants: 2016 Prospect Season Review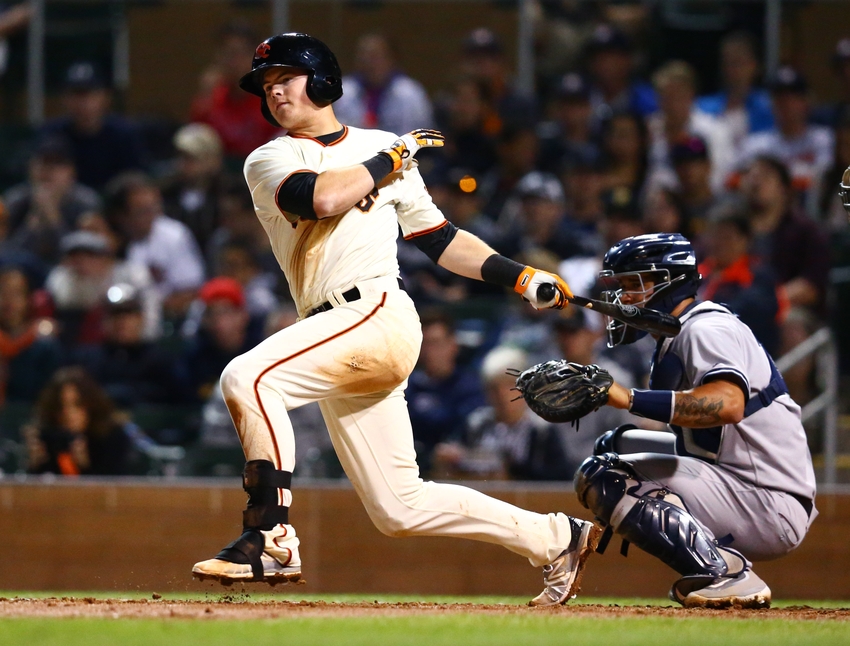 The San Francisco Giants have produced an entire Championship infield from within their farm. Now, they have plenty of prospects that look to make their own mark on the San Francisco Giants' franchise history.
The San Francisco Giants' farm system is probably one of the most underrated in baseball. Out of nowhere, they've produced many guys who have contributed to World Series runs, or done really well elsewhere. It's easy to see that the farm has been fruitful, just look at the majority of the infield, only one player didn't come through the Giant's farm system and he could even be replaced by another top prospect by the end of next year anyway!
Just as we took a look and reviewed the San Francisco Giants' seasons with the big league club, we're going to look at the seasons of some of the top prospects. Unlike our big league series, we won't assign them a grade. We'll just tell you how they did compared to their expectations, what they need to improve on, and where they will potentially start 2017. We'll be reviewing the top 15 prospects according to MLB.com.
Let's get started!
Want your voice heard? Join the Around the Foghorn team!
15. Jalen Miller, 2B, 2015 Draft Class
Jalen Miller had an OK professional debut season. Only 19, and moved to a new position, Miller performed relatively average. His hitting was pretty dismal, only a .223 average with a sub .600 OPS in over 400 plate appearances. No it's not impressive. But take into account he was a high-school draftee in the fifth round, in the midst of a positional switch, it's not terrible. Miller just needs to make better contact at the plate, period. His glove is perfectly fine, but his arm strength and range are areas to improve on. He has a lot of work to do, obviously. Thankfully he'll only be 20 going into next season. He has time on his side to get better. It's hard to see him starting out in San Jose (High-A) next season, but if he shows significant improvement, you could see him in San Jose by the second half.
Blackburn had a stellar 2015, leading the PCL in ERA in his first season with Sacramento. With the Giants' rotation being as stacked as it was, he had to spend his 2016 back with Sacramento again. This year, he nearly doubled his ERA from 2015, and had a WHIP of 1.30. Blackburn probably won't eek into the Giants rotation for next season. With Albert Suarez, Matt Cain, Jake Peavy, Chris Heston, and Ty Blach all in competition for the 5th Starter spot, we'll see what happens with Blackburn. He'll start 2016 in Sacramento, as long as he stays within the organization. If the Giants are looking to make a trade this offseason, he might be an interesting piece.
Hinojosa has been quite the revelation the last couple years. He was potentially going to be an early first round pick in the 2012 draft, but was quite stubborn with his commitment to Texas. His career at Texas wasn't all that impressive outside of a good showing in the 2014 College World Series. He was an 11th round pick last season and has made incredible progress in his first full year as a pro. He earned a promotion midway through the 2016 season, partly in thanks to Arroyo's move to 3B around that time. He had a .296 average and a plus .800 OPS in his first half with the San Jose Giants. His plate discipline is quite impressive as well, with less than a 2/1 strikeout to walk ratio. In his move up to AA Richmond, Hinojosa struggled to match that same type of hitting output. Jumping up to that level so quickly surely had an impact on that. His speed is one thing that could get him moved elsewhere. He might be a good fit as a 3B in the future. In 2017, he's most likely going to start out in Richmond again. He's definitely one to keep an eye on in the future though.
Martinez signed with the San Francisco Giants when he was 19. He's definitely a reliever and potentially a closer. He had a stellar 2016 with San Jose, and earned a late callup to Richmond. Martinez has a Fastball and Slider. The slider is an average pitch, but his Fastball is lights out. He reached 102 on the gun early in the year, and consistently throws in the high-90s. He can cut and sink his fastball, which can make it really difficult for hitters to manage. He had 21 saves in San Jose, but didn't have as much success in Richmond. He will need to add a changeup if he wants to really keep hitters on their toes. He'll probably start out in Richmond again this season, so don't expect him in the big leagues anytime soon.
11. Steven Okert, LHP, 2012 Draft Class (Pictured Above)
Okert was really impressive in his time in the big leagues last season. One moment comes to mind is the game in Los Angeles towards the end of the season. Okert came in and absolutely manhandled the Dodger lineup for two innings. He struggled with his fastball command this year, but overall wasn't too terrible. Okert is definitely a guy that the Giants bullpen could look to in the future. He reminds me a lot of Jeremy Affeldt. Not necessarily with pitch makeup, but more with his versatility. He's a lefty who can go multiple innings, and face either righties or lefties. Look for Okert to contribute to the San Francisco Giants much more in 2017.
Duggar has been relatively interesting. After remaining slightly above average through college, the San Francisco Giants took a flyer on him in the 2015 draft. Duggar is a left handed hitter whose speed is a tremendous asset. He has the tools to play right field at AT&T defensively, it remains to see if his bat will carry over as he graduates to the higher levels of the minor leagues. Duggar's 2016 was pretty good as he hit .284 and .321 in both San Jose and Richmond. He also had an OPS above .800 in both leagues which is widely impressive. If Duggar can learn to deal with breaking pitches better, he could be a good Hunter Pence replacement in the future.
Want your voice heard? Join the Around the Foghorn team!
Johnson is a pure strike thrower. That's been his game since he entered. He had an OK season in San Jose in 2016. In 22 stars, Johnson had a 5.33 ERA and opponents hit .277 off of him. A down year certainly may drop his prospect ranking to start the 2017 season. He might do ok with a push up to Richmond if he has a good spring. Still, he has plenty of work to do before he can even think about being a big leaguer.
Andrew Suarez and Albert Suarez are not related. Andrew is a 2015 second round pick who has done well in his first full year of professional baseball. Suarez started out in San Jose and ended his season with Richmond. In his 5 games with San Jose, Suarez struck out 35, walked 5, and had a sub 3.00 ERA. In Richmond, Suarez threw 114 innings and had a 3.95 ERA. His K/BB ratio was a little less than 4/1, and he had a WHIP of 1.34. It really isn't that bad considering it was his first full season of pro-baseball. He'll probably start in Richmond next year, and if he does well enough he could end his season with Sacramento. Suarez is more of an exciting pitching prospect than Johnson in my mind.
Get the FanSided App
7. Joan Gregorio, RHP, INTL FA (2010) (Pictured Above)
Gregorio is quite the intruiging prospect. He's 6'7″ and has had some difficulties finding consistency as a pitcher. They moved him to the bullpen in 2015 to start and got good results on his mentality going into an AB. They transitioned him back to a starting role and he did exceptionally well. In his 5 games in Richmond to start the year he had a 2.33 ERA and 30Ks in 27 innings. When moved up to triple AAA, he got hit hard by the jump in quality. Gregorio is still just a little ways off. He needs to find more consistency, not just in his delivery, but in his time on the field. Many injuries have plagued his minor league career. Gregorio is only 24, yet he's been in the system for 6 years. If he can stay healthy, 2018 or 2019 could be a good ETA for him. Expect him to be in Sacramento next season.
Garcia may just be the reason the San Francisco Giants felt OK trading away Susac. Frankly Susac never truly grasped his role as the backup catcher, and Trevor Brown had a decent few months in the role. With Garcia's promise, it made sense to get rid of him. Garcia has shown a lot of promise, but has yet to put together a full, promising campaign. In San Jose this year, Garcia hit .257 in 140 AB's. He did have a relatively disciplined approach, with an OBP of .323. He hasn't showed much power at the plate, but his ability to get on base is a big plus. You probably won't see him in the bigs for another few years, but he does seem like a good candidate for a backup job in the next couple of years.
5. Sam Coonrod, RHP, 2014 Draft Class
Coonrod has been a little bit of a surprise for the San Francisco Giants. His fastball out of college could get up near 100, but fell down to 91 in his draft year. He now has it back up to the mid 90s and his mid 80s Slider is another plus pitch. His year was split between San Jose and Richmond, and had really good results. In San Jose, Coonrod had a 1.98 ERA in 11 starts, and had a 3.03 ERA in Richmond. His combined WHIP across both levels was a solid 1.17. If he continues his upward trend, and can really develop his changeup, Coonrod looks to be a future starter in the Orange and Black.
Reynolds is an all around player. His only tool that would be considered "sub-par" is his arm strength. He projects as a leadoff hitter with his speed. He can also hit for average, has great plate discipline, and decent pop. Reynolds is also a switch hitter who can hit about the same from both sides of the plate. His glove and fielding range is fantastic, but as I mentioned before, his arm strength is what might keep him from being a centerfielder. In Salem-Keizer, and Augusta this year, Reynolds had a slashline of .313/.363/.484/.847. Reynolds will most definitely start out in San Jose, and if he does good enough, he could spend the second half of the year in Richmond.
3. Chris Shaw, 1B, 2015 Draft Class
Shaw was the 1st Round Pick of the 2015 draft and has already gotten himself up to Richmond in his first full year in professional baseball. In Salem-Keizer in 2015, Shaw hit 12hrs and had a slugging percentage of .551. This season he started in San Jose and had a slashline of .287/.357/.544/.902. He had 16hrs and 22 doubles in 200+ABs. His numbers in Double A were pretty well slashed. He'll definitely start out in Richmond this season. But if he does well enough, expect him to move to Sacramento towards the end of the year. Shaw is also ranked number 6 of the top 10 first base prospects in baseball.
2. Tyler Beede, RHP, 2014 Draft Class (Pictured Above)
Beede is easily the most "MLB Ready" of any of the Giants' prospects. If he starts out well in Sacramento this year, he very well could get a call-up in June or July if the Giants don't have their 5th starter spot correctly filled. Beede in his full season in Richmond put up a 2.81 ERA and had a K/BB ratio just under 3/1. Beede had a 1.28 WHIP and gave up only 9 home-runs in 147 innings. Beede will most definitely start in Sacramento next season. He may just be a dark-horse in the fifth starter competition this spring.
More from Around the Foghorn
Arroyo has been the talk of the Giants farm system since he was drafted in 2013. After starting out hot, Arroyo got moved to 3B halfway through the 2016 season. This may or may not have put him through a rough patch at the plate in the second half. Arroyo was struggling to grasp 3B as well defensively. However, he seems to be a quick learner.
If Arroyo could get his swing back next year, and really master the 3B position, he might earn a late season call-up. He had 36 doubles last season, but only one triple and three home-runs. Arroyo can make hard contact, but a lot of his stuff seems to be more line-drives. His .274 average wasn't terrible, but is below what he had been doing before.
Depending on what he shows in Spring Training, Arroyo could start the season in Sacramento. If he doesn't start there, it is a safe bet he goes there at some point next year.
Stay tuned this offseason as we take a look at everything Giants!
This article originally appeared on