Run Support, Excellent Teheran Start Not Enough for Atlanta Braves Tonight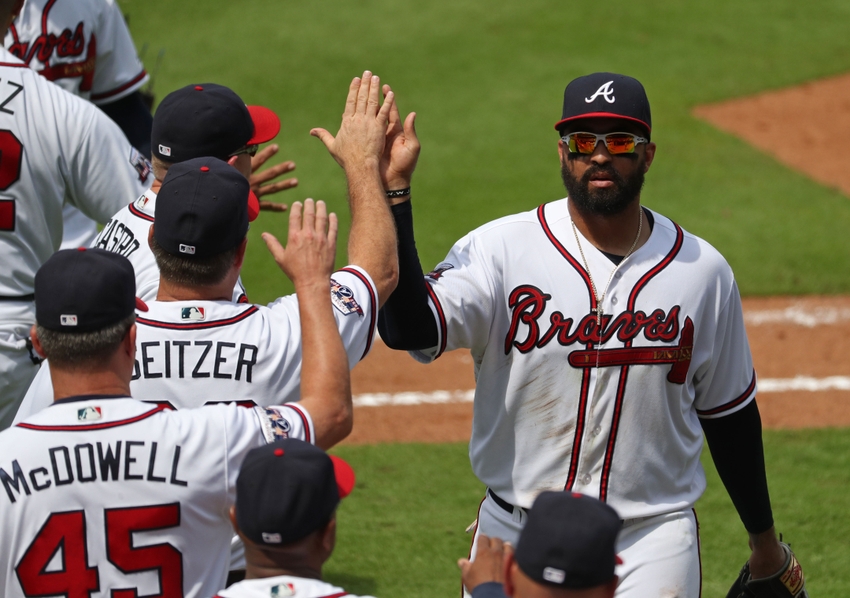 The Braves need three elements to win:  excellent starting pitching, a productive offense, and a shutdown bullpen.  Two out of three wasn't enough Friday night against the Mets.
Julio Teheran overcame a shaky first inning, settled down and threw six strong innings against the Mets in game 1 of their weekend series.
The Metropolitans managed just 4 hits and 2 walks against the Braves' number 1 starter.  Half of that production came in the first frame, where Teheran induced a double play to get out of a base-loaded jam.  After that point, he settled down quickly and became the efficient hurler that we've come to see a lot this season.
What we hadn't seen a lot of is run support for Teheran.  That really wasn't an issue tonight.  Matt Kemp led off the second with a home run in an inning that almost gave the homestanding Braves a crooked number on the board.  Alas, with runners on the corners, Teheran couldn't help himself.
The fifth inning was a different story, though, as Dansby Swanson got things started with an infield single.  Teheran bunted him to second and Ender Inciarte grounded him to third.  With two outs, Adonis Garcia then singled Swanson home for the second run.
Freddie Freeman and Matt Kemp kept the parade going, leading to a 2 RBI single by Nick Markakis.  It was 4-0 Atlanta.
Teheran almost got out of the sixth without damage.  A 2-out Cespedes single was followed by a booming homer by Curtis Granderson, and the Mets were finally on the board.
The Braves missed another opportunity in their half of the sixth, but in so doing, Teheran was also removed from the game.  The bullpen – in the form of Ian Krol – started well, and made it to the 8th inning.
Decisive Frame
The New York 8th inning began with the entrance of Mauricio Cabrera.  He didn't have anything tonight.
Three walks and four hits were given up.  There was a key misplay in the midst of that, though:  Swanson stretched a bit too far in trying to both grab a grounder and head toward second base in the same motion.  That might have (should have?) been a double play.  Instead, all hands were safe and the floodgates opened.
When the carnage was complete, four runs had crossed the plate and the Mets suddenly had a 6-4 lead.
Swanson tried to atone for his miscue in the lower half of the 8th, and just missed a home run to the left field corner.  Alas, it was foul by 6-8 feet.  He later singled, but the Braves couldn't do anything further with that base-runner.

6

4
In the 9th, Jeurys Familia shut a squeaky door on the middle of the Braves' lineup after an opening double by Garcia and walk to Markakis.  Tyler Flowers came up to represent the potential winning run, but struck out on high cheese to end it.
The Mets thus got the victory as the Braves let them off the hook late.
Side Notes: 
Ender Inciarte's 18 game hitting streak came to an end.
Gwinnett won their playoff game 11-1.  They lead their best-of-five series, 2-1.
Mississippi was winning their playoff game 9-2 at press time.  They should likewise lead 2 games to 1 if the 9th inning goes well.
Rome lost their game (thanks to a 4-run inning), 4-3.  They now trail 2 games to 1.
This article originally appeared on