Royals: Should The Team Re-sign Kendrys Morales?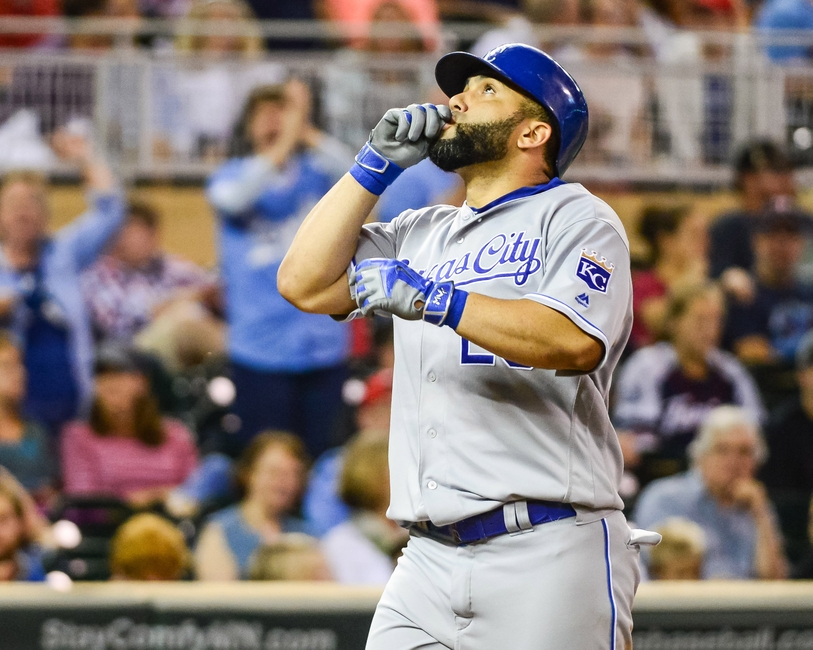 The Royals biggest source of power throughout the past two years has come in the form of DH Kendrys Morales. General manager Dayton Moore signed him to a two-year contract back in the 2014-2015 offseason. But, Morales can become a free-agent after the 2016 season.
The discussions have been swirling around as to what exactly the Kansas City Royals should do with the switch hitting Kendrys Morales in the offseason: should they resign him to a new contract or let him walk away and sign with another team? For a majority of the season, I had been a proponent of letting him walk and sign with another team, but as we delve deeper into the stats, the decision gets much more difficult.
Kendrys Morales enjoyed a season for the ages in 2015. He played a huge part in KC's World Series victory  and captured national attention because of his performance. Morales posted a .290/.362/.485 batting line, which, if you're a novice at baseball statistics, is pretty damn good. He also drove in 106 runs (which, surprisingly, is not his career high) and took 22 trips to dong town throughout the season. So needless to say, hopes were high for Morales as he entered the 2016 season.
The big man got off to a rough start at the plate. Morales posted a .266/.280/.357 batting line in the month of April. While the team seemed to get off to a hot start in early April, a seemingly first-half long slump crept into the dugout. In May, Kendrys managed to hit just .163/.245/.304 in 92 at-bats. By the end of May, many Royals fans, including myself, were perplexed as to what was wrong with their star DH, and then June happened.
June of 2016 would prove costly to the team, but not to the Cuban slugger. In a seemingly overnight turnaround, the beloved Royal began to hit the ball—and hit the ball hard. In just 24 games and 87 at-bats, Morales doubled seven times, went yard five and drove in 18 runs. He also posted an OPS greater than 1.100. His final batting line for the month of June reads as a whopping .402/.453/.655.
The Second Half
Royals fans hoped that Morales had finally turned a corner on the season and would start to increase production (although I had hoped for him to continue hitting over four hundred). But, he quickly became a hollow shell of his June self. He reverted back to his May-ways. He fell  to a batting line of .191/.280/.382 in July and struck out a season high twenty-six times in 89 at-bats.
August was a return to the status quo for Morales. But, September became another seemingly random turnaround. As of right now, he has raked in 29 RBIs in the month of September (which is just insane). Morales has also hit 8 homers this month. He has now become the first Royals player since Jermaine Dye in 2000 to hit 30+ HRs in a season.
So the question becomes: what should the Royals do with Kendrys Morales? While this is an opinion based question and really only matters to one person (GMDM), let me weigh in on this…
The Pros And Cons Of Keeping Kendrys Morales
Kendrys Morales was one of the biggest pieces to the puzzle of the 2015 World Champion Kansas City Royals (any opportunity to say it, right?). As someone who is unsure about what the team should do with him, here are a couple notable points:
Kendrys has trouble hitting right-handed pitching
He's hitting .239 against righties this season and has punched out 79 times. Part of the reason for this is his "switch hitting" ability. Kendrys struggled tremendously with his inability to hit from the left side of the plate. He was so bad that I had begun to wonder if he might just drop the switch hitting and bat right-handed all the time.
The inconsistency…
I am not sure if I could stomach trying to make a playoff run in late August/early September and have my DH start reverting back to being a .190 hitter. It doesn't sit well with me and it never has. The offensive production is almost irreplaceable, but it is quite concerning when the Royals most valuable power hitter decides to enter a month long slump. Slumps are easily something that can be rendered moot if the rest of the team can pick up their offensive production to make up for the lack of one player's, something the 2016 Royals did not do.
The run production…
Morales has 92 RBIs and 30 HRs on the season, which makes it really hard to say that the team should let him walk this offseason. He has hit .317/.397/.985 with RISP this season, which is pretty outstanding. This single section just might make up for all all of the others. His offensive run production has been outstanding.
More Points To Consider
The double plays/speed issue…
Kendrys has grounded into 18 double plays this season, mainly because he's one of the slowest players on the Royals' roster.
His age…
Morales will be 34 going into the 2017 season and will have been in the league for ten years. Je enjoyed a career-year for Kansas City in 2015, but it's hard to build on that at his age.
Get the FanSided App
Of course his production has been great and he has been big the last two years, but part of me feels like it can't continue for another season. To boil it all down, I just worry about signing him to even the smallest of contracts and becoming dependent on him for the production that he has given in 2015 and this season. I don't object to the team issuing him a qualifying offer, but the Royals do have other options at DH that include Hunter Dozier and Jorge Bonifacio (both have little or no MLB experience.)
Is it really that bad?
The question I had to ask myself when trying to decipher whether or not the team should keep Morales is: "was he really THAT bad?" The answer is no. I believe that slumps in baseball happen and that good teams pick up slumping players by increasing their own production. But, the 2016 Kansas City Royals just failed to do it. So it's quite possible that K-Mo gets a lot of flack for being so bad in those months, but those also happened to be the months in which the team performed the worst.
Bottom line: Kendrys Morales is the Royals most valuable offensive player, and letting him walk could prove costly to the team; however, the front office must weigh some downsides before they can make a decision.
More from Kings of Kauffman
This article originally appeared on