The vigilante Royals are a big part of baseball's big problem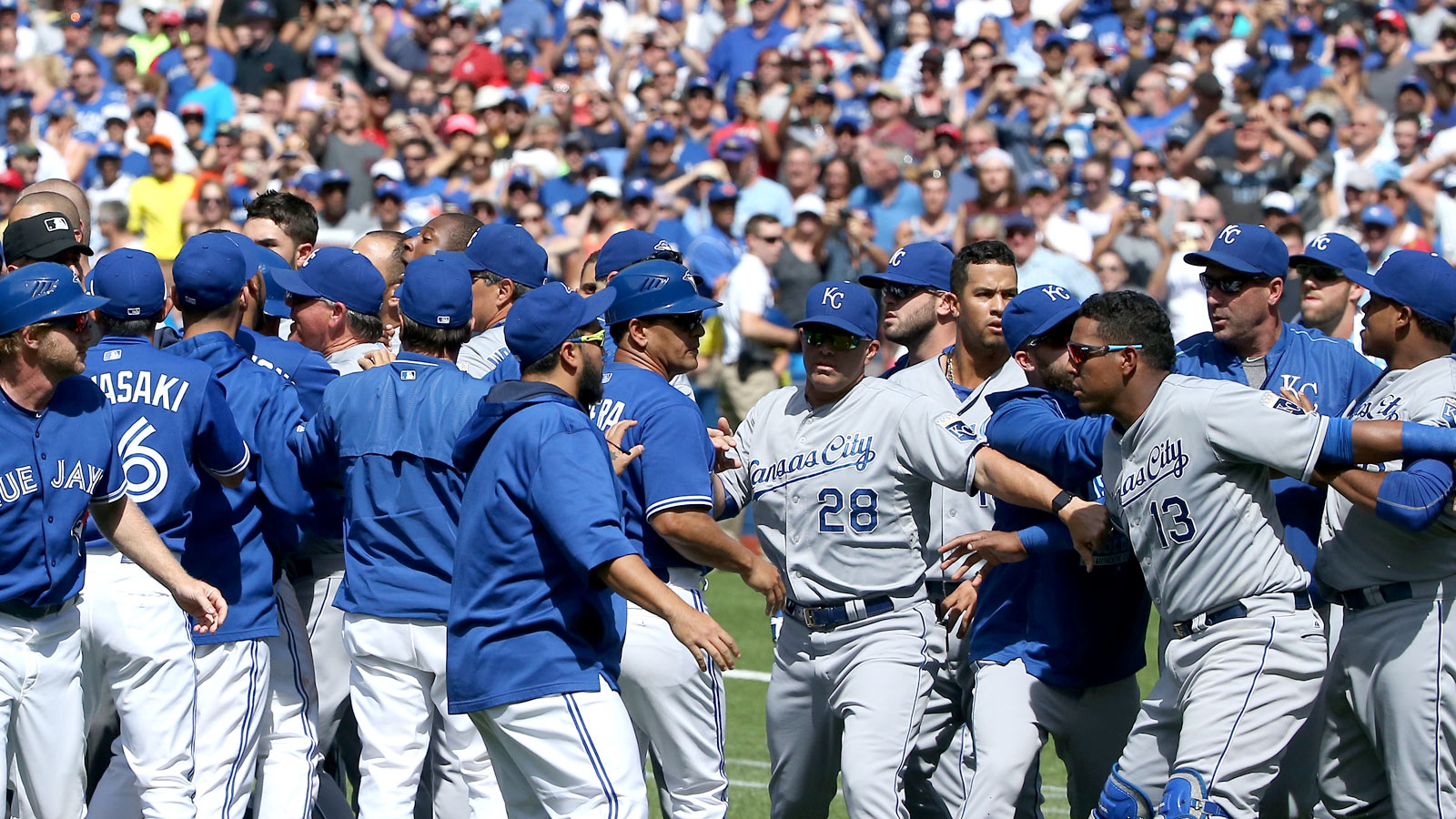 Baseball sure loves a manufactured controversy, especially if the terms "respect," "class," or "the right way" are involved.
No team attempts to uphold the unwritten rules of the game quite like the Kansas City Royals.
Last year, the Royals cleared benches six times — five times in April alone — and despite ending the season as World Series champions, the Royals are keen to clear the benches again to start 2016.
You might recall the "controversy" surrounding Mets pitcher Noah Syndergaard's first pitch in Game 3 of the 2015 World Series. With his team down 2-0 in the series, Syndergaard "got his team going" by throwing the game's opening pitch over leadoff hitter Alcides Escobar's head.
Benches didn't clear then, but both the Mets and Royals established a stance of virtue. Then-Royals outfielder Alex Rios called the pitch "unprofessional." Professional bulwark Eric Hosmer declared the pitch was "not going to go over very easy."
Despite Syndergaard's posturing statement that the Royals could meet him "60 feet, 6 inches away," the Royals didn't do anything in Game 4 or Game 5, but they did win the ultimate prize.
You'd think that that would be enough to satiate the Kansas City's bloodlust, but no — according to a Newsday report, the Royals are planning retribution for Syndergaard's "unprofessional" pitch in their matchup with the Mets on Opening Night, April 3.
Don't let the fact that it's been five months since the original incident, or that the Royals had three games to respond to this aggression during the World Series, confuse you — the Royals are going to make sure Syndergaard (or, more specifically, some unknowing Mets position player) gets his comeuppance.
Baseball's fade from national relevance has happened for many reasons — many outside of MLB's control — but one of the reasons baseball has become a tribal sport with little whole-league appeal is the league's widespread vigilantism.
Bad blood sells one-off tickets and snags local viewers, no doubt — it's a different storyline in a summer-long soap opera for the compulsory audience — but at some point baseball's culture of crusaders has to be perceived as empty. You can cry "unwritten rules" only so many times before people stop taking you seriously and ultimately cease to care about your plight.
The Royals have no reason to be angry at anyone, but they're out for blood in the first game of the season. Why? Probably because they think their benches-clearing brawls in April 2015 galvanized the team and set them on a course toward glory. They can't let anyone think they can get one over on them. That's some next-level bloviation.
It wasn't that the 2015 Royals rarely struck out, had an elite bullpen, boasted the best defensive nine in the sport, made some excellent moves before the trade deadline, and always seemed to come up with the clutch hit — no, as far as the Royals are concerned, the real reason behind their team's success was their fighting spirit.
Baseball is struggling to find a market with young people — more than 50 percent of baseball viewers are 55 or older, up 41 percent over the past decade — despite the fact that it has highly marketable stars in Mike Trout, Bryce Harper, and Giancarlo Stanton (and those are just three.) Maybe part of that problem stems from young people seeing through the nonsense that seems to have overtaken the league.
Who wants to see homers and triple-digit fastballs when we could talk about Adam LaRoche, a five-month-old beef over Ball One, or "playing the right way"?
Millenials don't have the attention spans or inclination to feign objection to a manufactured insult, whether it's to the game or a team's collective manhood.
If they want to see a fight, they can turn on a UFC or boxing match.
Maybe people want to watch entertaining baseball. For that, they should be tuning in to watch the Royals.
But that's not what we'll get Sunday — instead, we'll see the coronation of a vengeful ruler whose first act in charge is placing a hit on his perceived enemy.
Fans in Kansas City can get angry, and Mets fans can then get angrier, but for the tens of millions of Americans without skin in the game, it's all too exhausting for them to care.