Royals Alcides Escobar Enjoying Strong Finishing Kick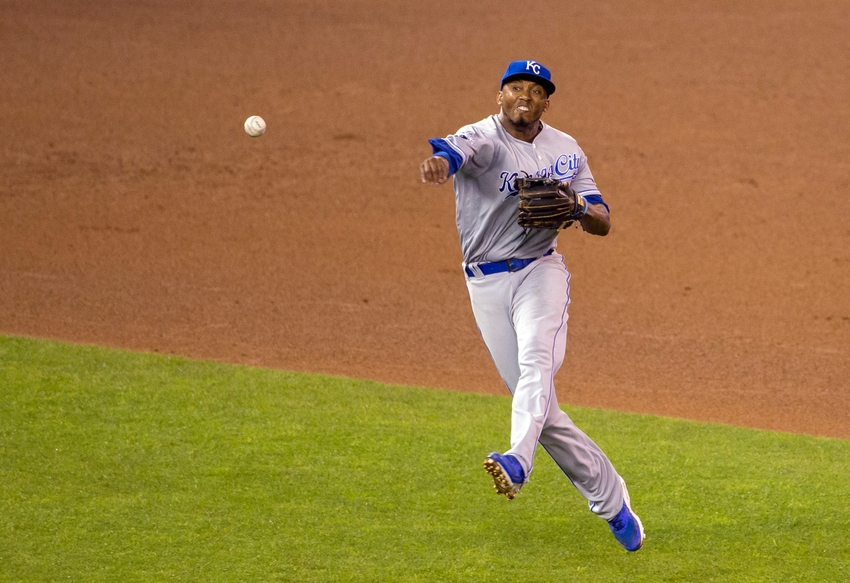 Royals shortstop Alcides Escobar was suffering through a season to forget when August began. He was slashing a horrid .255/.283/.309 and even had a negative (below average) dWAR (defensive Wins Above Replacement) rating on Baseball-reference.
Overall, Alcides Escobar's .314 slugging percentage was the worst mark for any qualified regular in major league baseball on July 28. Baseball-reference also rated him as a below replacement level players. Heck, I even wondered if the Kansas City Royals might trade him rather than pick up his rather modest $6.5 million option for 2017.
In short, Alcides Escobar was having a rotten year.
However, Escobar's become a completely different player since August 1. The most notable improvement has been his bat. Escobar is slashing .303/.350/.473 with 10 doubles, 3 triples, and 4 home runs since the beginning of August. That data doesn't even include the solo home run he launched on Monday. He's boosted his overall slash line to a significantly improved .269/.303/.360. His bWAR value has now flipped into positive numbers at 0.7 Wins Above Replacement.
The most impressive thing has been his slugging percentage. Escobar is now hitting the ball with authority. After slashing .300/.342/.464 in August, he's been even better in September at .309/.367/.491. But, his offense hasn't been the only part of his game that enjoyed a turnaround in the second half.
Escobar shared ESPN's defensive player of the month for August with White Sox shortstop Addison Russell due to his nine defensive runs saved. That surge took his season total from -10 to -1 by September 2.
Though the correlation isn't perfect, I couldn't help but notice that Escobar's surge mostly coincides with Royals manager Ned Yost dropping him from leadoff to the no. 8 position in the lineup. Yost made that move on August 9. He's rarely hit lead off since.
Gosh, could it be that Alcides Escobar produces better at the bottom of the order?
At a time when many players are wearing down, Alcides Escobar is playing his best baseball of the season. He's suddenly smacking extra base hits after he spent the first four months of a season slapping base hits. While I doubt we're seeing some kind of career sea-change from the 29-year-old Escobar, his hot streak provided much needed offensive help.
KC Royals fans can only hope that he can keep it up for 12 more games.
More from Kings of Kauffman
This article originally appeared on