Role Reversal: Could White Sox Acquire Chris Sale?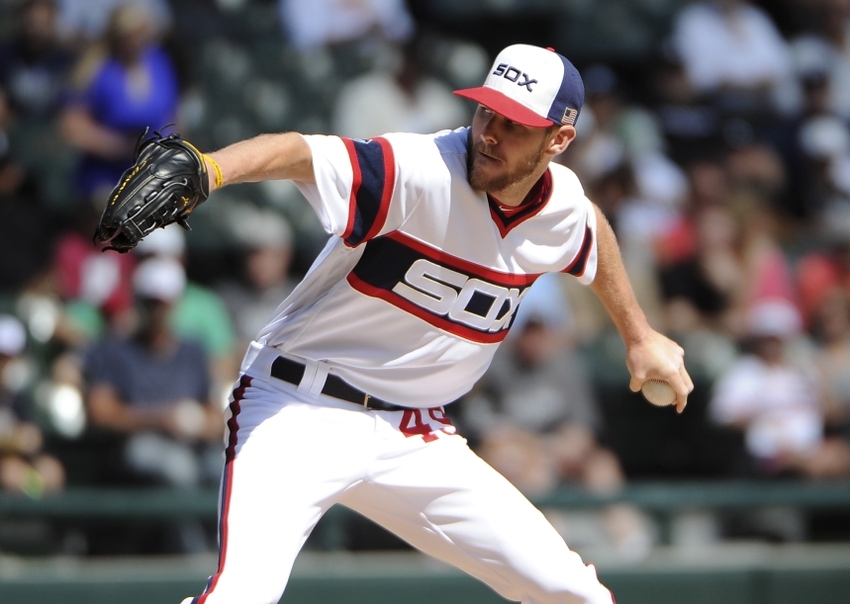 If White Sox were in the market for trading for the All-Star pitcher, would they be able to acquire him? What would a trade for the left handed pitcher look like for this team?
Let's pretend for a second that Chris Sale isn't on the Chicago White Sox.
What if the South Siders were one piece away from contention and Rick Hahn and company were looking to make a big splash. Would Chicago have what it takes to send ripples across the league or does their farm system simply lack the firepower?
I started thinking about this as a multitude of mock Sale packages cropped up on Twitter. The Hot Stove enables fans, bloggers, and pundits alike to put on their general manafger caps and draft hypothetical deals.
As you may have learned, not all mock trade proposals are created equal. However, the exercise isn't defined by a black and white judgement on what is too light and what is fair value. After all, it's all in the eyes of the beholder and subjectivity even penetrates real world front offices.
Prospects have reached pinnacle value in today's industry and it's easy to see why. Organizations are finally realizing the surplus value potential offered by robust farm systems. It's just that though, potential. Yet the speculative value of prospects hitting even their median outcome looks like the greatest way to be efficient in a market that generally isn't.
Stockpiling young controllable assets is the best way to avoid shelling out $240 million for Robinson Cano. Free agency will simply never be an efficient way to construct a roster.
As such front offices have begun to treat prospects like their first-born and this mentality has trickled down to savvy fans who keep up with the farm and not just the household name already in the majors.
It's easy for me to scoff when a Braves fan rails on social media about how Chris Sale isn't even worth teenage phenom Kevin Maitan, much less six years of Dansby Swanson. This is a product of inherent attachment to young talent and a burgeoning separation anxiety associated with parting with it.
Trust me, I get it. As a writer for FutureSox, I spend a great deal of time examining the White Sox farm system and I wasn't immune to low-balling sellers when trying to add to this roster. In fact, I've even been lucky enough to talk with some White Sox prospects, so I've gotten a small sample of what it's like to put a face or voice next to a name.
Trade Carson Fulmer for Carlos Gonzalez? Tim Anderson for Todd Frazier? Give me a break.
But it sparked the question, what if I were a Boston Red Sox fan sitting behind my keyboard? A Los Angeles Dodgers fan? What would I give up for Sale?
The truth is this exercise doesn't work. Why? Because that first newborn mentality, that infatuation with prospects, is exclusive to my own kin. Sure, I like the Red Sox's Andrew Benintendi as a prospect but I could trade him easier than I could Zack Collins.
That's because Collins is one of my own and I saw myself falling into the same trap we like to criticize others for finding themselves in.
It dawned on me that to understand the weight of these packages I was asking other fans and indirectly teams to part with, I had to juxtapose it against something with clearer context. I arrived at that context when I decided to make my own Sale package, using solely White Sox players.
This is a solid thought exercise and one I encourage you to do on your own. Even if you arrive at different names than I do, just getting the wheels turning is valuable. Not only did this give me insight into what the White Sox would need to pull the trigger, but it also illustrated why rebuilding is even on the table. Simply put, the White Sox would have to clear out their farm for Sale and that's why the list of suitors is shorter than you think.
I'm going to try to detach myself from these players and give what I think is fair value for a cost-controlled ace.
Chicago White Sox get
SP Chris Sale
TEAM X get
OF Adam Eaton, C Zack Collins, RHP Carson Fulmer, RHP Alec Hansen, OF Adam Engel
And yet this still feels somewhat light. Any team talking with the White Sox is naturally going to start the conversation with Anderson. I deemed him untouchable, just as Corey Seager is untouchable for the Dodgers and Yoan Moncada likely is for the Red Sox.
For the sake of discussion, I tried to mirror this package around what the White Sox are reportedly targeting. Chicago absolutely wants one big league piece back just as I'd expect a hypothetical seller to demand as well.
With Anderson out, that piece is Eaton. This actually proves a more concerted point about why in the real world, Eaton is highly unlikely to be traded. This is largely because he's the type of player the White Sox should seek in a Sale trade, not one they should necessarily dangle.
Eaton has 5 years/$38.4 million left on his deal if attractive club options are picked up. He'll be  28-33 years-old during the length of that contract. This isn't dissimilar to the contract, talent, and age situation of Jackie Bradley Jr.
If you want a Dodgers comp for Eaton as a headliner based on control and overall value, it's probably Joc Pederson. For the Astros, George Springer.
These are the major league players Chicago will likely target. As a 6.0 fWAR player in 2016, the inclusion of Eaton definitely keeps a rival GM on the phone.
Next up: Collins.
The 10th overall pick in the 2016 draft, and the White Sox's coveted first-rounder, Collins would have to go in a Sale deal. Collins has an advanced bat and the potential to be a perennial 30 home run player at "The Arrow." He has an excellent batting eye and isn't afraid to take a walk. Combine high OBP-skills with his power and an ability to drive the ball to all fields and Collins looks like the real deal. The jury is still out on whether he'll stick behind the plate but Nick Hostetler and the White Sox are certainly confident he has the chops to do so. This one would certainly sting.
Ditto Fulmer. The White Sox's first rounder and the eigth overall pick in the 2015 MLB draft, the electric right-hander can still find success in the majors. With two plus pitches (fastball and power curve) and the potential for an above average change, Fulmer has the chance to stick as a starter. The high effort delivery makes some scouts pause and even Chicago tried to tone it down this season. Nonetheless, Fulmer is at his best when using his unorthodox delivery and his intense make up gives him the floor of at least a high leverage bullpen arm if starting doesn't pan out. Thus, a valuable asset even with his median outcome.
The next two pieces get a little more tricky. These are the higher-risk, high-reward players the White Sox will want for Sale. It makes sense that a seller would try to pluck the same from Chicago. Hansen and Engel fit that profile.
Hansen was a second round selection in 2016. However, some were projecting him to go 1-1 in the draft before a dismal junior season at Oklahoma. Hansen has tantalizing stuff as his arsenal includes a plus-plus fastball, above average slider, and even the chance at an average curveball and change-up. That four pitch mix with life on some of his offerings gives him the profile of a front-line guy. The issue lies in his control but Hansen showed promise in his pro debut. He's a must have in a Sale trade.
Engel is a nice lottery ticket. His successful 2015 AFL performance has been well documented and he brings a nice portfolio of tools. His plus-plus speed has translated to serious stolen base outputs (65 SB/76 ATT in 2015) and he's dripping with athleticism. He also carries a plus glove and arm, so he has a floor of value as a solid 4th outfielder. It's a really nice piece to round out a package.
At the end of the day though, trade packages aren't in a vacuum. They're weighed against what the rest of the market has to bear. This package features a controllable regular with All-Star ability  Eaton), and two top 100 prospects on MLB Pipeline. If Hansen repeats his success in 2017, he might even have a shot at making the Top 100 midseason list.
Yet the Red Sox could easily beat this package. A package involving Bradley Jr., C Blake Swihart, LHP Jason Groome, 1B Sam Travis, and OF Luis Alexander Basabe is a very similar framework and probably has more aggregate value.
This says nothing of the fact Chicago would likely demand Benintendi, Rafael Devers, or more likely both in a Sale trade. Those two players are numbers five and 16 respectively on MLB Pipeline's Top 100 list. For context, Fulmer and Collins are 57th and 80th, though I expect Collins to shoot up in these rankings during 2017. Even so, the White Sox lack that true blue chipper to pair with Eaton.
The other thing this exercise illustrates is how shallow Chicago's farm system remains.
The Red Sox could part with a comparable package and barely skip a beat on both the big league roster and the farm. They'd still have Moncada and Michael Kopech among others..
If the White Sox were to acquire Sale, their farm would be absolutely pillaged.
Suddenly it's easy to see why Braves fans are reluctant to part with an Ender Inciarte, Ozzie Albies, Maitan, Ian Anderson, and Travis Demeritte style package for Sale. It really clears out the top end of the cupboard.
Again, this is why teams like the Dodgers and Red Sox profile the best because they can absorb the necessary hit with relative ease.
I'm biased toward Sale and I'm biased toward White Sox prospects. This exercise generated forced choice and I feel better for doing it because my optics around value have shifted.
At the same time, we all need to view prospects through a different lens because after all the "proven" quality of Sale weighed against the risk/reward of any package is what is so difficult to quantify. Back in 2013, I would have been crucified for suggesting Henry Owens, Will Middlebrooks, Garin Cecchini, Matt Barnes, and Ryan Lavarnway for Chris Sale. It would have looked like a disproportional overpay to all parties. Now, it would be regarded as a coup in favor of Boston. That's the built-in risk when trading your ace because the house of cards just may collapse.
Hindsight is 2020, and in 2020 we'll probably have good fodder for discussion regarding all of this. What's important now is to not let our intrinsic attachment of assets cloud our judgement. And that goes for both sides.
More from Southside Showdown
This article originally appeared on